Roadmap
So here we are.
You've done the work, or you're in the middle of it.
You've identified triggers for you or your loved ones.
You're ready to feel better – even better than you've been feeling.
This is good!!
So how are you feeling?
Excited?
Terrified?
A mix of both?
Let's get you more information.
Let's make it real.
Let's make it easy.
Because this is a lifestyle – and trust me, no one wants to eat just kale and quinoa, right?! No … we need some fun, healthy food.
Let's get you some solid go-to's to make your dinners easy and tasty.
Think Gluten-Free Oven Fried Chicken, or Root Vegetable Soup.
But let's have fun with breakfast, too.
Simple ones, like Chia Seed Pudding, or Overnight Oats.
And more "fun" ones like Gluten Free Cinnamon Rolls, or this Tasty Breakfast Board.
PS I also love treats – like this easy everything-free slow cooker Chocolate Cake 😋
I need to make sure you remember Self Care – because a lack thereof got me into a bad place, lol. And of course who can forget Good Reads or, Simple Snack Suggestions. Oh, and I love to travel and also eat healthy while traveling. I'll help set you up for success!
This is a non-judgemental place.
We're all on a different part of our own personal journey.
And I'm here to support you.
Because I know firsthand that when you feel good, you are a better version of yourself. To your kids. To your spouse. To yourself.
Let's Get Started!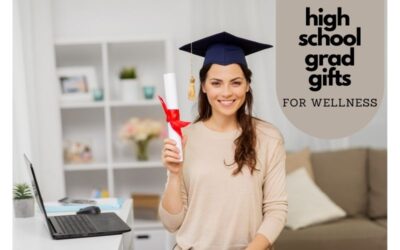 Whether it's your child or a friend's, this list of high school graduation gifts for wellness have self care, healthy eating and healthy living included. These are wellness gifts that are USEABLE and reasonably priced.  High School Graduation Gift Ideas for Wellness...