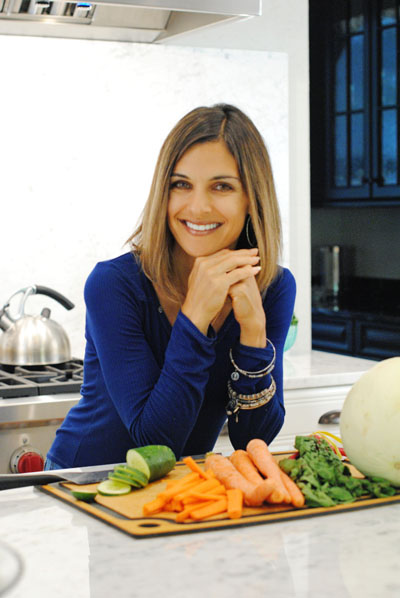 Hi, I'm Kiran Dodeja Smith. I'm an Influencer Marketing Manager, a Certified Holistic Health Coach, a wife and a mom to four kids ages 15 and under. But here's a little bit more about me:
I've had an interest in health and nutrition since I was 17 years old. Yep; when I was a junior in high school, I could often be found in various exercise classes or perusing the good ol' Fitness magazine. Flash back a few years before that when my interest in cooking was sparked and was given $3 by my parents for every meal that I made for the family. Not too shabby, right?!
My "diet", and by this I mean the foods that I chose to eat, took many twists and turns over the years. I was on the all carb diet when that was a craze, where I ate my daily dose of plain bagels, pasta with marinara for lunch, and oftentimes the same thing for dinner – each meal void of fruits or veggies. I also tried the low fat diet and enjoyed plenty a box of Snackwells fat free cookies and other similar products while fearing the "f" word. I'm referring to fat, not the other f word, btw.
7 years ago I started working with Lisa Leake of 100daysofrealfood.com, and it opened my eyes to a different way of eating. A much simpler, much more realistic approach that focuses on cutting out processed foods, including refined grains and sugars and artificial flavors and colors, and focusing on fresh foods from nature. For the first time in my life, I finally felt relaxed about food and started enjoying all of the wonderful offerings that the fantastic, fresh foods around me.
I'd be lying if I told you that the change happened overnight. No, it actually was a process that took between 2-3 years before I felt like I was at a place that I was comfortable with, which is eating unprocessed 90% of the time. Over this time, I educated myself about "fake" ingredients and what to avoid, and other foods to focus on. I overhauled my family of 6's food offerings and began teaching my four kids what I wish someone had educated me on when I was seeking the information back in my teen years.
How I can help your family
I decided to further my education and became a Holistic Health Coach by attending the Institute of Integrative Nutrition. Having gone through this whole process myself, I realize how confusing it can be to try to navigate the grocery stores, to know how to shop farmers markets, and to figure out how to choose recipes and do food prep so that you're not scrambling at the last minute before dinner time, wondering what to feed your family. I'm hopeful that you'll find content on this site that can help you find the love of real food for your family, too, and that it will no longer be a daily dread for you. I'm also available for limited one-on-one sessions. Just contact me for further details.