Jump to Recipe
Estimated reading time: 4 minutes
A warming, nourishing simple detox soup that's perfect after the holidays, weekend indulging, or anytime you want to flood your body with nourishing foods. This simple green soup is full of green vegetables such as celery, zucchini and greens to include dandelion and kale.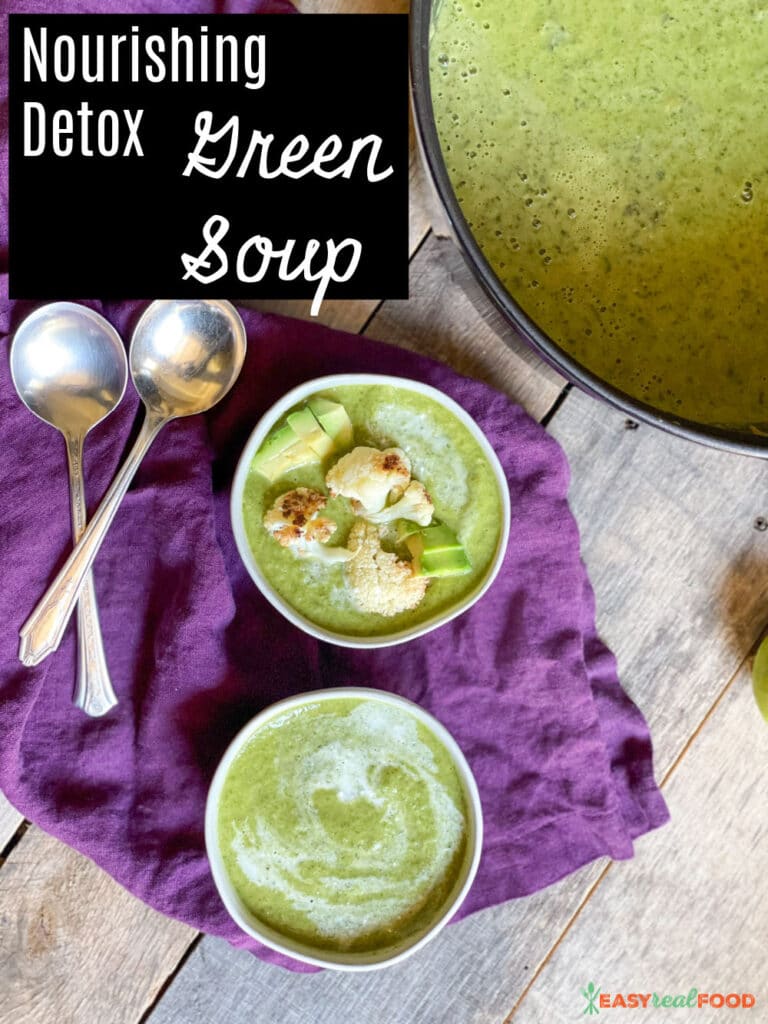 Simple Detox Green Soup
Whether you're looking for a green soup or a detox soup, or you just simply want to get your fill of green vegetables, you've come to the right place.
I'm a fan of soup year round, as I think it's an opportune way to get bioavailable nutrients to your body. Why? Because without having to chew them, the foods are there and ready for your body to put to use. One note I want to add: I do feel there is value in chewing, which is why I like to either server this green soup with something on the side or with toppings included. The chewing process gets the digestive juices flowing and lets your body know—it's time to eat!
Either way, this nourishing, healthy soup is full of great green vegetables, aromatic spices, and can include either collagen-full bone broth or a vegetarian broth to make it vegan. It's versatile, soothing and good for you!
Ingredients for Simple Detox Green Soup
Onion or shallot. Use either to saute initially and eventually be added to spices.
Celery. I'm a big fan of juicing celery for detox, and I believe in the benefits of this green vegetable in this soup, too.
Apple. In order to balance out the spice and savory, we add apple to add just a touch of sweetness.
Zucchini. Zucchini is rich in antioxidants and other nutrients. In this soup, by adding it in, it helps create a thicker, creamier green soup when blended.
Dandelion Greens. Though not the easiest to find, dandelion greens are ideal for detoxing. I was able to locate them through a local farmers market, which is where I'd suggest trying to track them down. If you cannot locate them, simply substitute with the greens of your choice.
Kale. Kale is one of the most nutritious foods out there, and is rich in antioxidants. As with the dandelion greens – use whatever greens you have available, but kale is typically fairly easy to find.
Ginger. Fresh ginger is optimal, but I only had powdered on hand. Ginger is good for the gut and adds a warmth sensation, too. In this soup, it lends a warm, spicy sensation. If you want to use fresh ginger, use 3 tbs of freshly grated.
Coconut Milk. The addition of coconut milk adds thickness as well as potential energetic properties along with healthy fats.
Broth. While I know many others will choose to use vegetable broth here—I really wanted to up my protein intake AND inhibit gut healing properties with the use of healing bone broth. I had recently gotten some bone broth from a local farmers market, and figured this was an opportune time to use it. But if you are looking for a veggie-forward dish, by all means use vegetable broth.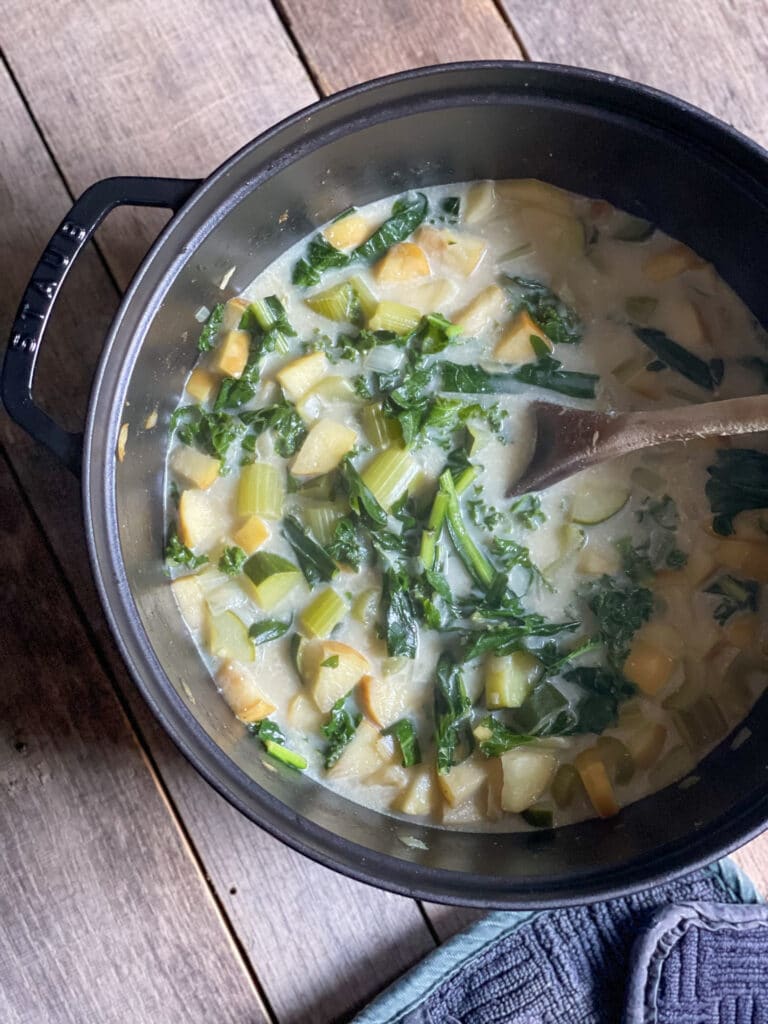 A note about blending this nourishing soup:
Be careful when blending this soup—it cannot be put into a high speed blender when it's very hot, or the pressure can blow the lid off. Be sure to let it cool slightly, or use an immersion blender as an alternative.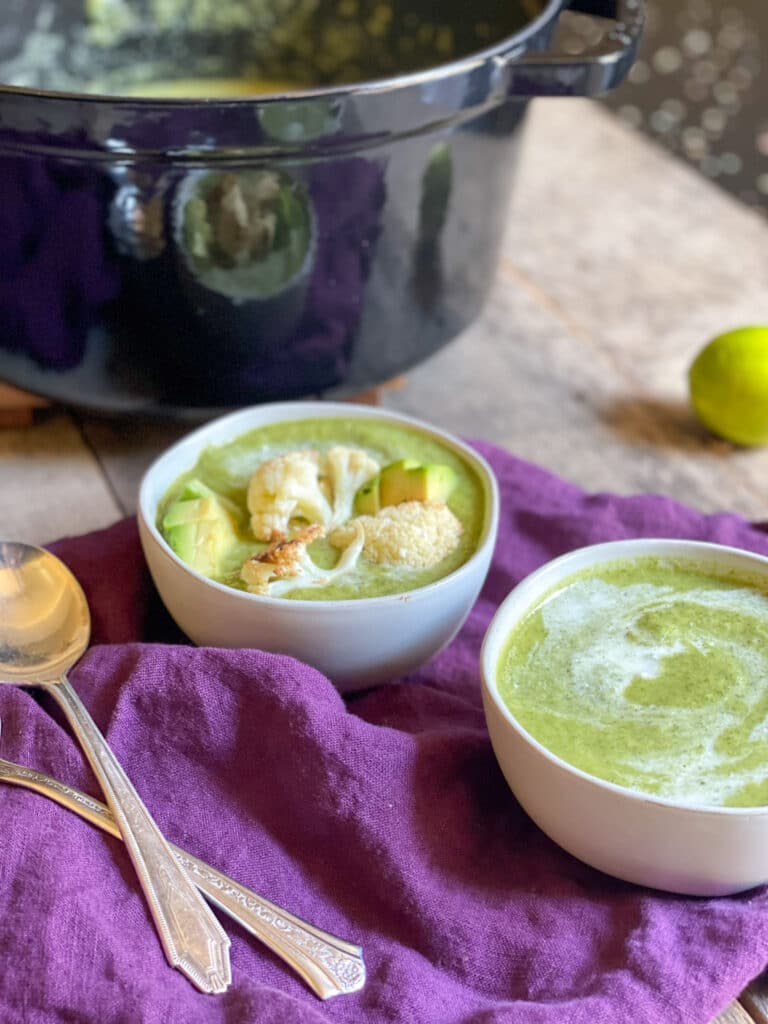 How to serve simple detox green soup
This soup can absolutely be served along, but I think the toppings/additions totally take it up a notch! A drizzle of coconut milk is delicious and oh-so-pretty. I added roasted cauliflower here, but any roasted vegetables can work. Some other toppings that are delicious:
brown rice
diced avocado
fresh herbs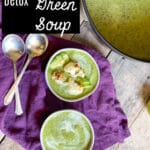 Simple Detox Green Soup
A warming, nourishing simple detox green soup that's perfect after the holidays, weekend indulging, or anytime you want to flood your body with nourishing foods. This simple green soup is full of green vegetables such as celery, zucchini and greens to include dandelion and kale. 
Course:
Appetizer, Dinner, Lunch
Ingredients
1

tbsp

coconut oil

1

small onion

, diced

1 1/2

zucchini

, cut into pieces

3

cups

celery

, chopped

1

apple

, diced

1

tsp

ground cumin

1

tsp

ground coriander

1

tsp

ground ginger

salt & pepper to taste

4

cups

bone broth

(use vegetable stock to make it vegetarian)

1

can

coconut milk

4

cups

chopped & packed greens

(I used dandelion greens + kale)
Optional toppings
roasted cauliflower or other vegetables

cooked quinoa

cooked brown rice

pumpkin seeds

sunflower seeds

chopped avocado

drizzle of more coconut milk
Instructions
Add coconut oil to a soup pot and heat over medium heat for 30 seconds. Add onion and let cook until translucent, about 3 minutes.

Add zucchini, apple, celery and spices and saute, stirring frequently, for 2 minutes.

Add broth. Bring the vegetables and broth to a boil and then lower to a simmer, stirring occasionally, until the zucchini is very tender—about 10 minutes.

Add coconut milk and greens and stir. Keep simmering and stirring until the greens have wilted and are bright green. Remove from heat and let cool slightly.

Once cool enough, blend using an immersion blender or a high-speed blender (see notes).

Serve warm with optional toppings.
Recipe Notes
Do NOT attempt to blend hot liquid as it can blow the top off. 
Nutrition Facts
Simple Detox Green Soup
Amount Per Serving
Calories 220
Calories from Fat 153
% Daily Value*
Fat 17g26%
Sodium 141mg6%
Potassium 592mg17%
Carbohydrates 13g4%
Protein 9g18%
Vitamin A 4071IU81%
Vitamin C 25mg30%
Calcium 116mg12%
Iron 4mg22%
* Percent Daily Values are based on a 2000 calorie diet.
Let me know if you try this green soup! Make sure to tag me here so that I can share: @easyrealfood
Other healthy soup recipes you may enjoy:
Vegetarian Carrot Beet Soup Recipe
Easy Vegetarian Lentil Soup Recipe
Easy Vegetable Puree Soup (GF + DF)
Healthy Curried Butternut Squash Soup