Estimated reading time: 5 minutes
Jump to Recipe
A creamy, healthy and tasty carrot beet soup recipe which is totally perfect to pair with any meal. Creamy and healthy, this vegetarian soup is tart, sweet, full of flavors and nutrients, too. A healthy kid-friendly recipe, too!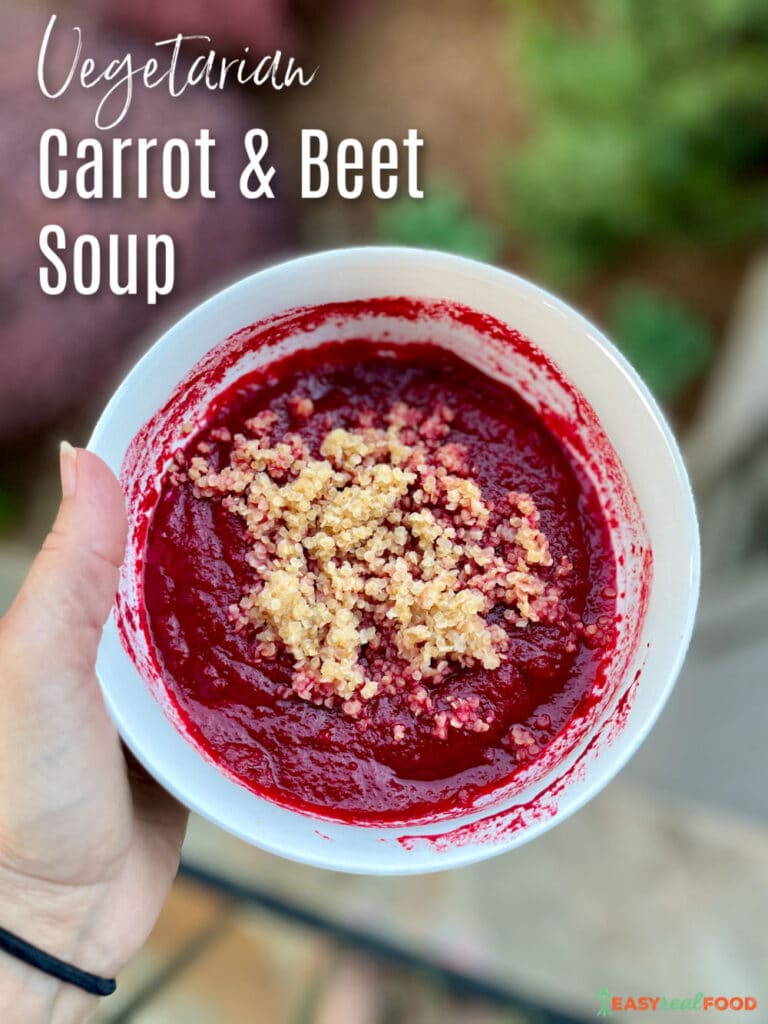 Vegetarian Carrot Beet Soup Recipe
I've been on a health kick recently. I know, I know; sounds so cliche, right? No, all kidding aside, I've been really aiming to up my vegetable intake—even more. The idea for this carrot beet soup came after taking a girls trip with my friends to Canyon Ranch where we ate AMAZINGLY healthy food (which we didn't have to cook). I love how some of these things can inspire us, right?
Either was—I came home on a quest to get more veggies in and decided that if you can juice carrots and beets, you can likely put them into a soup, too. I already love this carrot soup recipe, so I figured—why not make another version that has beets? Sidenote: this is a totally different recipe. But I've gotta tell you—not only is it beautiful, it's super delicious, too.
Is beetroot soup healthy?
Ok, let's get the first question out of the way—is beetroot the same as beet? Yes! It's the same thing, some people just call it by one of the names. Anyhow—beets have lots of nutritional qualities to them. Beetroots are a great source of folic acid, fiber, manganese and potassium. They are said to be good for athletic performance, and also for digestion.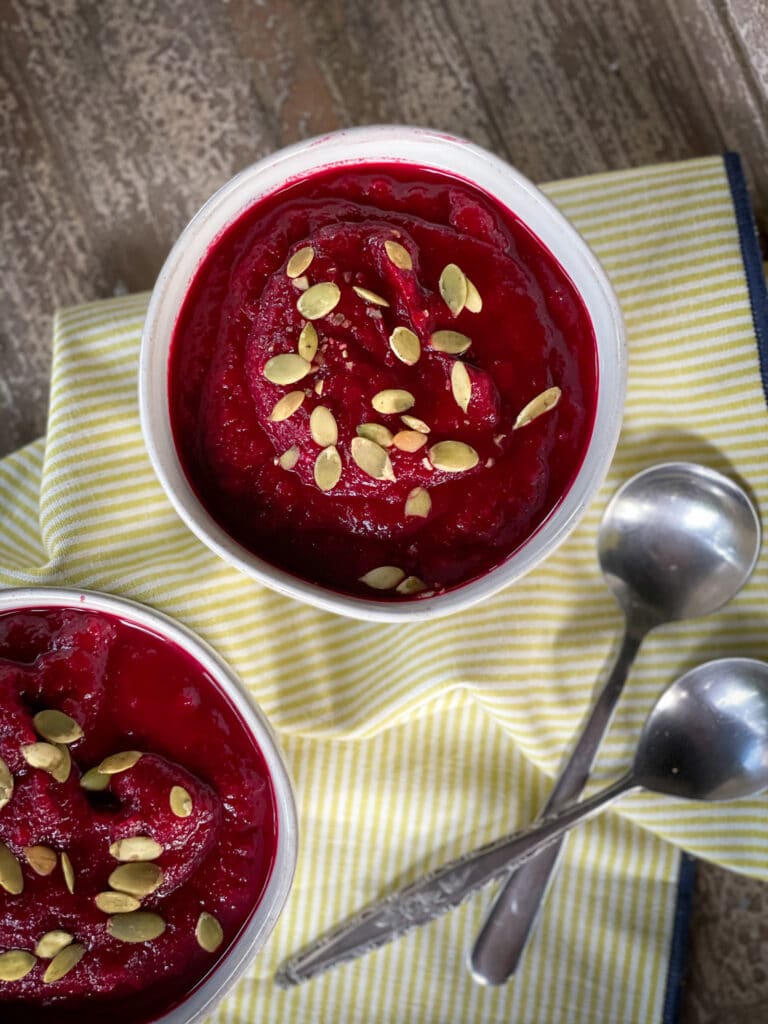 How to serve this carrot beet soup:
This soup works well as a main meal for lunch or dinner with a side salad, wrap or sandwich. It's also great as an appetizer for your next dinner get-together.
I love this soup served up with some quinoa within. If you're feeling fancy, you can also add some crispy sage. Sidenote, my kids were not fans of the quinoa add.
You can also garnish this beet soup with seeds or crispy chickpeas, diced avocado, or add some greens such as parsley or arugula. If you'd like to add kale, add it during the last few minutes of cooking so that it wilts in. Some people enjoy this with feta on top.
Some tips and substitutions for making this vegetarian carrot beet soup recipe:
The recipe calls for sweating the vegetables. Sweating vegetables is done by cooking the vegetables in a little bit of oil or butter (fat) over a low heat. The key is to keep them covered. By keeping the lid on, you allow the vegetables to "sweat" or steam themselves, which allows them to get nice and tender and to also bring out a depth of flavor. In this recipe, I added a bit of the broth in addition to the oil to ensure that the vegetables didn't burn. You'll still get that desirable end result.
The beets will take the longest to cook, so don't worry if your other veggies are cooked before the beets. It's all puréed together so it doesn't matter if your other veggies get a bit mushy.
This recipe calls for low sodium vegetable broth, but if you don't need this soup to be vegan, you can use chicken broth instead. I personally like the benefits of bone broth, and this is a good place to incorporate that if you agree. If you don't use low sodium, you may wish to reduce the amount of salt you add to the soup.
With that said, this soup is on the sweeter side. So if you like your soup more savory, feel free to add more salt and/or garlic. The pepper helps with this, too.
I puréed this soup in the pot using a handheld immersion blender, but you can also use a regular blender. If you don't have a heat proof blender, just let the soup cool before transferring it to the blender in batches to purée. You'll just need to re-heat the soup before serving.
If the soup is too thick for you, just thin it out with a bit more broth.
My husband said this resembled baby food, lol. My kids didn't mention this at all. It's definitely a thicker puree, which is why I like adding something else to it. Just remember – lots of good stuff within!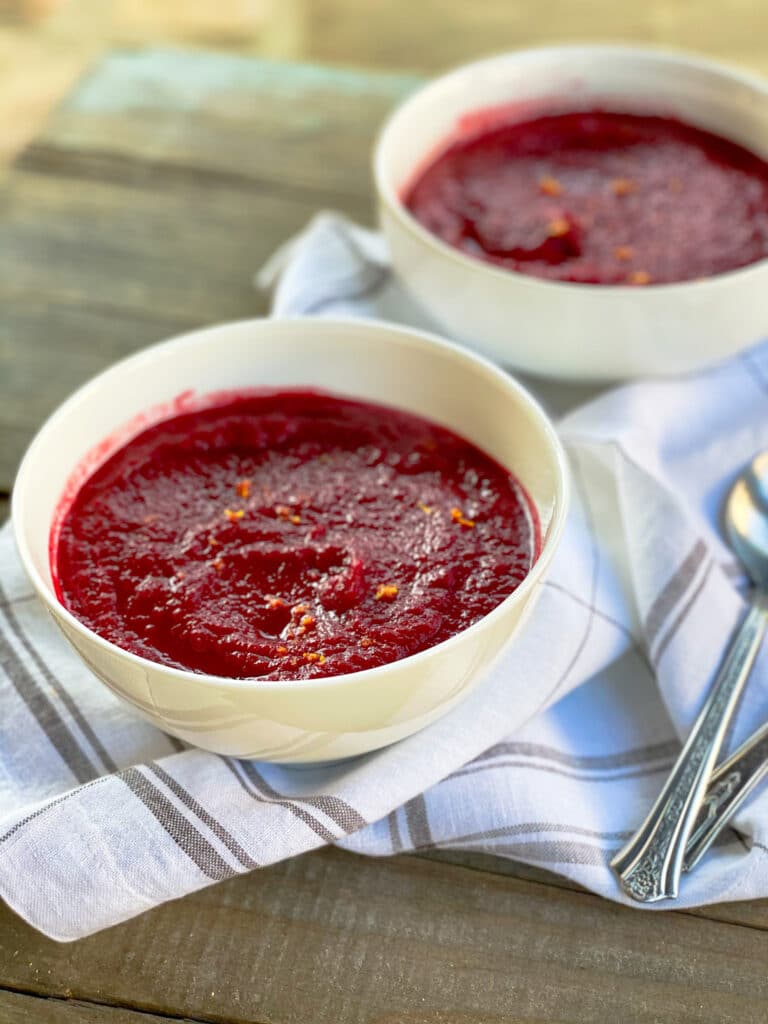 Vegetarian Carrot Beet Soup Recipe
A creamy, healthy and tasty carrot beet soup recipe which is totally perfect to pair with any meal. Creamy and healthy, this vegetarian soup is tart, sweet, full of flavors and nutrients, too. A healthy kid-friendly recipe, too!
Course:
Lunch, Main Course, Side Dish
Ingredients
2

tbsp

olive oil

1/2

onion

, diced

6-7

carrots

, peeled and cut into chunks

3

beets

, peeled and cut into chunks

1/2

cup

vegetable stock

2

large

ginger cloves

, diced

1

1 inch knob

ginger

, grated with microplane

5.5

cups

low sodium vegetable stock

1

tsp

orange zest

1

tsp

salt
Instructions
In a large soup pot, add oil and heat over medium heat. Add onion and cook for 3 minutes, stirring occasionally.

Add beets and carrots and 1/2 cup of veggie stock. Stir and cover. Turn heat to low-medium and cook for 10 minutes, covered.

Add remaining ingredients. Simmer for 45-50 minutes, or until vegetables are tender.

Remove from heat and let cool slightly. Blend with an immersion blender or with a high speed blender. SOUP MUST NOT BE HOT if you are using a regular blender. The pressure will make the lid fly off, so use caution..

Add additional salt or pepper to taste. See notes for additional serving options.
Recipe Notes
Substitute chicken broth for vegetable broth if desired. The end result will not be vegetarian.
Add quinoa when serving if desired.
Or, add a splash of full fat coconut milk to each bowl prior to serving.
Nutrition Facts
Vegetarian Carrot Beet Soup Recipe
Amount Per Serving
Calories 105
Calories from Fat 45
% Daily Value*
Fat 5g8%
Sodium 541mg24%
Potassium 353mg10%
Carbohydrates 14g5%
Protein 2g4%
Vitamin A 10247IU205%
Vitamin C 7mg8%
Calcium 30mg3%
Iron 1mg6%
* Percent Daily Values are based on a 2000 calorie diet.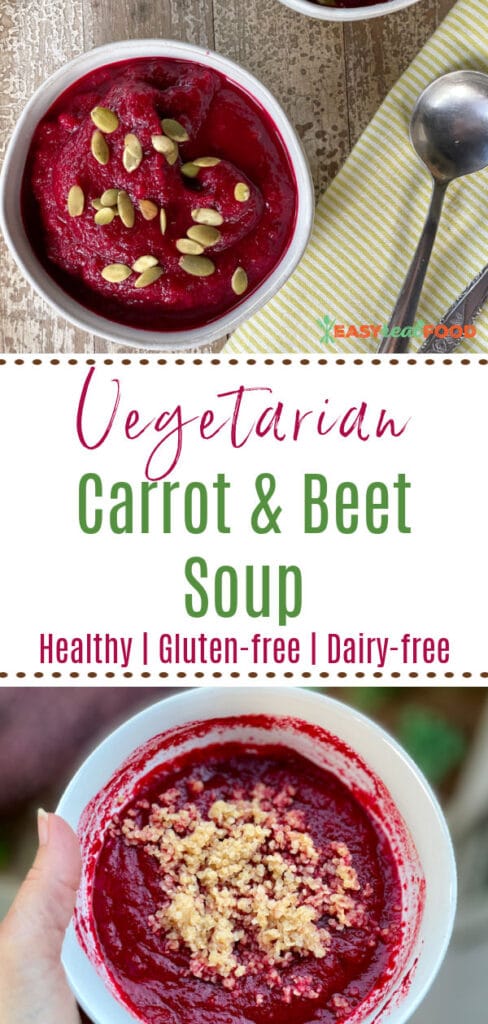 If you're a fan of healthy soups, here are some recipes you don't want to miss!
30 Minute Easy Black Bean Soup
Easy Vegetarian Lentil Soup Recipe
Healthy Curried Butternut Squash Soup
Instant Pot Vegetarian Split Pea Soup with Kale