One of my daughters is not a fan of chicken or meat, so I'm always on the hunt for vegetarian meals that have a good amount of protein. Beans are an easy way to not only accomplish this, but they are also a great source of fiber – wonderful for helping you feel full and also for keeping you regular. I typically make my bean soups (and any type of beans) from scratch since it's easy and economical – but today I didn't have the time – no, actually I didn't feel like soaking the beans and waiting for them. So instead I took canned beans and created this easy black bean soup that was delicious and ready in just 30 minutes.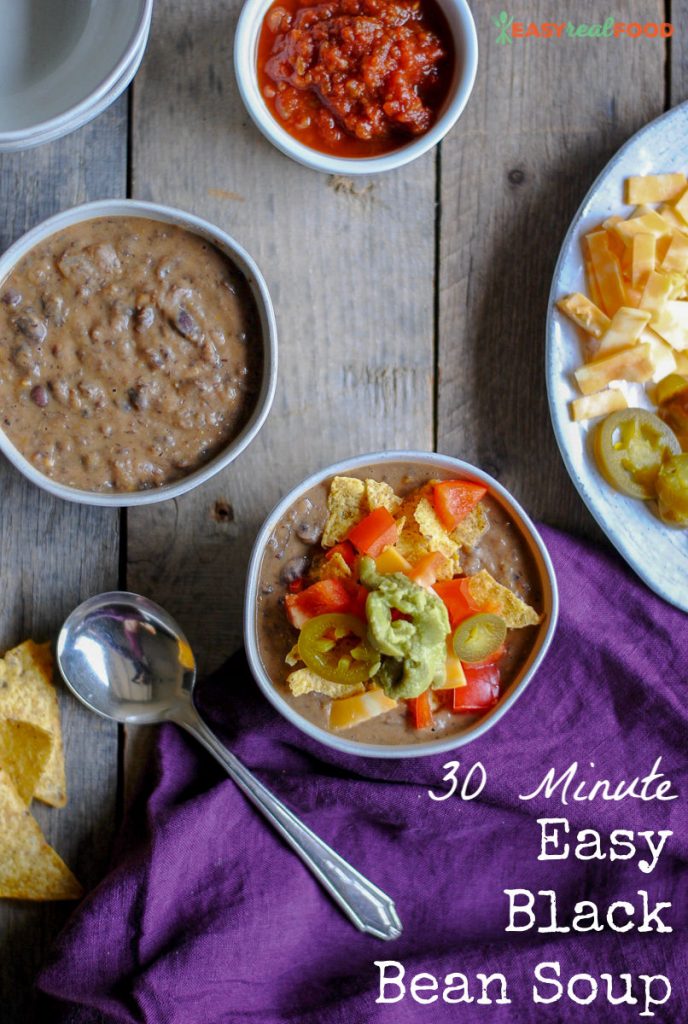 A quick black bean soup recipe
The secret to this 30 minute easy black bean soup is to use canned beans. Truly if you can open a can and chop a few vegetables, you are halfway there! Simply cut an onion and a pepper; saute them in some olive oil and spices, add some broth and drained black beans, and let the ingredients simmer. My kitchen smelled wonderful and no one knew just how easy this meal was. In fact, I washed and cut some Brussels sprouts while this cooked and even had time to clean the kitchen! I love multitasking. The bonus was that this soup was done and I had gotten so much done while it cooked.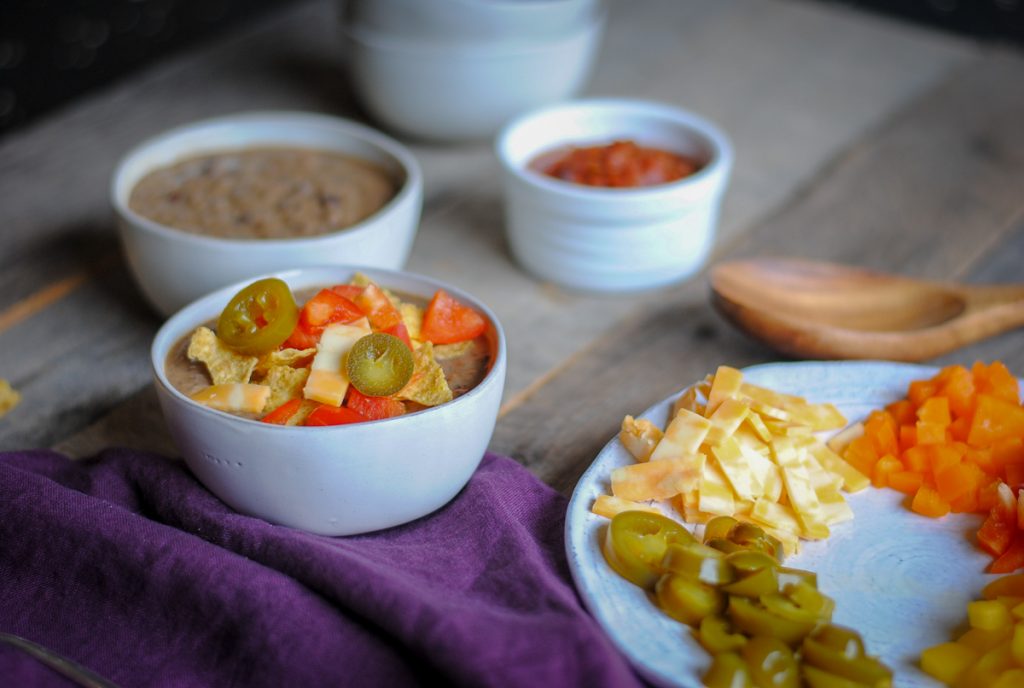 How to thicken black bean soup
After letting the soup cook, you'll want to let it cool for a good 5-10 minutes – I suggest the higher end of that number. Once it's cool enough, use an immersion blender to blend part or all of the soup. I personally like having some whole beans and a few pieces of pepper left unblended, so I didn't fully blend all of it. If your soup is too thick for your liking, add a little more broth bit by bit to thin it out.
You'll notice in the recipe that I suggest 3-3 1/2 cups of broth. If you go closer to 3 cups, your soup will be thicker. If you don't like it that thick, simply add more broth.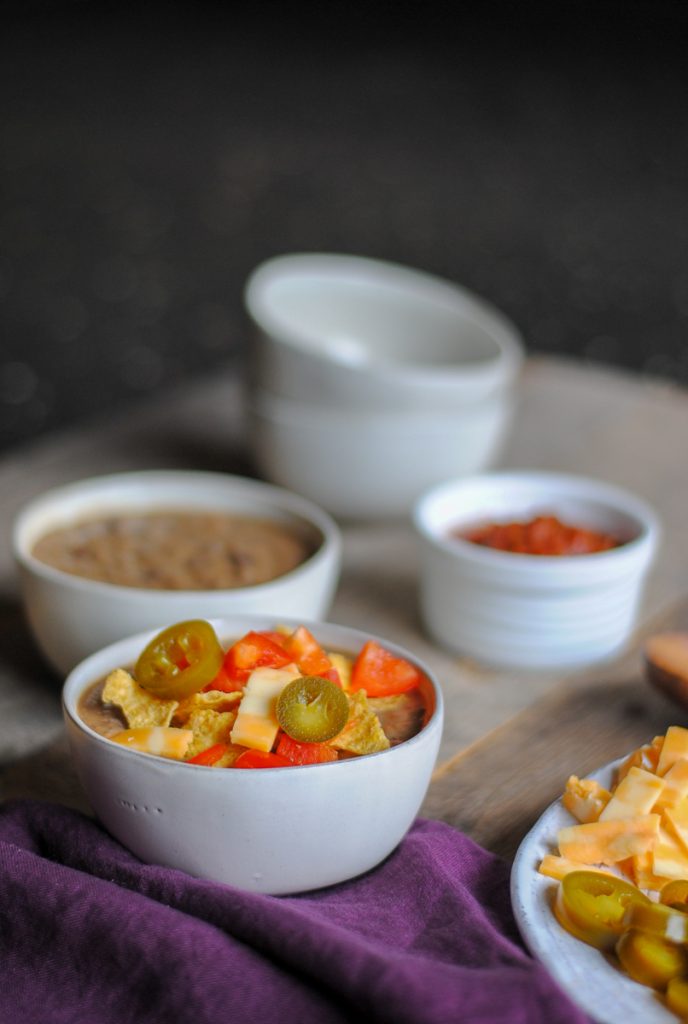 A few hints about blending this easy black bean soup:
Never blend soup that is too hot (I speak from experience).
I find it helpful to take a few paper towels and lay them over the pot to form a "lid" while using my immersion blender. This way if it spatters, it hits the paper towel and not me/the walls.
Pour it into a high-speed blender to blend if you prefer. Never fill a blender more than halfway with hot liquid.
If you are using a high-speed blender, place a towel over the top before blending for added safety.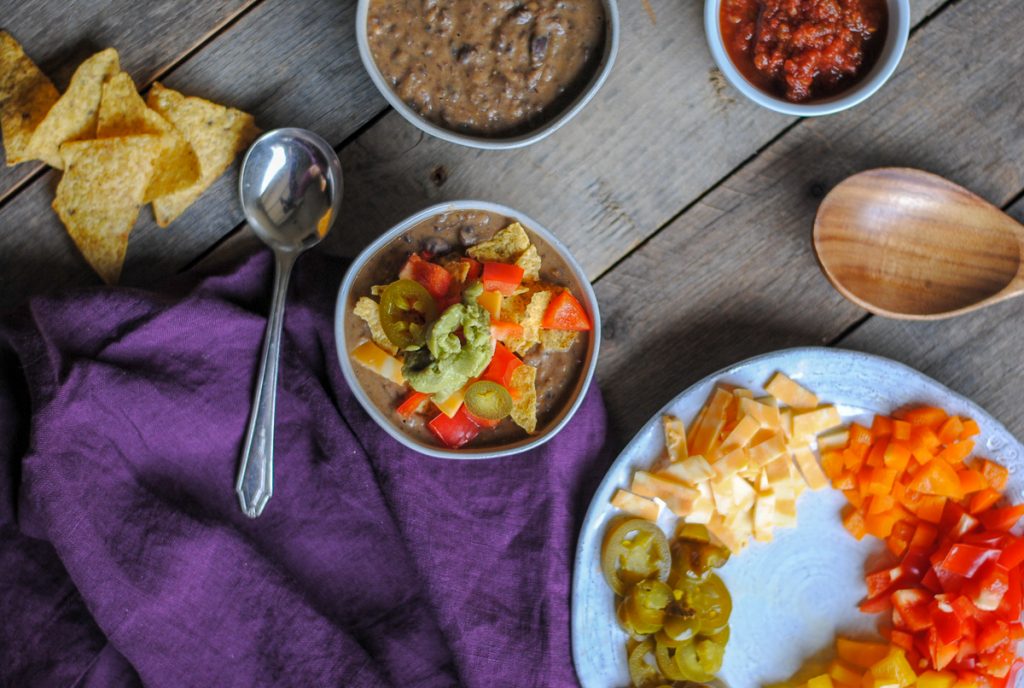 What to serve with black bean soup
While this is a common question, I don't think it's as accurate as what to serve on black bean soup, because the options are endless! Here are some of the toppings that you can use for a loaded black bean soup. A suggestion: let your kids make their own version. This is a great way to get them involved in the kitchen which you know I am passionate about!
shredded Mexican or cheddar cheese
diced tomatoes
salsa
sour cream
diced avocado
guacamole
diced onion
crushed tortilla chips
black olives
jalepenos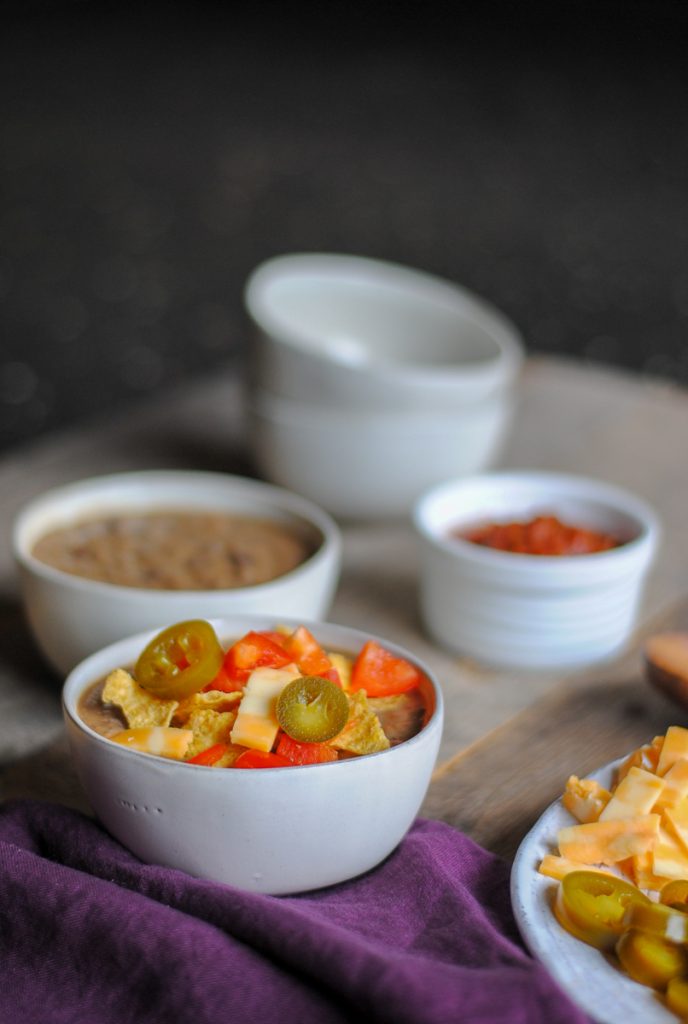 Can you freeze black bean soup
Easy black bean soup freezes wonderfully and is a great make-ahead meal. Another mom tip for you: freeze portions in smaller jars (be sure to leave room at the top for expansion) and pull them out for a quick and healthy meal at home or at work. Send these with kids for a healthy school lunch!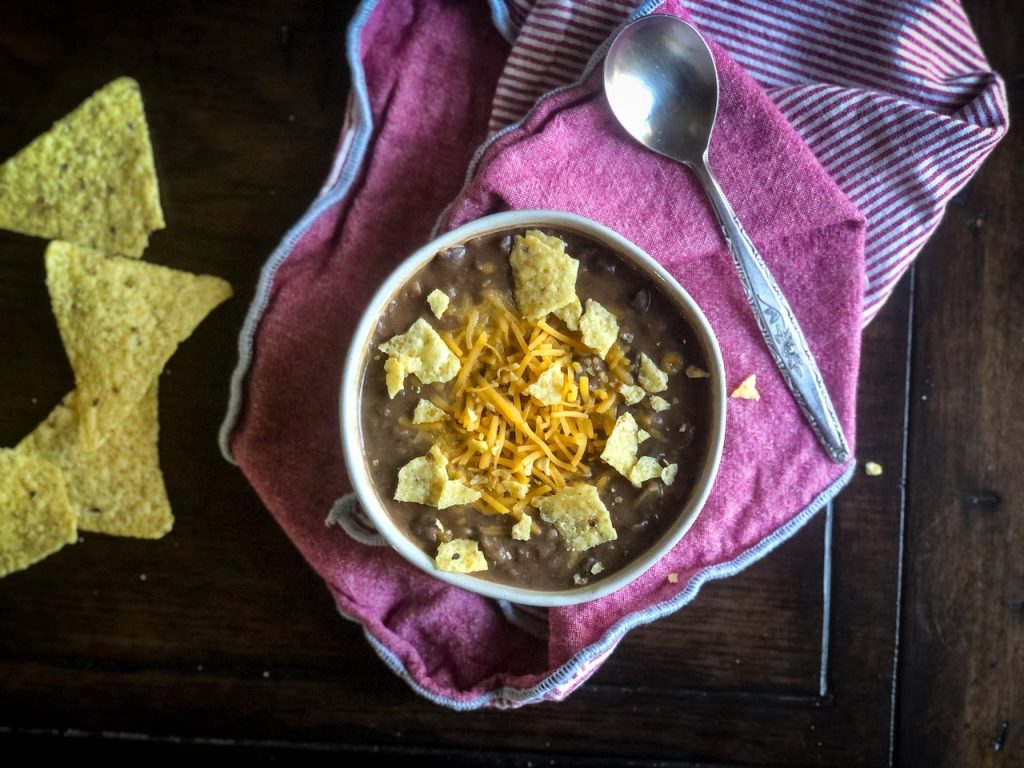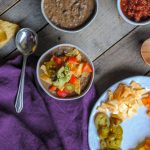 30 Minute Easy Black Bean Soup
30 Minute Easy Black Bean Soup is a soup recipe made with canned beans. It's a protein-packed quick meal that's vegetarian and versatile.
Course:
Dinner, Lunch, Side
Ingredients
1 1/2

tbsp

olive oil

1/2

onion

, diced

2

cloves

garlic

, chopped

1

bell pepper

, chopped

2

tsp

chili powder

1

tsp

cumin

3/4

tsp

salt

3 -3 1/2

cups

vegetable broth

4

cans

black beans

, rinsed and drained
Instructions
Heat oil in a large soup pot for 1 minutes. Add onion and garlic and cook over low-medium heat for 4-5 minutes. Add spices, pepper and salt and cook for 1 more minute.

Add broth and beans and cook over low-medium heat for 20 minutes, stirring occasionally. Reduce heat if needed.

Let cool for 5-10 minutes and blend (see post for directions - either fully blend or partially blend). Add additional broth to thin if desired. Top with desired toppings and enjoy.
Recipe Notes
*Use Vegetable broth to make this a vegetarian recipe.
Nutrition Facts
30 Minute Easy Black Bean Soup
Amount Per Serving
Calories 260
Calories from Fat 45
% Daily Value*
Fat 5g8%
Sodium 299mg13%
Potassium 628mg18%
Carbohydrates 41g14%
Protein 15g30%
Vitamin A 26IU1%
Vitamin C 3mg4%
Calcium 50mg5%
Iron 4mg22%
* Percent Daily Values are based on a 2000 calorie diet.
Other easy soup recipes you may enjoy:
Healthy Curried Butternut Squash
Instant Pot Vegetarian Split Pea Soup with Kale 
Instant Pot Carrot Soup (Gluten-Free, Dairy Free)
Cauliflower Soup in the Instant Pot
Kid-Friendly Broccoli Cheddar Soup