It happened by accident, actually. I was making some dairy-free alfredo sauce and had out a pot and my blender. I also had some extra cauliflower and carrots, some chopped onion and chicken stock. And voila – this easy vegetable puree soup recipe was made. I later tried three different versions with alternative vegetables and a similar basic "recipe". This is the easiest way to increase your vegetable intake; It's also good for those who need a pureed diet and can even be added to other recipes to increase nutrient value and thicken them. This is a loose recipe, meaning that it's versatile and has the ability to make it your own. Which is fantastic, in my opinion!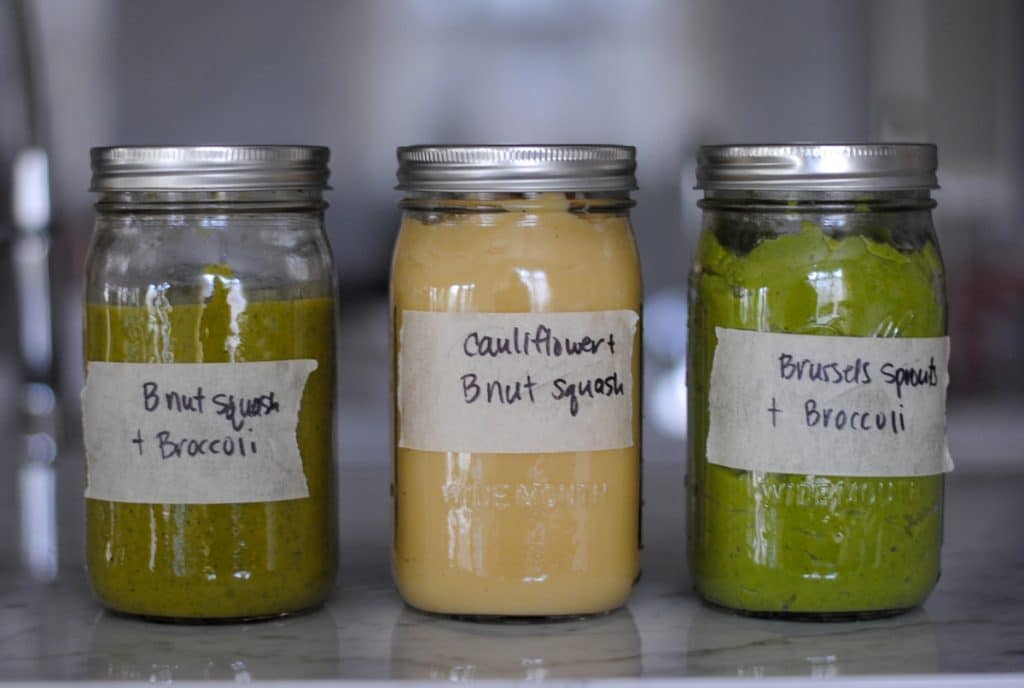 An easy soup recipe with few ingredients
This soup requires just a handful of ingredients: olive oil (or butter or ghee, if you prefer), chopped onion, chicken broth and vegetables. You can use vegetable broth if you want to make it vegetarian or vegan. Feel free to use just one vegetable, or to mix them up. As shown in my pictures, I've combined cauliflower and butternut squash, broccoli with butternut squash and Brussels sprouts with butternut squash, too. As long as you use a 4:1 ratio of vegetables to broth, you should be good! To make things even easier, purchase pre-cut and packaged organic vegetables. So easy and quick!

Toppings for pureed vegetable soup:
While these are not necessary at all,, this is where it really can get fun. If you like decorating your food like I do, this is where you can get creative! My kids enjoyed doing this as well. Nothing like some art work with food! Here are some of the toppings that we used. What else can you suggest?
Pumpkin seeds
Sunflower seeds
Homemade croutons
Broken pieces of crackers
Almond slices
Cooked quinoa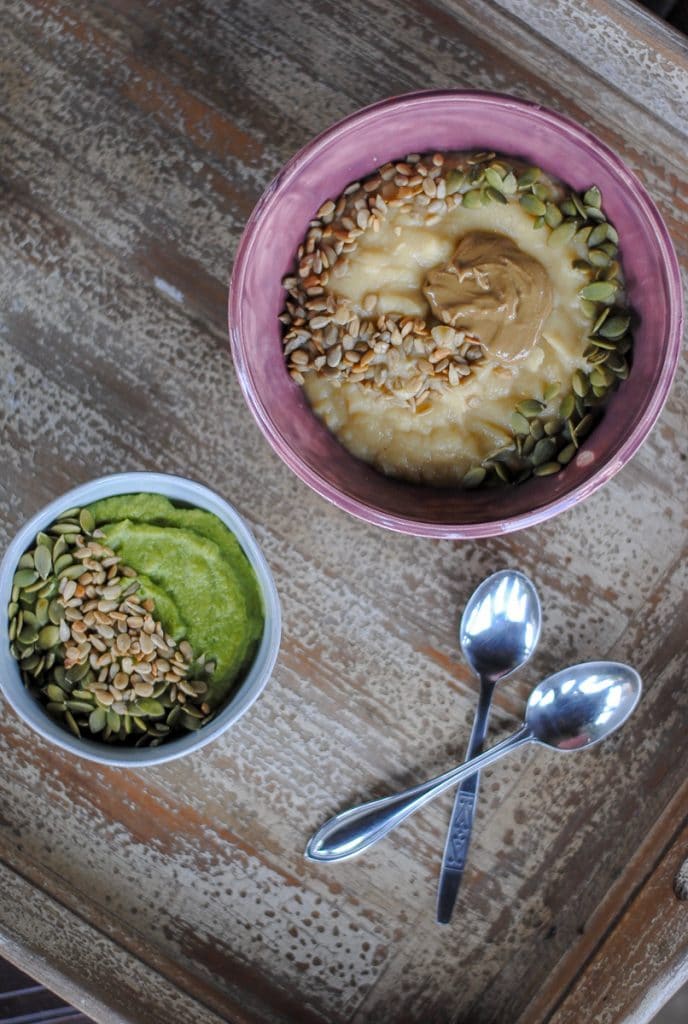 Vegetable puree recipe for babies – and adults, too!
So you've gotten this far, but you may be thinking – isn't vegetable puree for babies? Not necessarily! I love eating them with various toppings listed above. It's a fail-proof way to get lots of nutrients in easily. It's also easy on the digestive system! You can also use thicker purees as a base for a piece of cooked fish or chicken, if you please, but honestly they are so warm and nourishing as is. I highly recommend trying them! This being said, these are perfectly suitable for baby, too. Ensure that thicker vegetables are fully pureed before feeding to babies and adhere with any allergies/sensitivities that they may have, and you'll be set.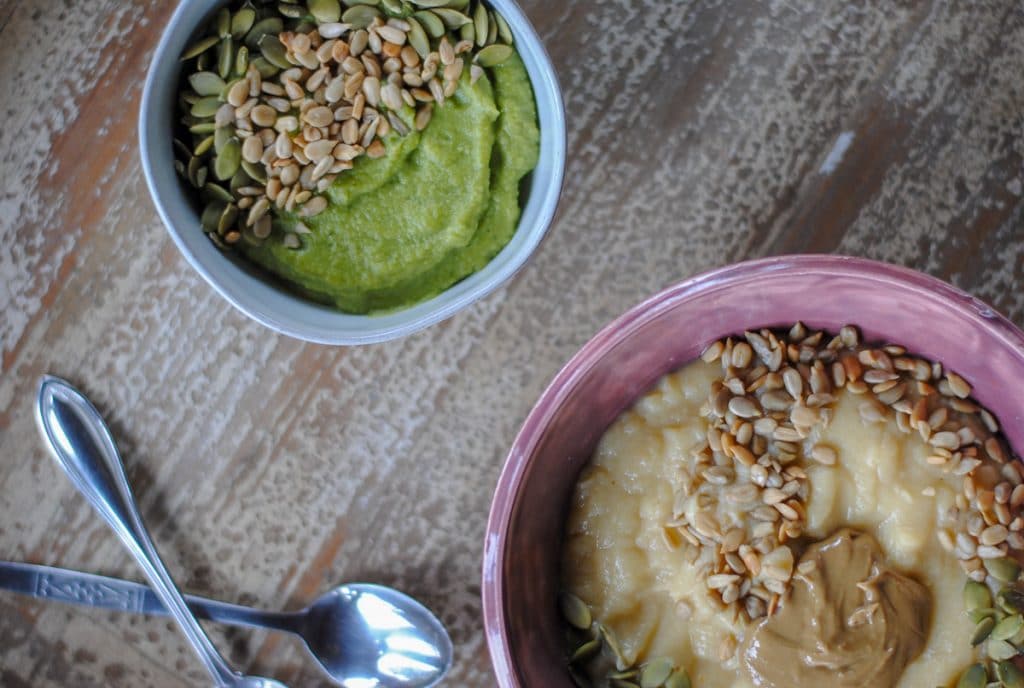 Common questions about Vegetable Puree Soup
What are the best vegetables to puree? Some of my favorites include the following – remember, you can mix some together, too!
Butternut squash
Sweet potatoes
Parsnips
Cauliflower
Carrots
Beets
Broccoli
Is it okay to put hot soup in a blender? Many high-speed blenders, like Vitamix and BlendTec, boast the ability to actually make soup within the blender. So yes, it is safe – but some precautions should be made: you should never fill a blender more than half way with hot liquids or purees. Let the soup cool for 5 minutes before adding to the blender. Fill it no more than halfway, put the lid on, and cover the lid with a towel. Hold down on the towel/top when blending, puree and let cool before storing.
How can I thin my puree? When I made the puree with Brussels sprouts and broccoli, the mixture was thick – likely the Brussels sprouts. No worries, because this is an easy issue to solve. Simply add more broth a tablespoon at a time into the blender. Puree and see if the consistency is to your liking. Repeat if needed.
What should I store vegetable puree soup in? Once the soup has cooled, store in glass jars. I like to use labels for ease of knowing what's inside.
How long will the veggie purees last? They will last 3 – 4 days in the refrigerator but can also be frozen.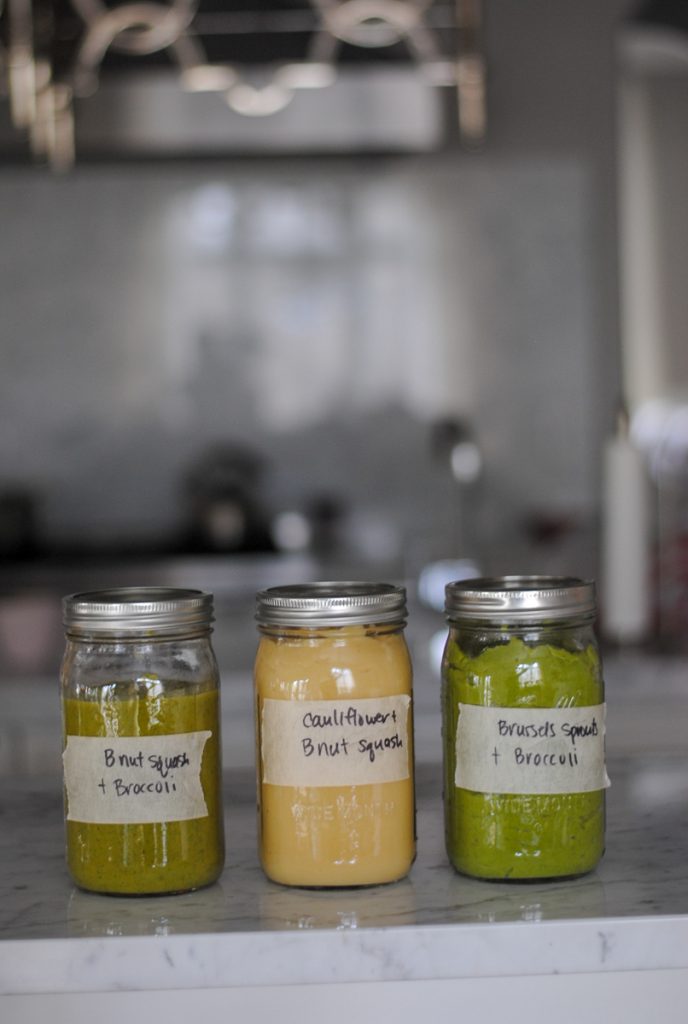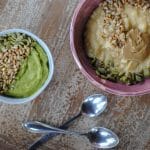 Easy Vegetable Puree Soup
Course:
Appetizer, Lunch, Side
Ingredients
1 1/2

tbsp

olive oil

1/3

onion

, diced

1/2

tsp

salt

8

cups

vegetables

, cut into similar-sized pieces to ensure even cooking

2

cups

chicken broth

(can sub vegetable broth)
Instructions
In a large pot, heat oil over medium heat. Add onion and cook for 2 minutes, stirring frequently. Add salt to onions, give it a stir, and add vegetables and broth.

Cover pot and lower heat to low-medium. Cook for 15 minutes and check vegetables to ensure they are soft. If needed, cook for 3-5 more minutes covered.

Turn off heat and move pot to another burner. Let cool for 5 minutes and transfer mixture to a high-speed blender.

See notes about blending (don't fill more than halfway, cover with lid and towel on top of lid) and blend until pureed. Let cool and transfer to jars.
Nutrition Facts
Easy Vegetable Puree Soup
Amount Per Serving
Calories 268
Calories from Fat 63
% Daily Value*
Fat 7g11%
Sodium 353mg15%
Potassium 1112mg32%
Carbohydrates 50g17%
Protein 6g12%
Vitamin A 120IU2%
Vitamin C 46mg56%
Calcium 100mg10%
Iron 2mg11%
* Percent Daily Values are based on a 2000 calorie diet.
Similar to this veggie puree recipe, this Instant Pot Carrot Soup is simple and tasty as Cauliflower Soup – both can be made in the Instant Pot. Let me know if you make some fun combinations, and happy creating!