A gluten-free, vegan and paleo pumpkin gnocchi that combines just 3 ingredients into a healthy comfort food. Quick to make, and quicker to be eaten, combine almond flour, arrowroot flour and pumpkin for a grain-free gnocchi that's easy to make and a seasonal fall recipe.
My family visited Italy three years ago and fell in love with gnocchi while there. Well scratch that; unfortunately one of my daughters and I were not able to enjoy, since we are both gluten free. And since then, another daughter has had to go gluten free. So I was bound and determined to create a version that we could also partake in. Last year I made this sweet potato gnocchi which we still love, but I wanted an easier version: enter paleo pumpkin gnocchi which uses canned pumpkin to make it soooo much quicker. Bam! Gluten free, quick to make and super tasty. That's what I'm all about here at Easy Real Food! 😉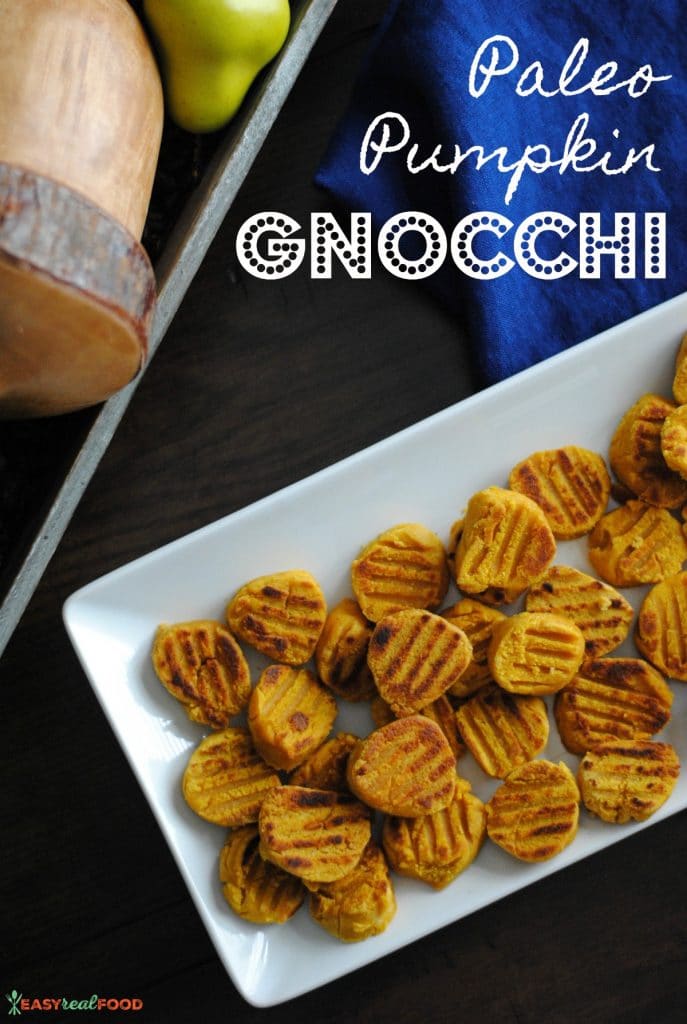 What is gnocchi?
Gnocchi is a traditional Italian dumpling made from potato, semolina or flour and served with a sauce. While it's sometimes confused with a pasta, pasta is made with flour and gnocchi is made with potato. To make a gluten free gnocchi, you simply swap flours to a gluten free flour.
Why I love paleo pumpkin gnocchi
Can we say comfort food??! There's something so delicious about the pillowy texture. Lucky for you, these are grain-free, too!
Perfect to make on those days when you have no idea of what to make. It's sooo quick to make!
It incorporates vegetables within!
Almond flour provides a protein punch.
It's scalable. Make a small batch with whatever's left in your can of pumpkin, or increase the quantity to make a whole can's worth!
It's paleo, vegan AND gluten-free. (Use avocado oil to cook in in lieu of ghee if you are vegan).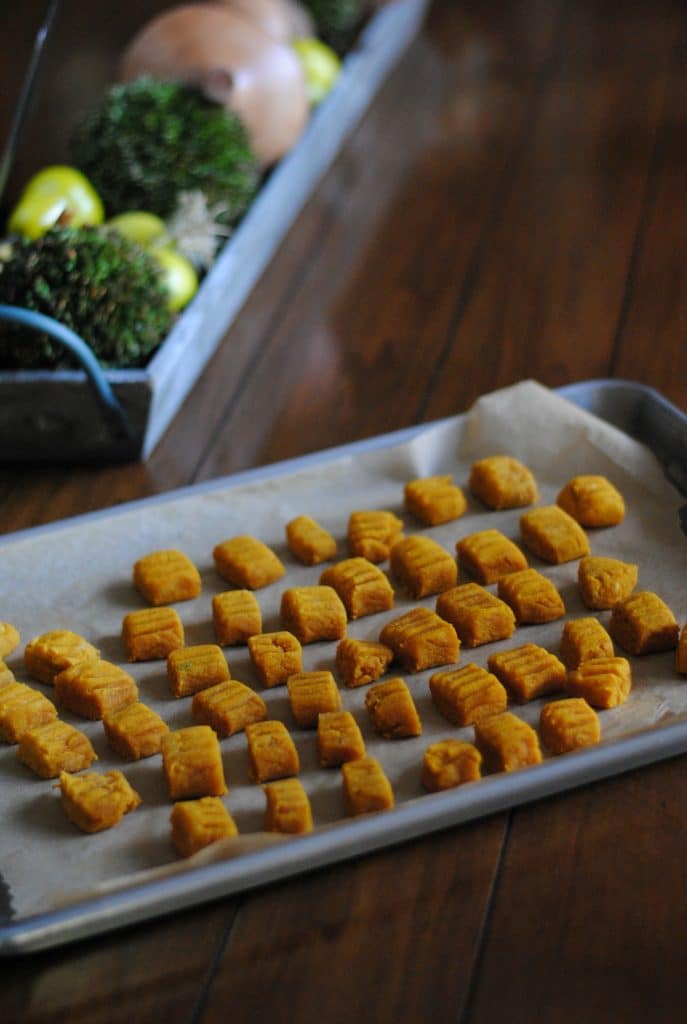 Is it better to bake or fry grain-free gnocchi?
There are two different ways to make this paleo pumpkin gnocchi. Well, three, technically, but boiling this version makes it too gummy so I'm not even mentioning that one. I have had success in both baking and frying it. Both methods yield a tasty version, so it's really up to you which way you want to do it. Try both and see which you prefer!
How to fry paleo pumpkin gnocchi
Melt 1 tablespoon butter (I like Kerrygold salted butter) or ghee in a saute pan over low-medium heat until melted. Use avocado oil if you are vegan. Add gnocchi and cook for 5 minutes; flip and cook 5 more minutes, adding more butter/oil if needed.
How to bake paleo pumpkin gnocchi
Preheat oven to 350 degrees F. Line a cookie sheet with parchment paper and place gnocchi on top. Cook for 16 minutes, flipping gnocchi halfway.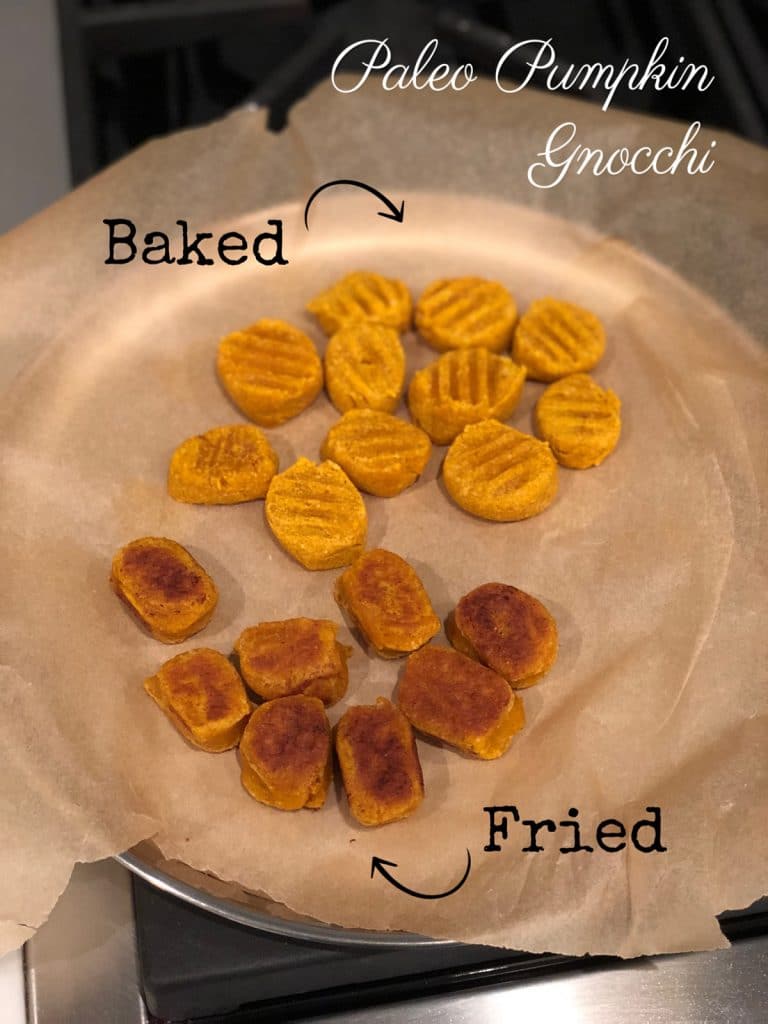 What you'll need to make Paleo Pumpkin Gnocchi
Paleo Pumpkin Gnocchi
A gluten-free, vegan and paleo dish that combines just 3 ingredients into soft and comforting paleo pumpkin gnocchi. Quick to make, and quicker to be eaten!
Course:
Dinner, Lunch, Main Course, Side Dish
Ingredients
1

cup

pumpkin puree, organic if possible

1

cup

arrowroot flour

1

cup

almond flour

pinch

salt and pinch of cinnamon, optional

2

tbsp

salted butter (I like Kerrygold)
Instructions
Mix all ingredients in a medium-sized bowl.

Divide into about 4 balls and roll into "ropes". Cut ropes into pieces (resembled in pictures) and use a fork to make a gnocchi-like design in each piece as in pictures.

Add 1 tbsp of butter to a saute pan and heat butter on low-medium heat. When melted, add gnocchi, being careful not to overcrowd. You will need to make two batches. Cook for 3-4 minutes on each side. Repeat with remaining butter and remainder of gnocchi. If necessary, add a bit more butter as you are cooking. See notes regarding baking instructions.

Serve warm on top of greens or as a side.
Recipe Notes
This is best eaten fresh.
Nutrition Facts
Paleo Pumpkin Gnocchi
Amount Per Serving
Calories 344
Calories from Fat 171
% Daily Value*
Fat 19g29%
Cholesterol 15mg5%
Sodium 54mg2%
Potassium 126mg4%
Carbohydrates 39g13%
Protein 6g12%
Vitamin A 9710IU194%
Vitamin C 2.6mg3%
Calcium 88mg9%
Iron 2mg11%
* Percent Daily Values are based on a 2000 calorie diet.
I like putting this gnocchi atop a nice big salad and simply drizzling tahini on it. I also have fried some greens in the same pan that I used to fry this in and mixed that all together which was super tasty, or simply add it to roasted vegetables, or serve as a side dish. Are there are other ways to enjoy this that I may not have tried yet? Tell me about how YOU like it in the comments below!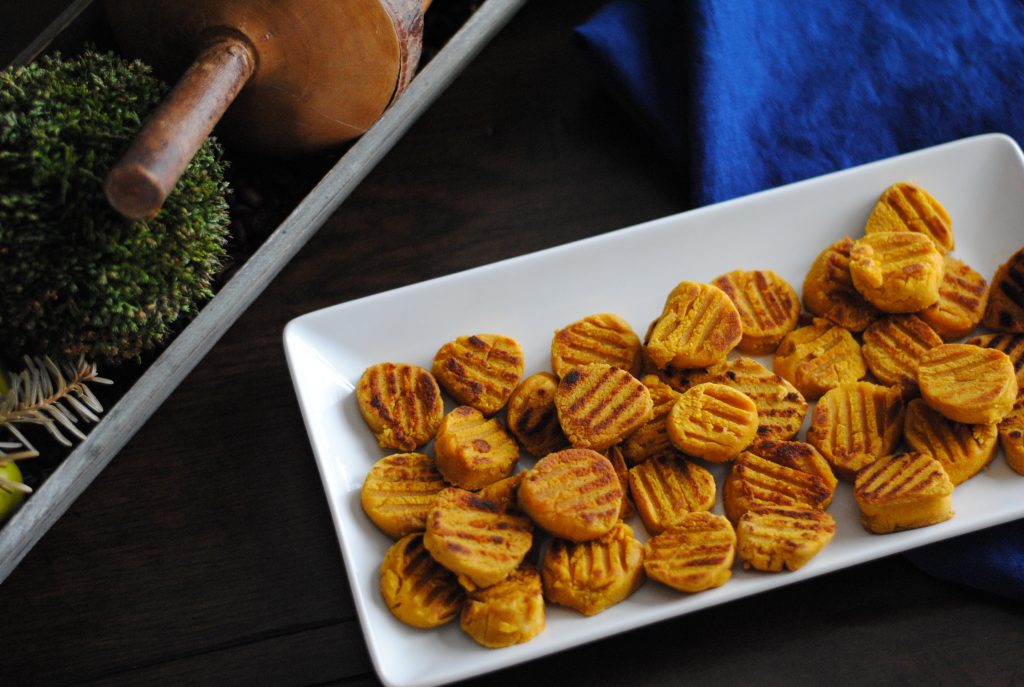 Other gluten free pumpkin recipes that you may like:
This post may contain affiliate links which won't change your price but will share some commission.