I'm often amazed at how quickly time goes. I mean, doesn't it seem that you can blink and years go by? Sometimes I want to go back to days that have passed and relive those experiences – like when my children were younger; such sweet and innocent times. I made a friend back when my 3rd daughter was two. We hit it off over clean living, real food, occasional (ha!) swear words and our love of cooking. Every Friday we'd let the kids play and cook together, and granola was one of the foods that we made. Flash forward to 8 years later, and this healthy pumpkin pie granola is still going strong, as is our friendship:).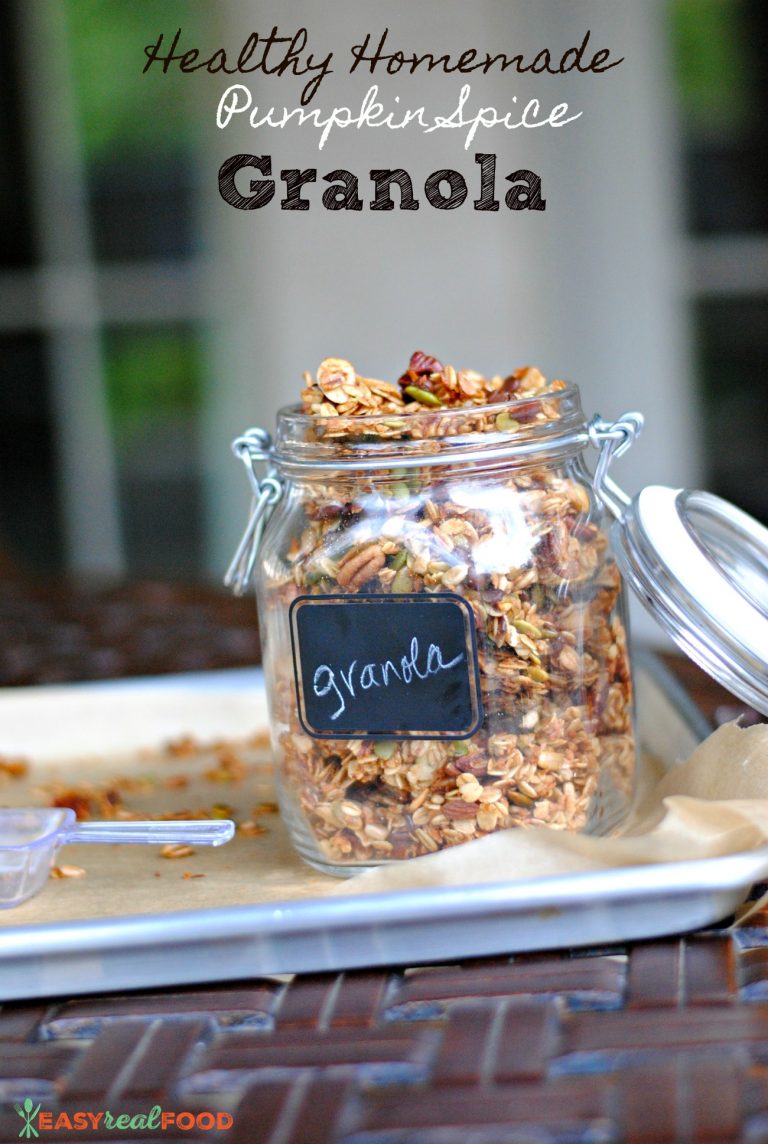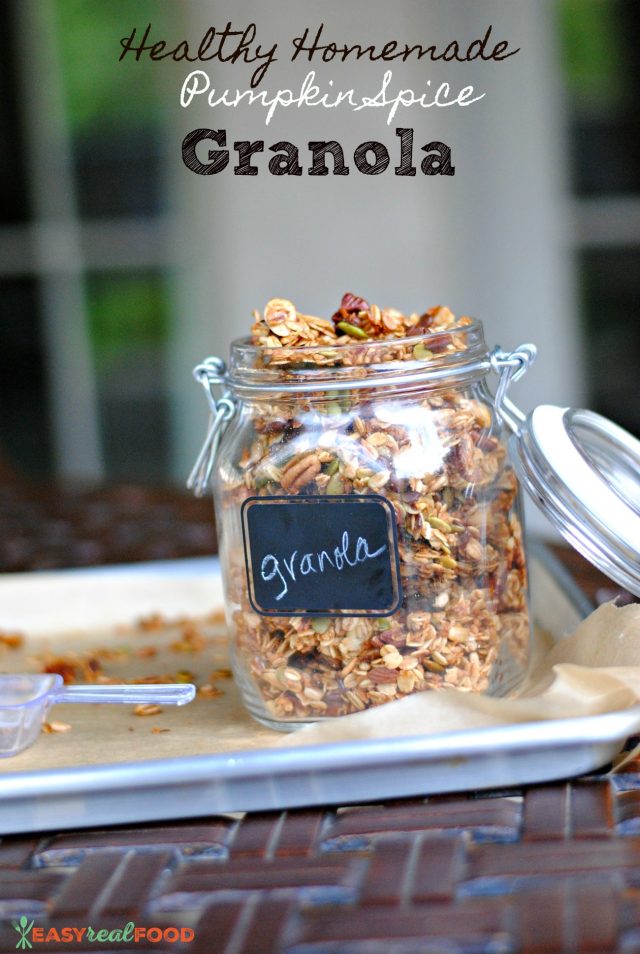 Healthy Pumpkin Pie Granola
Making homemade granola was always a goal for my friend and I since 1. we loved it and 2. the store-bought versions tend to include so many unnecessary ingredients, including added refined sugars. I mean, why take something that can be so good and make it into a real food ruined? Have no fear; if you use this recipe for healthy pumpkin pie granola, you can serve up a healthy, homemade version of whole grains, nuts, seeds, all combined in a super-tasty mixture.
Truth be told, I dropped off of making granola after our kids started to get older and involved in more activities, but Shawn (my friend) kept it up and continued to improve on the formula. When we spent the weekend with them over the summer, my kids were reminded of how much they loved this homemade cereal, and I've been making batches of it weekly ever since.
About this healthy pumpkin pie granola recipe
It's versatile. Choose whichever nuts you prefer. We tend to like pecan pieces and almond slivers, but cashews will work well, too. I always opt for raw or organic nuts if possible.
I love that it includes seeds, too. Seeds provide plant-based protein along with folate, fiber and antioxidants.
We added in some mini chocolate chips – not too many, but just enough to up the interest factor for the kids:). Make sure to add them in after the initial 10 minutes of baking, or else they will melt.
The granola will continue to harden as it cools. Feel free to leave in chunks or to break up.
You'll notice that there is a combination of fats (butter + coconut oil) as well as sweeteners (maple syrup + honey). We believe this is what attributes to the wonderful final taste.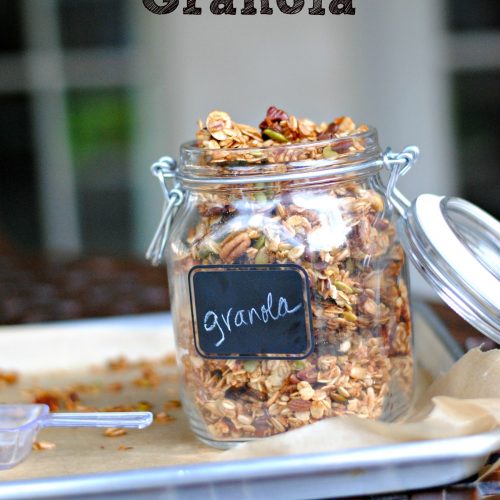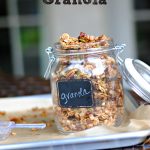 Healthy Homemade Pumpkin Spice Granola
An easy recipe for healthy pumpkin pie granola that contains no refined sugars and is chock full of whole grains, nuts and seeds.

Instructions
Preheat oven to 350 degrees F. Line a baking sheet (or two) with parchment paper. In a large bowl, mix dry ingredients together.

Melt butter and coconut oil in a microwave-safe bowl (I like to use a Pyrex measuring cup for this) in the microwave. Add honey, maple syrup and vanilla. Mix to combine, and heat for another 30 seconds in the microwave. Stir and pour onto the dry ingredients. Mix until all of the dry ingredients are coated.

Take granola mixture and spread onto the parchment prepared baking sheet. Layer should be thin to ensure that it cooks evenly. You will need to use 2 cookie sheets, or do two batches.

Place in preheated oven for 10 minutes. Remove briefly and sprinkle on some chocolate chips. Place back in the oven for 10 minutes watching during the last few. Remove from oven and let cool. Break once cooled.
Nutrition Facts
Healthy Homemade Pumpkin Spice Granola
Amount Per Serving
Calories 360
Calories from Fat 225
% Daily Value*
Fat 25g38%
Cholesterol 7mg2%
Sodium 125mg5%
Potassium 235mg7%
Carbohydrates 28g9%
Protein 7g14%
Vitamin A 90IU2%
Vitamin C 0.3mg0%
Calcium 47mg5%
Iron 2.1mg12%
* Percent Daily Values are based on a 2000 calorie diet.
Bake up this healthy pumpkin pie granola on the weekends and have it on hand for busy work or school mornings. We like to serve it with hemp milk, but truly, any dairy or dairy-free milk will suffice. It's also super taste on top of yogurt, smoothies, smoothie bowls or even ice cream!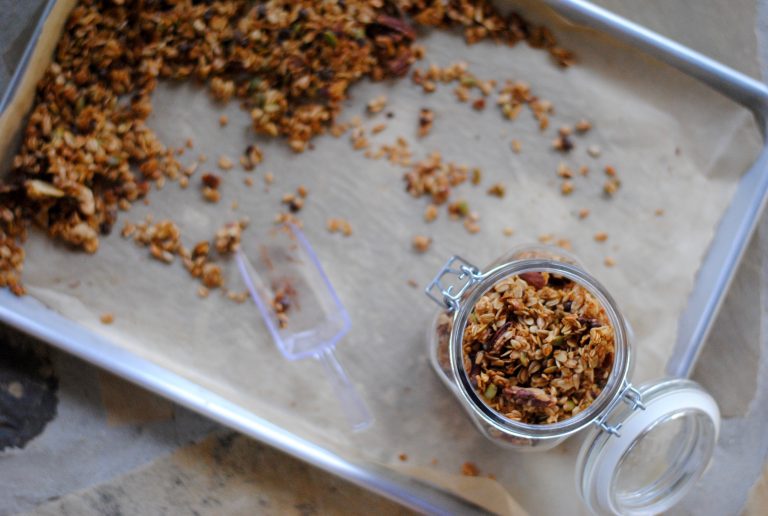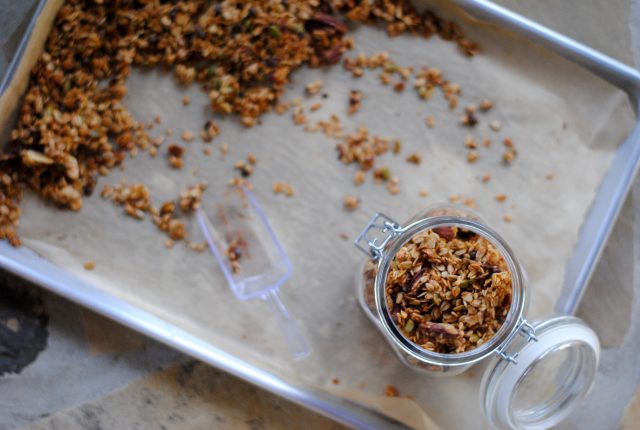 Healthy pumpkin pie granola is the perfect, homemade alternative to store-bought granolas and even cereals. Oh yeah – it's so easy that your kids can even help you make it! Let me know if you guys give it a shot. And a special thanks to Shawn for not only letting me share this recipe, but also for the years of friendship. XOXO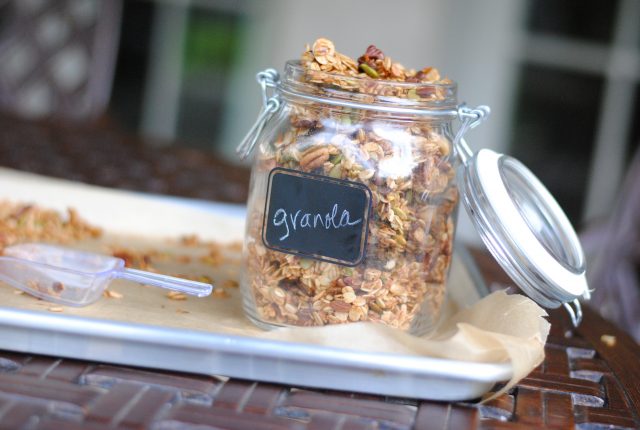 This post may contain affiliate links which won't change your price but will share some commission.