Most parents are on the lookout for fun summer activities for their kids. Whether it's a local tennis camp, museums, arts and crafts events, there is no shortage of summer activities and kid entertainment that you can fill each summer day with. Here are 25 ideas on how to keep kids active in the summer.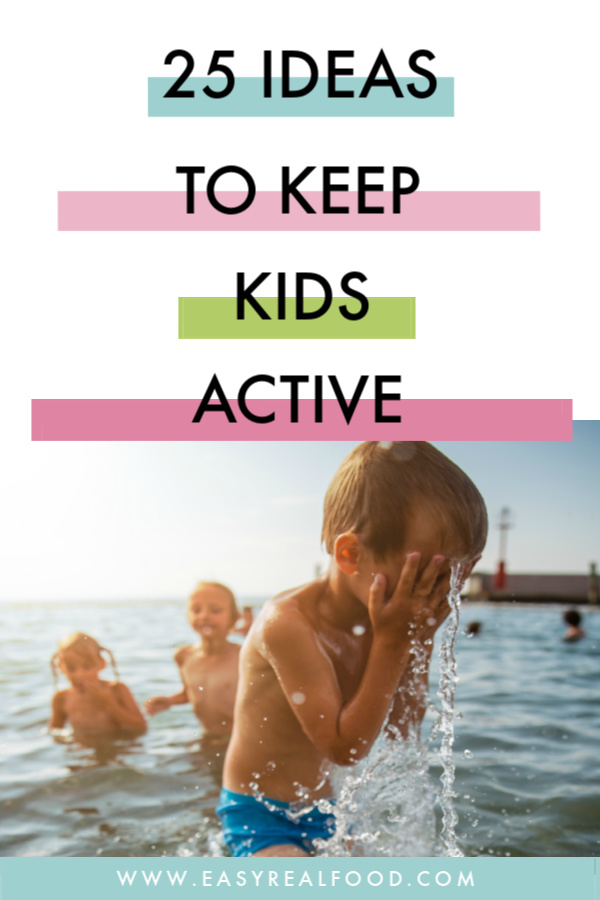 Fun Summer Activities For Kids
Camp out – grab your tent, and head to a campground or even your backyard and get ready for some outdoor, sleepover fun! Don't have a tent? How about one of your neighbors or friends? Don't forget the flashlights, s'mores makings and other tasty camping foods.
Have a picnic – start by having the kids make a list of foods to bring; then take them grocery shopping, prep together and head out for the grand event.
Go for a bike ride – pretty self explanatory, but think through some fun rides; or just be spontaneous and go where the sidewalk is calling you!
Have a scavenger hunt  – keep kids active by creating a scavenger hunt. Think creatively: make one up for the neighborhood, a local park, or even indoors or at the mall on rainy days.
Make a bike path with sidewalk chalk – I actually have my kids to thank for this idea. They take the chalk out, make a "road" with the chalk, and then ride along the path. Love that this also sparks creativity!
Shop a farmer's market – farmers markets are so great for many reasons: not only are you supporting local farmers and artisans, but you're also getting outside, getting some active movement, and leaving with some fresh produce, meats and more to meal prep with.
Do a family workout – this may look different for different families. What does your crew like to do? Is it a family walk? Bike ride? Or do you want to put on some music and create your own bootcamp? Have a discussion and decide what suits your fancy.
Go for a walk or a hike – find a new trail, check out a different neighborhood, or simply meander down known roads. I love how families get to talk and really bond during this outdoor time.
Visit an animal shelter – many kids enjoy going to see animals at shelters. Make sure to call ahead, and see if you can bring any items to donate. Be sure to bring a leash if there's a possibility of bringing home a new pet – you never know! 🙂
Walk to get ice cream – I mentioned above going for a walk; what I've personally noticed is that having a destination can be just the inspiration that you (or your kids) may need.
Throw a homemade pizza party – cooking together is such a fun family activity, and most everyone loves a good pizza party! Make your own dough, divvy up the topping prep, and let everyone make their own personal pizza.
Volunteer together – while this is a tough one during the school year, it's a great activity to do during summer vacation. Find an organization that's near and dear to you and bond as you help others out.
Make up a dance – you know the saying – dance as if nobody is watching. Find a tune, clear the furniture, and start choreographing. Got two left feet? There are plenty of YouTube videos that can help inspire you!
Have a water balloon fight – I have yet to meet a child who is not fond of a good old water balloon fight. Head out on a hot day and get ready to get moving AND get wet! I love this bunch of balloons – makes it so easy to fill them up in seconds – and highly recommend them.
Plant a garden – planting a garden holds so many positive aspects for children. Not only are they being active in planting the seeds, but each time the garden needs watered, it includes additional activity as well as showing them how to care for something, where food comes from and the science behind plants growing. This Seeding Square makes it easy for just about anyone to get started gardening.
Host a family game night – self explanatory, but break out your favorite board games and outdoor games as well! To really get active, try flashlight tag (outside), hide and seek and even tag. Some of our favorite board games are Uno, Life, Clue, ColorKu and OutFoxed.
Check out your local library – I'm always amazed at the wonderful offerings at our public library. From reading groups to science experiments and teachings, there are so many programs for kids (and adults!) of all ages. Plus many have summer reading programs that can be inspiring to be a part of, too.
Visit as many local parks as possible – keep kids active by checking out parks in the area, but first do some research and find all of those parks that you've been wanting to go to but haven't gotten to. Make a plan, and go to as many as you can!
Scrapbook together – though this isn't physically active, kids love getting creative with scrapbooks. Either do this as a one-time event at the end of the summer where you journal the pics of your summer activities, or do it weekly or bi-weekly for an updated book that you can continually look back at.
Have the kids make dinner – I'm a HUGE fan of getting the kids in the kitchen anytime of year, but it makes a wonderful summer activity as well. Here are some more details on getting the kids started, and you also should check out Camp Kitchen which is a 5 day kids cooking "camp" – a structure to get your kids excited about cooking – as well.
Take turns storytelling – no campfire required, take turns in making up stories. It's always so fun to hear what the kids have to say!
Find free local events – every city has resources for finding free local on events. If you're local in Charlotte, NC like I am, this is a great resource. Where do you look for free events?
Have a baking contest – another idea that I have to credit one of my kids with: a baking contest. Form teams or go it alone. Don't share your recipe, but instead have a "taste off" at the end and see whose creation wins. Everyone is actually a winner here since everyone gets to partake in trying them! Need some inspo? Here are some super baking recipes.
Build a fort – a great rainy day activity for kids, or whenever you want to beat the heat, too.
"Paint" with water and paint brushes or water guns – so easy and fun; break out the paintbrushes and a bucket of water and "paint" on the sidewalk, driveway or wherever!
Okay friends – what have I missed? Share some of your favorite activities to do in summer vacation in the comments below!