Cruising with dietary restrictions
We took our first cruise in 2018 and I was beyond thrilled with everything, including the food. I am lactose intolerant, gluten sensitive (possible celiac) and have sensitivities to a number of other foods including nuts, legumes, beans and more. During that first cruise, I was also not eating corn or soy – two foods that are in almost everything. And yet, Disney didn't have an issue accommodating my dietary restrictions. I was beyond impressed with how they handled it, and thus we took a second cruise a few weeks ago. I'm happy to share that you CAN eat gluten free on a cruise.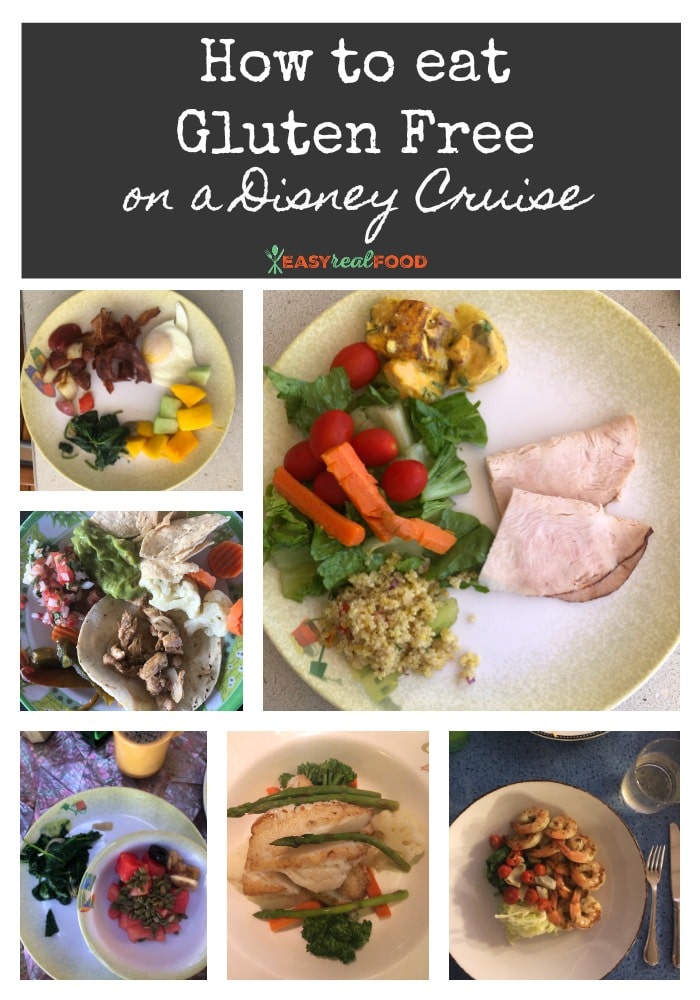 Our 2nd Disney Cruise Experience
Disney Magic was the first cruise line that we vacationed on, and Disney Fantasy was the second. While both ships are AMAZING and have their pros and cons, my personal opinion was that I preferred Disney Fantasy. While it is larger and therefore have more people, it had more space to spread out and more to do. Since we have such great cruise experiences, I'm sure that another one is in our near future!
6 Tips on How You Can Eat Gluten Free on a Cruise
Inform them of your food allergies and food sensitivities ahead of time.  Whether you book the cruise yourself, or have a travel agent help you, Disney wants to know about your food allergies and sensitivities. I've personally booked our Walt Disney World visits, but I used Lori Burton (with Magical Travelers) to assist with planning our trip, and she shared my food sensitivities along with two of my girls'. This is helpful so that your servers, who will stay with you for the whole cruise, will be informed and prepared.
Work with your server. While on a Disney Cruise, you'll have a preset plan of the dining areas which you'll visit each night. You'll have a team of two servers who will be with you each of those nights – so once they are familiar with your dietary preferences, it's easy for them to accommodate. We found them so insightful: my husband LOVES meat, and so two of the nights they brought him an extra dish that they knew he'd enjoy. And you can imagine my joy when they had the kitchen prepare this gluten free, dairy free and nut free sundae for me without me asking for it. They really do go over the top!!
Order the night before. This was hands on one of the best things that we did. Each night, our server would give us a menu for the following evening's restaurant. We could choose whatever we wanted, and since they had advance notice, they could make it happen. Two of my girls even had gluten free Chicken Schnitzel with Bacon Potatoes and Green Beans. Gluten free schnitzel! Now if we had waited until the night of, they wouldn't have time to prepare a gluten free version. You can also order the night before for breakfast and dinner; even if you'll be visiting a buffet (Cabanas on Disney Magic and Disney Fantasy), they can prepare those foods ahead of time and they'll be ready when you arrive.
If you don't see it, ask. My girls were delighted to find that even though gluten free donuts and muffins weren't on the menu, each morning they asked – and received!! I also went to a "quick station" where they had salads and sandwiches. I so badly wanted a turkey sandwich with lettuce and tomatoes – no bread. Naturally this was not in the display (lol), but I asked for it and got it! My point: don't be afraid to ask.
Inquire at the buffets. Disney Magic and Disney Fantasy both had Cabanas, which was a big buffet that is open for breakfast and lunch. They had SOOO many options that I truly didn't need to ask for anything additional. That said, my girls wanted gluten free muffins one morning, so all I had to do was ask. They also had eggs made to order so I could get a dairy-free omelette with all the veggies since it wasn't out. Some cooked potatoes looked sooo yummy, but as always, I didn't know if they were gluten free. All I had to do was ask, and they made me my own version. Again in this situation – asking for what you want the night before can be helpful. If you have time, though, they can get you most of whatever you'd like!
Take your own snacks. While I honestly didn't need any of these, I did (and always do) take snacks along just in case. If you are doing any excursions or will be spending time on the islands, this can be helpful, too! Some of what I brought along this year included: a GoMacro Bar, Turkey Jerky, Enjoy Life Protein Bites, a few packs of SunButter, a jar of Betsy's Best and some homemade trail mix with pumpkin and sunflower seeds, raisins and figs.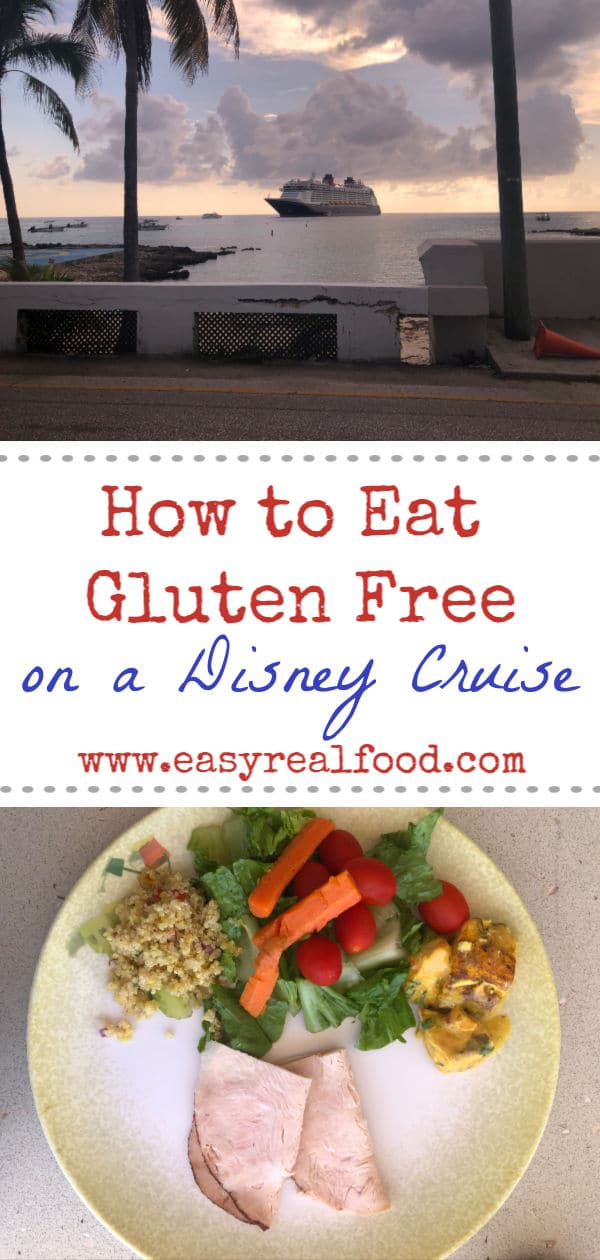 Eating vegan on a Disney Cruise
Though I'm not vegan, I was vegetarian for 5 years and have a solid understanding of both how to eat vegetarian and how to eat vegan. As with any dietary restrictions, both by choice and not by choice, eating out and eating out while out of town can be stressful. Alas, it is not stressful to eat vegan on a Disney Cruise. If you follow the above suggestions, you should be pleasantly satisfied with both Disney Cruise Line's offerings and accommodations. I saw menus that included vegan items, and I saw a number of vegan offerings at the buffets as illustrated in the image below.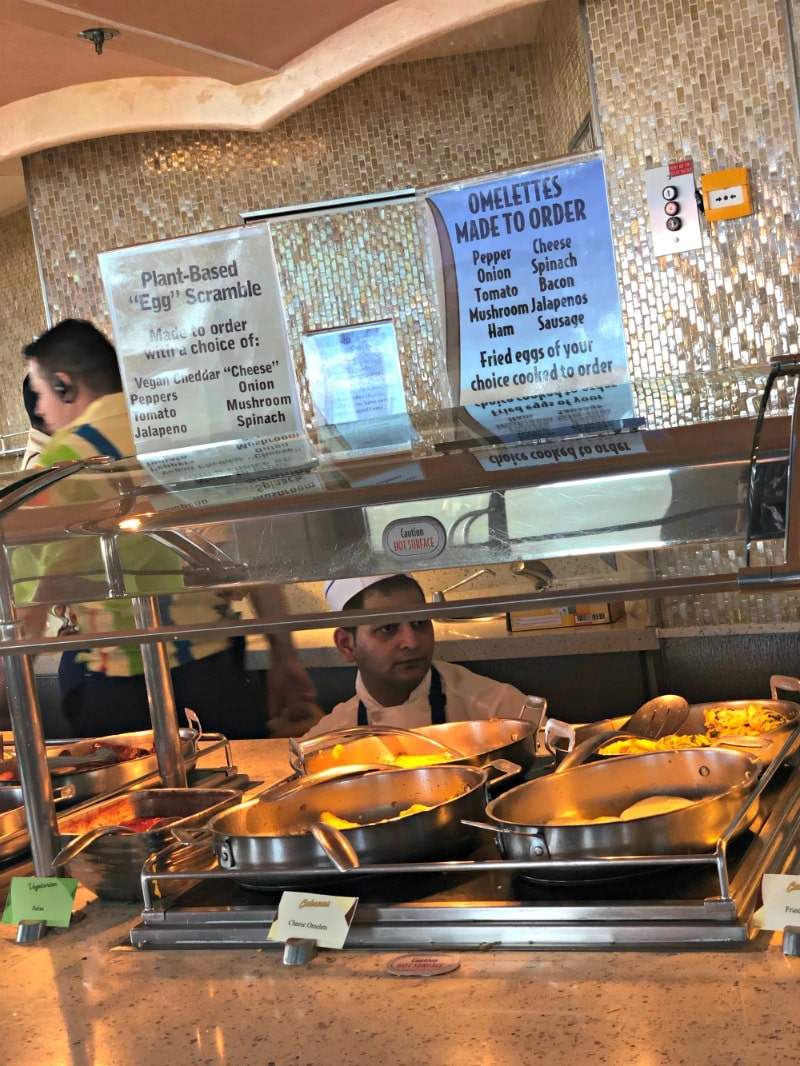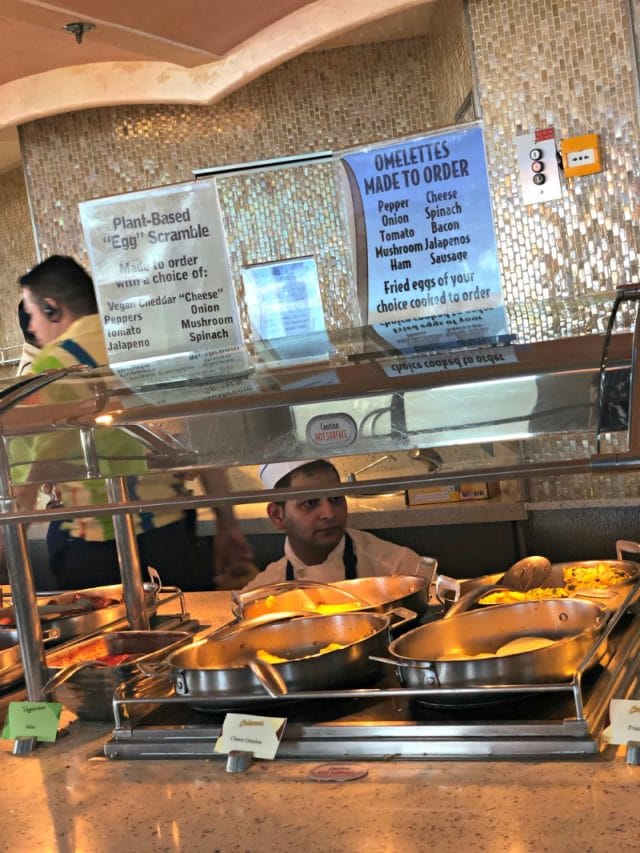 So there you have it! We had an amazing Disney Cruise experience and can't wait for the next time. Share more about your cruising experience in the comments below – I'd love to hear about it!