My eldest daughter turned 16 in February. I took her and four of her friends to the mountains for the weekend to celebrate, and this is where I first learned about a bullet journal. Jaiden, my daughter, had asked for one for her birthday. I had never heard of bullet journals, so I was curious to hear more about them. Fast forward to us being housebound due to the virus, and not only has she put great use to her bullet journal (she got one for her birthday) – but she's also been exercising, meal planning and more. Here's a guest post from my 16 year-old – How to Use a Bullet Journal for Weight Loss.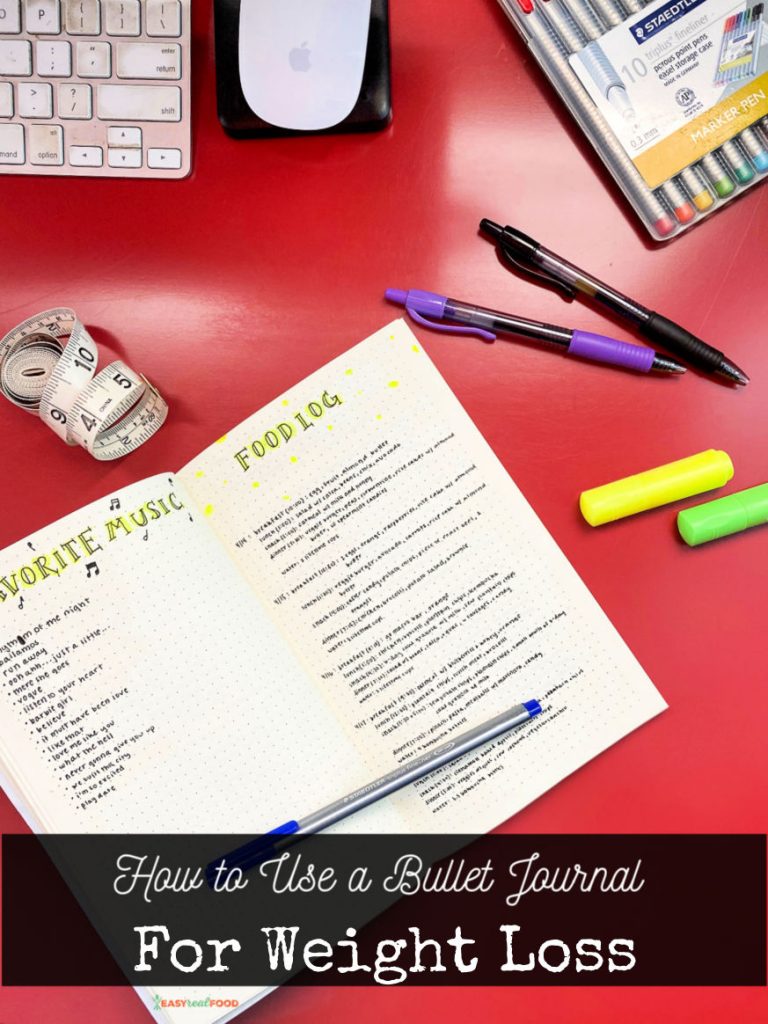 What is a bullet journal?
Bullet journaling was originally created by a man from New York, Ryder Carroll. He said a bullet journal is used "to help you track the past, organize the present, and plan for the future". The system of bullet journaling is used to help you stay organized and productive, while also giving you something to look back on in the future, sort of like a diary. These days, instead of just using bullet journaling as a way to stay organized, it has now become an artistic outlet for people. There's not just one way to do it – they are personalized and meant to suit each individual. 
The idea of bullet journaling can be used as a planner, diary, or just a place to jot down thoughts. Unlike original day planners, bullet journaling encourages not only planning, but also reflecting on daily activities, recording emotions, and tracking goals and habits over a period of time. And for people thinking that they cannot use a bullet journal because they are not creative, or rather art is not their strong suit, there is no need to worry! Because the bullet journal is the author's own, it can be as simple or as creative as one desires. It does not matter how neat or colorful the bullet journal is, just as long as it is suitable for you.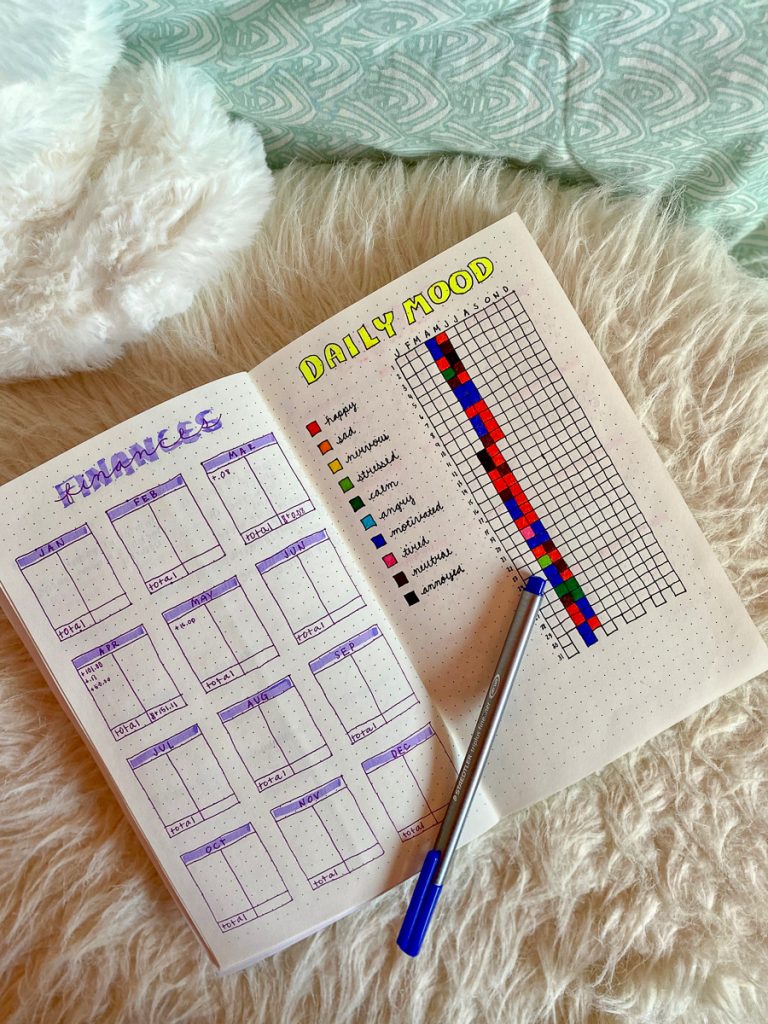 What do you put in a bullet journal?
The real question is – what do you want to track?  From simple to creative, there are many different planning systems to the layout of a journal. While the pages in a bullet journal may appear different for a student in college than an adult, bullet journals are useful for anyone! A college student might more be looking for a planner-type of bullet journal to stay organized with school work, and a teenager might more be looking for a place to track their habits and moods. While this is true, there are a few pages that I would say are essential:
Index – an index helps you en

sure that your pages are organized and easily accessible.

Future log – t

his section is where you can record deadlines, goals and events that you want to achieve within the next few months or by the end of the year.

Monthly spread –

 a monthly spread is a calendar where you keep track of your schedule and events that month. If you want to take it to the next level, you can decorate it, add monthly goals, quotes, etc.

Daily spreads – these

are important to log daily tasks and things that you would like to achieve on that day, along with daily notes and events.
These four pages help to build a basic bullet journal. Once you have these, it is time to take your bullet journal to the next level and customize it as your own!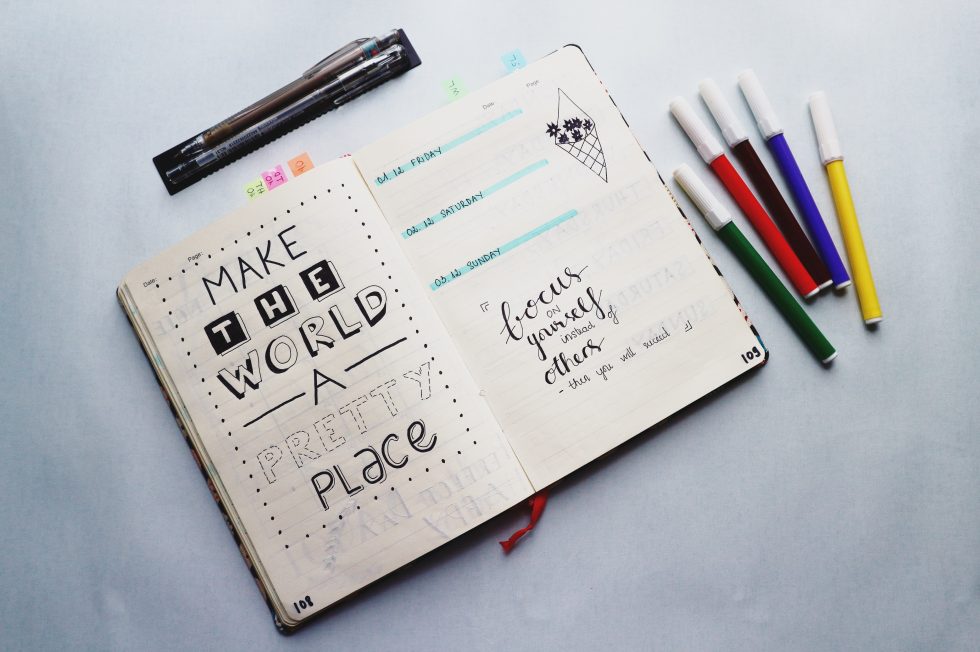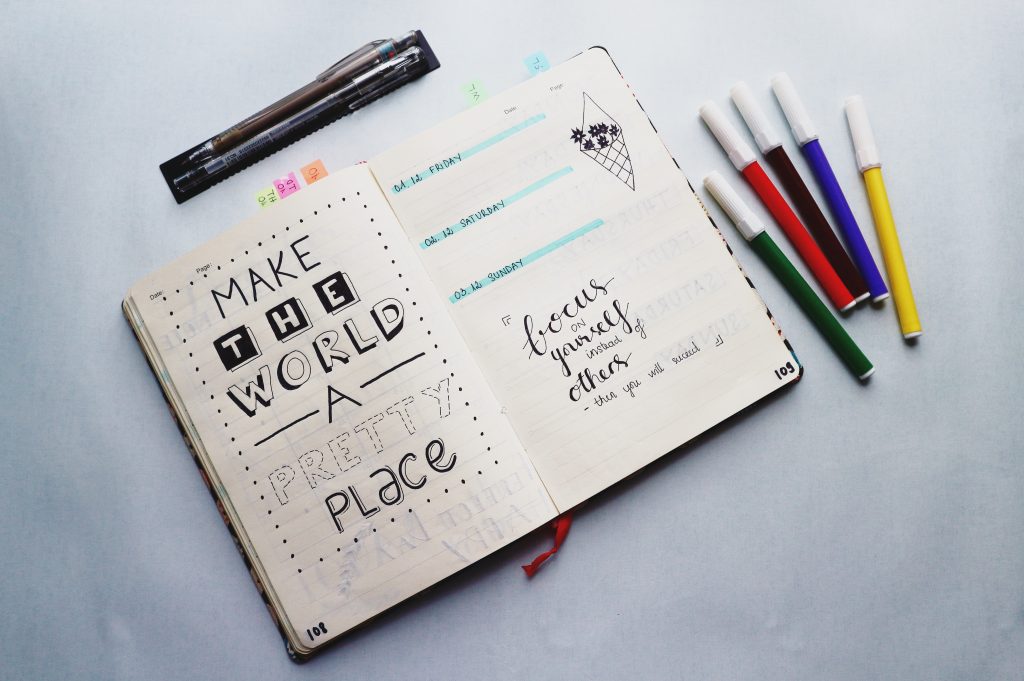 Bullet journal page ideas
Index
Bullet journal key/symbols
Yearly calendar
Annual goals
Monthly goals
Annual review
Monthly review
Finances
Monthly cover/title
Monthly calendar
Mood tracker
Sleep tracker
Water tracker
Habit tracker
Exercise tracker
Brain dump
Food log
Meal planning/grocery lists
Weight tracker
Music of the month
Quote page
Contacts list
Passwords list
Birthday calendar
Monthly/weekly/daily to do
Books to read or movies to watch
Mind mapping
Travel bucket list
Can you start a bullet journal at any time of year?
With bullet journaling, there is not a specific time to begin one. You can start at the beginning of the month, year, week or even day. Since you are starting with just a regular notebook (here are examples), you can create your bullet journal in relation to the time that you begin; it does not matter if it is in the middle of the year.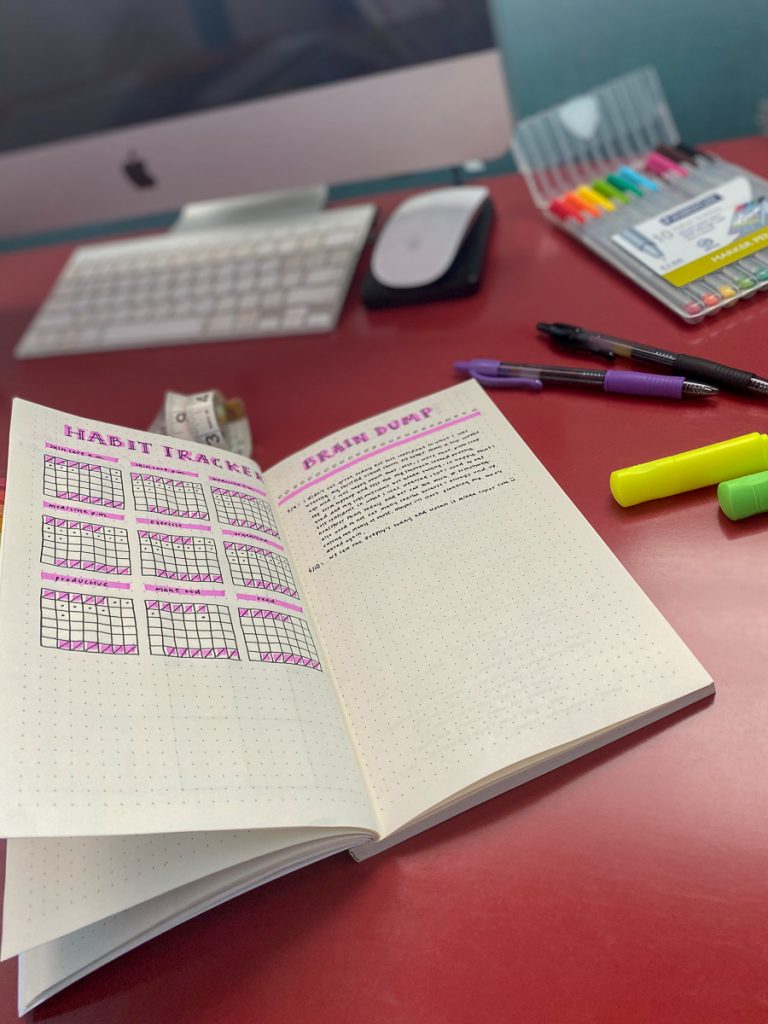 How to use a bullet journal for weight loss
While I didn't want to lose lots of weight, I did have a goal to get fit, lose some pounds and just eat better overall. Here's how I used my bullet journal to help:
First and foremost, you are going to want to include a meal plan. By using one of these, you can control what you eat, how much you eat, and when you eat. I would recommend planning a week of meals in advance. This way, you have time to shop for and prepare your food.
Once you have your meals planned out, it is time to make a shopping list. Don't want to take your bullet journal to the store? Make it pretty and then snap a pic.
In my opinion, the most important page to have in your bullet journal (to lose weight) is a food log! Here, you can write out everything that you eat and the time that you eat it. This has been huge for me because I used to be a big snacker. I have learned to be more conscious about how much I am snacking.
With that, another helpful thing I use is intermittent fasting. It is important to let your digestive system rest. This gives our bodies a chance to be in the fasted state, where our insulin levels lower the body starts to burn stored body fat for energy as opposed to burning glucose. I like to try and go at least 12-14 hours, but somewhere in between 12-16 hours is a good amount of time. Track this in your journal. In my food log, I also make sure to write down how much water I drink every day because it helps to boost your metabolism and helps to decrease one's appetite.
While it is important to watch what you eat, it's also necessary to exercise (check with your doctor before starting any new exercise program). Personally, I check a box if I exercise that day, but if you like, you can include what you do for exercise. You can even plan your workouts in advance! Using a workout/exercise tracker also can be motivating to workout more.\
Lastly, you should track your weight and/or body measurements. Without doing this, it is possible to feel like you are not making any progress. After all, you see yourself each day and because of that, it is hard to see the changes in your body. Make it a goal to be consistent with your weight tracking; a good goal is everyday or every other day.
Which of these pages you put in your journal is your choice; they are not all essential, but in my experience, all have been useful and serve a purpose.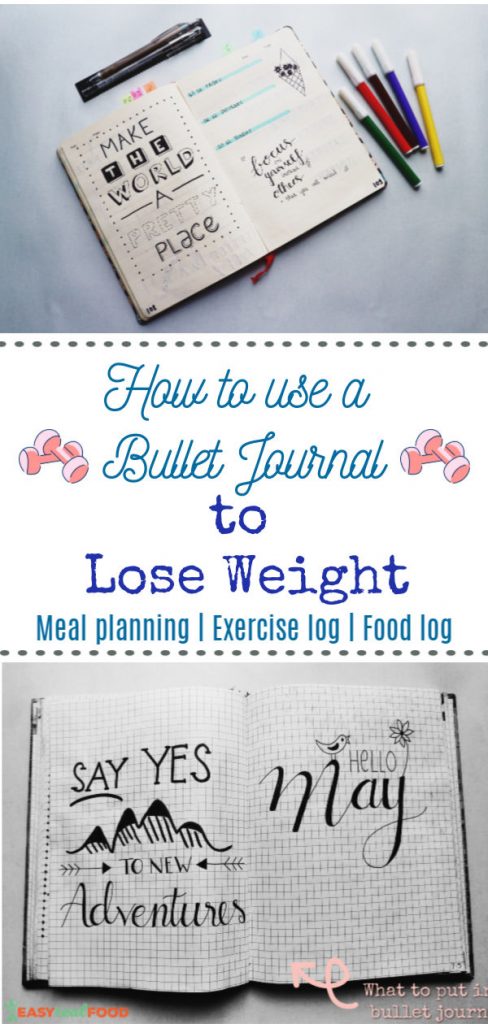 Bullet journal Pinterest Ideas
Check out this Pinterest board that I think you'll find really helpful. We've pinned some ideas for inspiration; share some of your ideas in the comments below!
Bullet journal supplies for beginners
None of these are "required", but this is a great place to start (or expand) your bullet journal supplies.
Medium A5 Dotted Hardcover Notebook (249 pages) – sturdy weighed pages in a high quality book.
Dot Grid Hard Cover Notebook (128 pages) – another solid notebook option, this one is cost-efficient and a great one to start with.
Fineliner Pens with Assorted Line Width – 8 pens, a wonderful set for using in journaling.
Micron Blister Card Ink Pen Set – waterproof, fade resistant, bleed free ink.
Refillable & Retractable Rolling Ball Gel Pens – 4 pack of pens.
Tombow Pen Dual Brush Markers – a set of 9 bright markers + a blender pen.
Zebra Pen Mildliner 15 Pack Double Ended Highlighters – assorted colors, broad and fine tips.
Staedtler Tripuls Fineliner Pens .3mm – 20 pack, assorted colors
Washi Masking Tape – not essential, but definitely fun!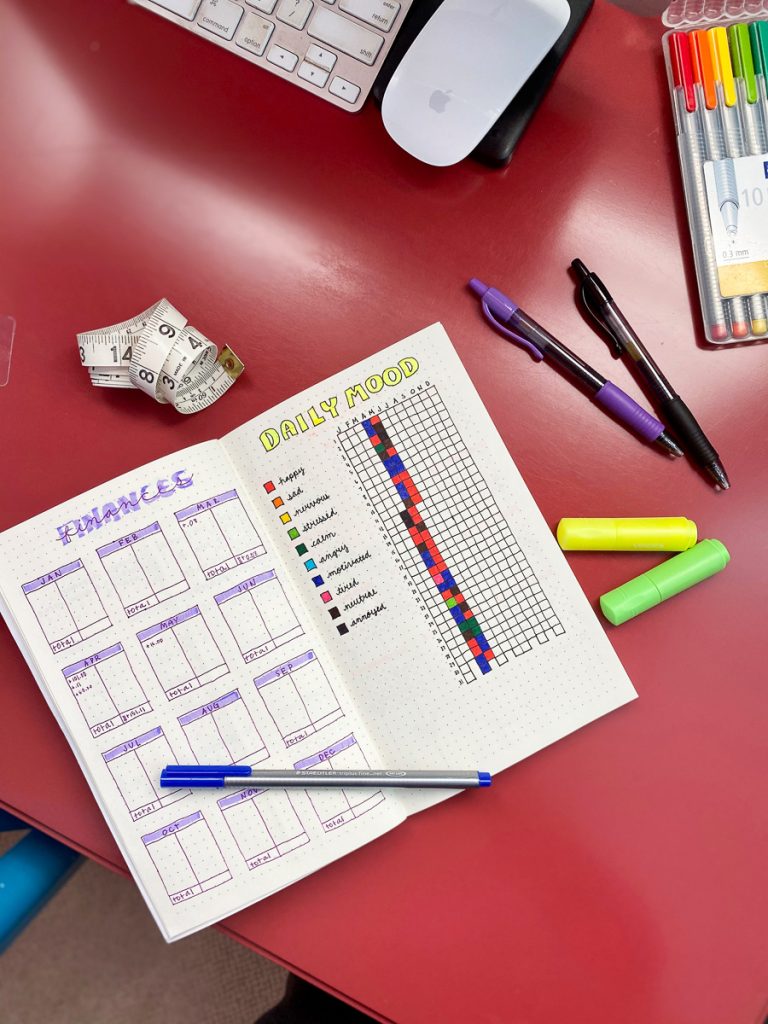 So there you have it! My bullet journal has helped tremendously with my health overall. I'd love to hear how you use yours and what has been helpful for you. Thanks for reading!