Have you jumped on the overnight oats bandwagon yet? I'm a huge fan for many reasons, which I'll list below. I also want to share one of my favorite versions with you that my kids are all huge fans of – Coconut Almond Overnight Oats.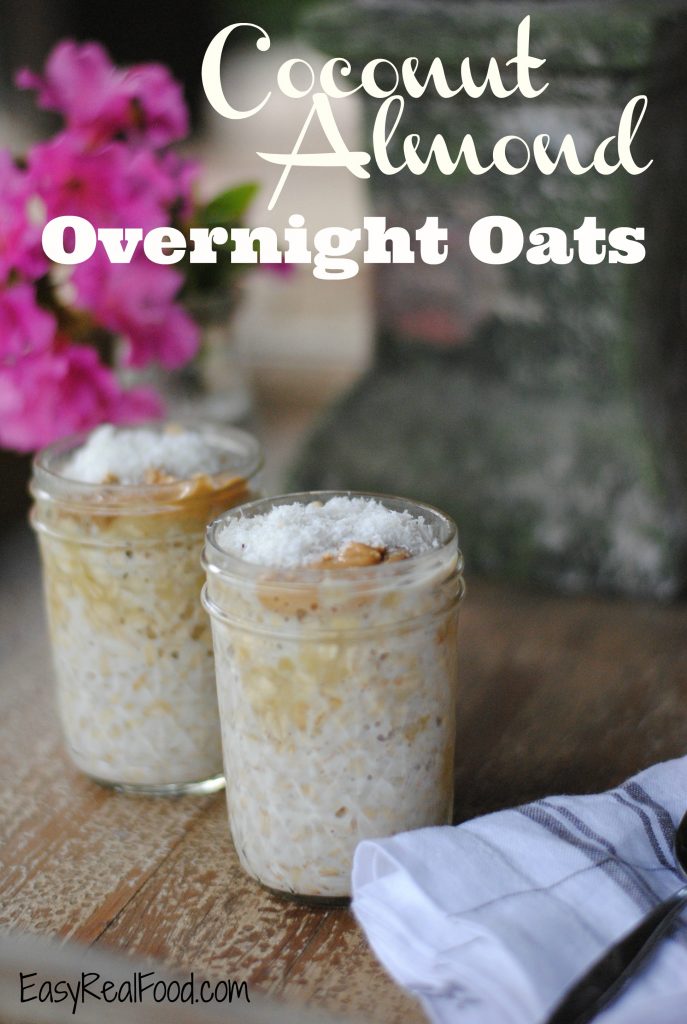 Why I love overnight oats
Ingredients. I always use rolled oats which are a whole grain and provide a healthy dose of fiber. They are filling and nutrient-dense, and can also be gluten-free (ensure that they are certified GF on the label). I personally use whole milk for my kids, and almond or hemp milk for me since I'm lactose intolerant. After soaking overnight, I like to add a 1/2 of a mashed banana in the morning because it adds creaminess – and a serving of fruit to boot! Oh, it also adds in some sweetness, too. There are so many mix-ins to add, and as long as you steer clear of refined sweeteners, overnight oats can be a solid real food.
Versatility. Banana peanut butter, carrot cake, strawberry chia – the opportunities are endless. There are so many ways to switch up the flavorings that you definitely won't get bored!
Various meal offerings. Who says you need to only have overnight oats for breakfast? Nope – I'll send these to school with my kids in their lunches, or bring them along for an after-school snack when we are heading directly to our activities post pick-up. Having a brunch with guests? Serve these up in these cute little jars for an adorable offering.
And now for one of our favorite overnight oats recipes. I actually threw this together for my 10 year-old a few months ago, who is by far my pickiest eater. Each day I challenge her to try one bite of a new food since she seems to get stuck in a rut of just wanting the same things. Wouldn't you know it, I said a prayer in the other room when she took the first bite … and she loved it! Full disclosure – I did add a few chocolate chips – just a few;). Anyhow, I have since made them for all four of my kids and it's a hit! Which makes me sure that YOU will love them, too. Oh, and if you have trouble finding unsweetened dried coconut flakes, here is a decent option.
Here's a video of my daughter and I making birthday overnight oats with dye-free sprinkles:
Our Favorite Overnight Oats
Ingredients
1/2

cup

rolled oats

1/2

cup

whole milk OR almond milk

1/2

teaspoon

vanilla extract

1/2

banana

mashed

1

TBSP

nut butter of choice

1

TBSP

unsweetened dried coconut

1

TBSP

honey

optional - my kids like it fine without
Instructions
In a small mason jar, add oats, milk and vanilla extract. Place lid on securely and shake to combine. Place in refrigerator overnight.

In the morning, mix in mashed banana, top with nut butter, honey and coconut and enjoy. If you prefer warm oats, heat in the microwave for 20-30 seconds prior to adding toppings.
Nutrition Facts
Our Favorite Overnight Oats
Amount Per Serving (0 g)
Calories 361
Calories from Fat 144
% Daily Value*
Fat 16g25%
Sodium 169mg7%
Potassium 478mg14%
Carbohydrates 46g15%
Protein 10g20%
Vitamin C 5mg6%
Calcium 227mg23%
Iron 2mg11%
* Percent Daily Values are based on a 2000 calorie diet.
Are overnight oats healthy?
Oats are known to have many benefits, including being whole grain and a solid source of fiber. But by soaking the oats overnight, it gets the same effect of cooking them without the damaging effects of the heat. Soaking helps the starches break down and reduces the natural phytic acid; this can help your body utilize the oats' nutrients much more efficiently, and can be easier to digest.
Which oats are best for overnight oats?
My personal preference is rolled oats, as they are thick and chewy but provide a creamy, smooth texture when soaked. Quick oats can also be used, but sometimes tend to get a little squishy if left too long. Do not use steel cut oats as they will not soak up enough moisture without warming them.
How long can overnight oats be stored?
Overnight oats can e stored for up to 5 days in a sealed container. This is great news for those of us who like to meal prep – make a batch of these on Sunday and have them ready to go throughout the week!
And now a question for you – What's your favorite version of overnight oats? How about this pumpkin version?!