Estimated reading time: 8 minutes
10 Best Gluten Free Cereal for Kids
Breakfast cereals have been making a morning appearance for decades, with good reason. Many of us, including me, have nostalgic memories of dunking our spoons into a crunchy-filled bowl, and spooning up little shapes and colors into our mouths.
But the playing field has changed. What used to be a simple purchase at the grocery store has now turned into an investigation in reading nutrition labels and sifting through processed, unwanted ingredients. Breakfast cereals  are an opportunity to provide an easy, convenient whole grain that, when paired with milk and fruit, can be a wholesome, balanced breakfast. But with marketing efforts to kids increasing, added sugar and color appeals entering the playing field, and then topping it off with gluten allergies or sensitivities, you almost have to be a detective to find a healthy gluten free cereal!
Let's take a look at what ingredients to look for in gluten free cereals, which ones to avoid, what to look for on nutrition labels, and leave you with 10 of the best gluten free cereals that kids can enjoy.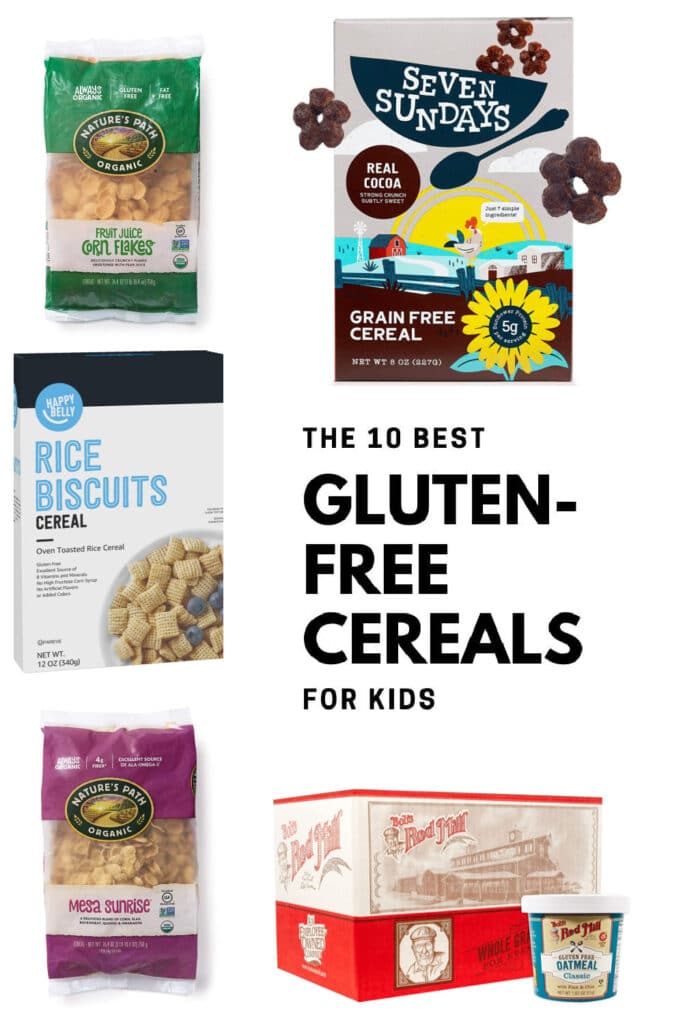 Why does choosing a healthy cereal matter?
Traditionally speaking, breakfast cereal  is the first meal you're refueling with. In addition, it's an opportunity (as every meal is) to provide real foods to your body.
What you eat first thing sets the stage for the rest of the day. Start off with some sugar-laden, fun-colored foods, and you may be temporarily satisfied—but this could lead to a soon later crash and craving for more sweets. Fuel it properly, however, and you can have your body and mind feeling ready to make the most of your day.
Ingredients to Look for in a Healthy Cereal
Cereals are a great way to incorporate whole grains into your diet. While someone who can eat gluten should look for words like "100% whole grains" or "whole wheat",  if you are gluten free, you'll want to look for brown rice, oats, or corn. Ideally the cereal will be non-GMO in either case. Gluten-free whole grains that you should look for on labels include:
quinoa
brown rice
wild rice
buckwheat
sorghum
tapioca
millet
amaranth
Fiber is the next aspect to look for. If you're getting those whole grains, there is again an opportunity to get fiber, too. Optimally the healthy cereal will have 5 or more grams of fiber in a serving. This will not only help you feel fuller longer, but it's also good for helping manage cholesterol as well as "keeping things moving", so they say.
Protein is not something that's generally considered in cereal, but in keeping the macronutrients balanced, you should look for 3-5 grams of protein per serving.
Reading a cereal food label
You must, must, must read labels of breakfast cereals, as many of them contain unhealthy ingredients within. And while there are specific ingredients that you'll want to enjoy, some of the basics apply when reading a label:
Serving size: Be mindful of what the serving size on the label indicates. Oftentimes it is ¾ cup or 1 cup per serving–but what most of us would serve ourselves is more than that. When calculating all that you are getting, take this into consideration.
Sugar per serving: Another biggie. Based on those serving sizes above—make sure to multiply how many servings you are enjoying times the sugar in the ingredients.
Say no to sodium: Even very sweet cereals can be sky high in sodium. Make sure to read and see how much is in each serving.
Whole grains: Again, mentioned above, but definitely needs to be noted again. Look for quality and minimal ingredients in your gluten free cereal.
Order of ingredients: As you may know, ingredients are included in the order of amounts. For example, if whole grains are most plentiful in terms of ingredients, this will be listed first. That being said, the first few ingredients are the most plentiful and therefore the most important to take note of. The last few are the opposite. But of course, in an ideal cereal, the ingredient list will not be long.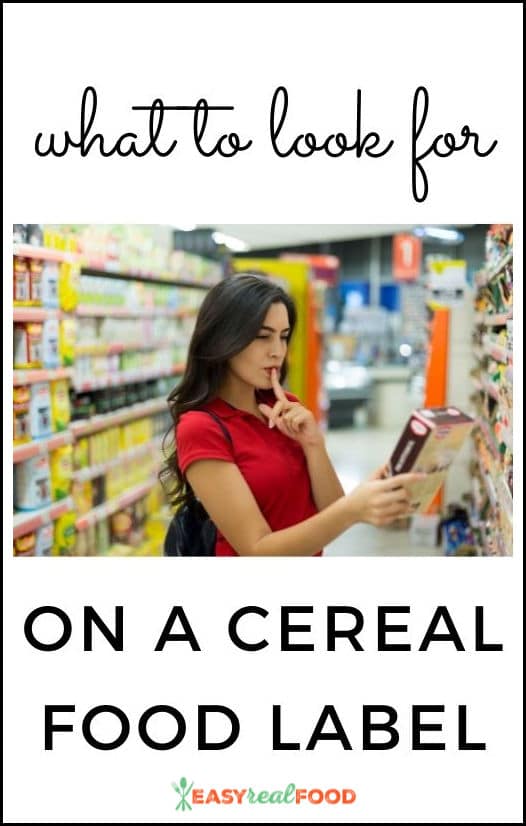 Ingredients to Avoid
Gluten. Since we are looking for gluten free cereals, avoiding gluten is an obvious. In the United States, the FDA requires that any packaged food labeled gluten-free must contain fewer than 20 ppm of gluten. It is important to note that f you have celiac disease or any other condition that requires strict avoidance of gluten, I highly suggest choosing cereals that possess a gluten-free certification or check with the individual manufacturer to ensure compliance with FDA gluten-free labeling regulations. Most labels are pretty good about indicating if wheat or another gluten derivative is included.
Artificial colors are eye-catching and fun for the kids, but research has indicated that about 15% of the population may be sensitive to the dyes. Results of ingesting them may be hyperactivity or attention problems. Why wait to find out if you're in that sensitive group? Just avoid them overall.
Grams of added sugar are also just as important. The American Academy of Pediatrics recommends no more than 25 grams (which works out to be about 6 teaspoons) of added sugar per day. When you start paying attention to cereal labels and added sugars in many of them, it's easy to meet your daily limit before much of the day is over with. For that reason, make sure to read the labels and notice added sugars per serving. Spoiler alert: those fun-colored boxes many kids are begging for are not going to cut it.
The Best Gluten free Cereals for Kids
Cheerio's Whole Grain Cereal. Such a popular question: are Cheerio's gluten free? The answer is YES!! And this oldie but goodie still makes the list as one of the healthiest cereals. Why? Whole-grain oats are the first of just six ingredients, all which are non-GMO. It boasts 5 grams of protein and 4 grams of fiber. And lastly, there are only 2 grams of added sugar.
Nature's Path Fruit Juice Corn Flakes, made with corn meal and/or yellow flour, grape and/or pear juice concentrate and sea salt, I love that this has just 3 ingredients. It's another hearty, healthy cereal. One serving size offers 3 grams of protein, just 4 grams of added sugar and has just one gram of fiber. For this reason, make sure to add some fiber-full fruits to top it off.
Nature's Path Mesa Sunrise is another strong contender from the same brand. It's gluten-free and made up of corn meal, which is combined with flax seeds, buckwheat flour and quinoa. Bonus: it's organic and comes in an eco-pack bag.
Nature's Path Whole O's are similar to Cheerio's, but even simpler. Made with just 5 ingredients, this organic cereal offers appropriate suggested amounts of protein and fiber and only has 4 grams of added sugar. It also comes in the eco pack and uses 68% less packaging than a cardboard box.
Happy Belly Rice Biscuit Cereal is an Amazon brand and ingredients include rice, sugar, salt and molasses in addition to being fortified with vitamins and minerals. It's similar to Rice Chex but much less expensive. This makes a great snack, too!
One Degree Sprouted Brown Rice Crisps are a play on the good ol' Rice Krispies, but are more nutritious for kids. Organic sprouted brown rice makes it more bioavailable/easy to digest and the cereal has just 3 other ingredients. Not only are these good as a breakfast cereal, but they are good to use in recipes too.
For busy mornings, Bob's Red Mill Classic Oatmeal is an easy go-to. With just four ingredients (rolled oats, chia seeds, flax seeds, salt), this is a clean cup of cereal with no added sweeteners. Get a full dose of fiber (7 grams) in this to-go cup.
Bear Naked Triple Berry Granola. I looked high and low for a good granola that has less than 5 grams of sugar per serving, and this was the best I could find wit 6 grams per serving. On the plus side: 7 grams of protein, 6 grams of fiber, and fun freeze-dried raspberries, blueberries and strawberries that your kids will like.
 Seven Sundays Grain-free Real Cocoa Sunflower Cereal. Not gonna lie—this one is the most expensive in the group, but it's made with quality ingredients (think cassava, sunflower protein, dates, cocoa powder, coconut sugar), basically all real food ingredients. You'll love the simplicity of what's inside the ingredients, but your kids will love the fun flower shapes that they have. Definitely a good one for a "treat" here and there!
Rice or Corn Chex are simple in ingredients, but provide a powerful crunch. They're simple to snack on, and just as good dunked in some milk (fruit on top!) Each have sugar, protein and fiber in check and are easy to get (think: at most major stores).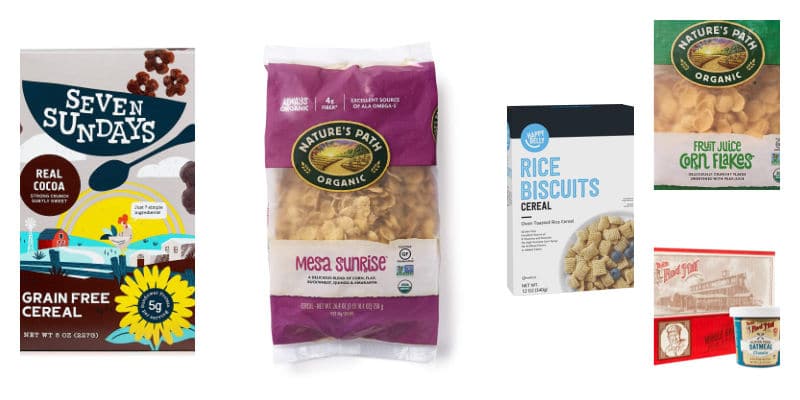 Other Ways to Use Gluten Free Cereal
Trail mix or "puppy chow" snack mix
Crispy rice treats and other baked treats
Yogurt or ice cream or even an oatmeal topping
Granola bars or cereal bars
Cereal-coated chicken (could work well in this chicken tender recipe)
A substitute for bread crumbs in meatloaf or meatballs
To sum it up …
Navigating the cereal aisles can be difficult, especially if you are seeking gluten free healthy cereals! Remember to look for that certification label and look for minimal real food ingredients, fiber, 3-5 grams of protein, low added sugar and no artificial sugars.
With a little searching, healthy breakfast cereals can be a great way to start your day! And ps—lots of people enjoy them as a healthy afternoon snack as well! Let me know if I missed any of your favorite brands.