Want to know how to pack a healthy school lunch? Head to Trader Joe's! There are plenty of healthy foods at Trader Joe's that are convenient, economical and tasty. Over the years, I've made weekly trips to the store and some of the top items in my cart are ones that I pack in my kids lunches and which I have on hand for healthy after school snacks. I've got a list of 50 of the top healthy Trader Joe's foods for kids lunch boxes, but in addition, I wanted to put some actual lunches together for some inspiration for you. Here you go!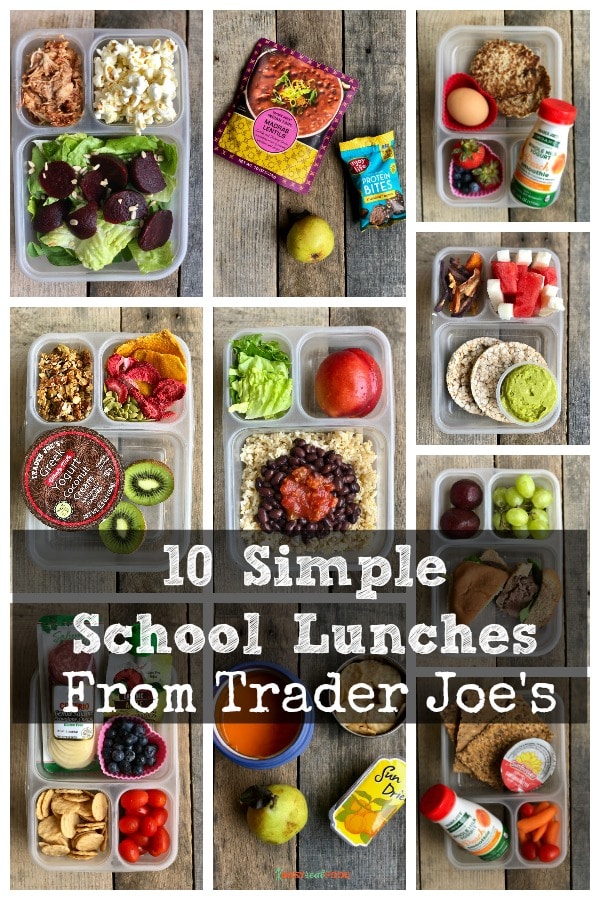 Healthy Trader Joe's lunches for school
Want to know how to pack healthy school lunches? I've got you covered! Head on over to one of my favorite stores (Trader Joe's, obvs.) and stock up on a handful of items to make healthy school lunches easily. Here are 10 ideas for simple school lunches, all with items from Trader Joe's. Let me know which one looks best to you!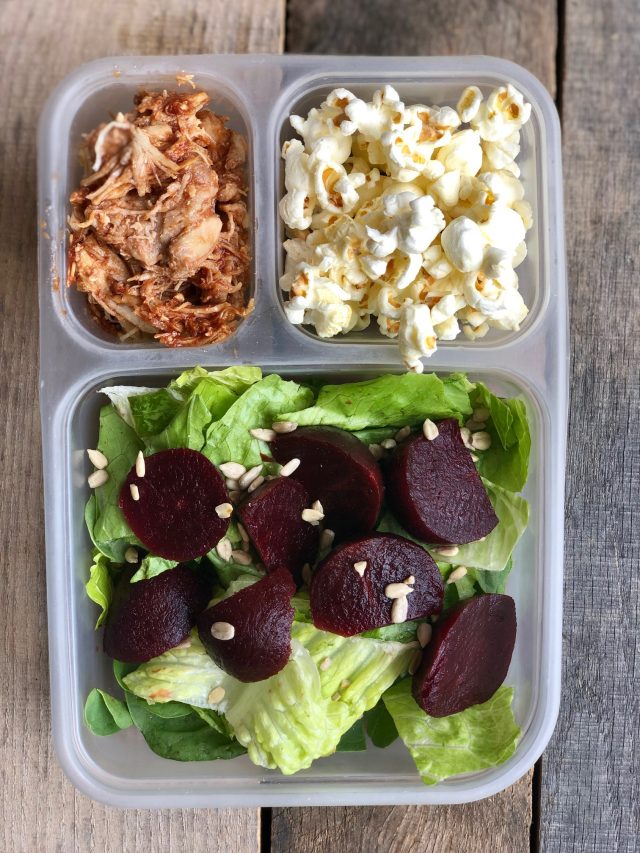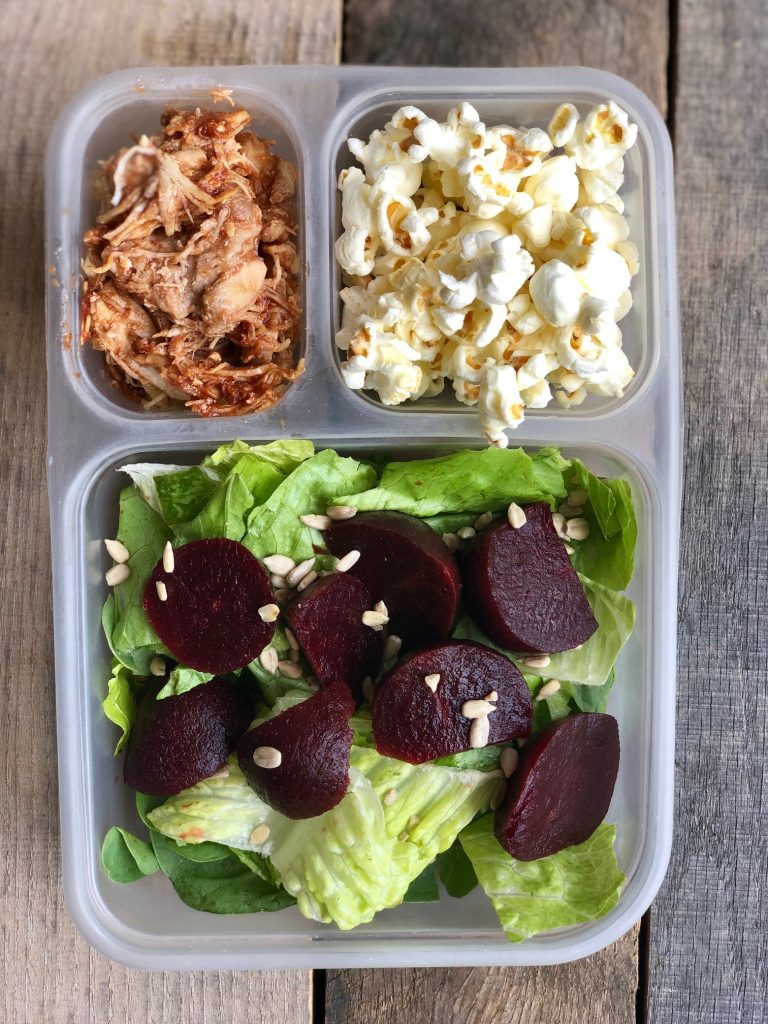 1. Homemade Barbecue Chicken (chicken breasts cooked in the Crock Pot and then topped with Trader Joe's Organic Kansas City Style BBQ Sauce OR you can use Trader Joe's Canned Chicken and add the BBQ sauce) is accompanied by some Organic Romaine, already cooked Roasted Beets, some sunflower seeds, and optional dressing.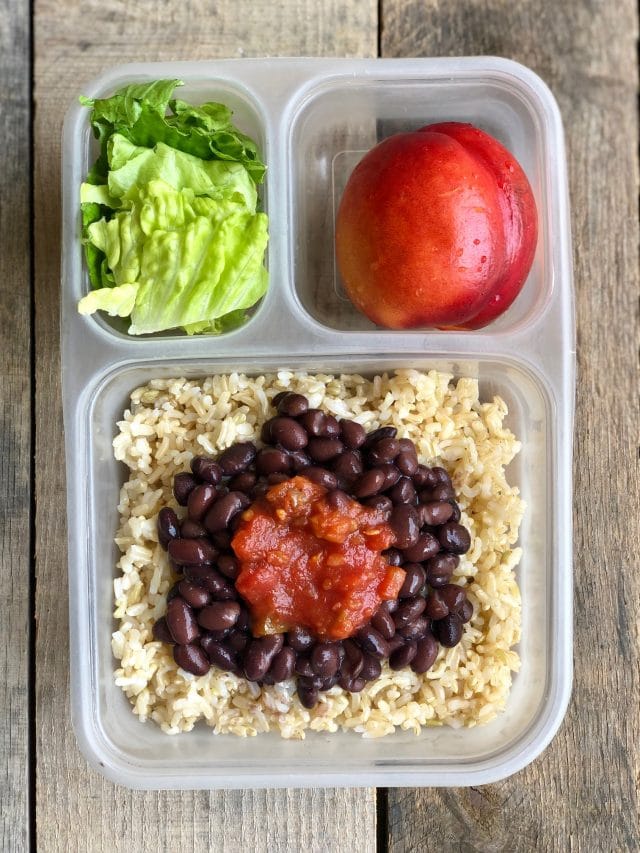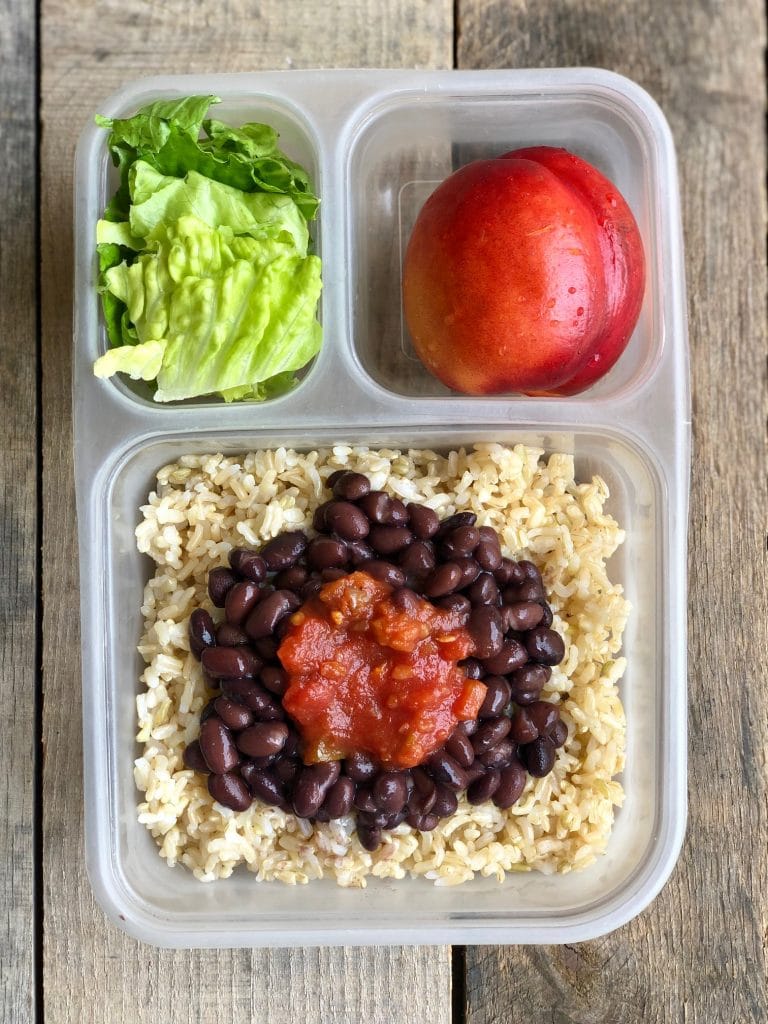 2. Trader Joe's Organic Brown Rice (found in the freezer section) is ready in just 3 minutes and makes for an easy gluten free grain to put in lunches. Top it off with some Organic Black Beans (from the can) and Organic Salsa and/or shredded cheese (both optional). Add a nectarine and some Organic Romaine (dressing optional) and you are set!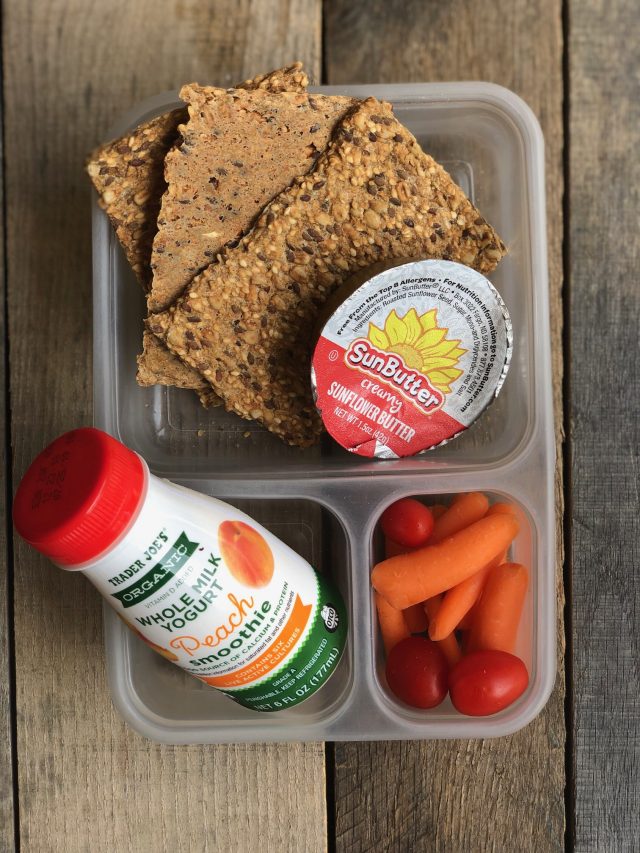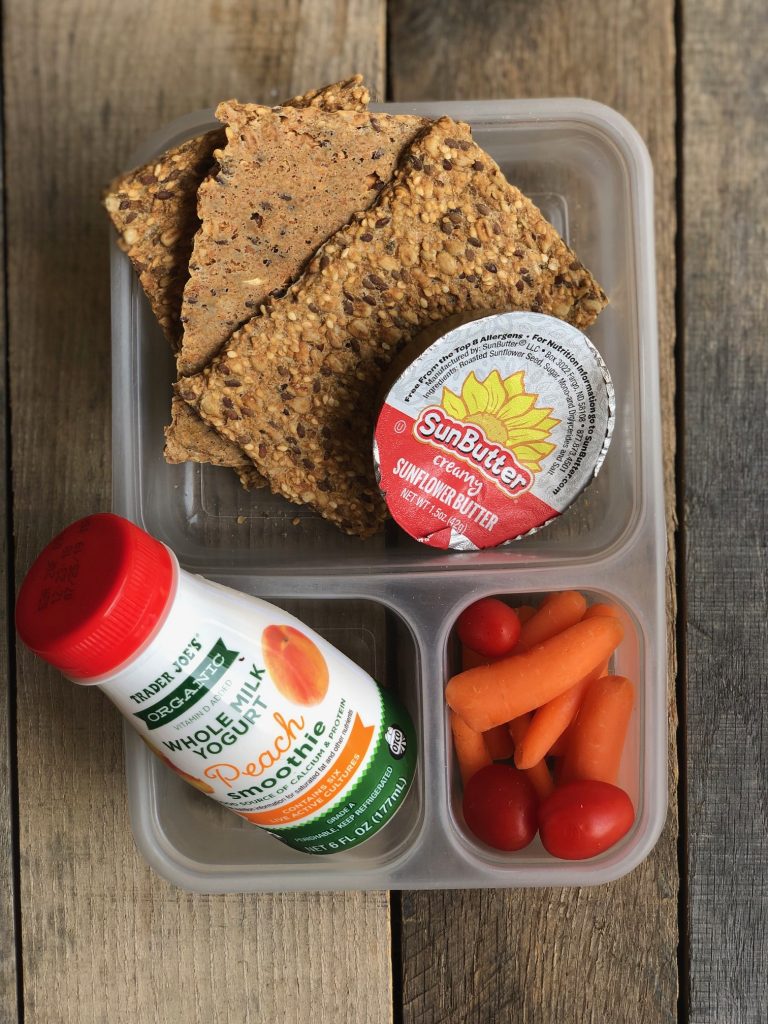 3. Trader Joe's Norwegian Crispbreads are gluten-free, include plenty of seeds, and lots of crunch. Add in some nut butter (this pack is not from Trader Joe's, but you can get them here or just get Trader Joe's nut butter and put it in a little container). Some fresh veggies and an Organic Whole Milk Yogurt Peach Smoothie round out this healthy lunch.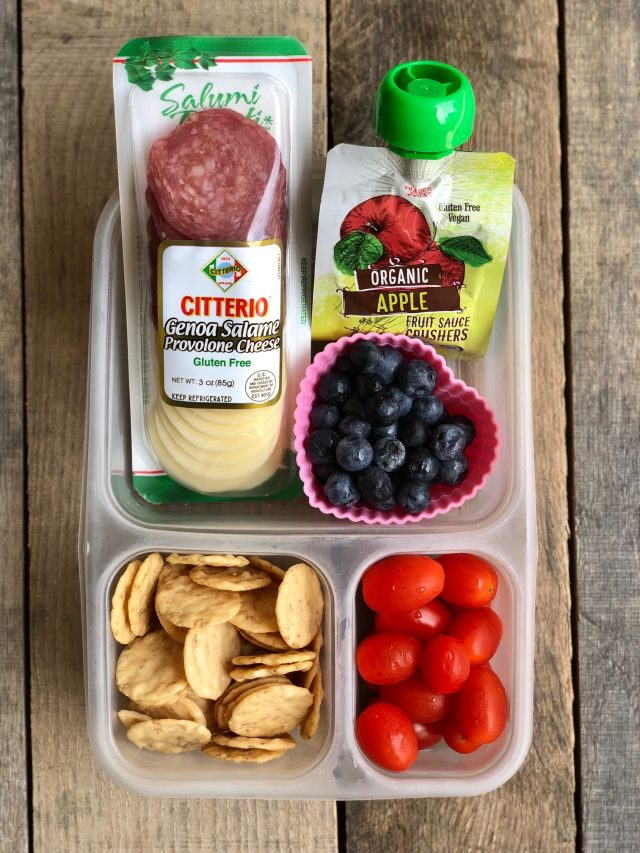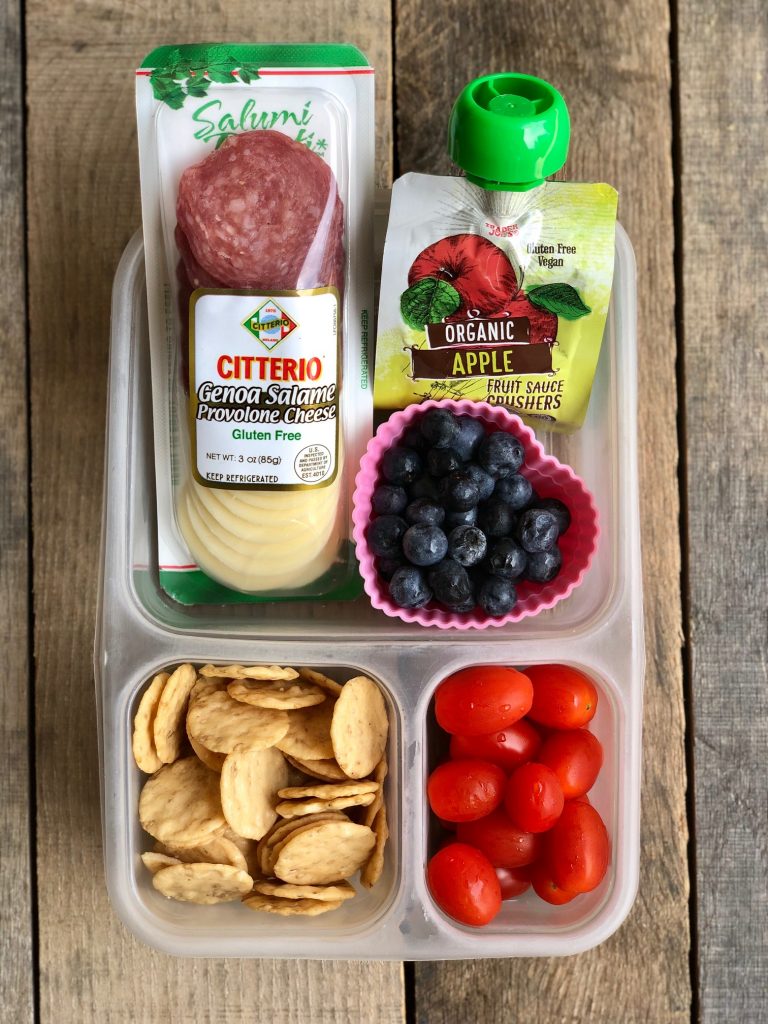 4. Kids love these little salami and cheese packs, and they're such an easy throw-in for school lunches. Send one with Savory Mini Thin Crackers, an Organic Apple Fruit Sauce Crusher, organic blueberries and tomatoes for a well-rounded, healthy lunch.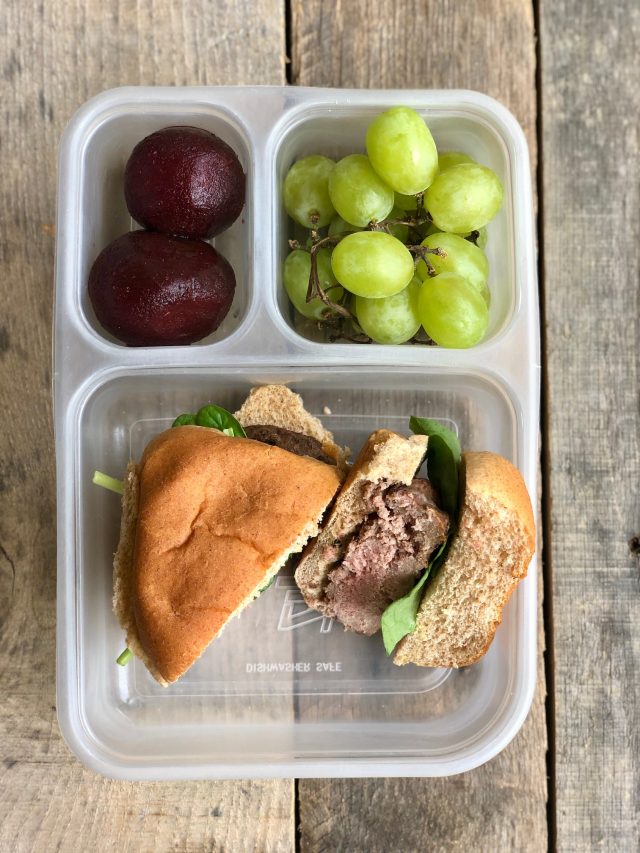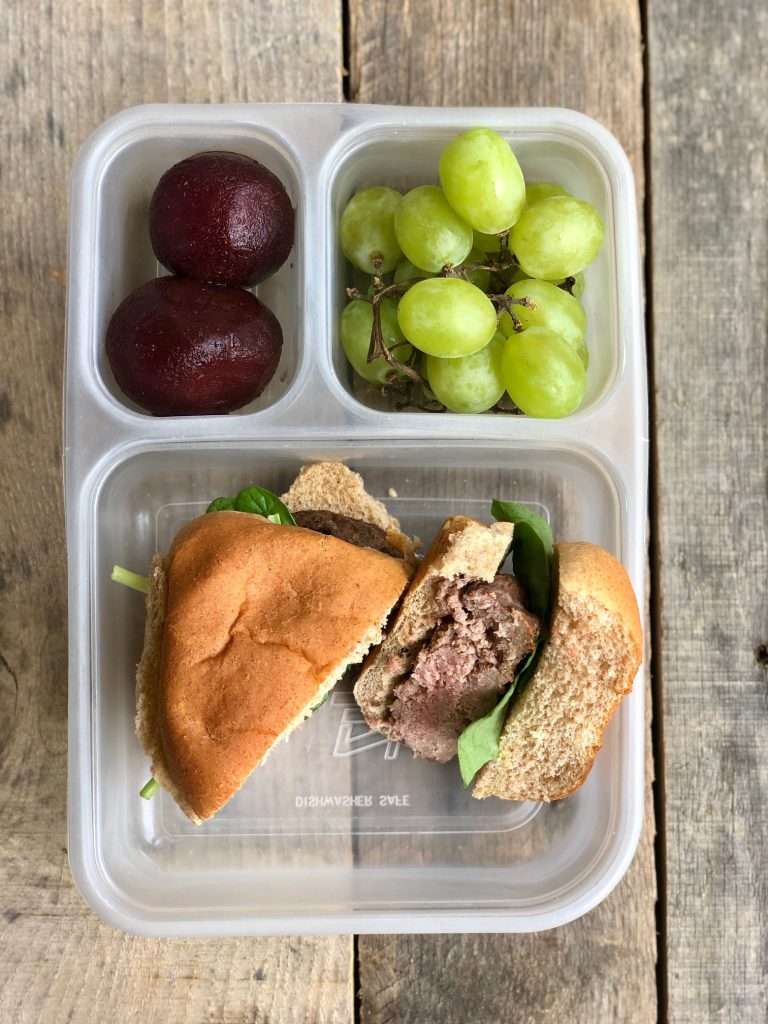 5. Grill up a burger (I like to do this the night before) and send it on a gluten free or whole wheat bun with some greens on top, and ketchup on the side. Add some organic grapes and some of Trader Joe's Roasted Beets and you're set!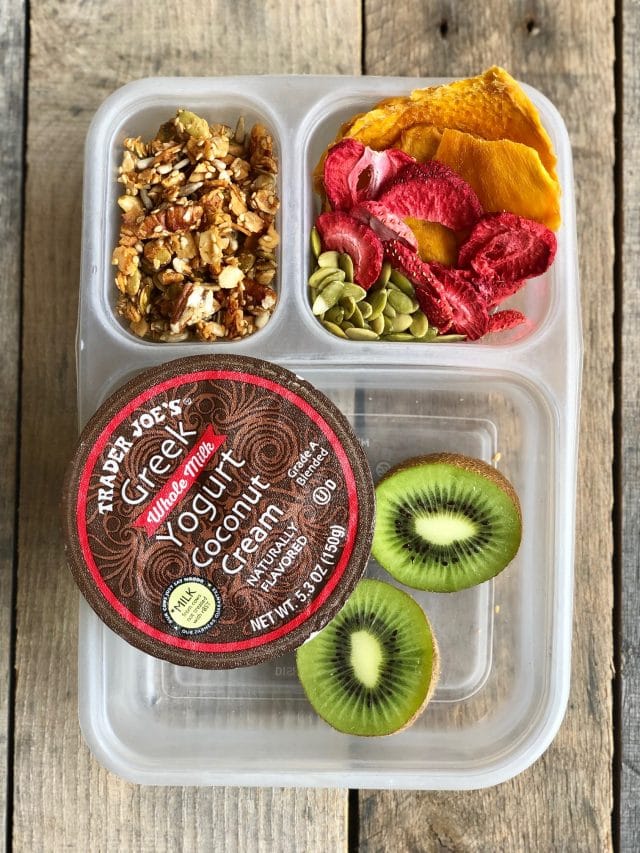 6. With so many yogurt choices at Trader Joe's, choose from Greek, Whole Milk, Cashew (dairy free) and more. Make it a parfait lunch by adding granola (pictured here is the grain-free version), an organic kiwi, Dried Mango Strips, Freeze-dried Strawberries and pumpkin seeds.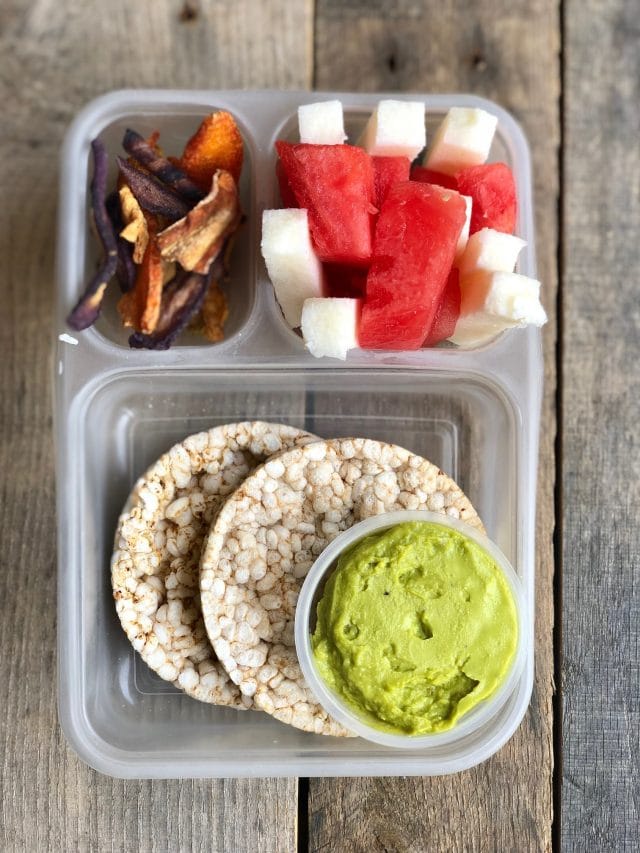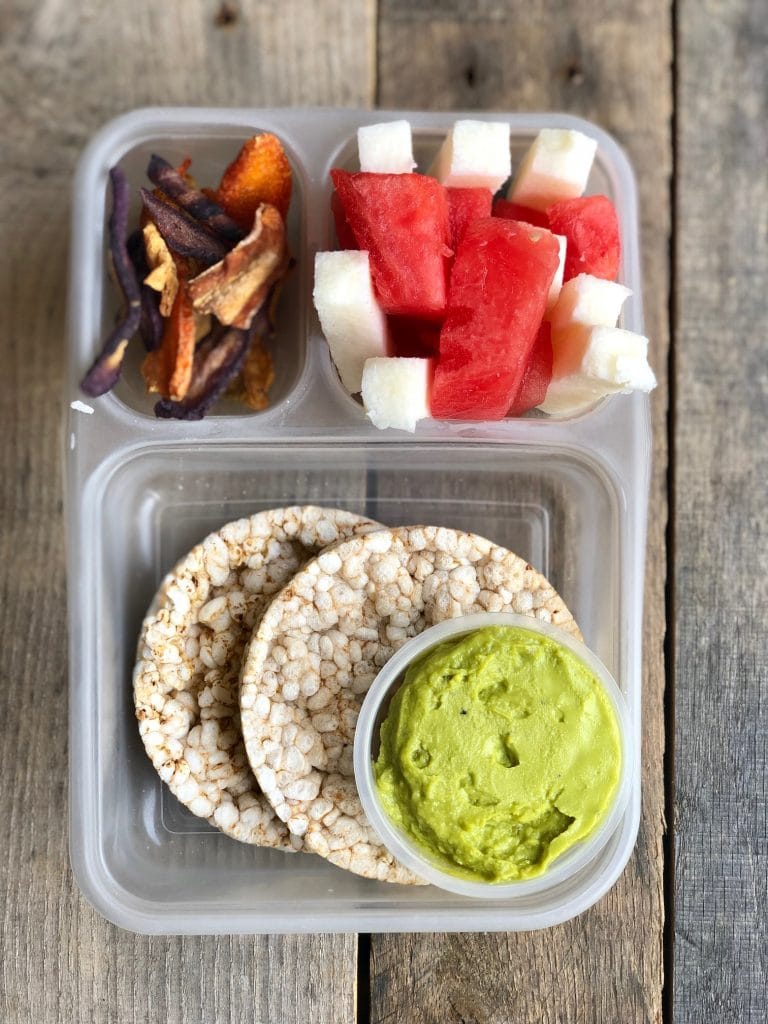 7. Another simple school lunch from Trader Joe's: Lundberg Farms Organic Rice Cakes with guacamole to top it with; watermelon pieces along with jicama and Organic Dehydrated Rainbow Carrots. Need some more food here? Add in a cheese stick and/or a hard boiled egg, both found within the store, too.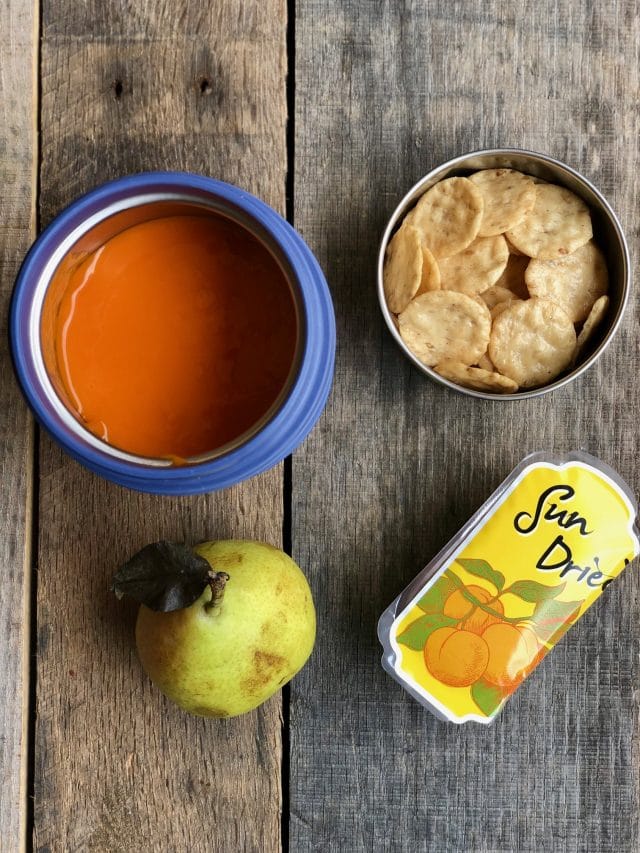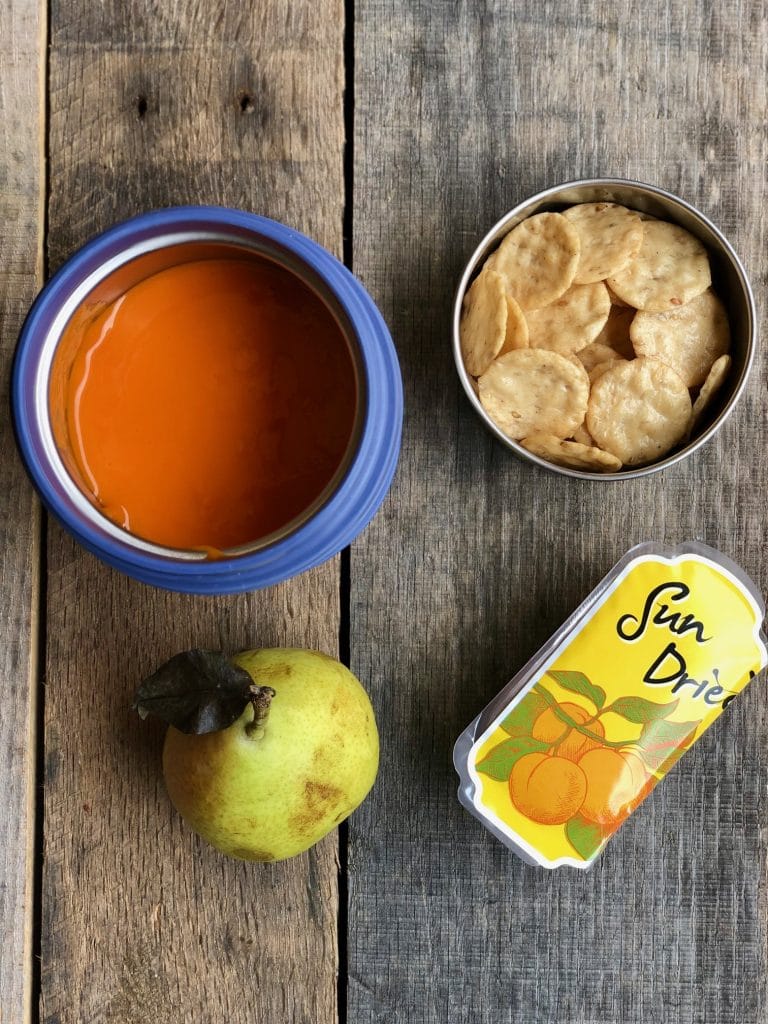 8, Trader Joe's has an array of healthy soups, including Carrot Ginger, Roasted Tomato and Red Pepper, Butternut Squash and Organic Creamy Tomato Soup. Send this warm in an insulated container along with Savory Mini Thin Crackers, Sun Dried Apricots (mini packages – great for throwing in lunches) and a mini organic pear.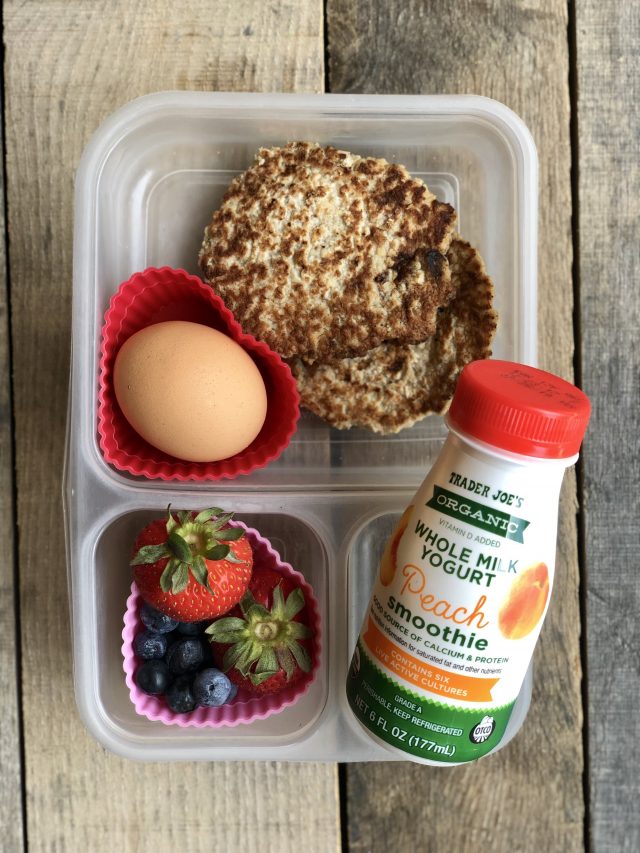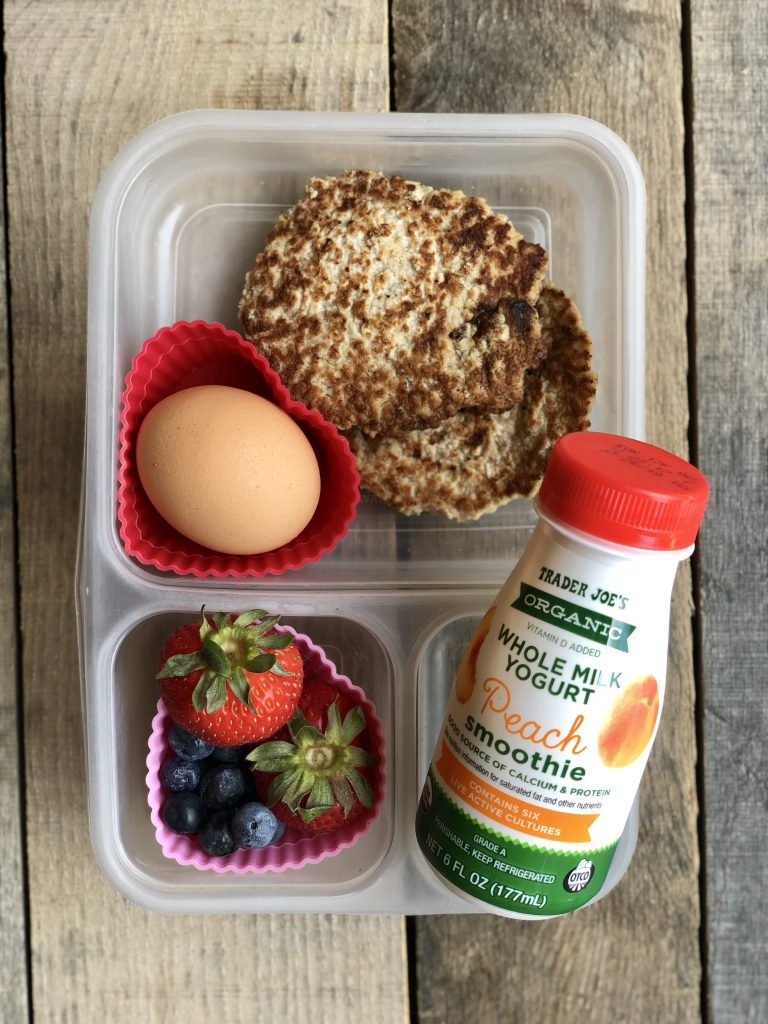 9. Breakfast for lunch is always a winner! Send some pancakes (this recipe is from Camp Kitchen), a hard boiled egg (Trader Joe's sells them ready to go), fresh fruit and an Organic Whole Milk Yogurt Peach Smoothie.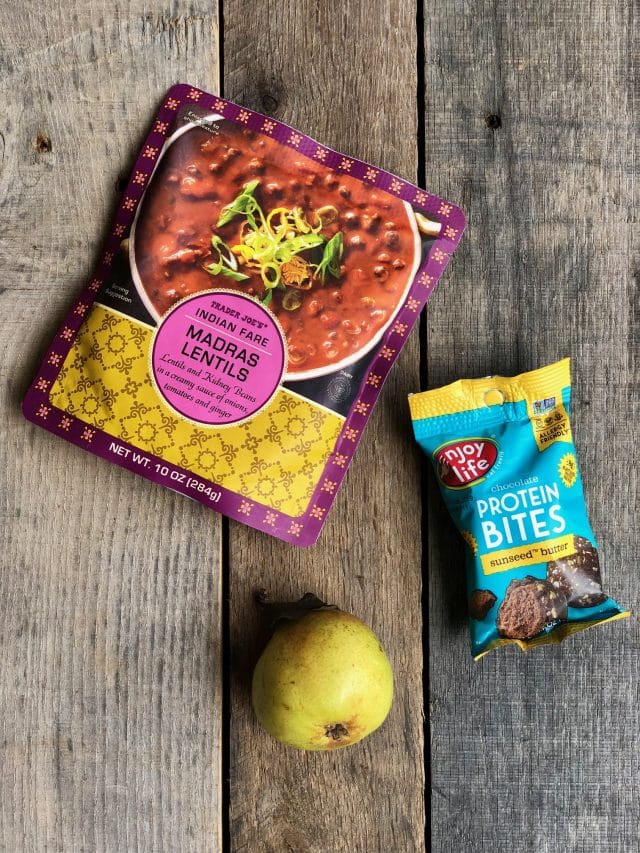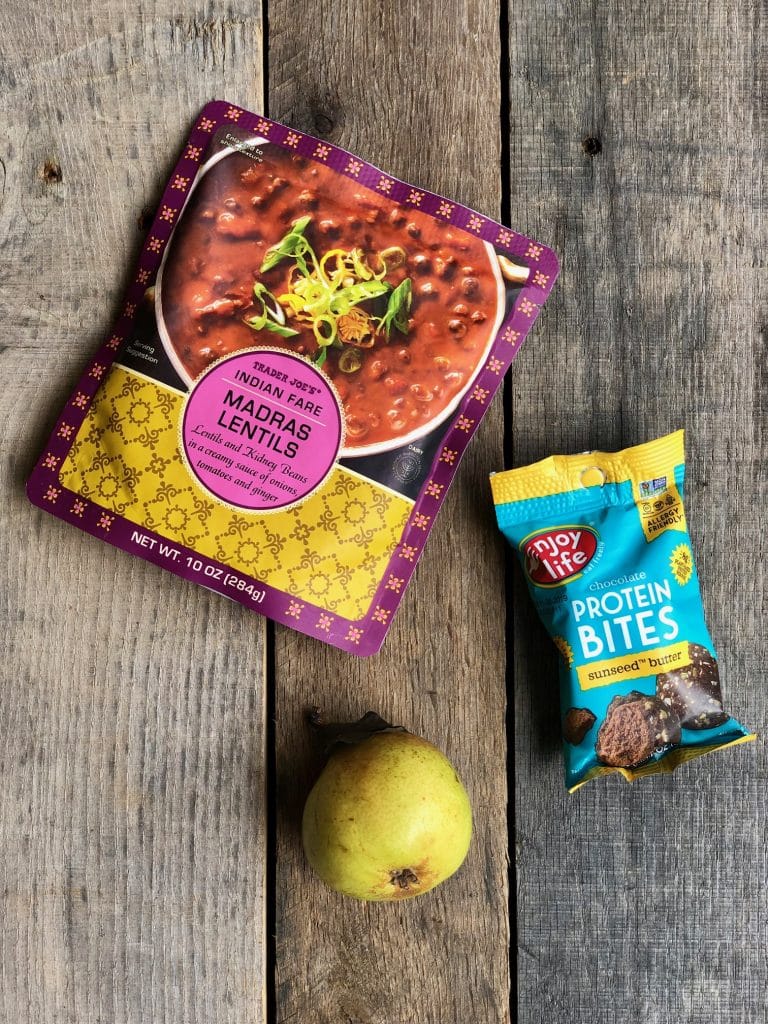 10. A simple school lunch for busy families, this last one is for those busy days and nights when you have no idea or no time to pack. This vegetarian lunch includes Madras Lentils, Protein Bites from Enjoy Life (which I love, and which are nut-free – perfect for schools) plus a mini pear. Add in a reusable spoon, and you're set!
So there you have it. Tell me, which one looks best to you? And what are some other healthy foods at Trader Joe's that you like to pack for lunch? Oh and also – if you are looking for the best gluten free items from Trader Joe's, here's a comprehensive list for you. Enjoy!
And don't miss this – 20 Healthy Costco Lunches, complete with a shopping list!