Estimated reading time: 8 minutes
Check out 20 easy healthy Costco lunch ideas, complete with the Costco shopping list. Looking for lunch ideas for kids? Or lunch ideas for adults from Costco? Then this post is for you! Buy one list of foods, make 20 easy healthy Costco lunches out of it! Visuals help give you a complete meal prep plan to make packing school lunches easy. And these are great lunch ideas for adults, too!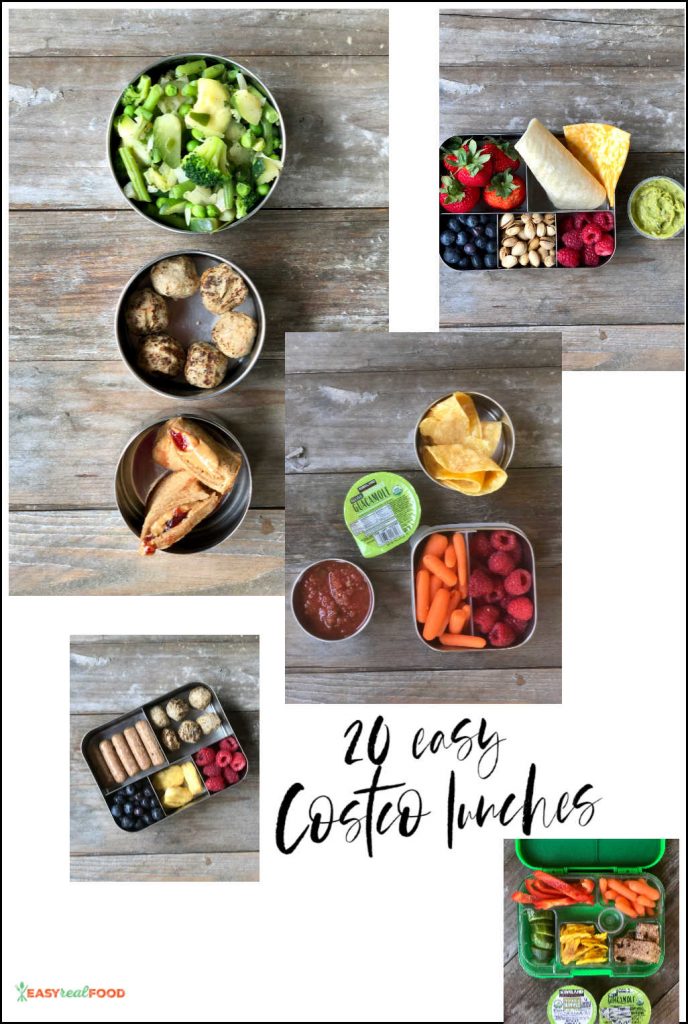 20 Easy Healthy Costco Lunch Ideas
Are you an avid Costco shopper? I am! One of the things that I love best is that you can stock up on foods that can help you meal prep throughout the week.I find it especially helpful because I have four kids, two of them who are teens, and all of them who have BIG appetites! Shopping at Costco is something I started doing a few years ago when I realized the benefits:
Benefits of shopping at Costco:
They have SO many organic brands
Prices are much more economical – for instance, I get 24 organic eggs for $5.99 vs. the same price for a dozen eggs at a regular grocery store
Prepared foods, when chosen wisely, can help get meals on the table easily
The abundance of healthy snacks which are helpful – especially for kids!
I took all of these into consideration and realized that I could put together a school lunch plan with all Costco items. I created a shopping list (scroll down and you can download it and take it with you) which can help create these 20 easy healthy Coscto lunches. Done and done!
A little Costco meal prep can lead to simple school lunches.
Most of the meals here simply require a little bit of heating or simply cooking of pasta. They are packed in my favorite containers – lunch containers from U Konserve. I love their Trio – super versatile and handy. Here are visuals of each of the lunches, which are also super usable for adults!
Cooked Mixed Greens and Meatballs with Marinara Sauce – Mixed greens are broccoli, asparagus, peas and zucchini and are in the frozen section.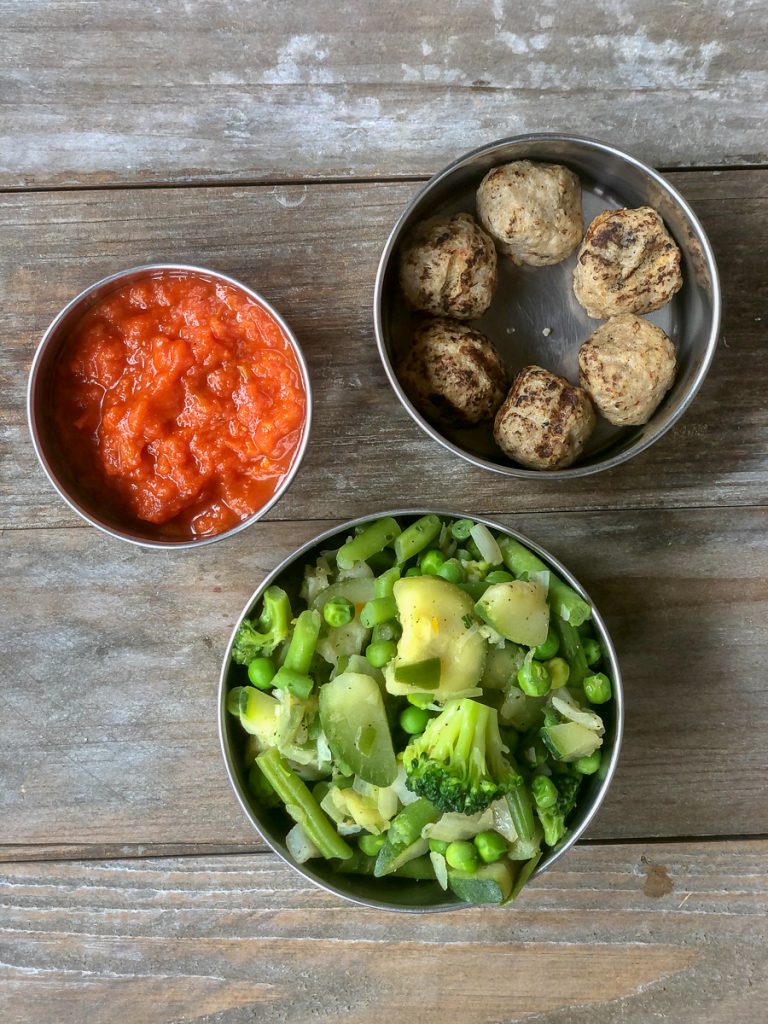 2. A variety of Chicken Sausage, Chicken Nuggets (gluten free), and Amy Lu's Paleo Meatballs with Blueberries and Raspberries.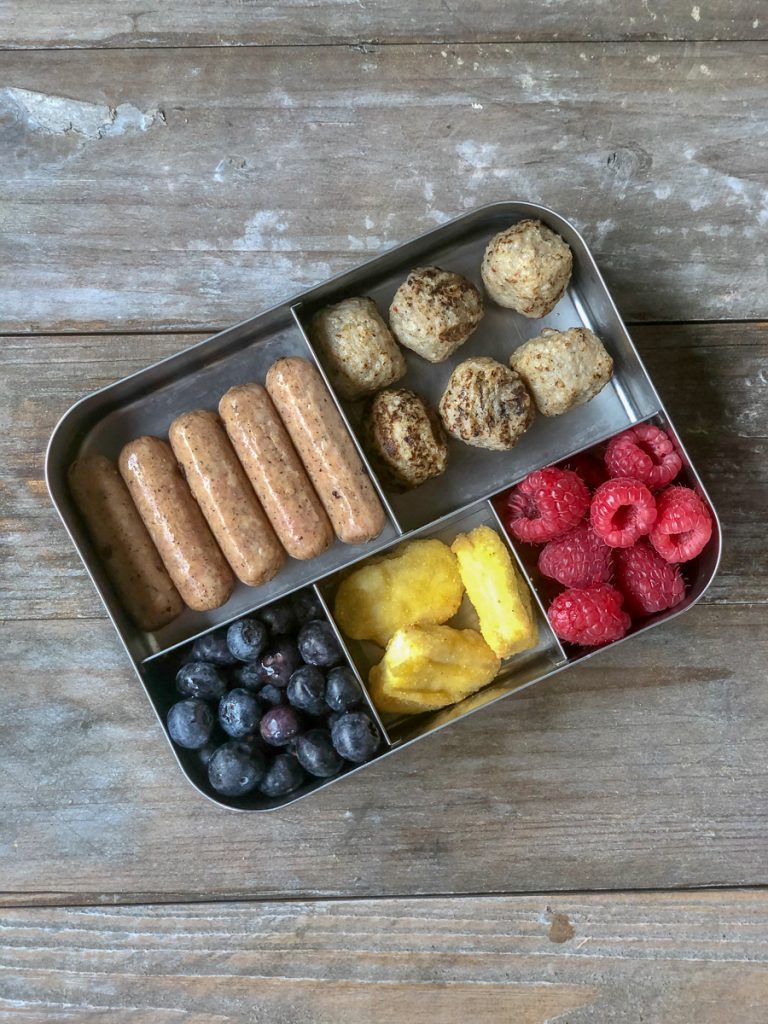 3. Pizza Bagel (sub gluten-free bread if needed) with Rao's Marinara, topped with cheese, 1/2 of an Avocado, Cooked Frozen Green Veggie Mix.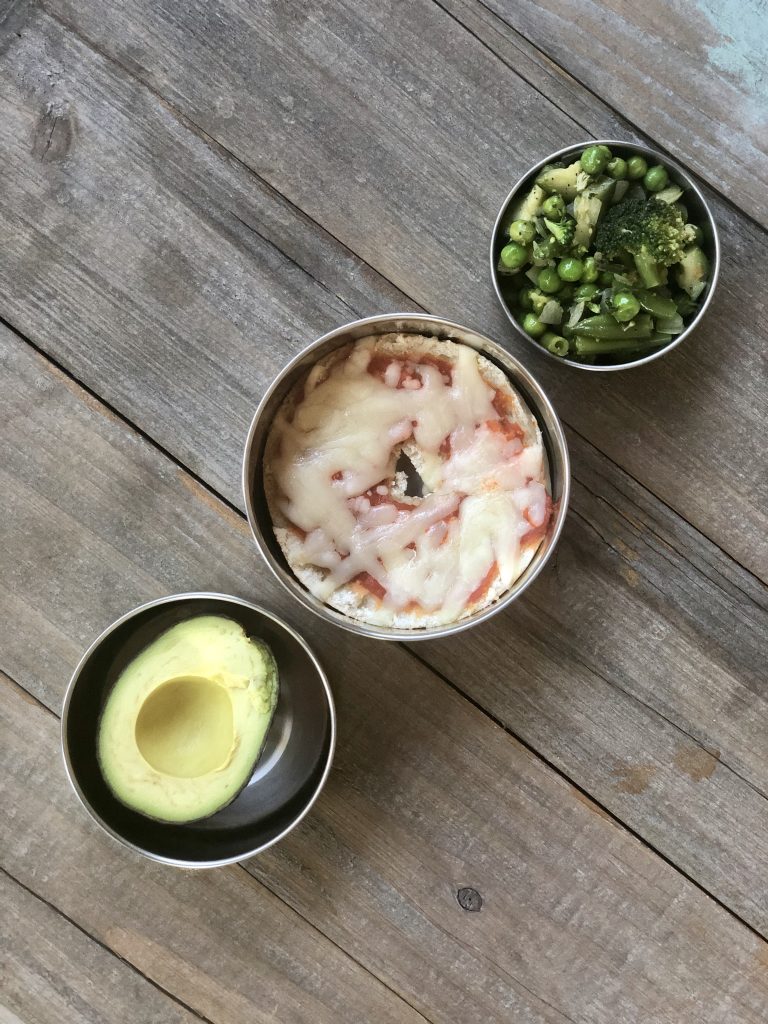 4. A snacky lunch of Sliced Cucumbers, Bell Peppers, Baby Carrots, Heavenly Hunks and Barnana Plantain Chips with Hummus and Guacamole to dip.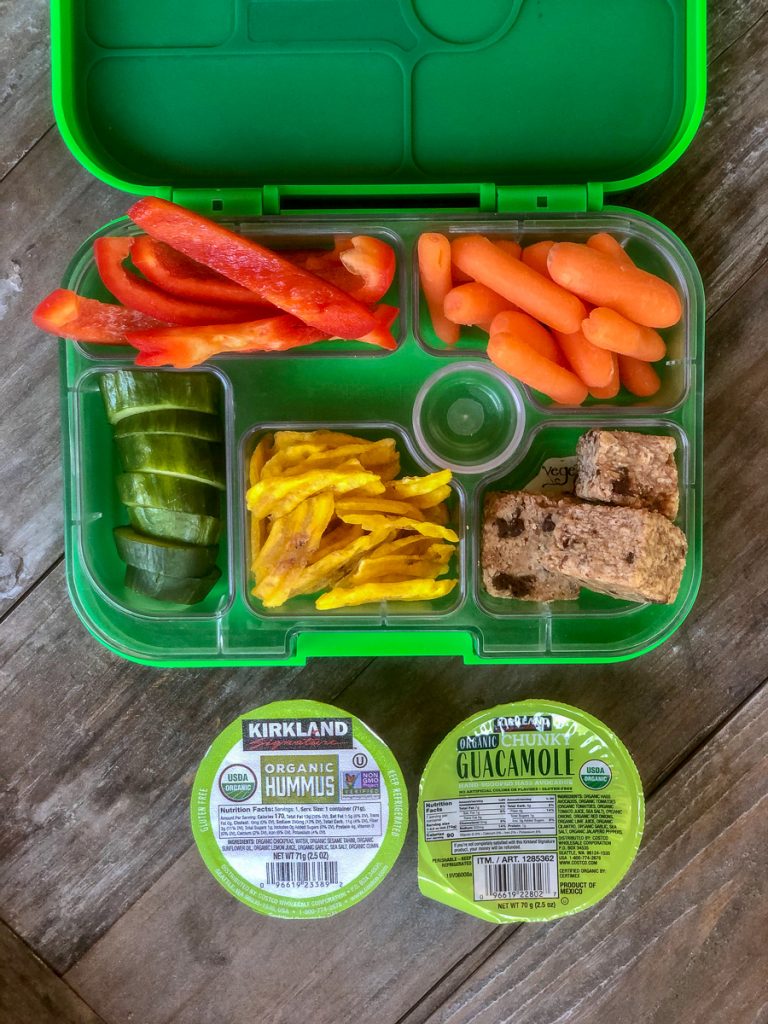 5. Mixed greens (broccoli, asparagus, peas & zucchini) with Amy Lu's Paleo Meatballs and a Peanut Butter & Jelly Sandwich. Use gluten-free bread to make it gluten-free, and sub any other nut butter if needed.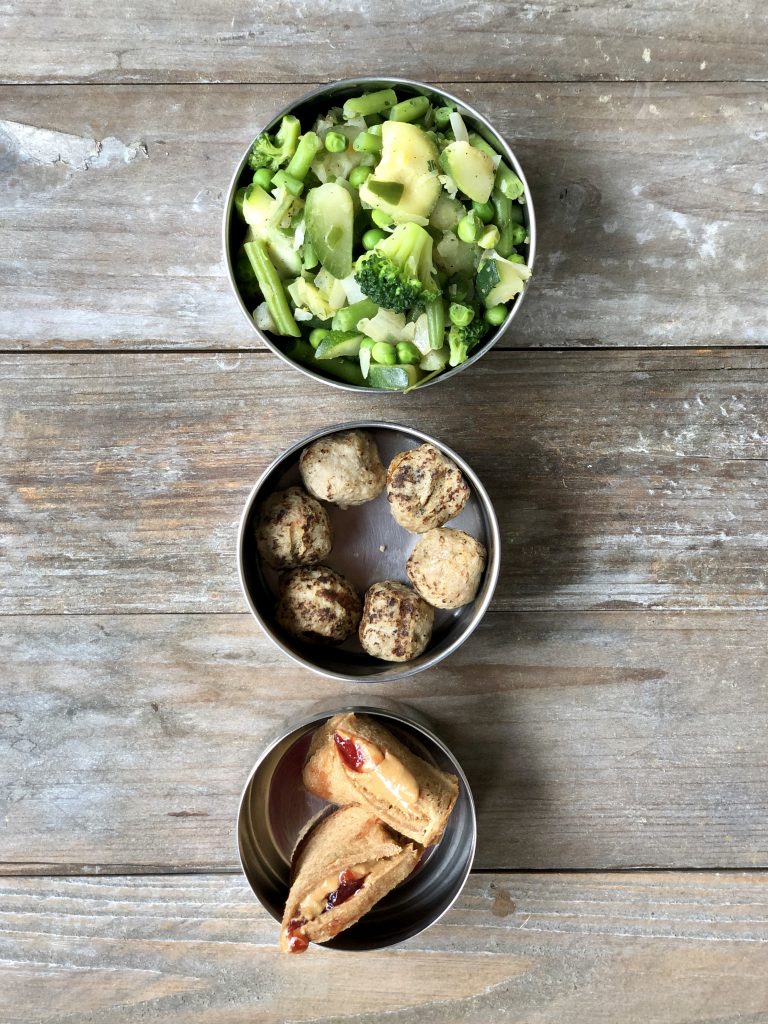 6. Chickpea Masala (Saffron Road), Baby Carrots, Cucumber Slices and Heavenly Hunks.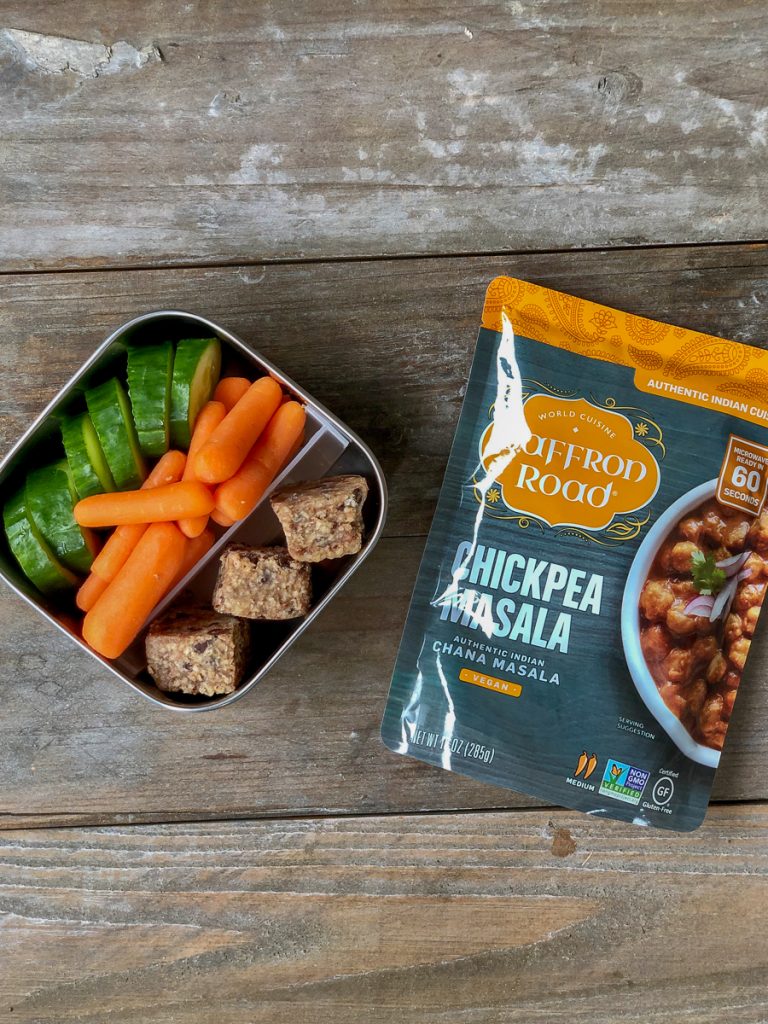 7. Yogurt, Sliced Peppers, Baby Carrots & Yogurt. Sub a non-dairy yogurt if needed.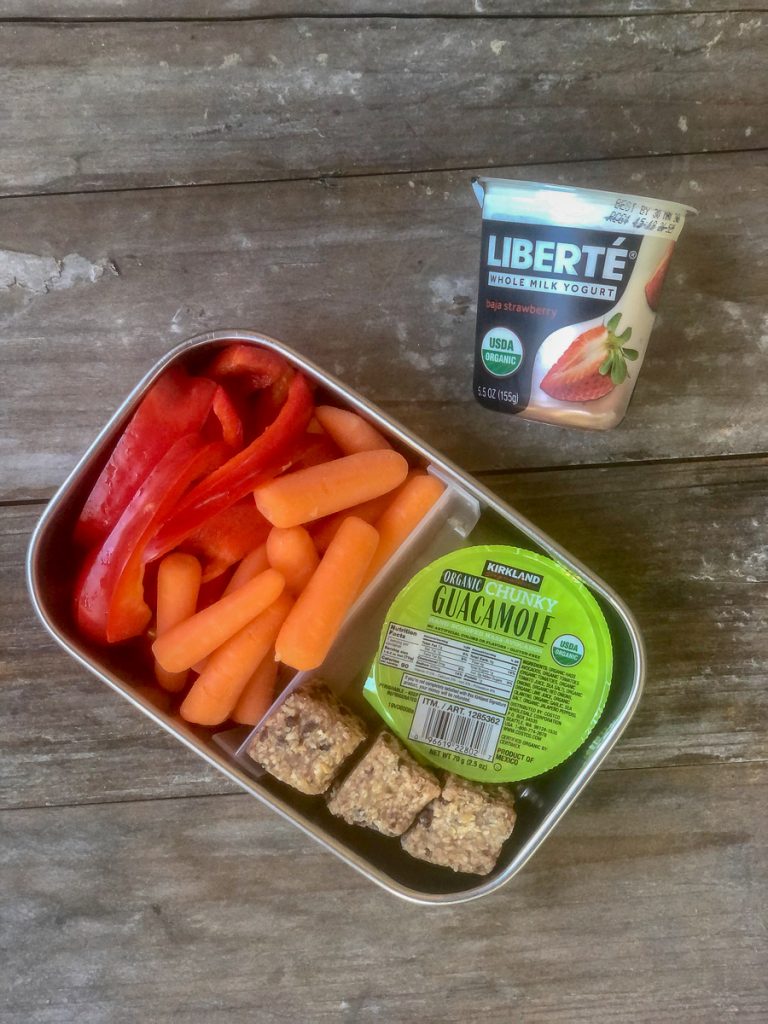 8. Gluten-free Chicken Nuggets atop Spinach with Honey Mustard "Dressing" (mix equal parts of honey and mustard) with Baby Carrots and Hummus.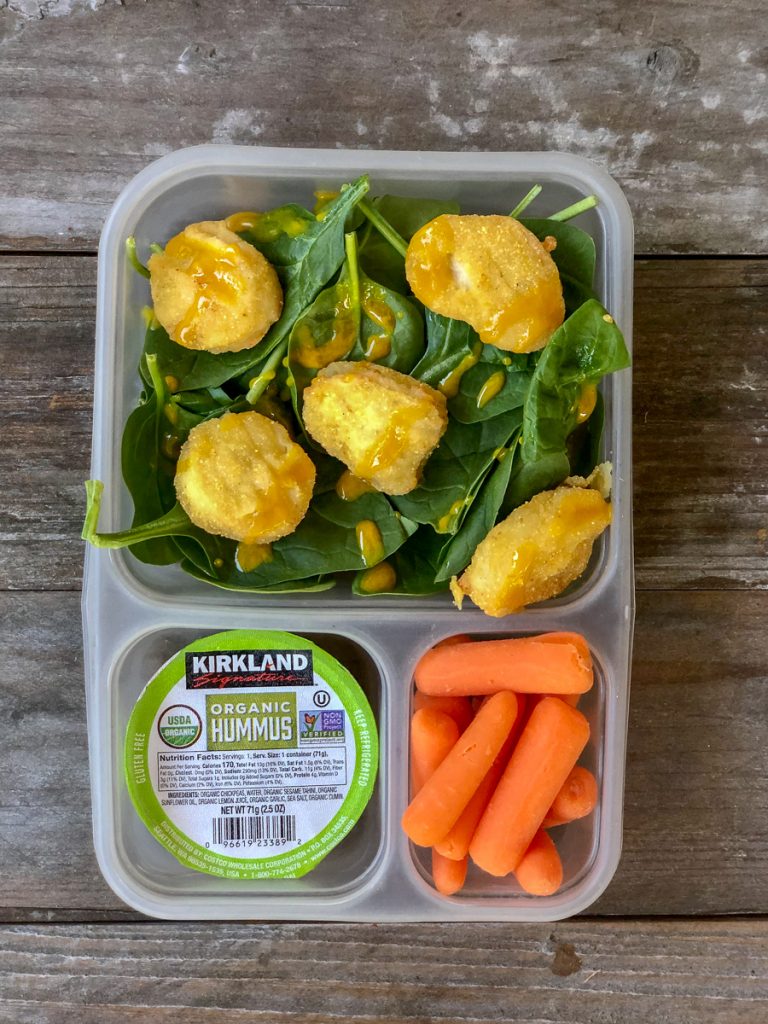 9. Cheese Quesadilla with Salsa & Guacamole, Raspberries, Baby Carrots.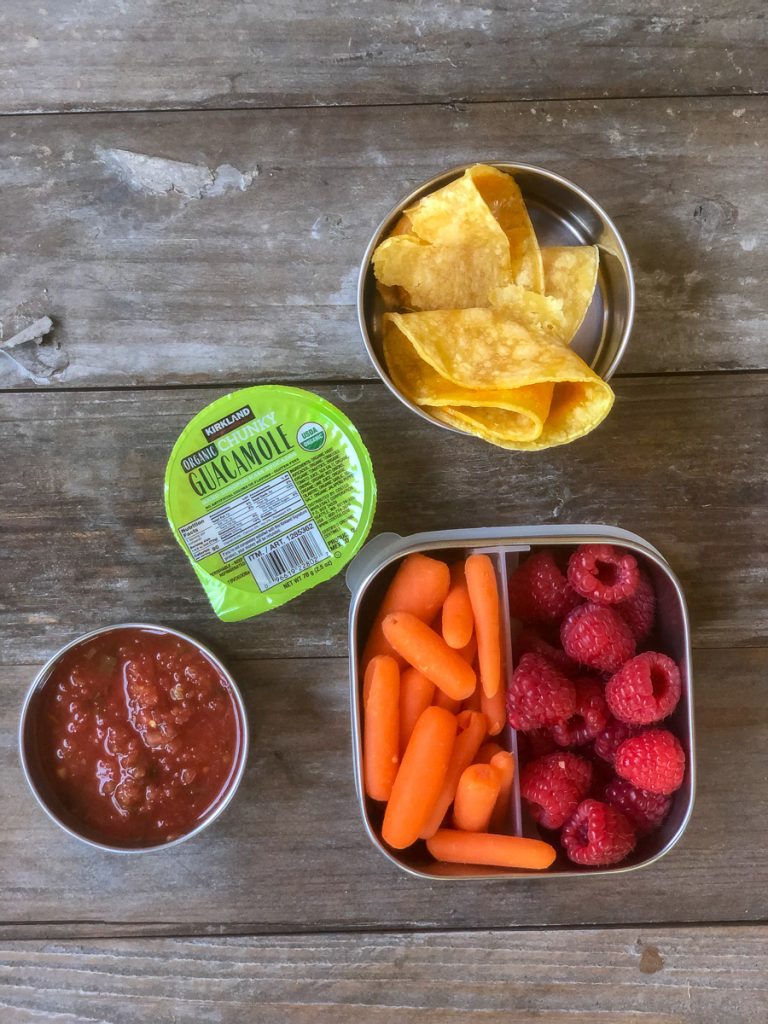 10. Mixed Greens (broccoli, asparagus, zucchini & peas), Amy Lu's Chicken Sausages, Bell Peppers and Hummus.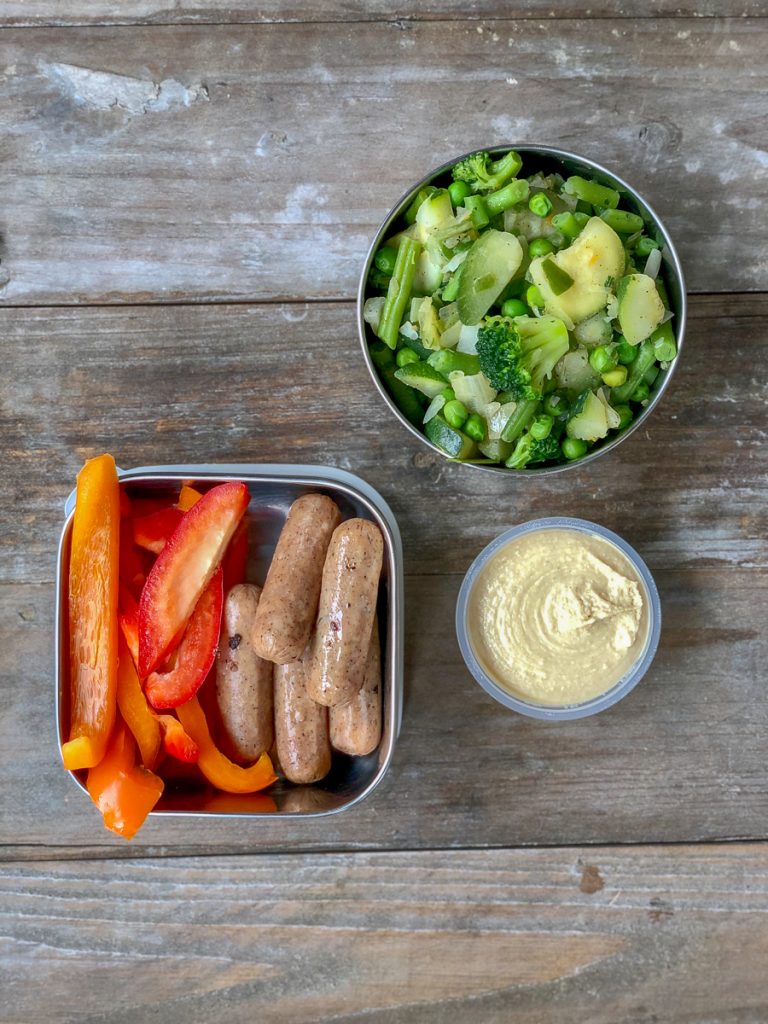 11. Bagel with Marinara Sauce and Cheese, Baby Carrots and Guacamole, Plantain Chips on the side.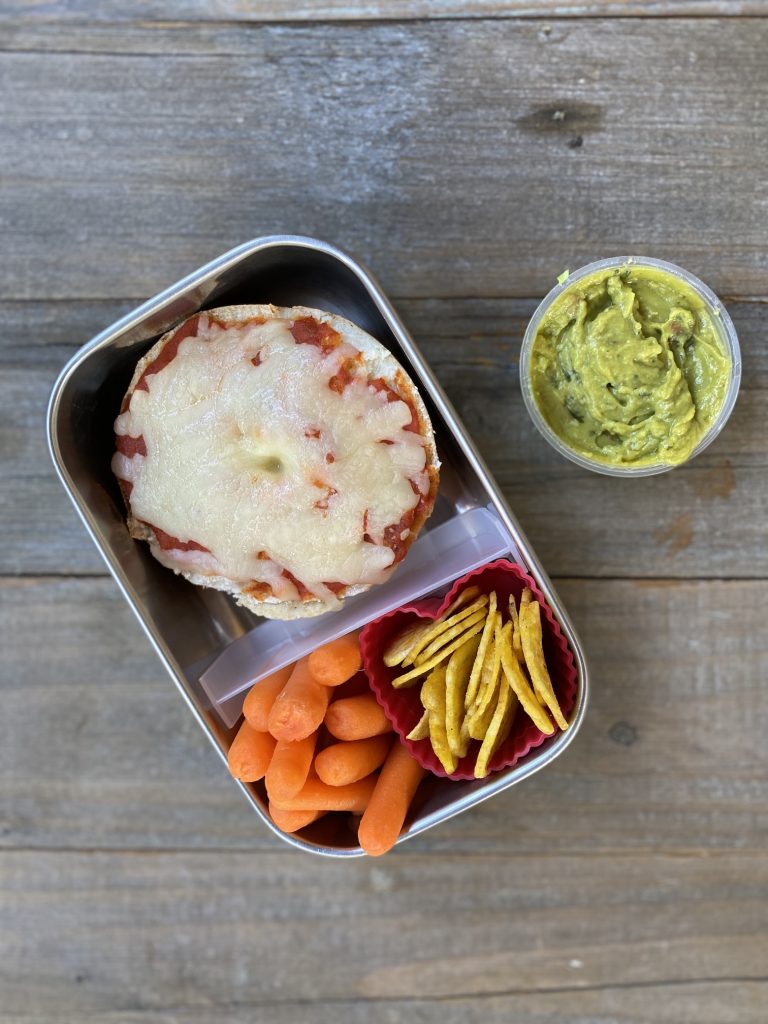 12: Yogurt, Frozen Fruit (to put in yogurt), Heavenly Hunks (can break up and put in yogurt), Pistachios.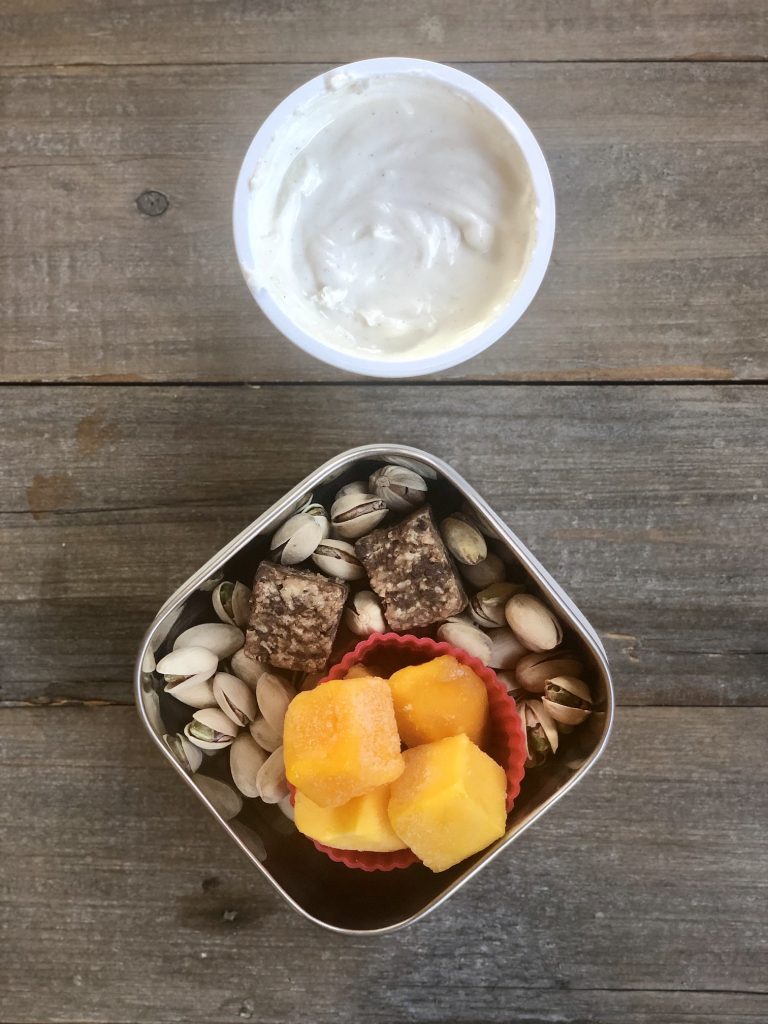 13. Toasted bread (to make avocado toast), Guacamole, Banana, Hippeas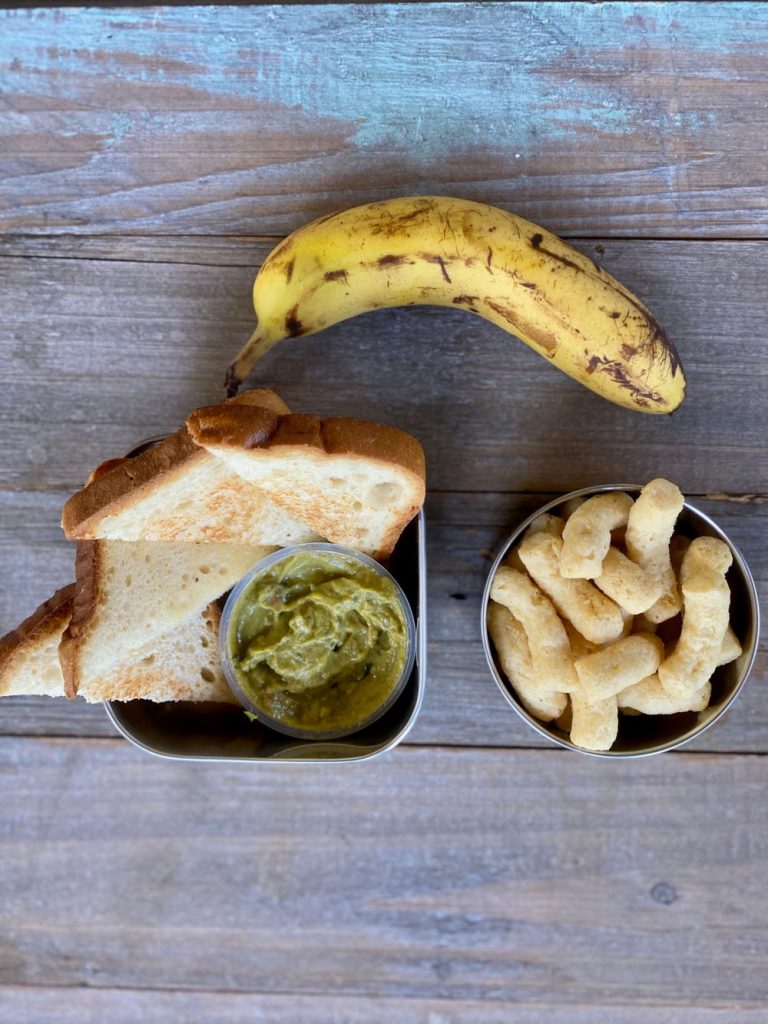 14. 6 Gluten-free Chicken Nuggets with 2 Hard Boiled Eggs and a Salad with Carrots, Lettuce, and Cucumbers; with Hippeas.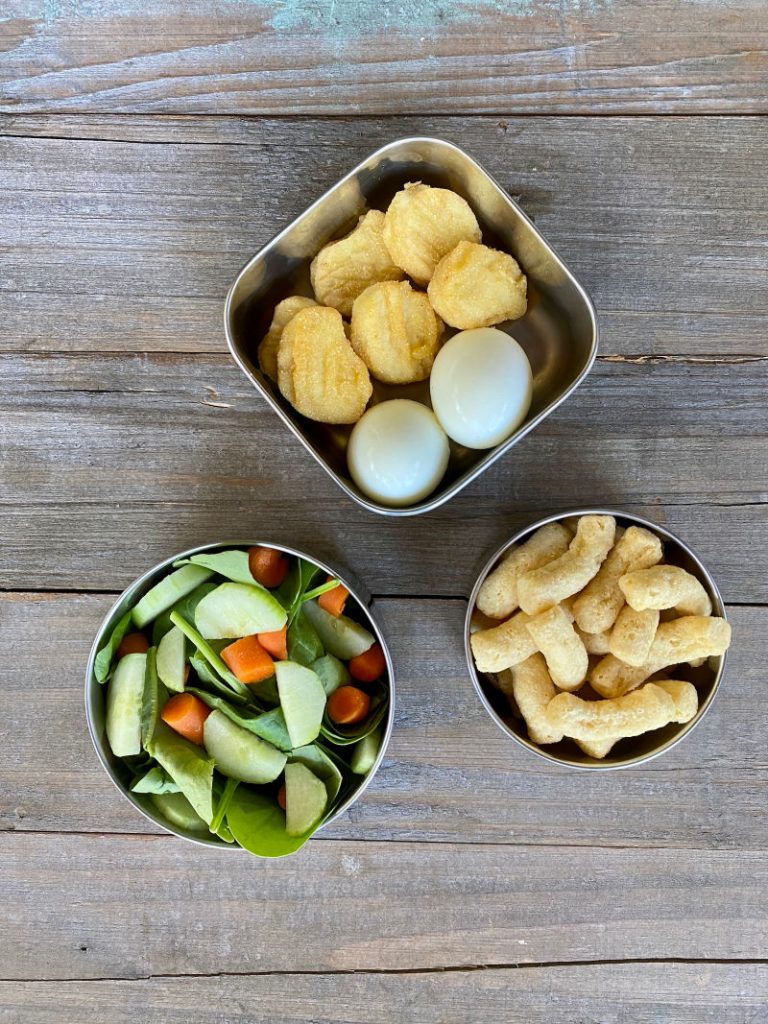 15. Hard Boiled Egg, Cooked Chicken Sausage Links, Gluten-free Bread, Jelly, Mixed Berries, Pistachios.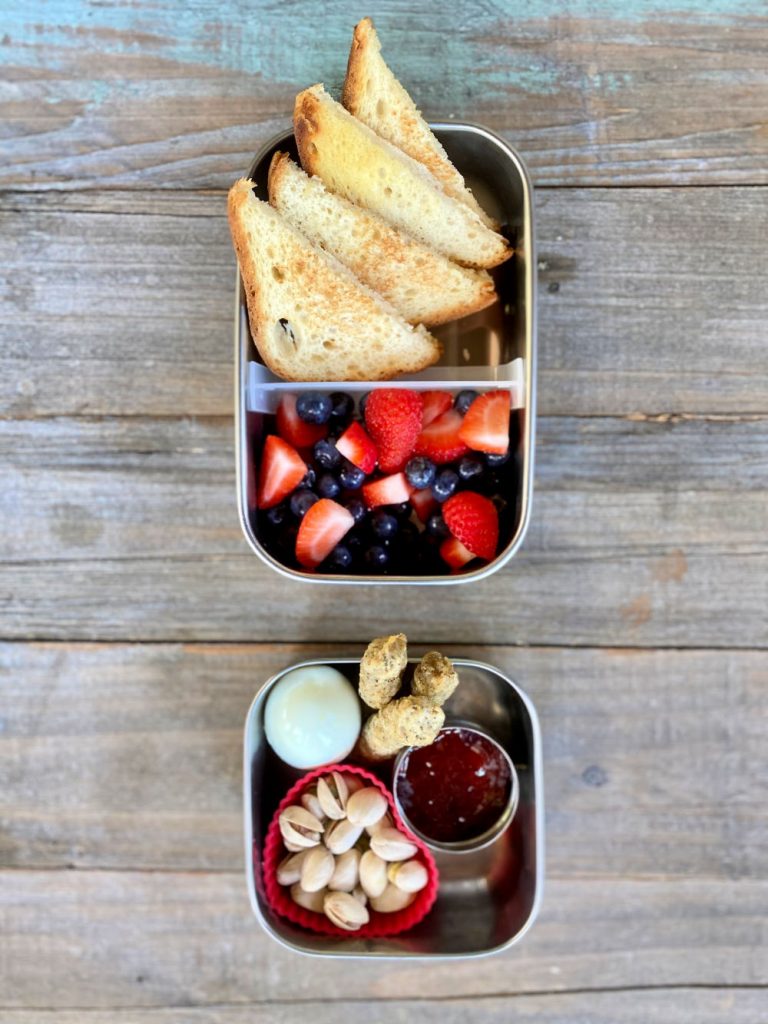 16. Egg + Cheese Sandwich on GF Bread, Spinach Salad with Blueberries and Strawberries.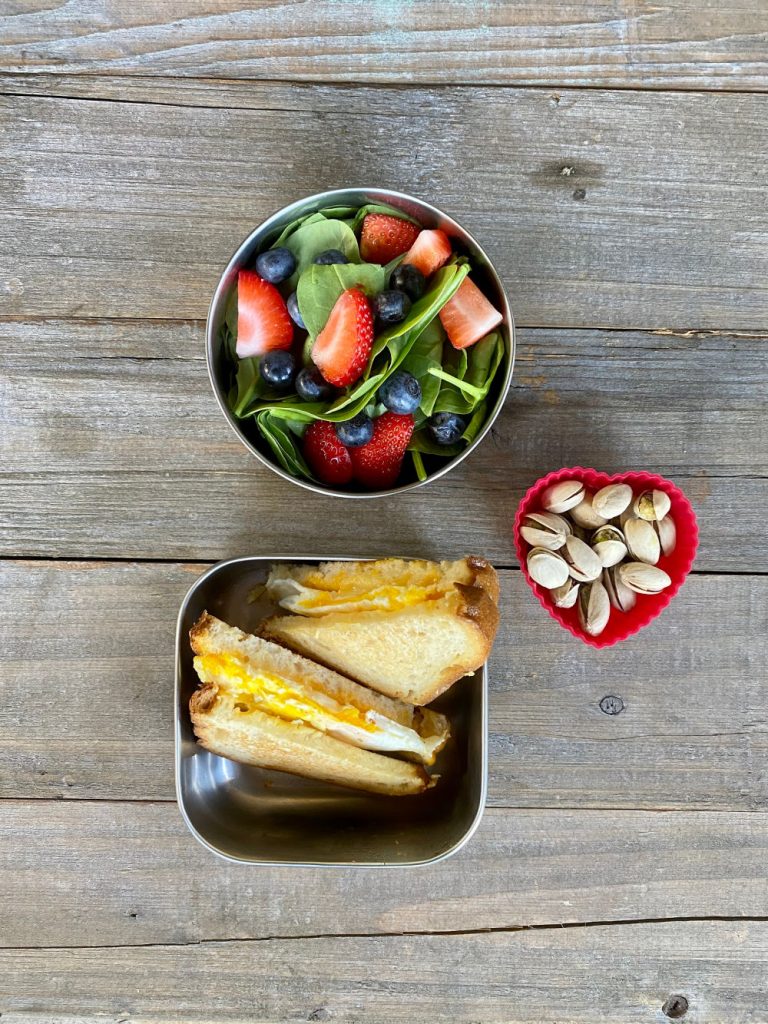 17. Gluten Free Chickpea Pasta with Marinara, Amy Lu's Paleo Meatballs, Spinach Salad with Berries on the side*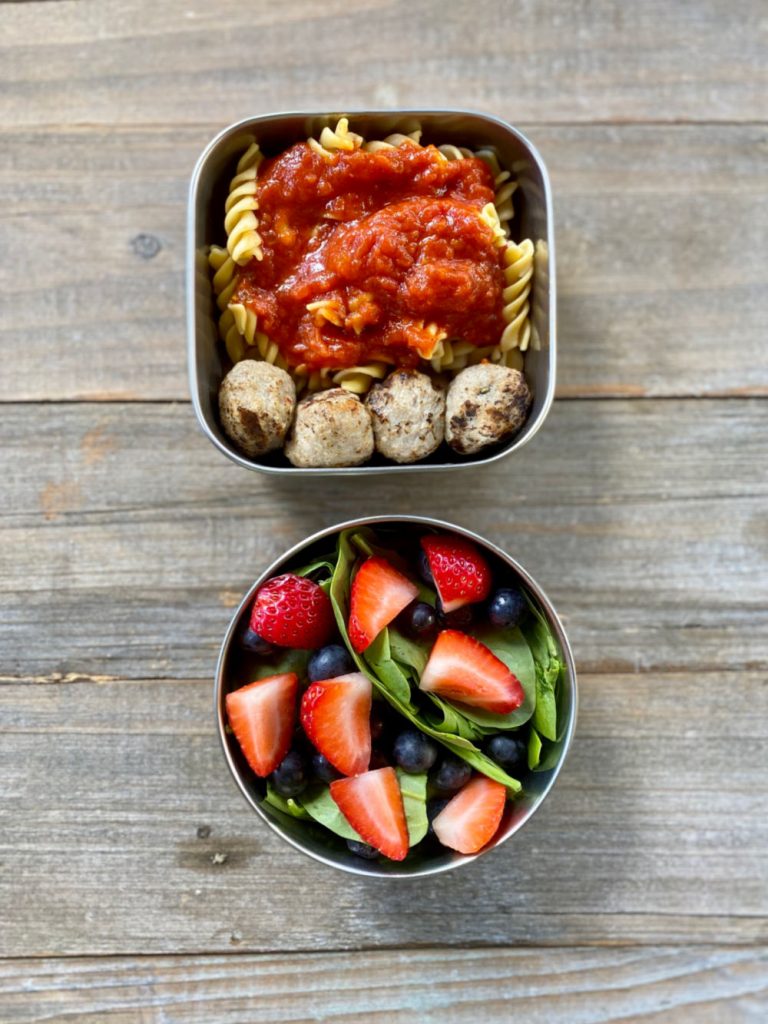 18. Gluten-free Pasta with Marinara, Paleo Meatballs, Cheese (optional) with a mix of Frozen Strawberries and Mango.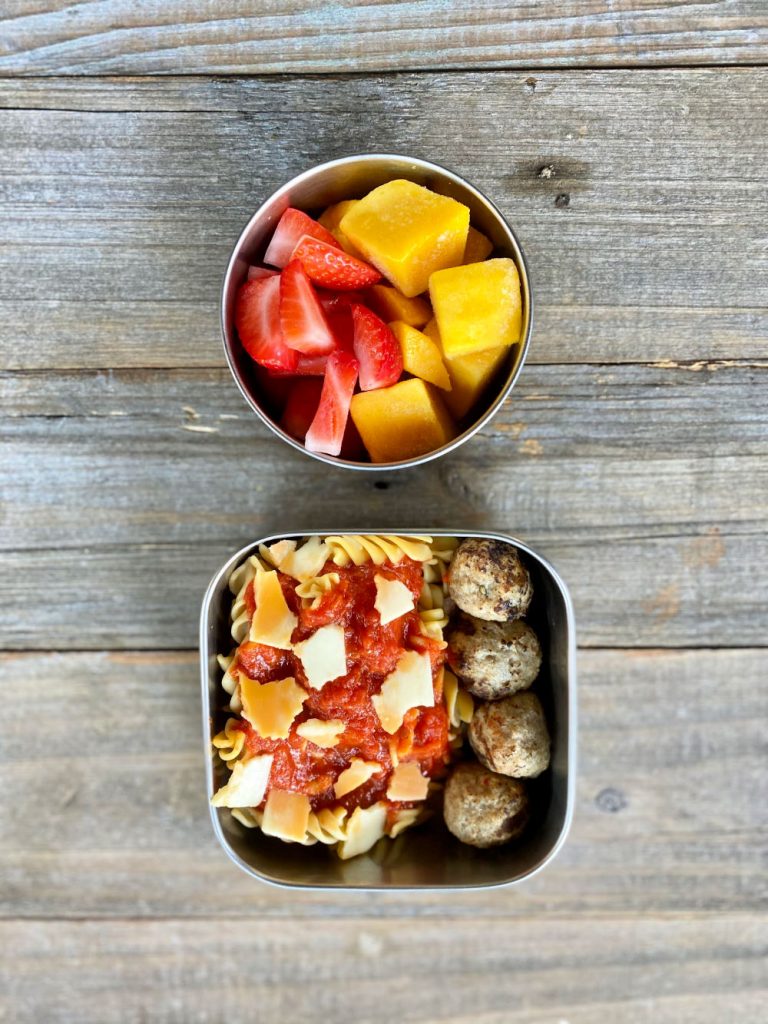 19. Broccoli with Cheese, Cucumber and Pistachios in a U Konserve lunch box.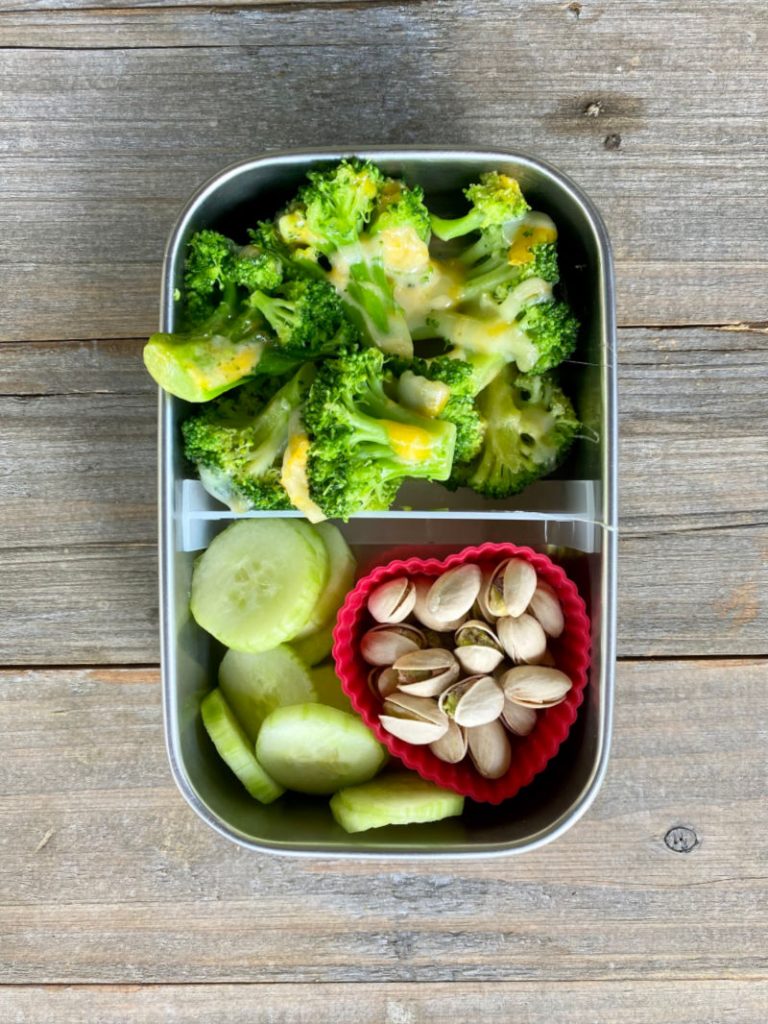 20. Gluten-free Pasta with Marinara, Spinach Salad with Carrots, Avocado, Pepper, Cucumber and Honey Mustard (equal parts honey and mustard mixed).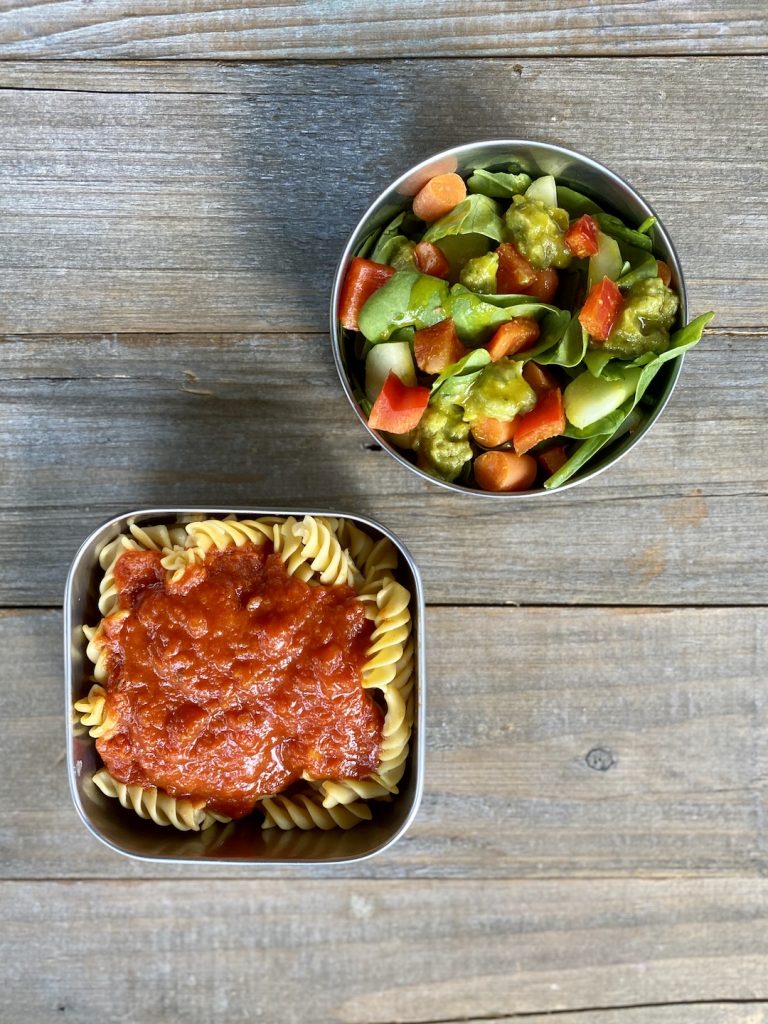 So there you have it! I hope that these easy, healthy school lunches can be helpful and serve as inspiration for you. If you'd like more lunch ideas, be sure to check out these 10 Healthy Simple School Lunches from Trader Joe's or 5 Healthy Lunches You Can Make in 5 Minutes (each) . If you have other favorite foods that you like to get from Costco, please share them below!
Oh, and in case you'd like the shopping list for this meal plan – here it is!