Looking for healthy lunches you can make quickly? Look no further! Simple ingredients, easy recipes and ideas for teens, picky eaters and more. Here are 5 lunches you can make in 5 minutes each – perfect for when you are short on time.
How many times have you found yourself in a pickle, not knowing what in the world you were going to send to school with your child? Raise of hands, anyone? I know that I have, but over the years I've developed a system for planning ahead and also have a few fall-backs to lean on when necessary. So today I am sharing 5 lunches you can make in 5 minutes. Yes, you read that right; these are quickies. Even though I always suggest packing the night before, these can even be made the morning of.
Healthy school lunches you can make in 5 minutes – it IS possible!
Although these are throw-together lunches, rest assured that they are real, wholesome meals that you can feel good about sending. No Uncrustables or processed junk here. And yes, feel free to make minor changes if needed. If you don't have the vegetable that I suggest, substitute it with another. I aim to send a fruit and a vegetable in each of my kids lunches daily, or 2 fruits/2 veggies. The important thing is that you are sending a great, nutritious lunch!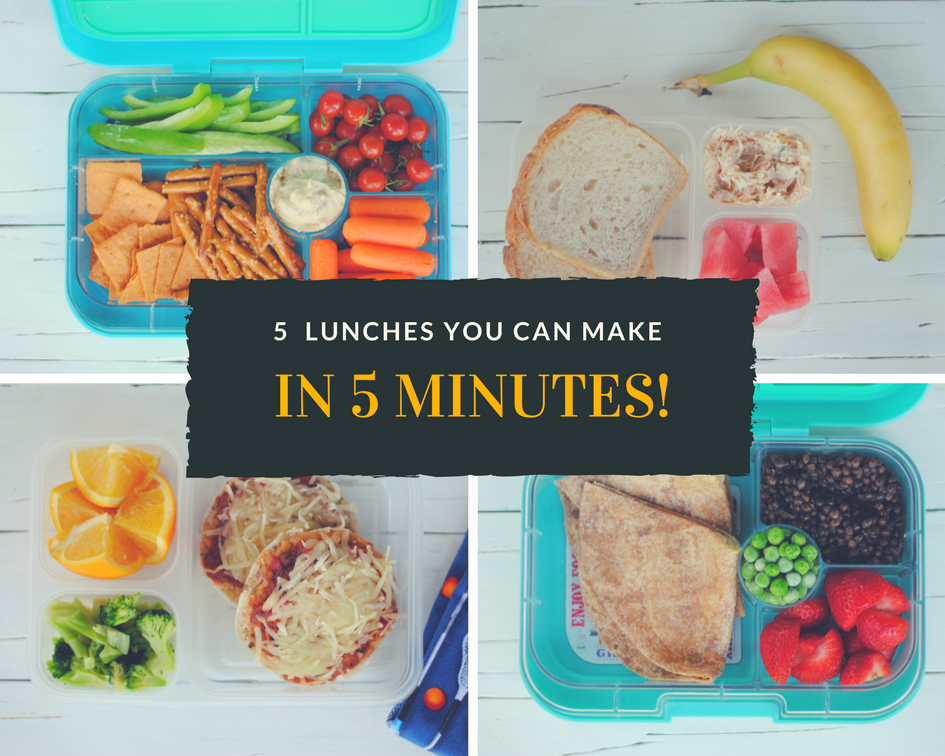 1. Black beans atop brown rice with cherry tomatoes and romaine on the side: a quick, healthy lunch
It seriously doesn't get any easier than this. I love that this is a filling meal with protein that will leave their bellies feeling full. I come back to this lunch pretty often and am guessing that you will, too!
Ingredients:
Directions:
Open package of rice and place on microwave-friendly dish. Open can of beans; drain, and add desired amount on top of rice. Top with cheese. Heat in microwave and transfer to lunch container or thermos.
Wash and chop romaine. If you are in a pinch, bagged romaine will work fine, too. Add to divided lunch container. Top with dressing (optional).
Add cherry tomatoes.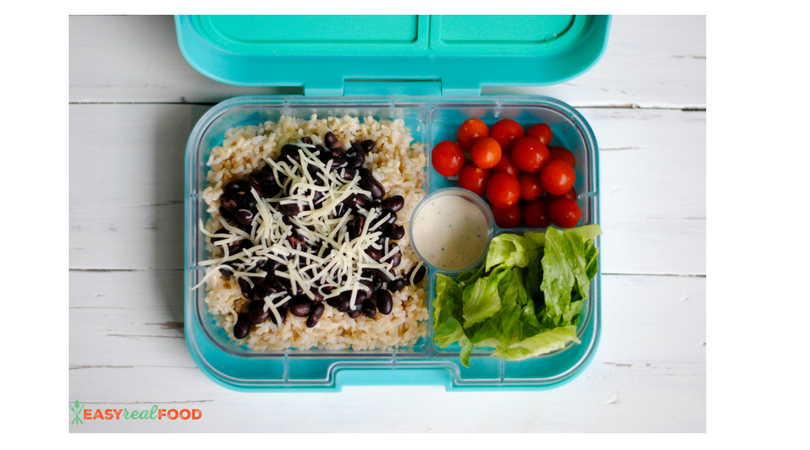 2. Pizza English Muffins, Broccoli and an Orange
An oldie but goodie, I have yet to see a child turn his nose up at this. I mean – pizza, right?! Full transparency – this one takes 5 minutes to cook the "pizza" and a few minutes to heat the broccoli in the microwave, but you're technically done prepping quickly which is why I included it.
Ingredients:
Directions:
Split english muffins in half. Top each with sauce, and then with cheese. Place toppings on English muffins and place in a toaster oven for 5 minutes, or until cheese is melted.
While pizza muffins heat, take frozen broccoli out of bag and cook in the microwave according to directions on the package.
Place both in divided lunch container.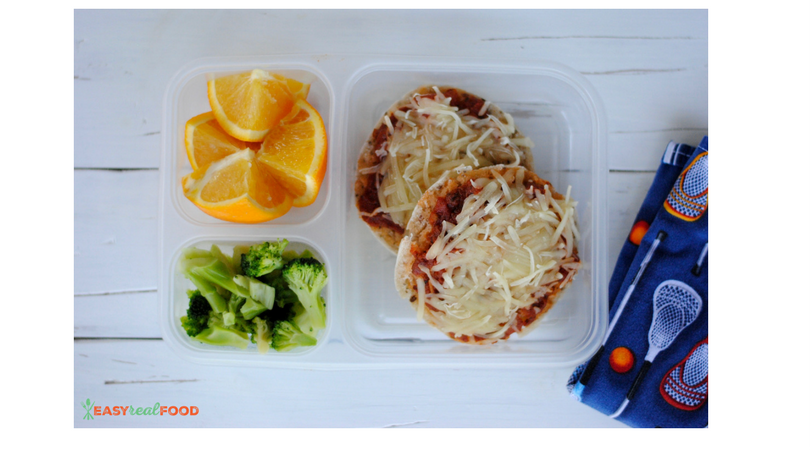 *These are the English muffins that we typically get
3. Hummus Dipper Lunch
Okay, so this one is not going to get any gourmet awards, but my kids have never been disappointed with this one! This lunch is an absolutely breeze to pull together, and you will likely have most of these items on hand anyhow.
Ingredients:
Directions:
Open hummus and add to divided lunch container.
Add peppers, carrots, celery and tomatoes to divided lunch container. Add pretzels and crackers.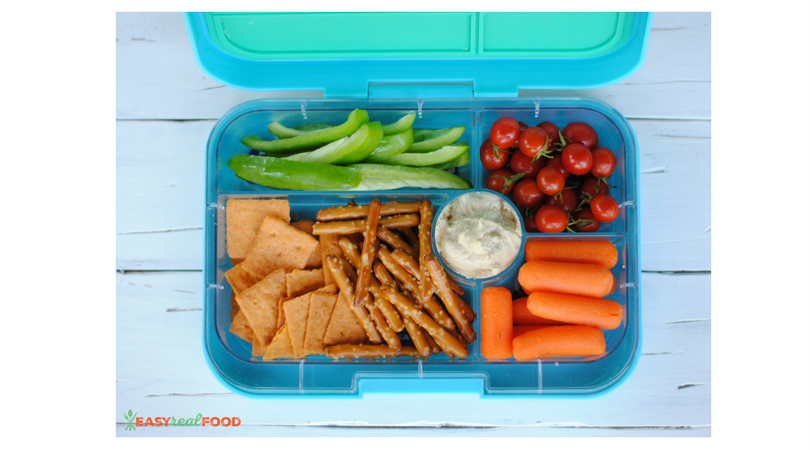 4. Chicken Salad on whole wheat bread + diced melon and banana
Guess what? I'm gonna leave this one totally up to you. There are so many options for variety here, you can do whatever works best based on the foods that you have. Don't have any whole wheat bread? Send it with crackers or pretzels (from the lunch above). No melon on hand? Substitute with another fruit or vegetable. Do what works for you, momma – it's all good.
Directions:
Mix chicken and mayonnaise with relish. If your child will like it, feel free to add in sunflower seeds, raisins, diced apples, etc. My kids do not like these mix-ins, so I generally leave it basic.
Add bread, melon and banana to divided lunch container. Your child can put the chicken salad on the bread at school to avoid it from getting soggy in transit.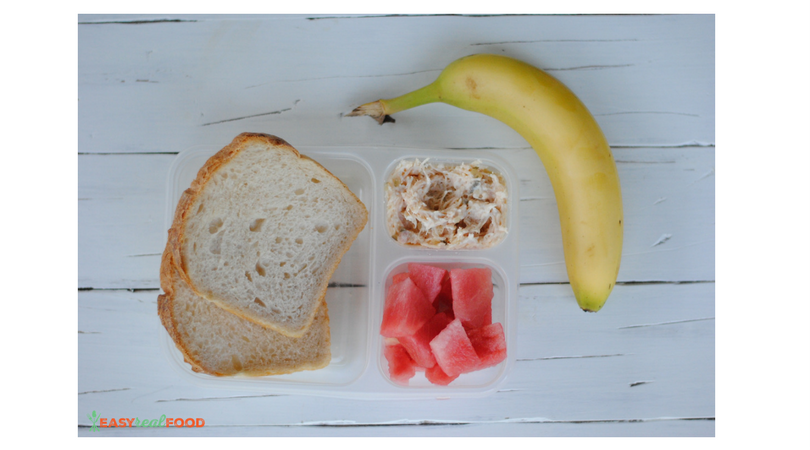 5. Cheese quesadilla, lentils, strawberries and peas
Another super easy one. If you can turn on the microwave and open a can, you're more than halfway there.
Ingredients:
Directions:
Place cheese on tortilla on a microwave-safe plate and heat for 20-30 seconds, until cheese is melted. Fold in half, and cut into halves.
Open can of lentils. Spoon some into a divided lunch container.
Wash strawberries; cut off tops and slice in half. Add these to one spot of the container, and the peas to another. Sending them frozen is fine; they will defrost by the time lunch starts.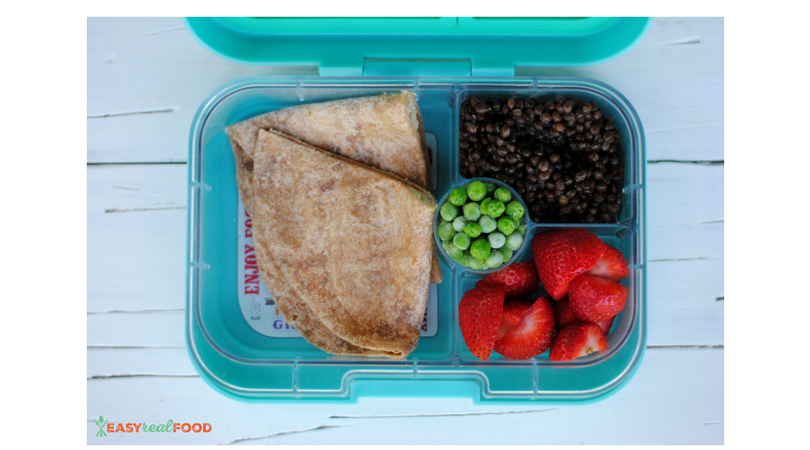 So there you have it. 5 lunches you can make in 5 minutes. I'm sure that there are more out there, so why not share it with the readers below? Or tell me which is your favorite:). Oh and if you're looking for more healthy school lunch ideas, don't miss 10 Healthy Simple School Lunches from Trader Joe's or this post with 20 Easy Healthy Costco Lunch Ideas. And don't forget after school – here are 30 healthy after school snack ideas!
---
This post may contain affiliate links which won't change your price but will share some commission.