Paleo air fryer zucchini fries are an ideal way to get kids to eat zucchini. While typically a fried food, these zucchini fries are coated in coconut flour and a few other spices and crisped up in the air fryer. They are deliciously crispy and a healthy seasonal recipe, too. Gluten free, dairy free, paleo, Whole30 compliant and a kid-friendly recipe.
Zucchini doesn't fall on my list of favorite vegetables if I'm being honest. In fact, I don't care for it much at all. But my opinion changed after making these Paleo Zucchini Fries, so much that I can't wait to make them again. Using an air fryer makes the job even easier, and since zucchini is in season now, I'm hoping this can be some inspiration for you to pick up some  at the farmer's market or store right away.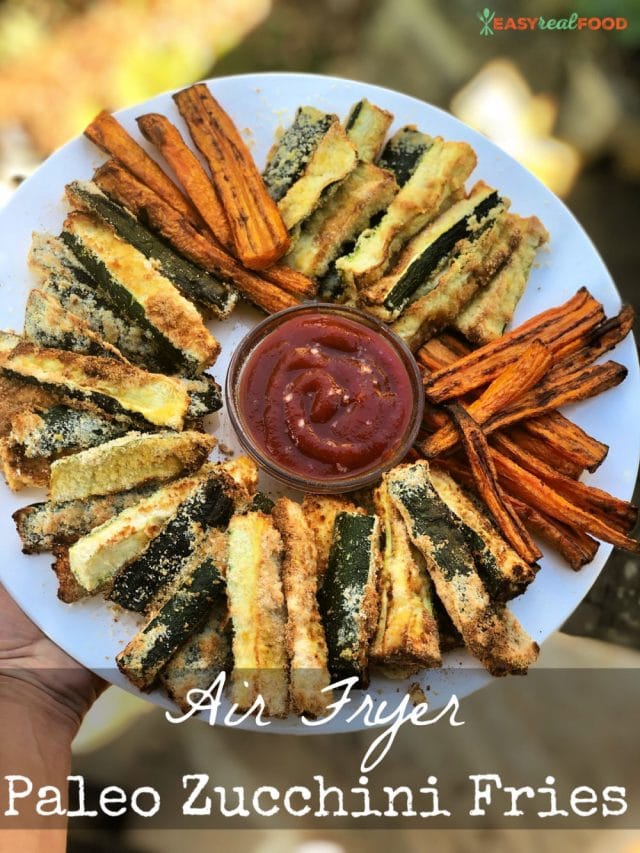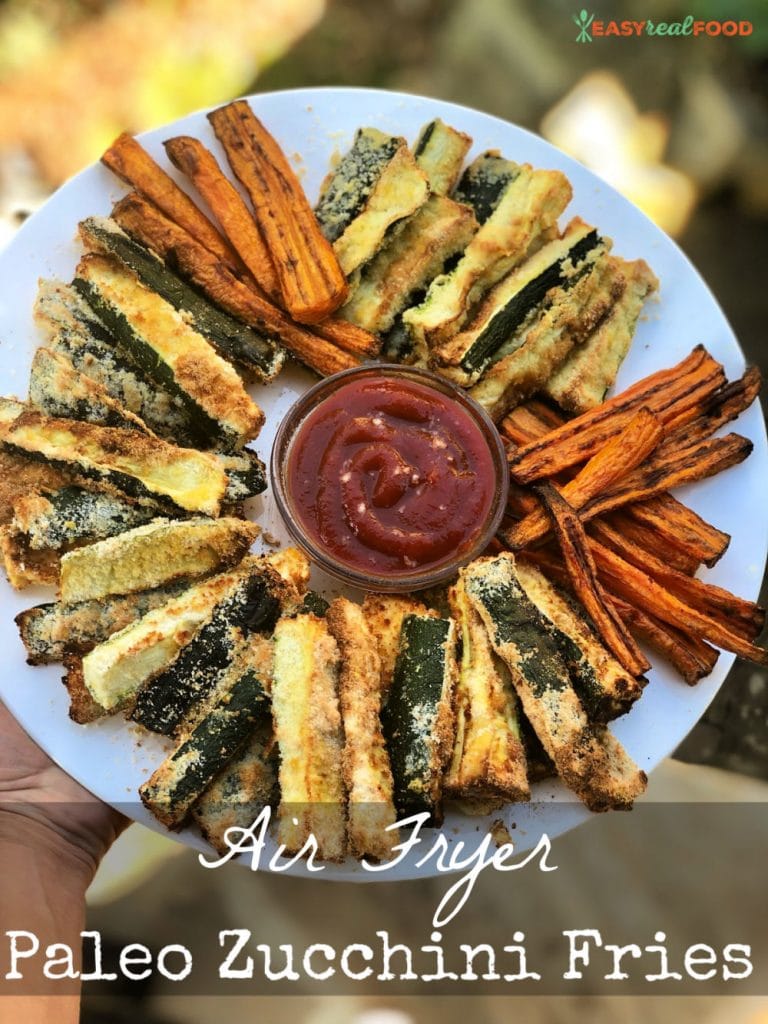 Paleo air fryer zucchini fries are:
A super kid-friendly vegetable dish
Grain free and Paleo
Gluten free
Dairy free
Whole30 compliant
A seasonal zucchini dish
Tips on making healthy air fryer zucchini fries:
To make these a paleo recipe, I used coconut flour. With the use of nutritional yeast, the coconut flavor doesn't come through.
These are delicious served right away but will tend to get soggy if you leave them for the following day.
We have served these with both ketchup and marinara sauce. Both are delicious!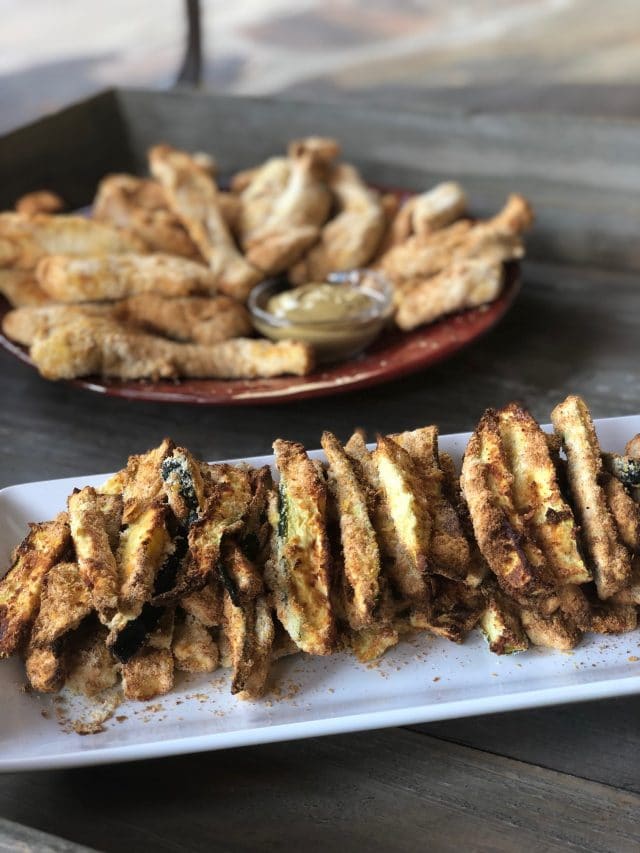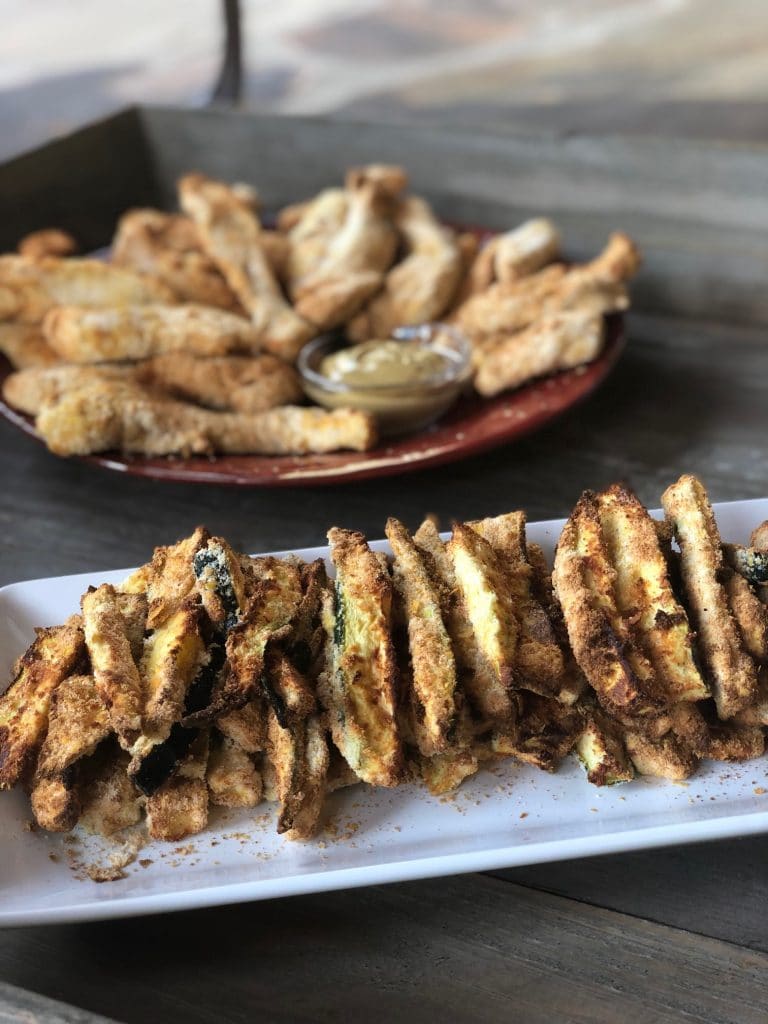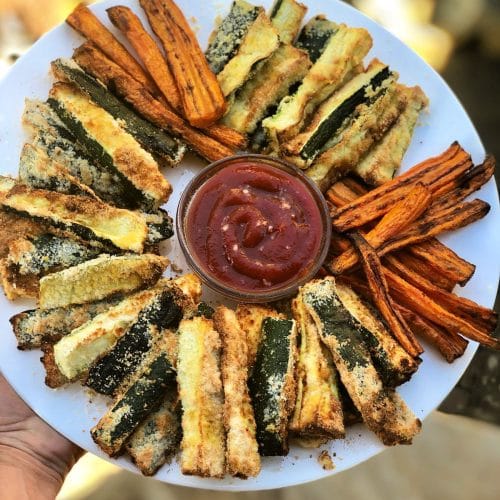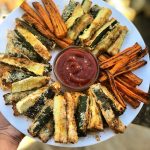 Air Fryer Zucchini Fries (Paleo
Paleo air fryer zucchini fries are crisp on the outside, tender on the inside and absolutely delicious! This kid-friendly vegetable dish is gluten free, dairy free, grain free and Whole30 compliant.
Course:
Appetizer, Side Dish, Snack
Instructions
Cut zucchinis into sticks. I cut mine in half and then cut them in half again - note that if you cut them thinner, you may need to adjust cooking time.

Beat an egg in a small bowl. Combine coconut flour, nutritional yeast and spices in another separate bowl. Arrange your plate of zucchini to the left, the egg bowl next, and the flour/spices last. Take each piece of zucchini and coat it in the egg; then dredge it into the flour mixture until coated.

Arrange zucchini wedges in a single layer in fryer basket, skin side down. Do not overlap. Depending on the size of your air fryer, you may need to work in batches. "Fry" your zucchini at 390/400 degrees for 15 minutes or until they are golden brown. Serve warm with ketchup or marinara sauce.
Nutrition Facts
Air Fryer Zucchini Fries (Paleo
Amount Per Serving
Calories 87
Calories from Fat 27
% Daily Value*
Fat 3g5%
Cholesterol 41mg14%
Sodium 481mg21%
Potassium 483mg14%
Carbohydrates 11g4%
Protein 6g12%
Vitamin A 380IU8%
Vitamin C 28.9mg35%
Calcium 32mg3%
Iron 1.1mg6%
* Percent Daily Values are based on a 2000 calorie diet.
How to make zucchini Paleo?
By using grain free flours, such as coconut and cassava flour, you can still achieve a tasty, crispy outside without the use of any grains or traditional flours. In addition, the air fryer helps to cook them so that they're not squishy – something that I'm personally not fond of at all.
My opinion of cooking with an air fryer
I was not immediately sold on an air fryer. I mean, who wants another appliance to take up room in their kitchen or pantry?! Flash forward, and I'm a BIG fan of my air fryer and honestly use it a few times a week. My findings are that "frying" just about any vegetable in the air fryer equals a vegetable that kids eat. On that note, here's another post on other kid-friendly vegetables.
Cooking vegetables in the air fryer
To cook vegetables in an air fryer, simply coat them with minimal oil, spices and/or salt and put them in for 15-24 minutes. Talk about super side dishes! You see carrots pictured here, too – I cut sticks of carrots, used some olive oil and sprinkled some salt and 15 minutes later OH MY GOSH – why didn't I do this sooner?!! So delicious. I highly recommend an air fryer!
Hope you enjoy this seasonal, nutritious recipe. Let me know if you try it!