Have I told you about my parents? They live just 2 miles away from me, which is wonderful. My mom was diagnosed with Stave IV cancer 6 years ago; she had a massive tumor in her sinuses and went up into her brain. Intense radiation and chemotherapy, along with a 13 hour surgery has caused brain damage. My father is now her caretaker, along with other outside help – including getting food prepared since his hands are more than full. One of the women who cooks for them made a similar crunchy vegetable salad which I had a chance to try, and then was inspiration for my latest creation and love: the best crunchy detox salad.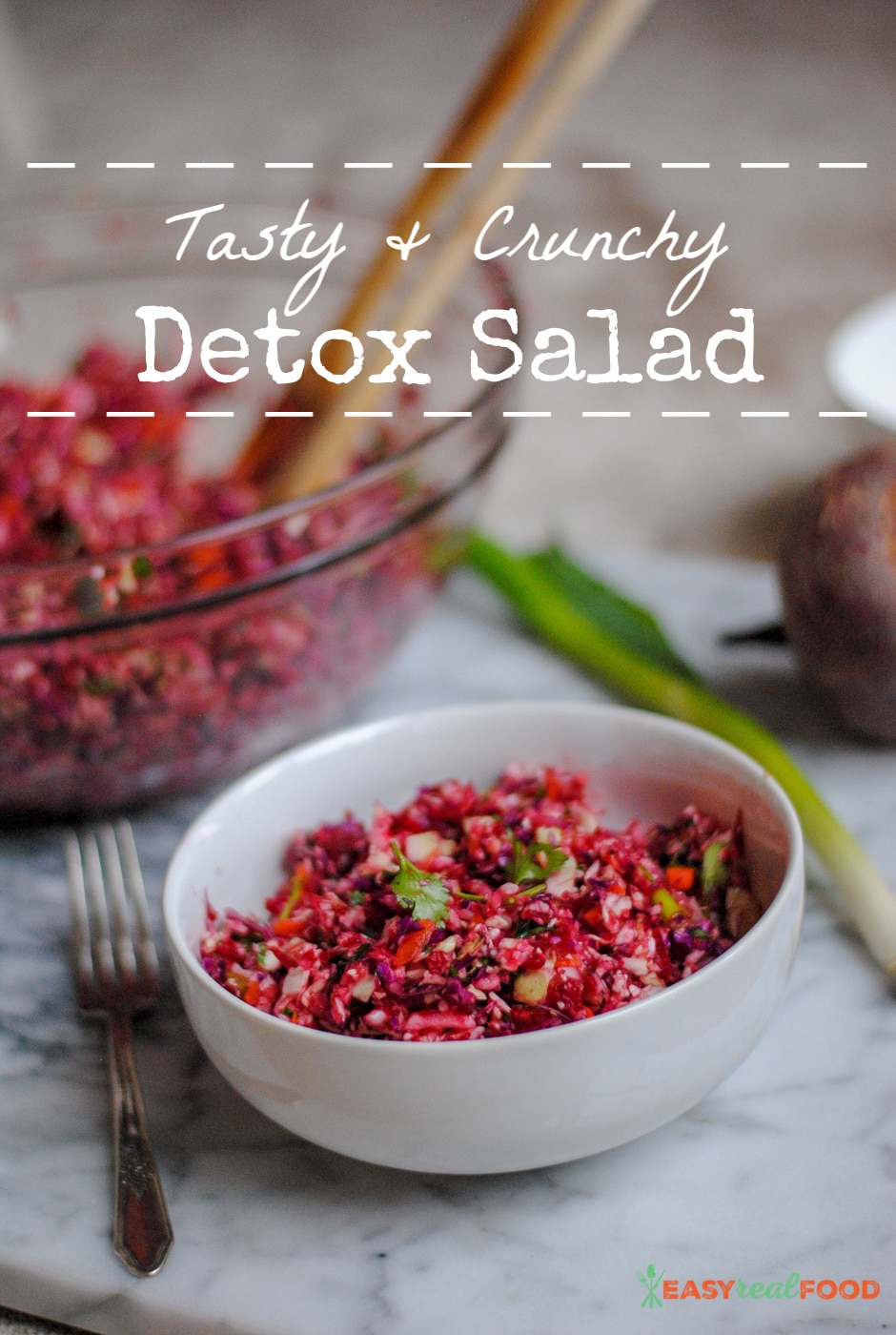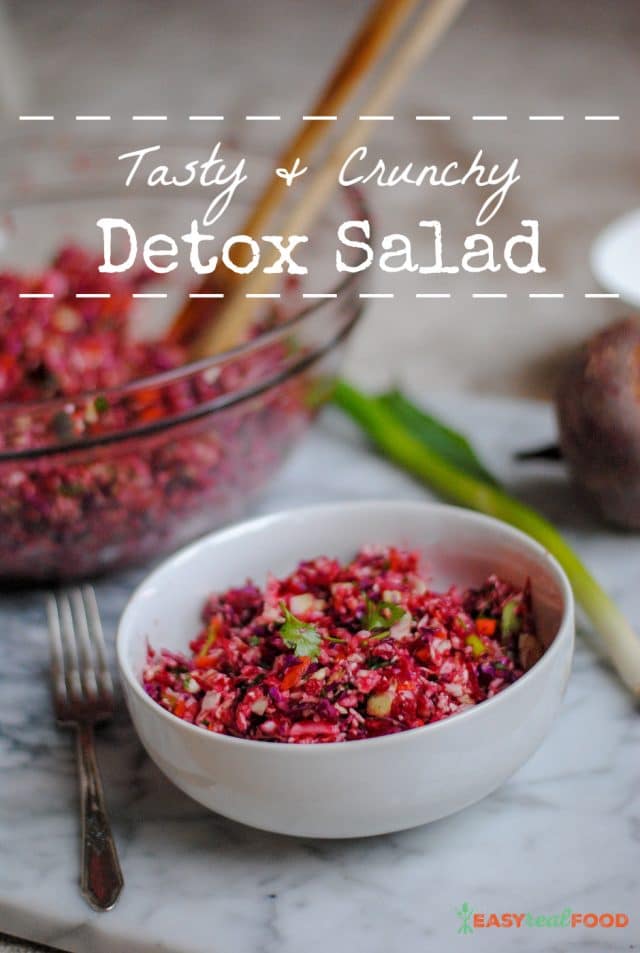 Why is this the best crunchy detox salad?
This light, flavorful combination includes beets, carrots, red and green cabbage, green onions and cilantro, all shredded in a food processor (or by hand) that come together in a light "dressing" of lemon juice, red wine vinegar and just a little bit of salt and sugar. It will up your intake of colors and provides a nice side dish of crunchy vegetables. This simple crunchy salad recipe pairs well with a side of chicken or fish, a few hard boiled eggs or even eaten alone in a big bowl!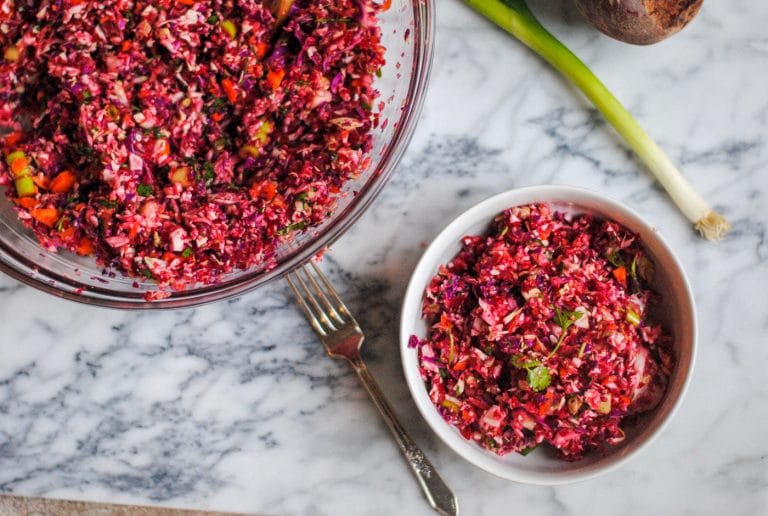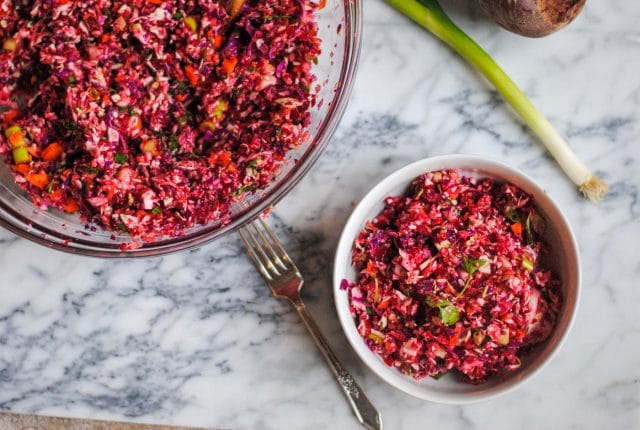 Which foods are good for detox?
Beets
have
many benefits to them
, including offering a whole host of vitamins and minerals without overloading you with calories and fat. Many athletes use beetroot juice to try to improve athletic performance
¹
, and because they include fiber, it's said that beets can aid in digestion. Beets are said to aid in detoxification by
improving your liver function
. With all of these benefits to be found, beets are a wonderful addition to include in your diet. Their beautiful color was another reason I included them in this best crunchy detox salad!
Cabbage
, both red and green, include
glutamine
, which is a non-essential amino acid. Glutamine is helpful in aiding in digestion and detoxification. In addition (and once again), the fiber content in cabbage aids in assisting in the feeling of fullness and also with "keeping things moving." I included both red and green cabbage in this salad for both aesthetic purposes, but also because they offer slightly different nutritional profiles.
Cilantro
is an herb that is closely related to coriander. It's often used in Mexican foods, and is one of my favorite herbs! I use it in
guacamole
and often times add it to smoothies for the purposes of taste and also the fact that it is said to help remove heavy metals from the body. It adds a subtle spicy taste to this crunchy salad and along with color and other benefits.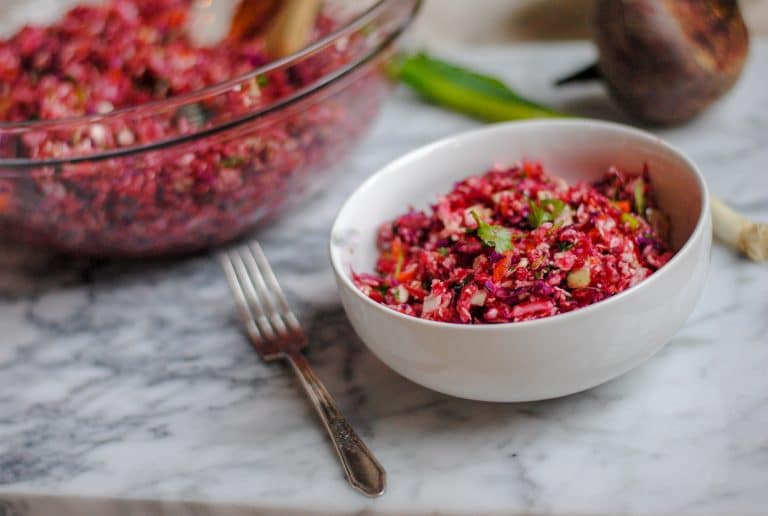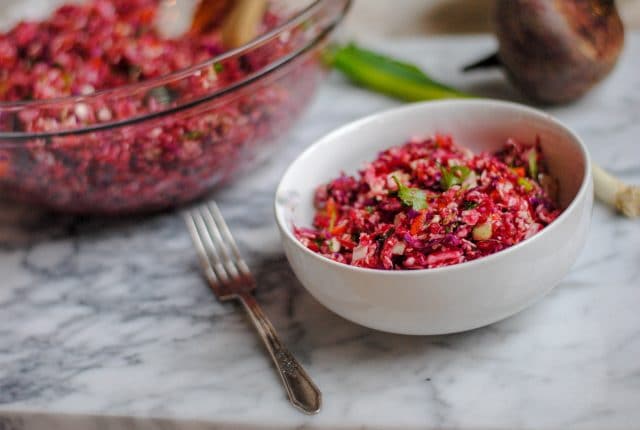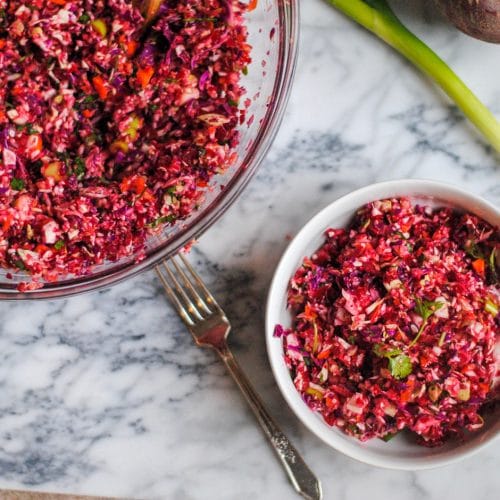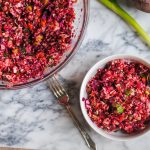 The best crunchy detox salad
The best crunchy detox salad has crunchy vegetables including beets, red and green cabbage, carrots, spring onions and cilantro; a tasty, feel-good recipe!

Keyword:
salad, side dish
Ingredients
1/2

head

red cabbage, shredded

1/2

head

green cabbage, shredded

1

beet, peeled and shredded

2-3

carrots, peeled and shredded

2-3

spring onions, cut into pieces

1

handful

cilantro, washed and chopped
For the "dressing"
2

tbsp

lemon juice

1

tbsp

red wine vinegar

1

tsp

sugar

1/2

tsp

salt
Instructions
Cut cabbage into chunks and place a few at a time into a food processor to shred. Pulse as needed until all cabbage is shredded. Repeat process with beet and carrots; cut into chunks and shred in the food processor. Add these all to a large bowl.

Cut spring onions, and coarsely chop the cilantro. Add to shredded vegetables.

Top vegetables with lemon juice, vinegar, sugar and salt; mix to combine. Taste and adjust if needed. Best eaten on the same day made, but can still be enjoyed the following day.
Nutrition Facts
The best crunchy detox salad
Amount Per Serving
Calories 60
% Daily Value*
Fat 0g0%
Cholesterol 0mg0%
Sodium 252mg11%
Potassium 419mg12%
Carbohydrates 14g5%
Protein 2g4%
Vitamin A 4335IU87%
Vitamin C 72.3mg88%
Calcium 74mg7%
Iron 1.2mg7%
* Percent Daily Values are based on a 2000 calorie diet.
A few notes about the recipe:
I used a food processor to make this. I am sure that you can also shred the vegetables by hand by using a hand grater if desired.
The dressing is honestly not a dressing:). There is no oil included here, so I just added some lemon, red wine vinegar and a bit of sugar and salt. It's very light and refreshing!
This crunchy vegetable salad is best enjoyed the day that you make it, but also can be eaten the next.
Let me know how you like this salad in the comments below. It's perfect for anytime you want to up your veggie intake; hope you love it!
This post may contain affiliate links which won't change your price but will share some commission.