For most of my adult years, I've preferred vegetables over fruits – especially heartier ones since they are a good source of starches. Without eating grains, it opens up options for vegetables to serve as a better carbohydrate source, and I love that they fuel me for exercise. That being said, I'm always on the hunt for a good root vegetables recipe … so I combined a number of them and made them into this chunky root vegetable stew. It's warming, nourishing and full of vitamins A & C. Whether you're an athlete or like to work out, avoiding grains or just looking to up your veggie game – get this one into your rotation! I promise you won't be disappointed.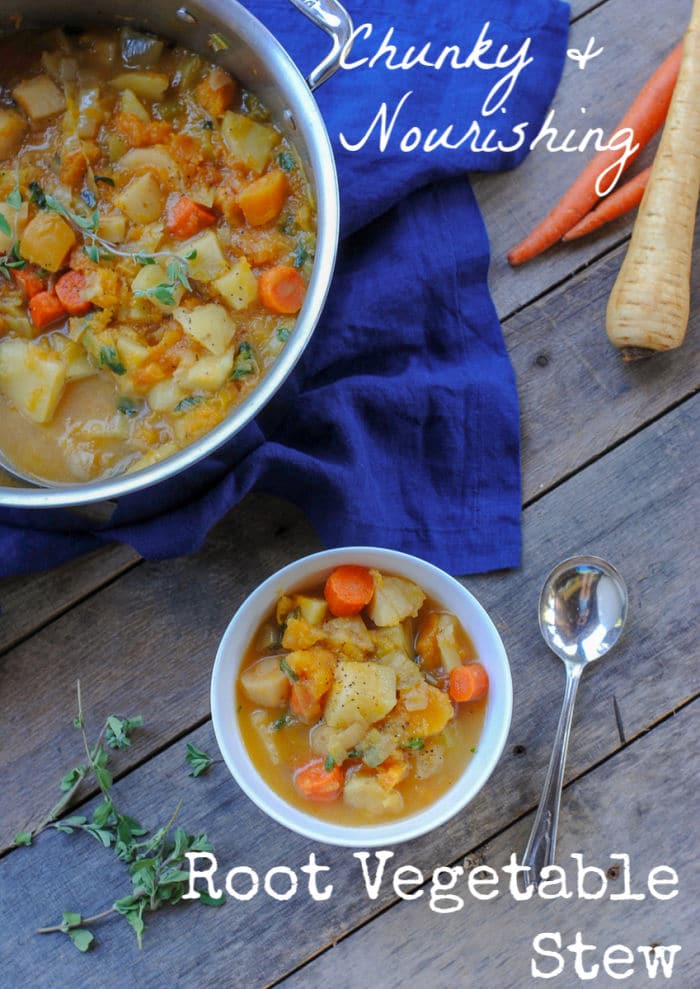 What is considered a root vegetable?
Root vegetables grow underground at the base of the plant. Not all of them are roots; some are also bulbs and tubers, and these absorb nutrients to feed the rest of the plant. This makes root vegetables nutrient powerhouses. However, they are often considered more like grains than greens since they are so high in carbohydrates. My personal beliefs don't include counting vegetable carbs, so this stew is chock full of goodness including lots of veggies and vitamins, too.
Examples of root vegetables:
fennel
onion
ginger
turmeric
beets
parsnips
turnips
sweet potatoes
yucca
carrots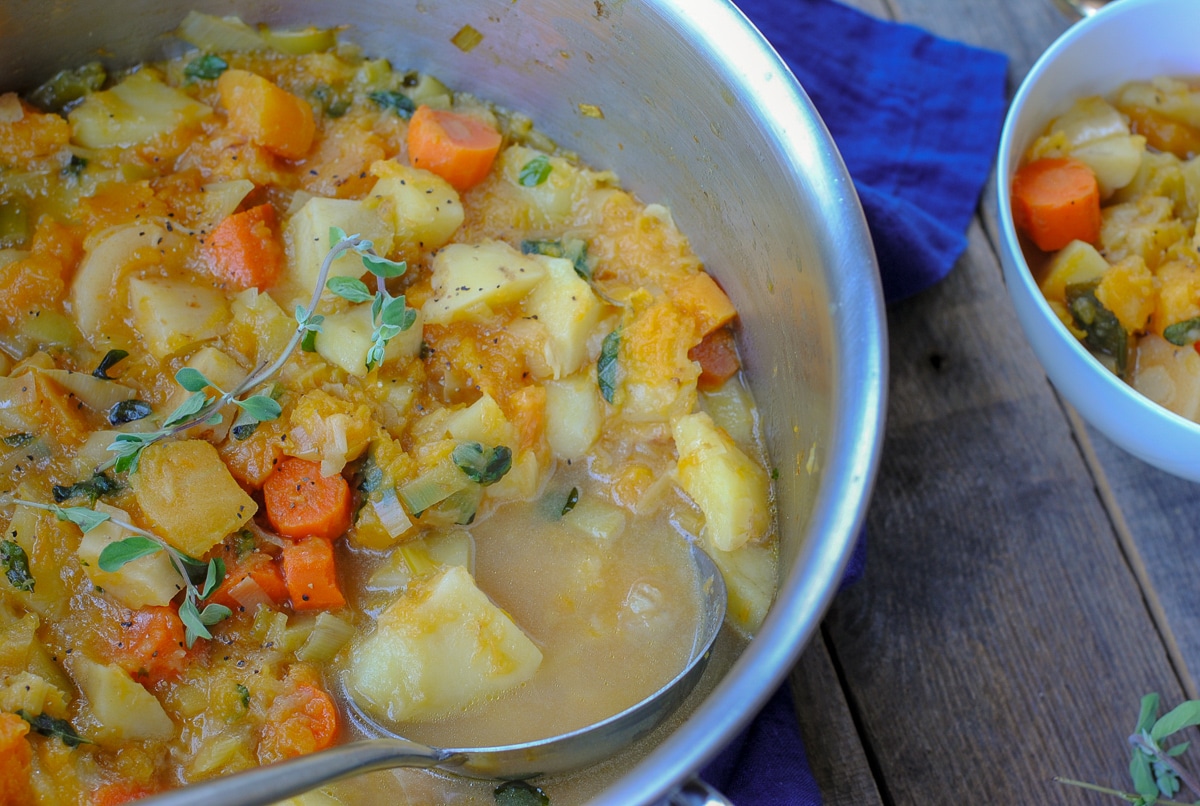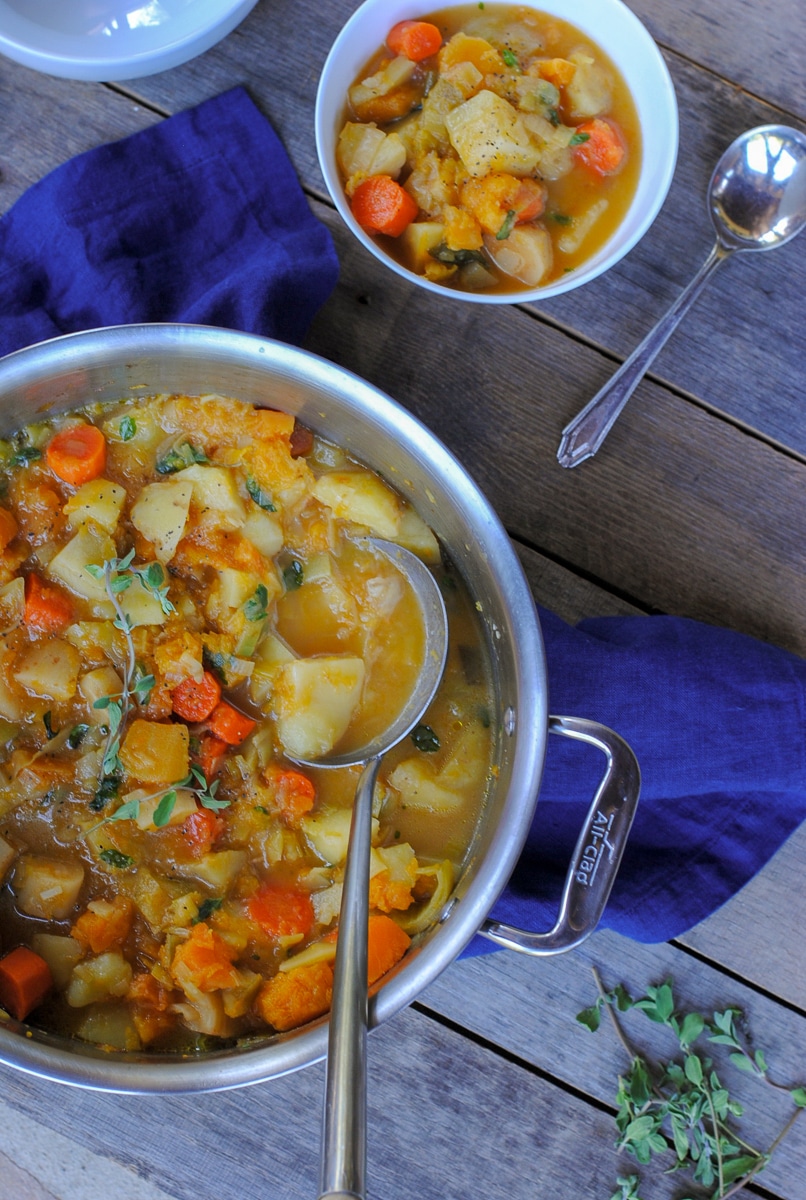 What does it mean to "sweat the vegetables"?
Sweating vegetables is done by cooking the vegetables in a little bit of oil or butter (fat) over a low heat. The key is to keep them covered. By keeping the lid on, you allow the vegetables to "sweat" or steam themselves, which allows them to get nice and tender and to also bring out a depth of flavor. I first learned this method when making Carrie Vitt's Creamy Chicken Tomato and Vegetable Soup and have loved this cooking method since!
Why do you sweat vegetables when making soups or stews?
Sweating the vegetables allows them to cook with that added flavor, without allowing them to burn or brown. It softens them and releases flavor, both desirable when making soups and stews.
Chunky Root Vegetable Stew
An autumn inspired chunky root vegetable stew that's full of nourishing vegetables including parsnips, carrots, leeks, turnips and more.
Keyword:
Dinner, soup, stew, vegetables
Ingredients
4

TBSP

butter

(sub coconut oil to make it vegetarian)

4

large

carrots

, peeled

3

medium

parsnips

, peeled

1

medium

turnip

, peeled

2

large

leeks

, washed and cut into 1/4 inch circles

8

scallions

(white parts and minimal amounts of green cut into small pieces)

1

large

butternut squash

, peeled and cubed

2

pounds

Yukon Gold potatoes

, peeled

5

cups

chicken broth

(sub vegetable broth to make it vegetarian)

2

cloves

garlic

, peeled and diced

1/2

cup

fresh marjoram leaves

salt & pepper to taste
Instructions
Cut all vegetables into 1/4 inch pieces.

In a large soup pot, add the butter and melt over medium high heat until melted. Add the carrots, parsnips, turnip, leeks, scallions and butternut squash, stir and cover. Lower heat to low and cook covered for 15 minutes to sweat the vegetables.

Remove lid, add salt & pepper to taste, and add broth. Simmer uncovered for 5 minutes.

Add potatoes and garlic and simmer for 15 minutes or until potatoes are cooked through. Add marjoram, mix in and taste. Adjust salt & pepper if needed. Serve warm or at room temperature.
Nutrition Facts
Chunky Root Vegetable Stew
Amount Per Serving
Calories 352
Calories from Fat 90
% Daily Value*
Fat 10g15%
Cholesterol 20mg7%
Sodium 211mg9%
Potassium 1826mg52%
Carbohydrates 61g20%
Protein 12g24%
Vitamin A 22380IU448%
Vitamin C 74mg90%
Calcium 199mg20%
Iron 8mg44%
* Percent Daily Values are based on a 2000 calorie diet.
Adding protein to this chunky root vegetable stew
While I love the fact that this is a plant based stew, there are others (like my husband) who will feel the need for more. For those who want to add additional protein to this, simply stir in some cooked chicken or even prepared quinoa.
How to serve this stew
This stew is best served right after cooking or at room temperature. It pairs nicely with a crusty piece of bread, biscuit, or anything of that sort. For added vegetables, serve it alongside a nice green salad.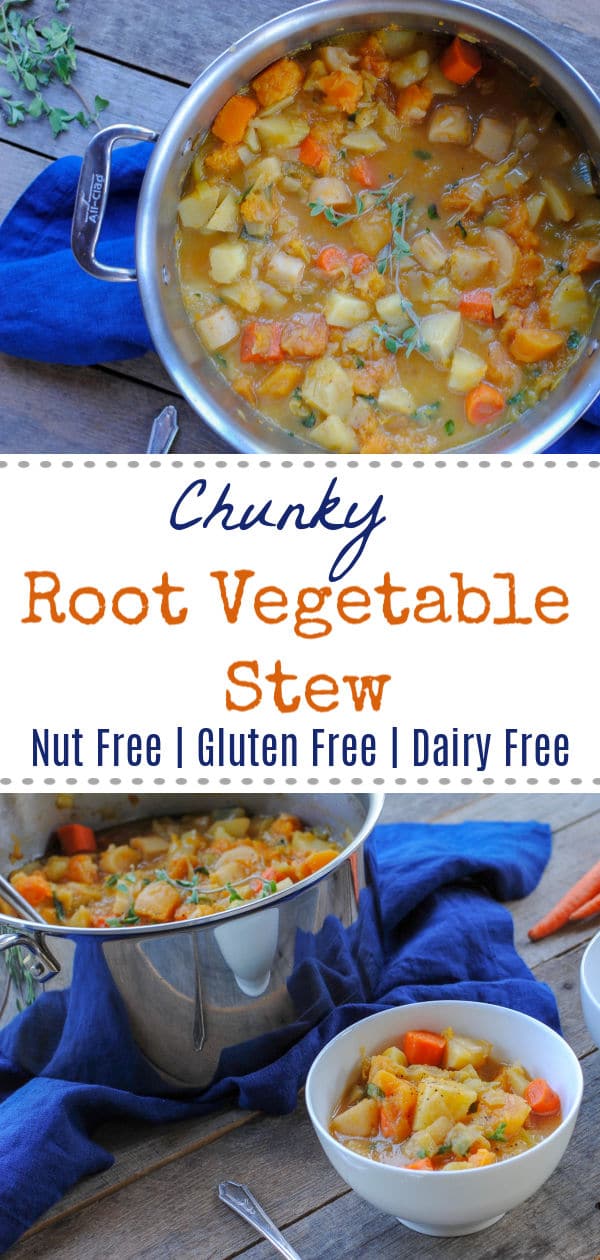 Are you also a fan of stews and soups? For more inspiration, check out these 20 Healthy Soup Recipes. Enjoy!