Did you guys know that I've written two e-books on healthy school lunches? I co-branded them with 100daysofrealfood.com, where I've worked for over 5 years. We offer them for a short 2-week sale each year, and I'm currently working tirelessly on the 3rd version, which will be released THIS FALL!! While I'm super excited, I have been focusing all of my efforts on developing recipes for it so that I can send it off to my designer. Whew! Today I want to share with you one recipe that will be featured within: corn muffins with honey.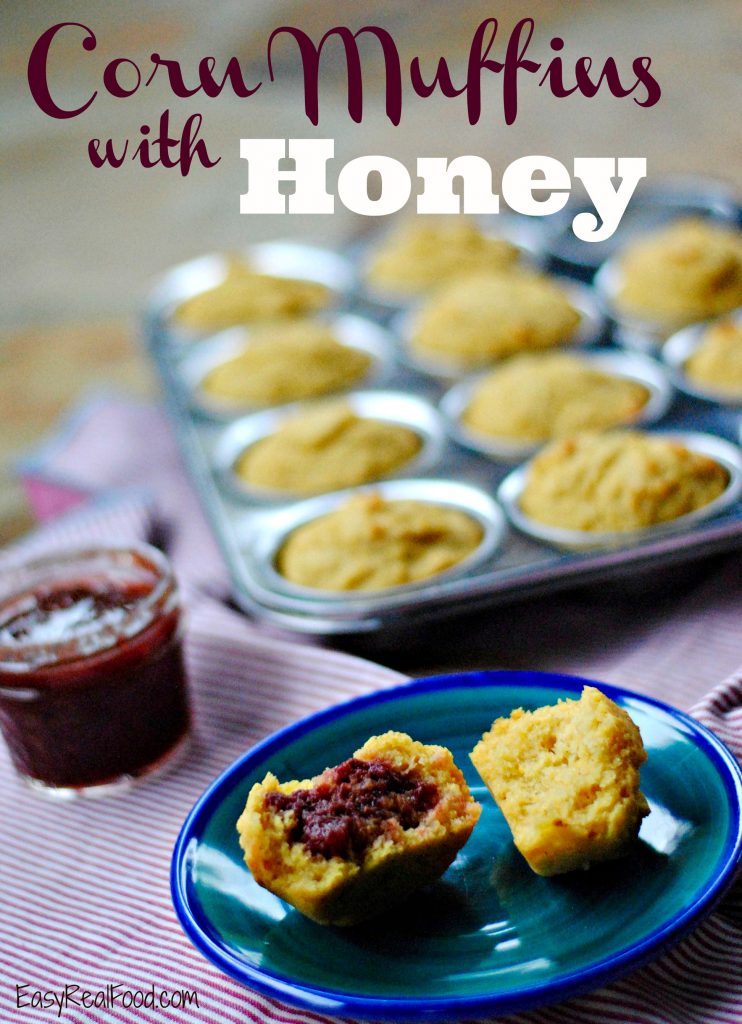 Corn Muffins Made With Honey (No Refined Sugars)
I'm a huge fan of muffins for a number of reasons. First off, I love baking; it's kinda like therapy for me, so it definitely satisfies this area. I also love that you can double the recipe and store a batch in the freezer, too. Next, muffins make great "finger foods," as in, no utensils needed. They are a portable snack that can really be served up in so many ways. As I type this, two of my kids are enjoying these corn muffins with honey for breakfast. One has jam on top, and the other is as is. But I also served them with chili this week, and have also sent them as a snack for camp.
You'll notice that they are titled "corn muffins with honey". The significance? Honey is an unrefined sugar. And while I believe that sugar is sugar is sugar, I do try to avoid the refined sugars, both for myself, as well as for my kids. I recently did a talk on sugar for a group of dentists where I shared that the average American eats over 100 pounds of sugar each year. CRAZINESS, right? We have got to do our part in making a conscious effort to reduce these numbers!
These corn muffins with honey are an ideal way to get a touch of sweetness without adding too much to that overall number. But before I go on too far, I know you are waiting for the recipe. Here it is!
Corn Muffins With Honey
Corn muffins sweetened with honey
Ingredients
1 1/4

cup

cornmeal

3/4

cup

white whole-wheat flour

or 1:1 GF replacer flour

2

tsps

baking powder

1/2

tsp

baking soda

1/2

tsp

salt

2

eggs

3/4

cup

Greek yogurt

1/2

cup

whole milk

1/4

cup

honey

1/4

cup

melted butter

or coconut oil
Instructions
Preheat oven to 400 F.

Grease a 12-cup muffin tin. You can use liners, but I find the muffins can stick to the papers.

In a large bowl, whisk together the cornmeal, flour or gluten-free blend, baking soda, baking powder, and salt.

In a medium bowl, lightly beat the eggs. Add the yogurt, milk, honey, and melted coconut oil or butter, and whisk to combine well.

Add the wet ingredients to the dry ingredients and fold together until just incorporated. The batter should be light and fluffy; try not to stir too much and deflate the batter.

Fill the 12 muffin cups (I like to use my ice cream scoop); then bake 11-13 minutes or until the muffins are just cooked through and golden on top.

Serve warm with butter and/or your favorite jam. Once cooled, wrap and store any leftovers in the refrigerator. Gently reheat in the microwave. If you let them go a day or two and they seem dry, wrap in a damp paper towel and gently reheat in the microwave.
Nutrition Facts
Corn Muffins With Honey
Amount Per Serving (0 g)
Calories 168.66
Calories from Fat 54
% Daily Value*
Fat 6.01g9%
Cholesterol 39.09mg13%
Sodium 197.09mg9%
Potassium 173.75mg5%
Carbohydrates 24.45g8%
Protein 5.21g10%
Vitamin A 174.25IU3%
Calcium 65.35mg7%
Iron 0.88mg5%
* Percent Daily Values are based on a 2000 calorie diet.
Products which make making these even easier
A stainless steel muffin tin. This is something that I needed to update for YEARS, and I finally just pulled the trigger. Not only is it beautiful, but it cleans well and doesn't contain any coatings of any sort.
Ice cream scoops are a great way to fill muffin tins without mess.
This is by far my favorite cooking spray. I love that it's made with 100% avocado oil and contains no chemicals or soy.
If you'd like to be one of the first to be notified with Real Lunches, Real Easy III is released, please sign up for my email list. In the meantime, I hope that you enjoy these muffins! Happy baking:).
---
Posts may contain affiliate links. If you purchase a product through an affiliate link, your costs will be the same but Easy Real Food will receive a small commission. This helps cover some of the costs for this site. We appreciate your support!