How to plan healthy school lunches so that your kids eat well-balanced meals. 7 tips on getting the right gear, getting kids in the kitchen, planning and preparing, and even getting healthy packaged products so that you're ready for an A+ school year.
How to Plan Healthy School Lunches
My girlfriend called me this morning; her kids are starting school in one week. One week?! How did summer go so fast? My kids are not starting for three more weeks, so in addition to enjoying our last days of summer, I'm gearing up and getting prepared for back-to-school. Here are my tips on how to get organized to send healthy school lunches.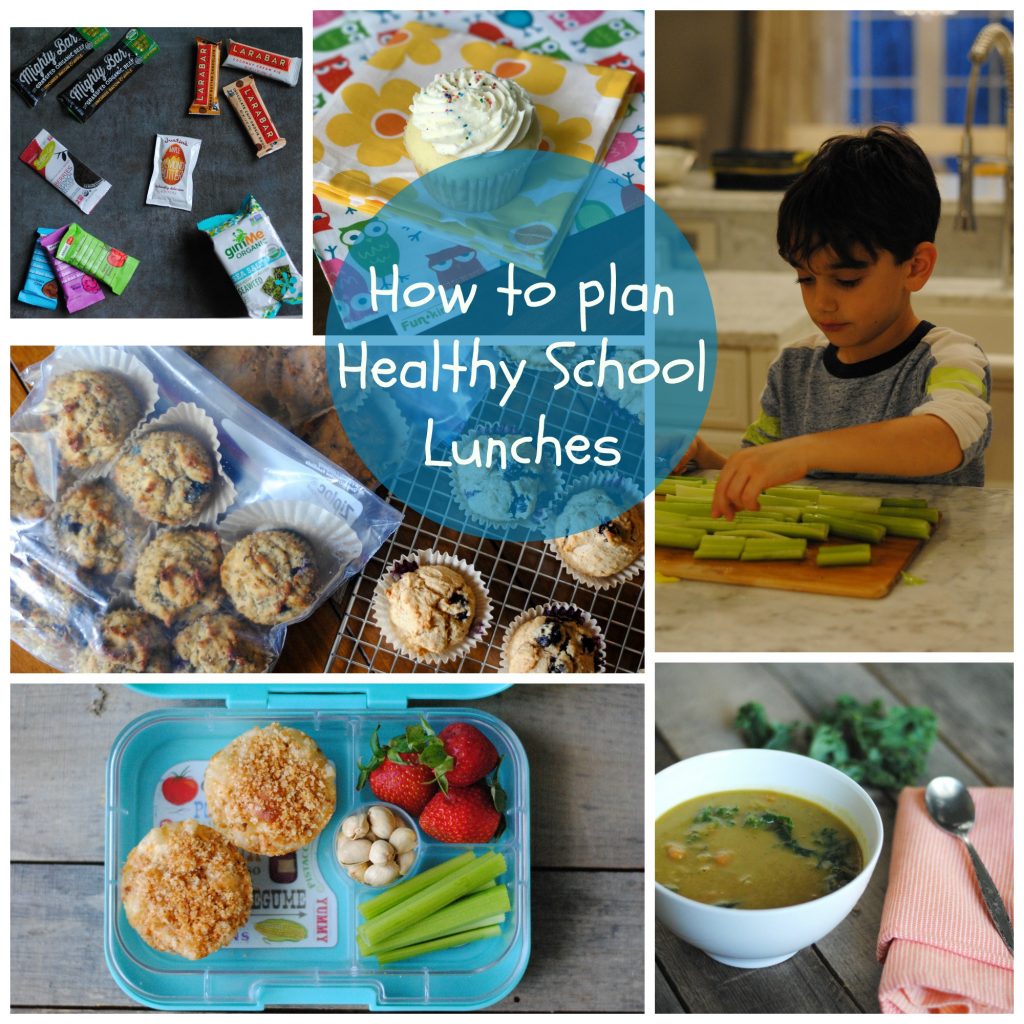 Get the right gear
The right lunchbox and bag are essential, and add in a dose of fun for the kids. Some of my favorite lunchboxes include the following:
Yumbox – Leakproof bento-style lunchboxes in a variety of sizes and colors. We've been using these for years and love them! The little compartments have suggestions for types of food to include – i.e. protein, or veggies. This allows the kids to participate in packing their lunches and ensuring that they have balanced meals. These compartments also assist with portion control. Oh, and they are also leakproof, which allows for wet foods such as yogurt or applesauce to be sent. One of my favorite new additions to their line is this ADORABLE snack box. This is perfect for sending along with a Thermos or even a sandwich.
U Konserve is another one of my favorite brands when it comes to lunchboxes. You may have read my write-up about the company and know that I'm a fan, but what you might not know is how versatile and economical their products are. This rectangle container with divider allows you to adjust the compartments according to what you are sending. And these nesting trios are in use at our house daily. I've used them for fruit, vegetables, sauces, oatmeal – you name it. The variance in sizes can accommodate whatever it is that you are sending. I highly recommend them.
Reusables really matter
Just as important as a good lunchbox and bag is some reusable napkins. We made the change 3 years ago and haven't looked back since! Not only do we save money on napkins and paper towels, we are doing our part in being kind to the Earth. My favorite reusable napkins are Funkins. Their designs are really cute and also suitable for kids of all ages. Check them out here.
Create a space
It's essential to have a space for all of your lunch packing products, one that is accessible to your kids, too. My kids know that the first thing they do when they get home is to unpack their lunchbox and wash it. I implemented this rule 3 years ago after I got frustrated with washing each of their dishes when I knew they were capable! Yes, my youngest two may need a little assistance, but it's a good practice for them and I highly suggest it.
It's also helpful to have a designated space for you, and your kids to take from and put back. I use a drawer for most and have a cupboard for the bags; this system works best for our house. Work with your space to have the right area to streamline your process.
Put your baking hat on
One of my best tips in getting organized to send healthy school lunches is to bake foods ahead of time and store some in your freezer, and some in your refrigerator. There's a reason that there are convenience foods out there, right? Because they are convenient. But so are your homemade real foods, so long as you have them readily available.
I like to take a few hours on the weekend or even on a Monday if I have been busy or out of town for the weekend, and bake a few recipes. I may double one or two of them and then put the extras in the freezer for weeks when I don't have time to bake. These are also good for times when we are craving something different than what's been on hand for the week. In case you need a little inspiration, here are some recipes to start baking and freezing so that you are prepared:
Start the soups
Soups are another food that can be made ahead and frozen, and make a fabulous convenience food. Make a big batch, let cool, and place in jars. Freeze until needed – like those days when the baseball game runs late. Or when you have a GNO and "forget" to make lunch;). Or maybe when you just don't feel like doing it. It's okay; we have all been there! This can be your solution. Some soups to get you started:
Pick up the packaged products
Lets be honest: packaged is going to happen. Even with our best intentions, life is busy! It's okay. Stock up on some of these approved packaged products so that you are ready when you find yourself in a pickle. And cut yourself some slack!
Get your kids involved
While they are still home, get their ideas. Anything fun that they'd like to see in their lunch? Is there a food that you've made recently, or one that they'd like you to make that could be fun to see at lunchtime? There's no since in going at it alone. Work together to ensure that both of you are happy.
I'm a big advocate of getting kids in the kitchen, which is why I created Camp Kitchen, an at-home 5 day structured plan that gets kids in the kitchen. Getting them involved at an early age will ensure that they have the skills to work with as they get older!
One last tip – have a plan!
We all know that life happens. When that occurs, turn to 10 Healthy Simple School Lunches from Trader Joe's, 20 Easy Healthy Costco Lunch Ideas, 60 Healthy Trader Joe's Foods for Kids Lunchboxes and 5 Healthy Lunches You Can Make in 5 Minutes (each).
Now it's your turn. What suggestions do you have in helping get organized for sending healthy school lunches?
---
This post may contain affiliate links which won't change your price but will share some commission.