Trader Joe's is known for so many fun and healthy foods – but did you know that they have healthy foods for kids school lunches? I've taken the guesswork out of what to buy and have everything you need for a healthy Trader Joe's shopping list that will have you stocked and ready to pack healthy school lunches. Let's take a look!
It's that time again … the kids are going back to school, and us moms are ready to GET ORGANIZED and make sure that we are feeding and fueling our kids well when they are at school. So guess what – I have some great ideas for you that are simple and healthy AND which you can find easily. There are tons of healthy Trader Joe's snacks. I did a post a short while back on the best Trader Joe's Gluten Free Foods, and today I'm sharing 60 Healthy Trader Joe's Foods for School. Let's take a look!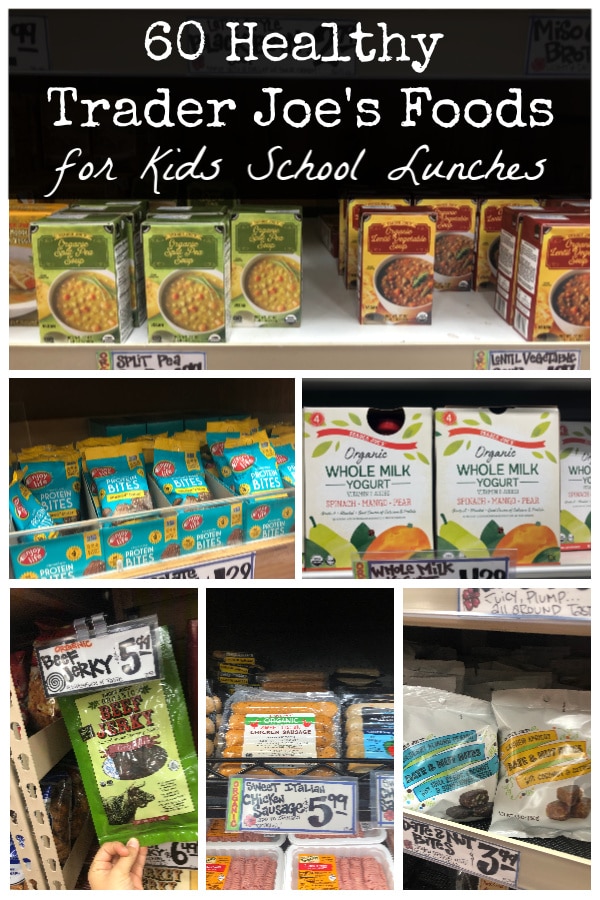 How to pack healthy school lunches easily
The biggest suggestion that I have in packing healthy school lunches easily is to be prepared. How to do this? Have healthy foods on hand! Healthy foods can be prepared and bought. In an ideal world, they are all freshly prepared, but as a busy mom, I know that this is not always 100% realistic. While I always like to have cut vegetables and fresh fruit on hand, I also like to bake or make one or two items over the weekend, such as energy bites or muffins. In addition, I make a weekly trip to buy these healthy Trader Joe's foods to make lunch packing a breeze.
60 Healthy Trader Joe's Foods for Kids Lunchboxes
Making lunches is easy with the help of Trader Joe's. Here is a list of 60 of my favorite items to make sure to have on hand:
Produce
⁃Organic Kiwis – my kids like these cut in half first and then scooped out with a spoon.
⁃Bags of Apples – so easy to toss these in!
⁃Baby Peppers – stuff these with cream cheese or send them with some hummus, which you can also get at Trader Joe's.
⁃Organic Blueberries – more of a seasonal item, if you can get the large box, it's a steal. Otherwise get the smaller box for this fruit that's low in sugar and full of antioxidants.
⁃Mini Oranges – these are ideal for throwing into a lunch bag; no container or wrapper needed!
⁃Bananas – another one with no packaging required.
⁃Carrots – rich in vitamins and minerals, carrots are a kid fave.
⁃Celery – another solid veggie option, pair celery with hummus, nut butter or any other dip.
⁃Cherry Tomatoes – try cutting these and pairing them with cucumber slices and dressing if you have the time; otherwise send them as-is.
⁃Mini Bag of Organic Pears – so cute and once again, packaged perfectly by nature.
⁃Frozen Mixed Vegetables – many kids enjoy these as is. Simply place them in the lunchbox frozen and they'll be ready by lunchtime.
⁃Frozen Peas – ditto on the above. Place in the lunchbox as is and the frozen peas will be ready to eat at lunchtime.
⁃Pre-cooked Baby Beets – send these atop of some romaine or other greens with some dressing for some added nutritional benefits.
⁃Organic Radishes – send them whole or sliced for a different vegetable variety.
⁃Grapes – for more fun, freeze them the night before and send them frozen. Cut in half for smaller children to avoid a choking hazard.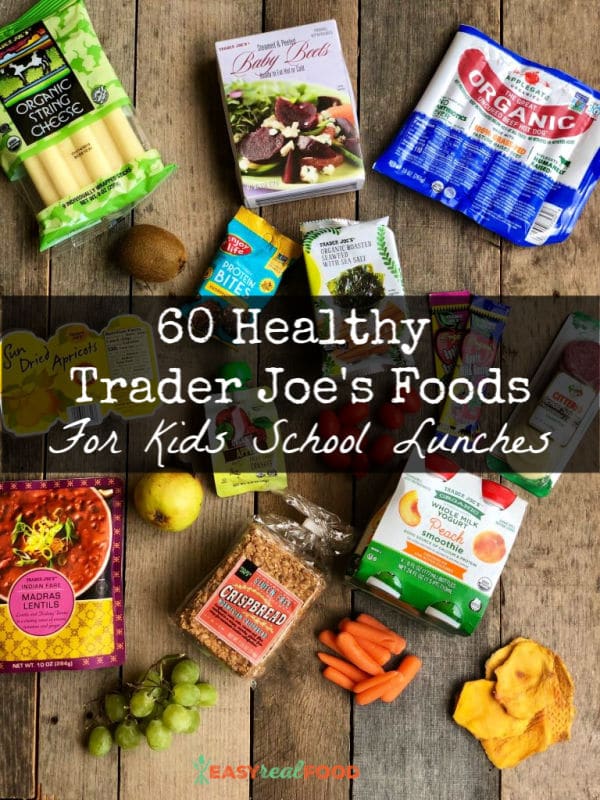 Dairy/Cold Section
⁃Cheese Sticks – an obvious kid-favorite that's a great protein source.
⁃Organic Yogurt Smoothies – these drinkable yogurts are portable and preferred by many children, including my own. These do have added sugar – just a heads up.
⁃Organic Whole Milk Yogurt Squeezables – made with spinach, mango and pear, these are a fun and different twist that's a healthy option from Trader Joe's.
⁃Hard Boiled Eggs – while these are certainly very easy to do on your own, sometimes life happens and we need convenience.
⁃Mini Guacamole's – love these. Perfect for pairing with some fresh vegetables.
Snacks
⁃Applesauce Cups – a tried and true kid-favorite, get the unsweetened kind because – duh!
⁃Squeezable Applesauces – with 4 versions to choose from, these are a fun and healthy snack option for kids of all ages.
⁃Fruit Strips – get the organic Trader Joe's fruit strips. While they aren't filling, they are fun!
⁃Seaweed – one of my kids' favorite healthy Trader Joe's snacks, I love that this is also organic.
⁃Joes O's – mix this cereal with seeds and raisins for a tasty trail mix, or send it with a side of milk for a cereal and milk meal.
⁃Granola – there are a number of options available, including gluten-free and grain-free versions. Kids enjoy eating this as-is, mixed into yogurt, or again with milk for some granola and milk.
⁃Trader Joe's Just Beets – just one ingredient in these dehydrated beets. Send them with hummus or as is for a crunch, clean snack.
⁃GoMacro Bars – some of my favorite bars that are nut-free and therefore suitable for schools.
⁃Enjoy Life Protein Bites – these little packets are perfectly portable and so easy to throw into a lunch! If you want to make your own energy bites, here's a good recipe.
⁃Inner Peas – I'm often begged to buy these, and they're another solid throw-in for lunches.
⁃Organic Popcorn – my kids love munching on this salty snack at lunchtime and after school.
⁃Dried Mango – a natural sweet treat that you can add to your healthy school lunch.
⁃Dried Bananas – somehow these are almost more fun to eat than a real banana!
⁃Nuts – if your school allows, send a mixture of nuts for some plant-based protein that's a solid fuel for your kids.
⁃Dates – perfect to send pitted, or stuff them with some nut butter and/or a nut, too.
⁃Raisins – perfect for making ants on a log, pairing with for a trail mix or simple putting right into a lunch box.
⁃Pumpkin Seeds – pair these up with the raisins and other seeds for a tasty trail mix; top your kids' salads with them, or add them to soup for some additional plant-based protein.
⁃Sunflower Seeds – another solid plant-based protein that can be used similarly to pumpkin seeds.
⁃Trader Joe's Organic Beef Jerky – a fun meat snack that's a protein source and organic, too.
⁃Chomps Natural Beef Sticks or Original Turkey Sticks – choose from beef or turkey in this option that's packaged and ready to go.
⁃Date & Nut Bites – love these little clusters that are full of dates and nuts. Choose from two different versions – one with peanuts, and the other cashews.
⁃Crunchy Nutty Rice Bites -a mix of seeds, nuts, cranberries and quinoa, these are bite-sized and perfect for lunchboxes.
⁃Organic Coconut Sesame Seed Clusters – top a salad or yogurt with these dried coconut and sesame seed pieces.
⁃Organic Dehydrated Rainbow Carrots – crunchy, crispy, almost potato-chipy, these are made from organic carrots.
⁃Gluten Free Norwegian Crispbread – made with a mixture of seeds and a few other ingredients, these are a solid, satiating option that can be topped like an open-face sandwich.
⁃Rice Cakes (Lundberg Farms) – make up lunch based on rice cakes. Some pairing options: nut butter + raisins and seeds; cream cheese + jelly; guacamole (from the mini guacamole pack) + tomatoes.
⁃AK-Mak Crackers – if you are okay with gluten, these are a solid real food option that's different than bread.
⁃Plantain Chips – we have these on hand every week, as they are a crunchy grain-free snack.
⁃Salsa – send it with a salad, baked potato or rice and beans dish for a meal your kids will love.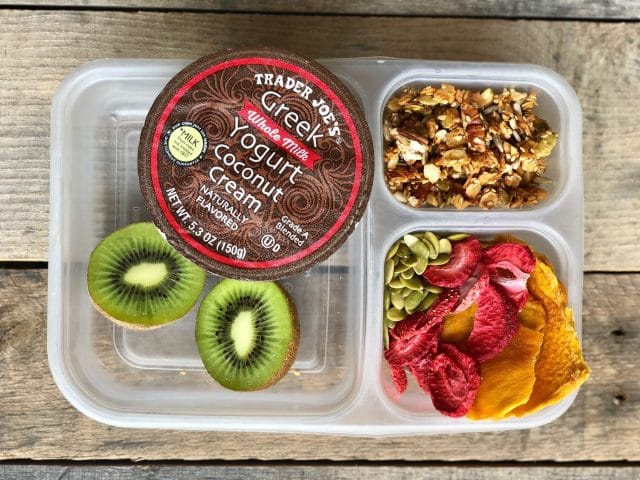 Main Meal Items
⁃Boxed Tomato and Carrot Soup – for a "main meal" option, choose from the number of soup options at Trader Joe's. Warm in the morning and send in an insulated container.
⁃Pre-cooked Brown Rice – another main meal option, top this with the following Trader Joe's pre-cooked lentils or some canned black beans.
⁃Pre-cooked Lentils – send atop of rice or even as-is. I also like to mix some Trader Joe's Barbecue Sauce into mine.
⁃Frozen Sausage – heat these up the morning of and pair them with hard boiled eggs, pancakes and fruit for a fun breakfast for lunch meal.
⁃Organic Sausages – send them in a bun, atop a salad or even just cut into pieces.
-Applegate Hotdogs – ditto on the above (sausages)!
⁃Whole Wheat Pitas – if you are okay with eating gluten, stuff these with some sandwich fillings, top them with sauce and cheese for a pita pizza, or serve them with a portable cup of nut butter for a DIY lunch for your kids to make at school.
⁃Sunflower Seed Butter – a personal favorite, pair this with celery, rice cakes, overnight oats and more.
⁃Cauliflower Gnocchi – another one of my faves – top this with pesto or marinara for an easy, grain-free lunch.
⁃Madras Lentils – these little packets are perfectly portable and so easy to throw into a lunch!
–Canned Black Beans – send these warmed with cheese and a side of salsa, in a tortilla, or atop a salad.
Healthy Trader Joe's Lunches for Kids
Looking for some examples of lunches? Here is a sneak peak for you … but don't miss this post for the full round up of the 10 best Trader Joe's school lunches . What else did I miss?!! And you also don't want to miss these 20 Health Costco Lunch Ideas, either, complete with a shopping list!