It's no secret that I'm a big fan of Trader Joe's. I often share platters and meals on Instagram that I create with their products, and I also have a list of my favorite gluten free finds from the store. Today I'm sharing 5 simple healthy Trader Joe's meals, which is perfect for those busy nights which I know so many of us have. Let me know which one you like best, but a warning: it's tough to decide! 🙂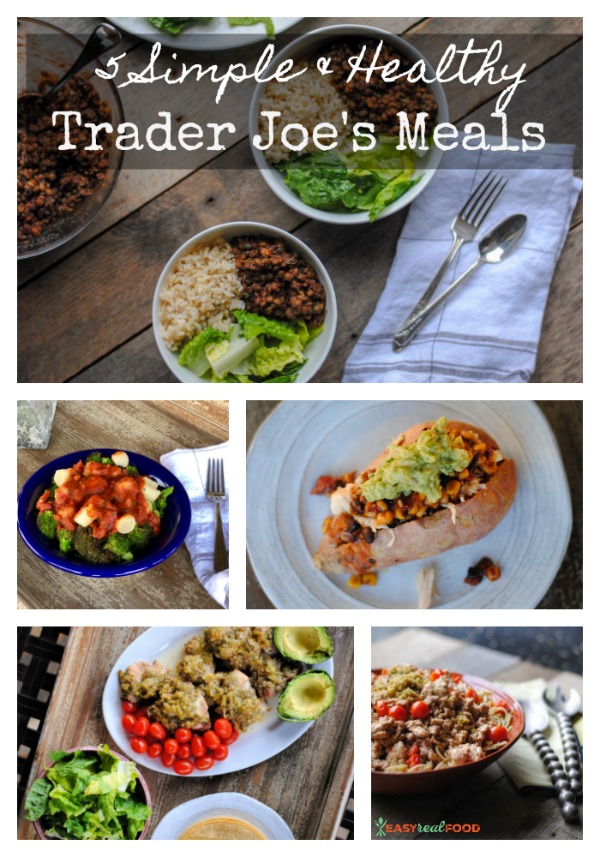 5 Simple Healthy Trader Joe's Meals
Sweet Potatoes with Chicken, Corn & Black Bean Salsa and Guacamole.
This is a wonderfully easy and healthy meal – perfect for busy nights! If you are short on time, you can always microwave your sweet potatoes, but I prefer them cooked in the oven.
You will need the following from Trader Joe's:
1 bag sweet potatoes
1 can Trader Joe's White Chicken (in a can)
1 jar Trader Joe's Cowboy Caviar Salsa
1 package Guacamole
Directions:
Preheat oven to 400 degrees F and bake sweet potatoes for 45-60 minutes or until cooked through.
Drain canned chicken. When potatoes are cooked through, slice down the middle and open; top with chicken, salsa and guacamole and enjoy.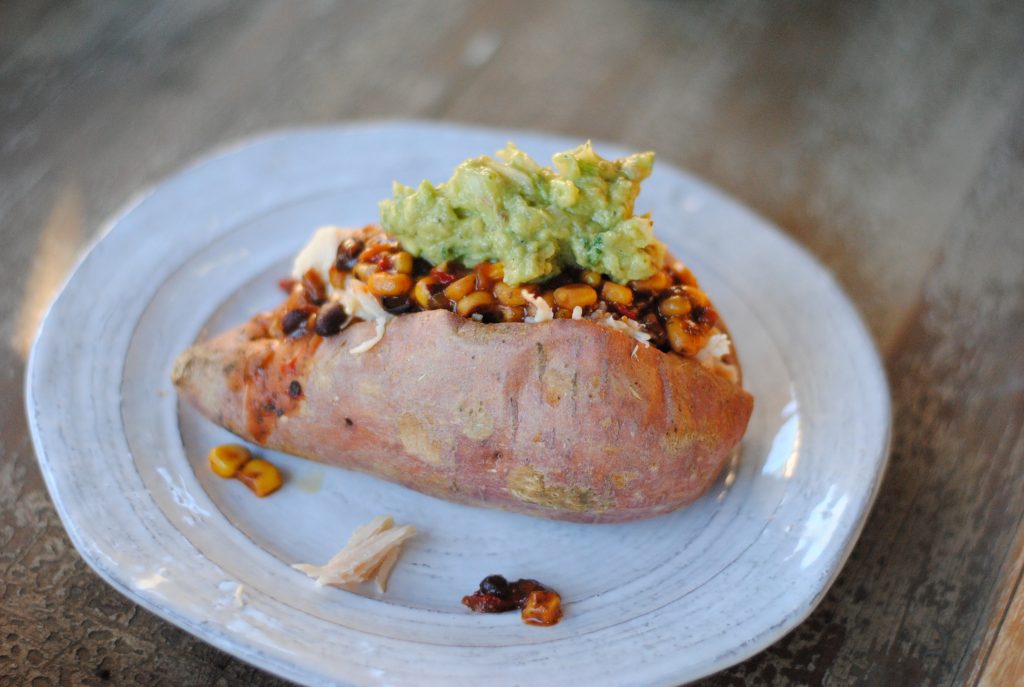 Barbecue Lentils, Rice & Romaine Bowls
It doesn't get much easier than this! If you can open a bag and cut with a pair of scissors, you're halfway there.
You will need the following from Trader Joe's:
Organic Sriracha & Roasted Garlic BBQ Sauce
Trader Joe's Steamed Lentils
Trader Joe's Organic Brown Rice
Trader Joe's Organic Romaine
Directions:
Place (pre)steamed lentils in a bowl, add 1/2 cup barbecue sauce, stir to combine, and warm according to lentil package. Warm brown rice according to directions on package. Place rice, lentils and greens in a bowl and serve.
To take this up a notch, add a fried or hard boiled egg to the top.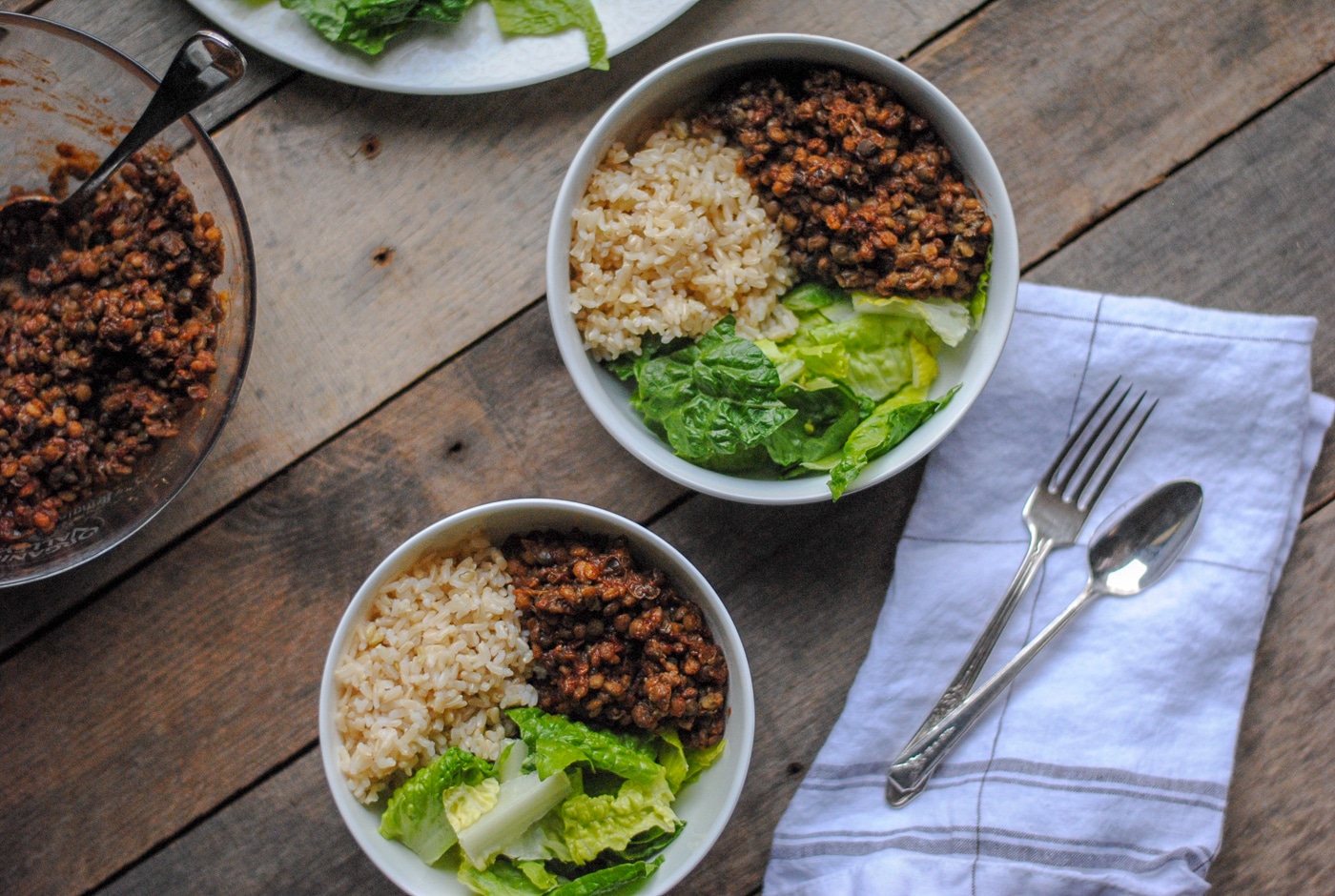 Slow Cooker Salsa Verde Pork Tenderloin
Serve this up with some tortillas (TJ's has both whole wheat and corn for us gluten free peeps) and some fresh fruit on the side for another simple healthy Trader Joe's meal that the whole family will love.
You will need the following from Trader Joe's:
A two-pound pork tenderloin
2 jars Salsa Verde/Hatch Green Salsa
1/2 tsp. cumin
1/2 cup cilantro, chopped
Corn or whole wheat tortillas
Directions:
Slice the pork tenderloin into 1-inch thick pieces.

Place it in a slow cooker and pour 1 jar of Salsa Verde and sprinkle cumin on top of it.

Cover and cook on high for 4 hours. It will shred easily with a fork when it's done.

Drain excess liquid and mix in the the other jar of salsa verde.

Top with chopped cilantro and serve with tortillas.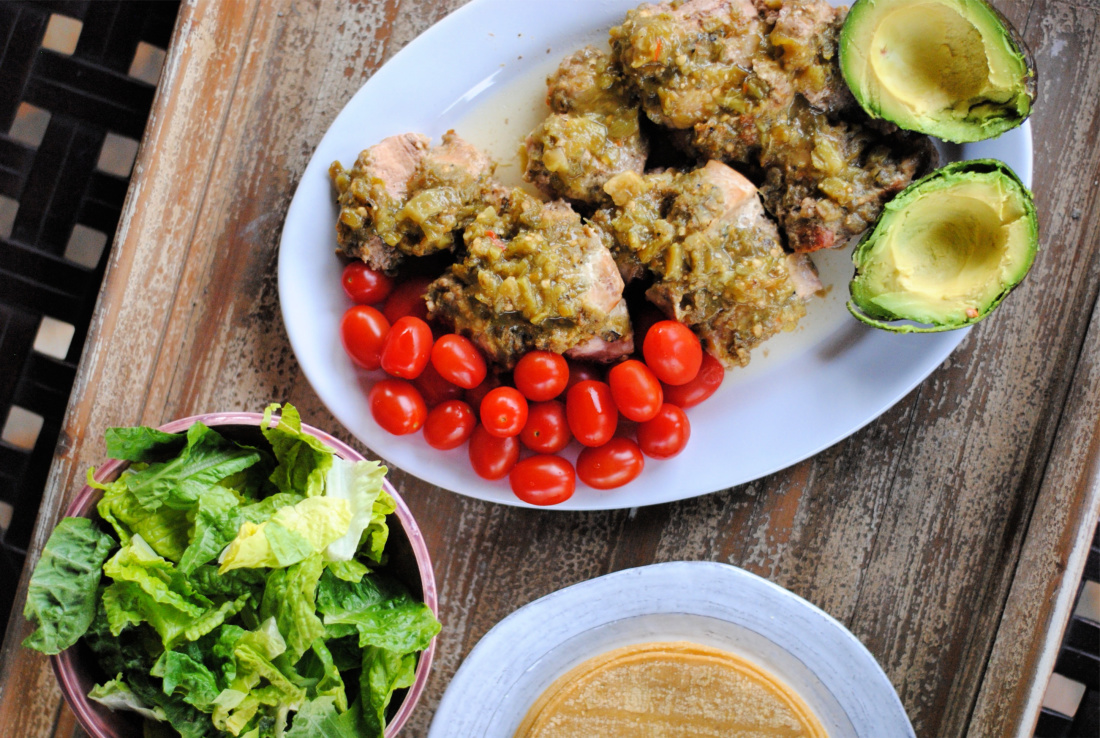 Cauliflower Gnocchi with Marinara and Broccoli Bowls
I'd be lying if I didn't tell you that this one is my favorite! Trader Joe's Gluten Free Gnocchi is seriously one of my favorite gluten free finds because it just makes you feel like you're eating something "real," if you know what I mean. Plus this is a super quick and easy one to make, too!
I've found that either sautéing the gnocchi in a little bit of oil or butter or cooking it in an air fryer is the best way to prepare them, but this is a no-fail, super easy clean up method, too.
You will need the following from Trader Joe's:
2 packages Cauliflower Gnocchi
1 jar Organic Marinara Sauce
1-2 bags Organic Broccoli Pieces
Parmesan cheese, optional.
Directions:
Preheat oven to 425 degrees F. Spray a baking sheet with avocado/coconut oil. Add broccoli and gnocchi to prepared baking sheet and roast for 20 minutes. Heat marinara in microwave. When roasting is done, add broccoli to bowls, top with gnocchi and add sauce. Top with optional Parmesan cheese.
PS – if you're a gluten free gnocchi fan like I am, you need to check out my Gluten Free Sweet Potato Gnocchi and/or my Paleo Pumpkin Gnocchi recipe, too!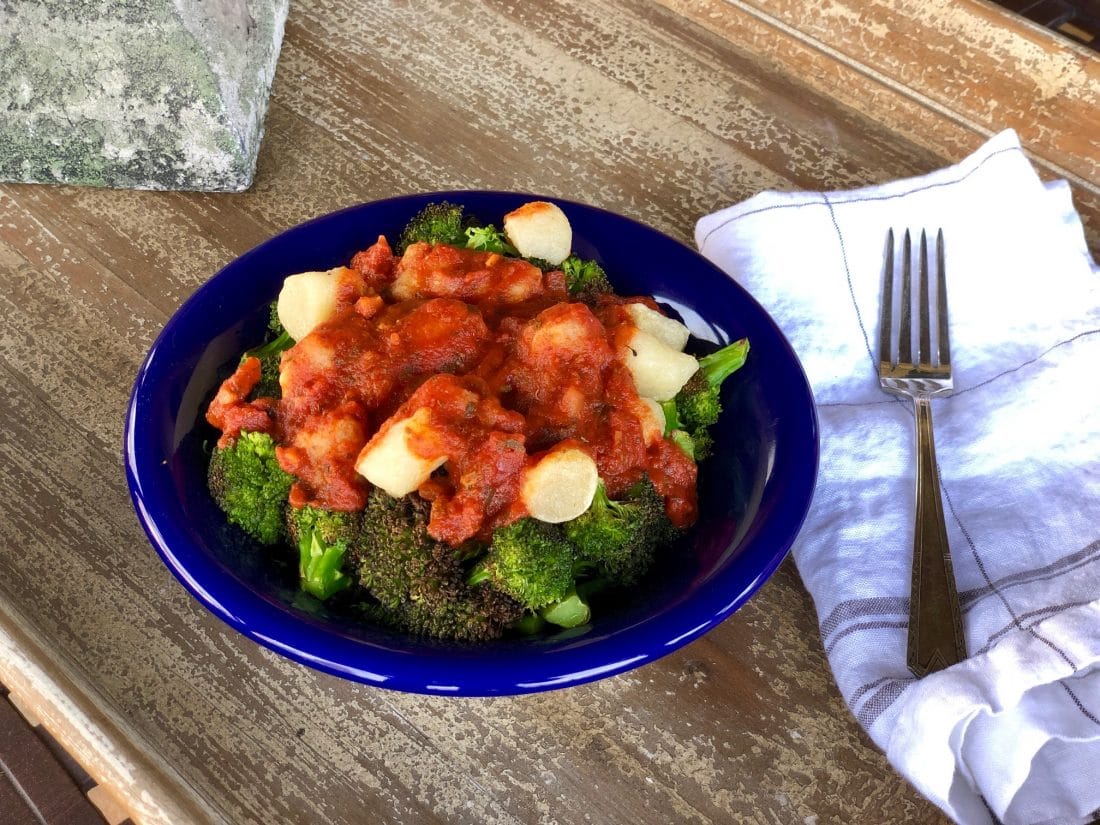 Italian Turkey & Pesto Spaghetti (or Spaghetti Squash)
This is another easy and versatile meal that can be made with either regular (or gluten free) spaghetti noodles, or made into a grain free meal with the use of spaghetti squash – my personal choice.
You will need the following from Trader Joe's:
1 bag of Gluten Free Spaghetti Noodles (or substitute a spaghetti squash or whole wheat noodles if gf is not needed)
1 Package Organic Ground Turkey
1 cup Organic Cherry Tomatoes, halved
1/2 cup + 2 TBSP Pesto
1 1/2 cups shredded Mozzarella, optional
Directions:
If using a spaghetti squash, roast in an oven per directions here. If using traditional spaghetti, cook per package directions. Place cooked and drained spaghetti or shredded and cooked spaghetti squash in a bowl and top with 1/2 cup pesto and mix.
Heat 1 tbsp oil (I like avocado oil since it can cook at a high heat) in a large pan over medium heat. Add turkey and cook until no longer pink in the middle. Drain extra fat from pan and add in tomatoes and 2 Tablespoons of pesto and cook for 1-2 minutes. Turn off heat and if using cheese, add it now. Mix until cheese is melted.
Add cooked turkey mixture on top of noodles and serve warm.
So there you have it. 5 Simple Healthy Trader Joe's Meals – use them all, and you have a week's meal plan. Space them out and make what you have on hand. Let me know which is your favorite! XO
---