If you've seen some of my other baked goods, you'll notice that I bake with a lot of gluten free flours. This is because two of my kids have sensitivities towards it, and I am hypothyroid (and also have an auto-immune disease, which has not been diagnosed yet – note frustration). For these reasons, I, too, avoid gluten. But at the end of the day, I'm a big fan of unrefined flours and love to use whole wheat and white whole wheat flours in baking. So I'm suuuuuper excited to share today's post with you, which has been a huge hit with the non-GF peeps in my house: Peanut Butter Chocolate Chip Scones.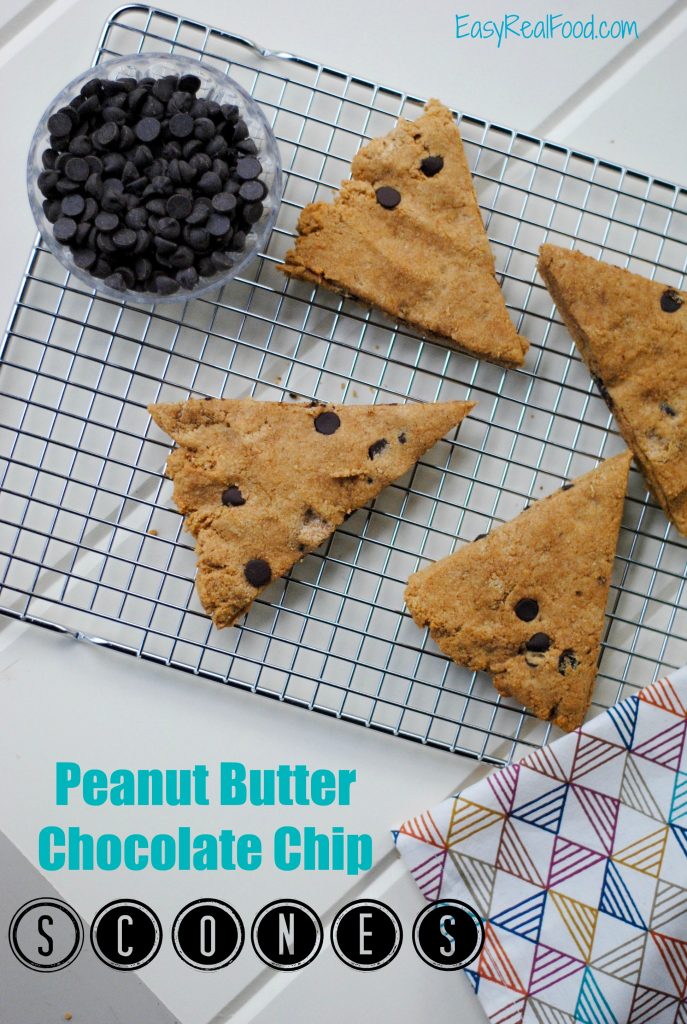 Chocolate and peanut butter. Such a winning combination, right?!  No one can argue that the two are a definite match made in heaven, and they definitely do their thing in these baked goods. While scones can sometimes be void of sweeteners, I've sweetened them with honey which blends so nicely with the other flavors. I'm quite positive that you are going to love these peanut butter chocolate chip scones just as much as we do!
The best thing about these is that they are so versatile. My 6 year-old loves having them for breakfast, and my 10 year-old will grab one on the go as we drive from school to dance. I'm sure that there are no crumbs whatsoever in the back of my car, wink wink. Good thing my husband is fond of vacuuming out the car, 'cause who knows what kinda mess she's got going on back in the back! 
ANYHOW – these scones. I make them in the food processor, but you could also do them in the blender. I'll include instructions for the blender below and while I haven't tried it, I assume that you can also make these by hand. Oh, and if you can't do peanut butter, switch it up with another nut butter and see how they do. As always, my favorite brand of chocolate chips is the Enjoy Life Brands. I used the dark ones in the pictures, but these would also be tasty. And now for the recipe …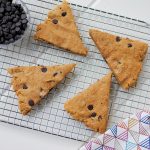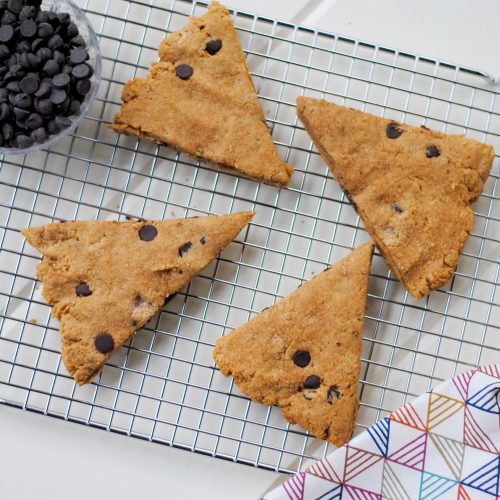 Peanut Butter Chocolate Chip Scones
Keyword:
breakfast, scone
Ingredients
2

cups

white whole wheat flour

2

tsp

baking powder

1/2

tsp

baking soda

1/4

cup

cold butter

cut into 8 pieces

1

large egg

1/2

cup

milk

1/4

cup

honey

1/2

cup

peanut

or other nut butter

1/4

cup

chocolate chips
Instructions
Preheat oven to 350 degrees F. Place flour, baking powder, baking soda in a mixing bowl and stir to combine. Scoop dry mixture into a food processor and add butter; pulse 6-8 times until butter is combined.

Add egg and milk and pulse a few times.

Add honey and peanut butter and turn on until the mixture starts coming together. Scoop it back into the bowl and knead with your hands for a minute to ensure mixture is combined. Add chocolate chips and press into mixture. Form into a round disk on a baking sheet covered with parchment paper and cut into 8 -10 wedges.

Bake for 17-19 minutes, until golden brown. Let cool before enjoying.
Nutrition Facts
Peanut Butter Chocolate Chip Scones
Amount Per Serving (0 g)
Calories 225.08
Calories from Fat 94
% Daily Value*
Fat 10.49g16%
Cholesterol 30.46mg10%
Sodium 112.46mg5%
Potassium 188.09mg5%
Carbohydrates 29.01g10%
Protein 6.33g13%
Vitamin A 195.42IU4%
Calcium 81.23mg8%
Iron 1.08mg6%
* Percent Daily Values are based on a 2000 calorie diet.
To make in a blender:
Add dry ingredients to the blender and pulse butter 6-8 times until it's broken in. Move dry ingredients to a medium-sized bowl. Add remaining ingredients (aside from the chocolate chips) to the blender and blend for 30 seconds. Pour wet mixture into the bowl with dry ingredients and stir to combine. Fold in chocolate chips and form into a round disk on the baking sheet covered in parchment paper. Cut into 8-10 wedges and bake for 17-19 minutes.
Please let me know in the comments below if you make these and love these. Or just tell me what your favorite peanut butter and chocolate foods are. I love to hear from you! 🙂
---
Posts may contain affiliate links. If you purchase a product through an affiliate link, your costs will be the same but Easy Real Food will receive a small commission. This helps cover some of the costs for this site. We appreciate your support!