Estimated reading time: 5 minutes
A poke bowl bar is the perfect idea for company, gatherings, or a fun family dinner. DIY poke bowls are are fun healthy grain bowls that are almost an easy way to make sushi. They are deconstructed sushi in a bowl and can include traditional raw fish, or even variations to include vegetarian poke bowls. Here's how to set up a poke bowl bar and how to get your guests involved.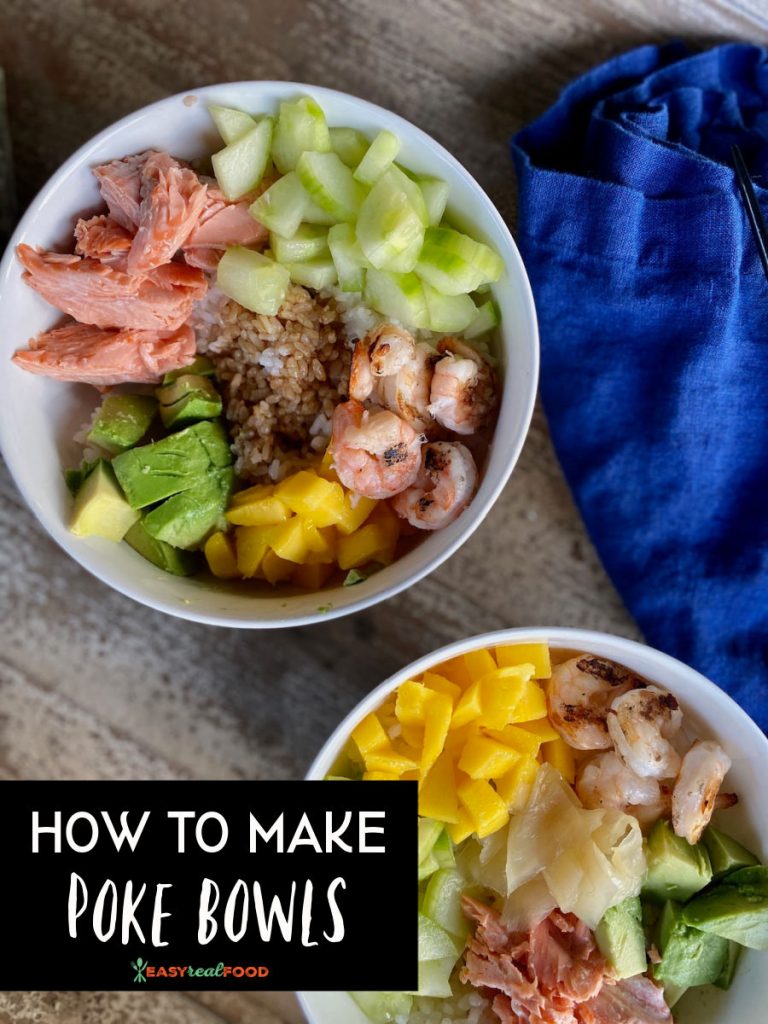 DIY Poke Bowls
Poke bowls have been popular for some time now, and we have definitely jumped on the wagon. Being big sushi fans, we often choose sushi restaurants to eat out at. Two of my daughters started ordering poke bowls and they were immediately hooked. When my husband's birthday came around, I wanted to do something for for us for dinner … so I did a poke bowl bar – I put out plenty of options for everyone to make their own DIY poke bowls. And it was a HIT!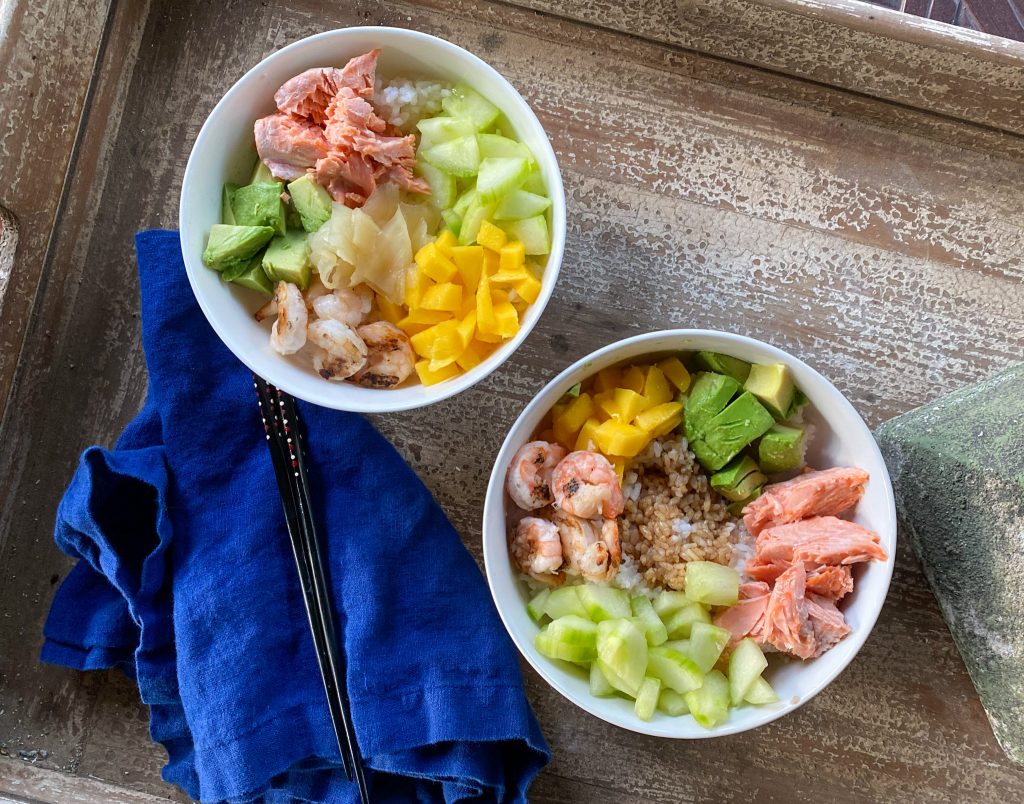 What is a poke bowl?
Poke is a traditional Hawaiian fish salad that's popular in the islands. In this dish, raw fish gets an Asian sauce marinade, such as soy sauce and sesame oil. I've tried this recipe for tuna poke, and it was simple and delicious! See below for directions on making poke.
When making a poke bar, I generally like to serve raw sashimi-grade fish as an option and let people add their own tamari (gluten-free soy sauce) and allow the other foods to naturally flavor the bowl. Pickled ginger, a dash of wasabi and even cilantro leads to a flavor explosion in your mouth. If you haven't tried one yet, I hope that you are tempted to try after reading this!
How to set up a Poke Bowl Bar
It really is quite simple to set up the poke bar. Since I couldn't find sashimi-grade fish on this particular night, I substituted with wild-caught salmon and shrimp. I simply grilled them both and had them out. With it, was freshly cooked sushi rice that I did in my Instant Pot, diced cucumber, mango, avocado, mandarin oranges, edamame, pickled ginger, spicy mayo and tamari. Since it was my husband's birthday, I also picked up some sushi from Whole Foods and served that on the side. I mean, you can never have too much, right?! I made the bowl (scroll down) for my husband with the sushi on top, too, which was fun.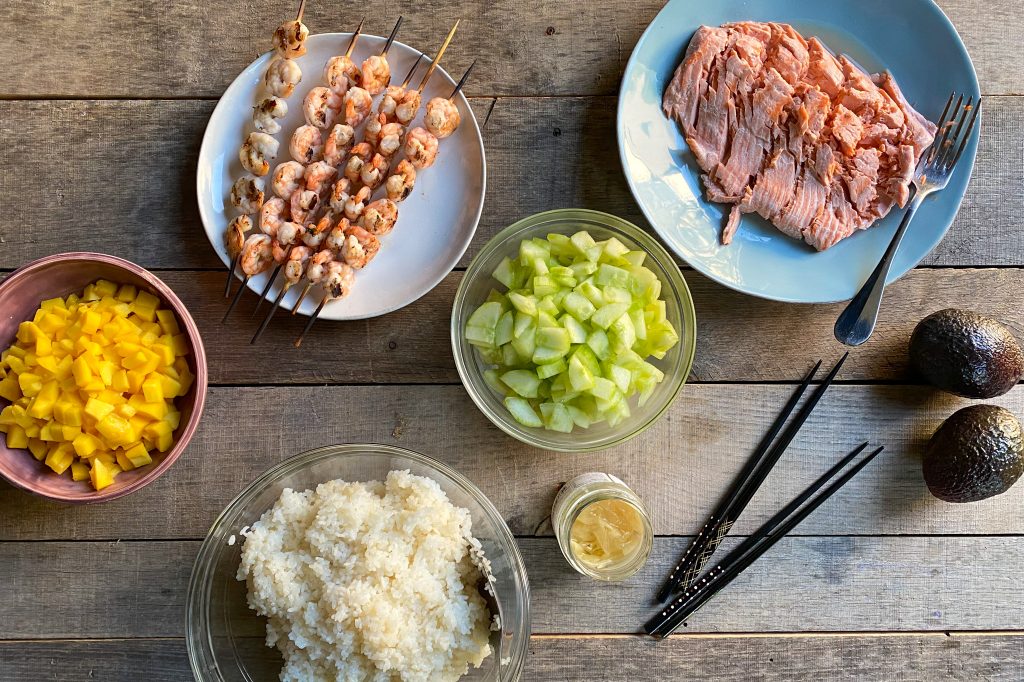 Questions about a poke bowl bar
Are poke bowls healthy?
DIY poke bowls can provide whole grains, fresh vegetables and lean protein. So from that standpoint, yes – they can definitely be healthy!
Do you need to include raw fish on a poke bowl?
Nope! Try making a vegetarian poke bowl with tasty ingredients, too. Start with the base (rice or greens) and top with edamame, diced mango, pineapple, radishes, avocado, asparagus, cucumber, carrots, peppers, and more. Don't forget to tie it all together with some flavorings (spicy mayo – you can even get a vegan mayo to make this, tamari, kimchi, etc.) In addition, try adding some cooked tofu for some added protein.
What if I don't eat grains? No problem. Try topping a healthy bowl of greens with the ingredients of your choice.
Is poke like sushi? While they often contain the same ingredients, they are similar from that standpoint. But sushi is rolled up into neat little pieces and poke bowls are like deconstructed sushi – they are a flavor explosion, all in one place.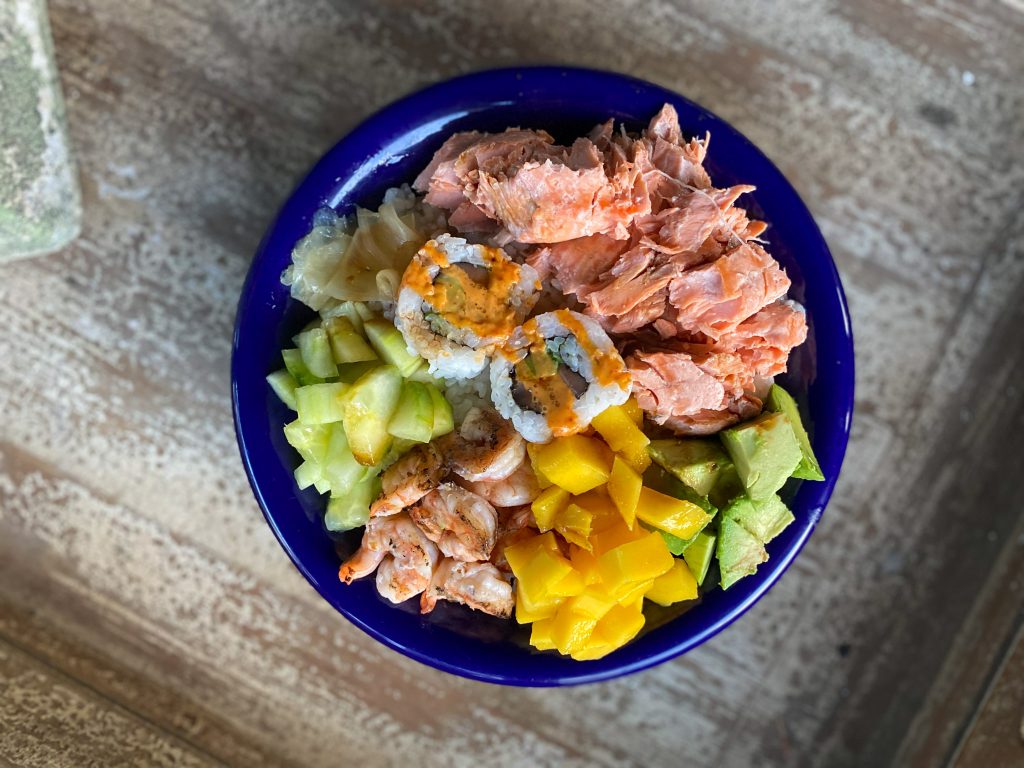 Ingredients to offer on the poke bowl bar:
Sushi rice, white rice, brown rice, cooked noodles, mixed greens as the base
Raw sashimi grade salmon
Raw sashimi grade tuna
Cooked salmon (if you don't like to eat raw fish)
Cooked shrimp
Mandarin oranges
Pineapple
Cucumber
Diced avocado
Shredded carrots
Edamame
Pickled ginger
Kimchi
Chopped cilantro
Tamari
Spicy mayo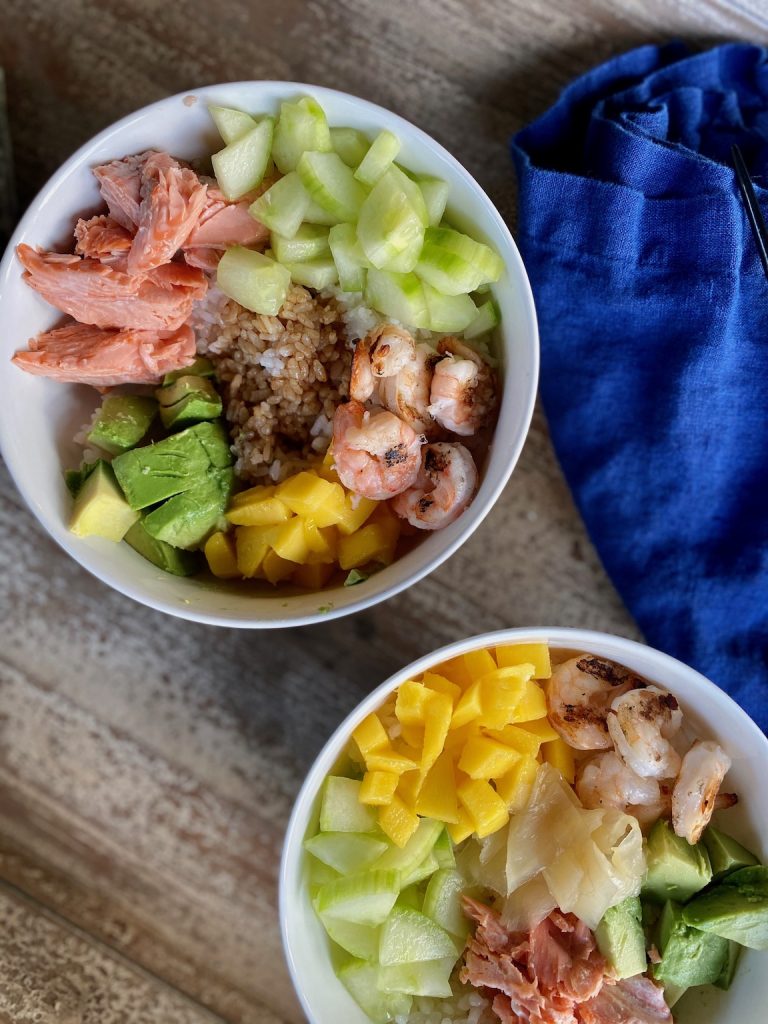 How to make poke
If you're still reading and still want to make your own poke, know that you don't need a very strict recipe. Here are the steps to make poke:
Start with sushi-grade/sashimi-grade fish. I generally do tuna and salmon, but it's up to you.
Cut fish into 1/4″ cubes and place in a bowl.
Add finely chopped onions, such as green onions or scallions.
Add some tamari and sesame oil to taste. You want it to coat the fish but not be "soupy".
Spice is optional, either from wasabi, red pepper or sriracha. Again, add to your liking.
Mix and let chill before enjoying.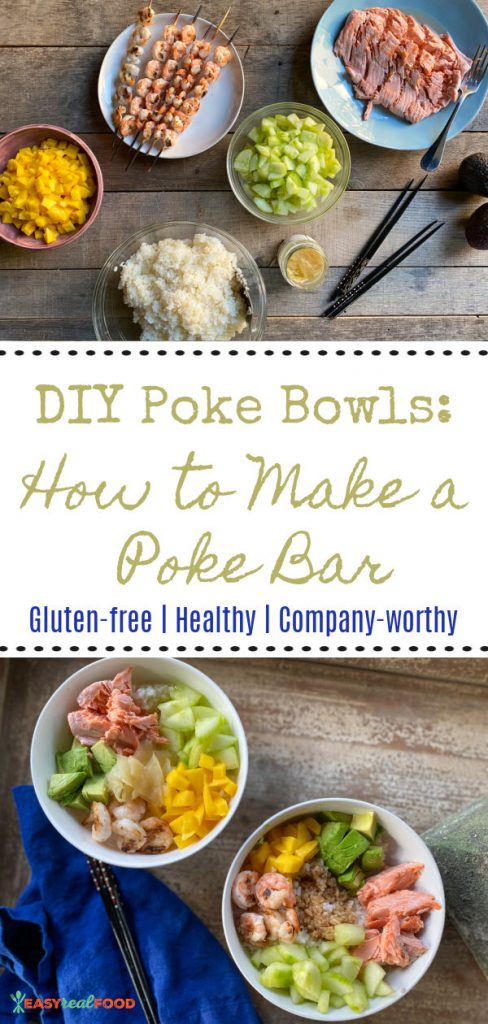 Making DIY Poke Bowls was a really fun experience for the family, and I'm positive we'll be doing it again soon. Let me know if you decide to give this a try!