An easy baba ganoush recipe that's made with just six ingredients. This gluten-free, dairy-free spread is a healthy appetizer made with seasonal vegetables. 
Easy Baba Ganoush Recipe
Last week my friend from school spent a few hours teaching me some of her traditional Middle Eastern recipes, and I'm excited to share one of them today: an easy baba ganoush recipe. The funny thing is, I hadn't had baba ganoush until 2 weeks ago, and I had it on a cruise of all places! It was lunchtime and I was navigating the eating options, trying to find something healthy. I got some greens and cucumbers at one "station" and was looking for some guacamole when I stopped at a Chicken Shwarma station. I spotted pickled vegetables (YUM) and baba ganoush. I didn't even know what was in it, but they confirmed that it was gluten- and dairy-free. And the rest is history!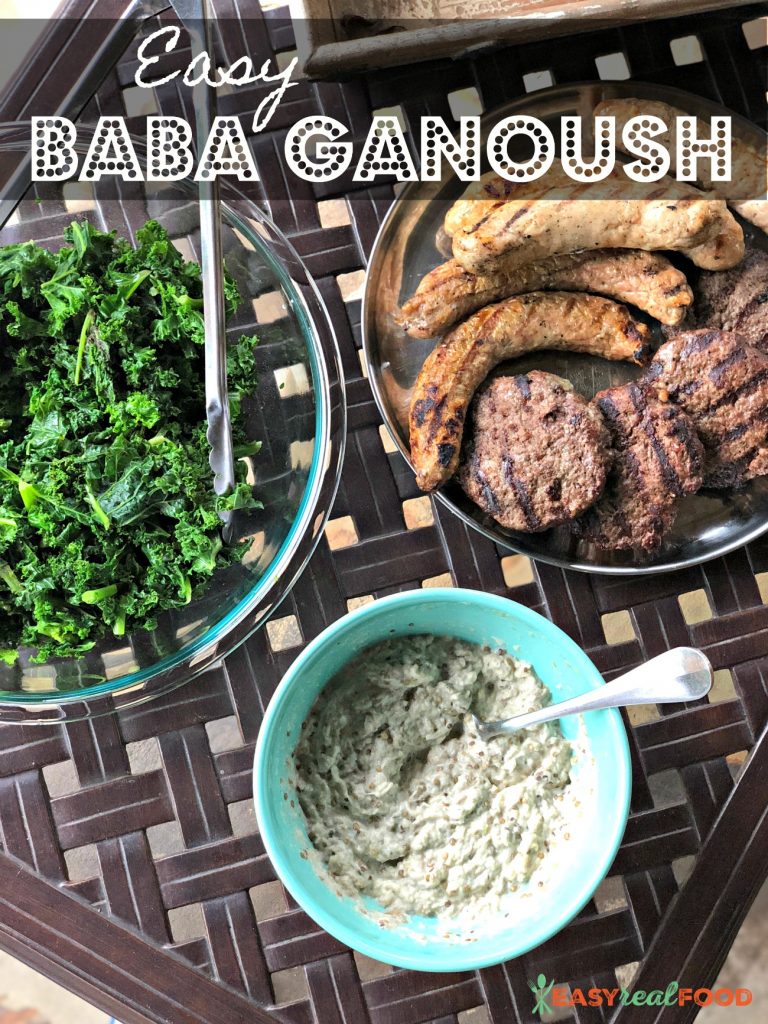 Flash forward to this week when Nancy (my friend who is from Jordan) asked what I'd like to learn, and suggested a few dishes. When I asked if she had a  baba ganoush recipe, her reply was that it's really easy to make. And I'm here to tell you that not only is it really easy, but it's also reaaaalllly good. I am totally adding this to my weekly rotation. Read on for how to make baba ganoush, how to serve it, and more!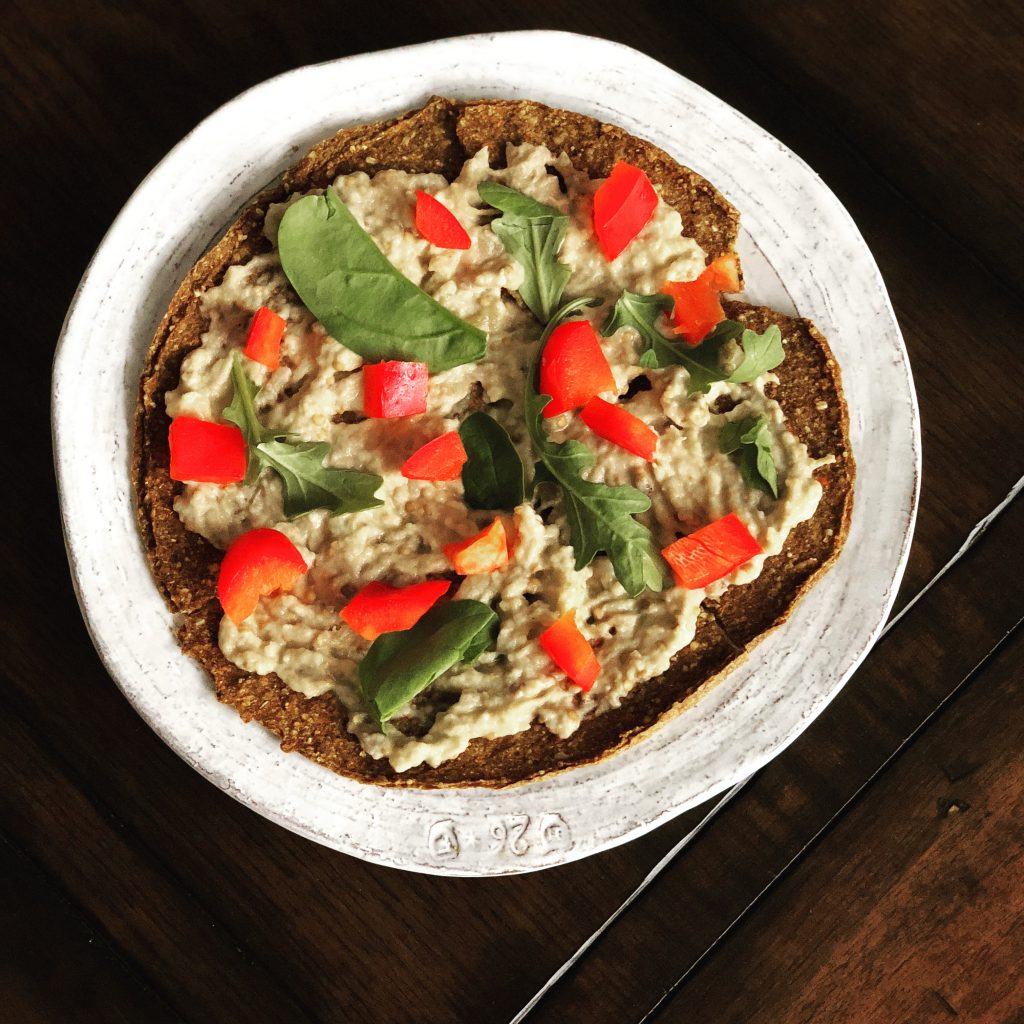 What ingredients and tools you'll need to make this recipe
This really is one of those recipes that you can throw together while doing something else. If you need an easy appetizer, this could be just the thing! You just need to allot for baking time for the eggplant.  Other items you'll need:
Tahini. This creates the smooth consistency and also adds depth and thickness to the recipe. I also like to use it in making hummus, and oftentimes even just drizzle it on roasted vegetables.
Fresh squeezed lemon juice. If you have a juicer, you can totally use this – but I like this stainless one and this handheld version with multiple sizes, too. Super easy to clean up.
A mortar & pestle set. I use this to grind spices and also sometimes herbs, but it is fabulous for grinding garlic as it releases the oils and flavor. If you don't have one, you can certainly dice your garlic, but I find this a great way to really add that flavor depth to baba ganoush.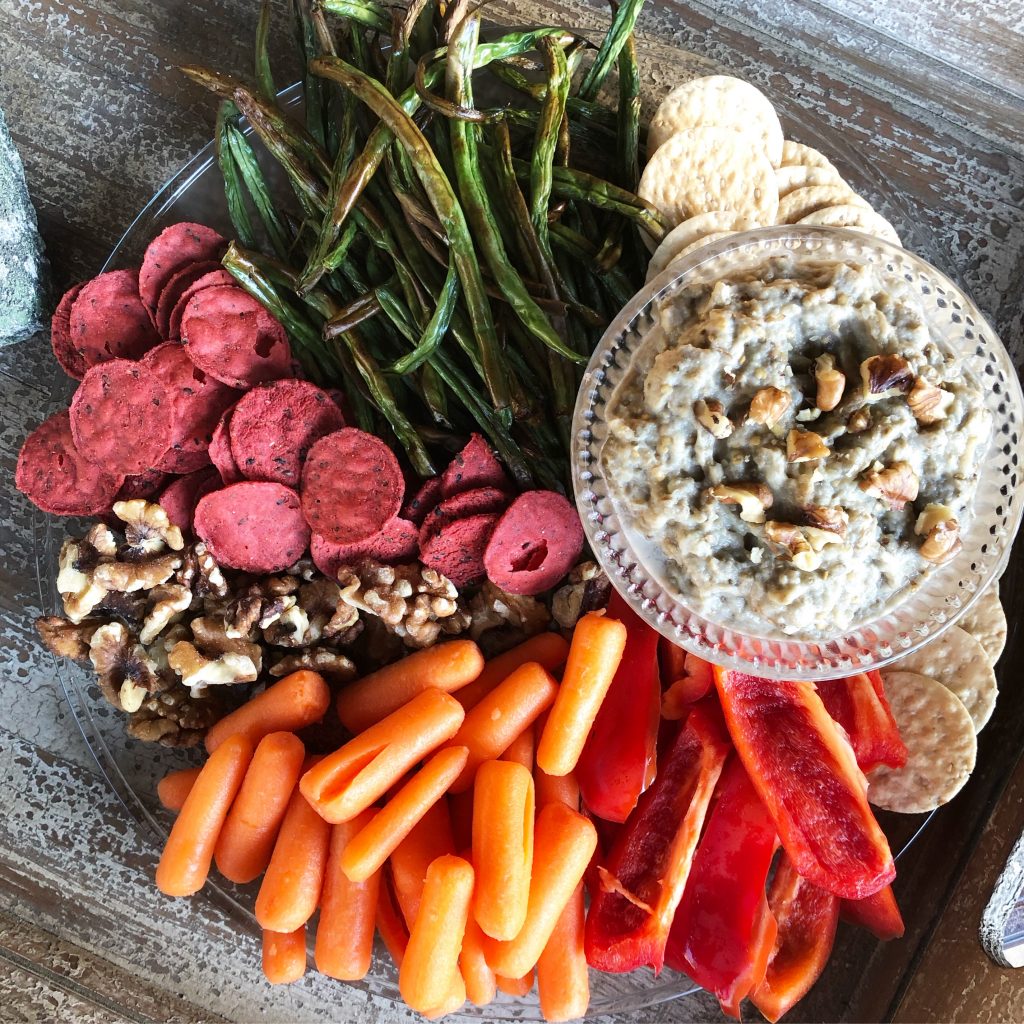 What to eat with baba ganoush
Nancy's family likes to serve it alongside kabobs, with fish, or even enjoy it for breakfast. Another tip that she shared:  she puts walnuts in it and lets it sit overnight, helping the walnuts moisten a bit. I need to try this!
I first tried it on top of this Wrawp (paleo raw pizza crust) which was AHmazing. Pretty sure it'd work well on this gluten-free pizza crust, too.
Of course, serving it with raw vegetables and crackers or pita are always good options, too!
Is baba ganoush healthy?
First the simple answer: yes! Now the reasons why … for starters, it's made with just 6 ingredients. But looking further, it's made with all real food ingredients, including a vegetable (eggpant), tahini, lemon juice and seasonings. Definitely all foods that our grandparents would be familiar with, which is one of my ways of gauging how healthy something is.
Baba ganoush is vegan and low in calories, yet very flavorful and creamy. It's a definite winner in my book!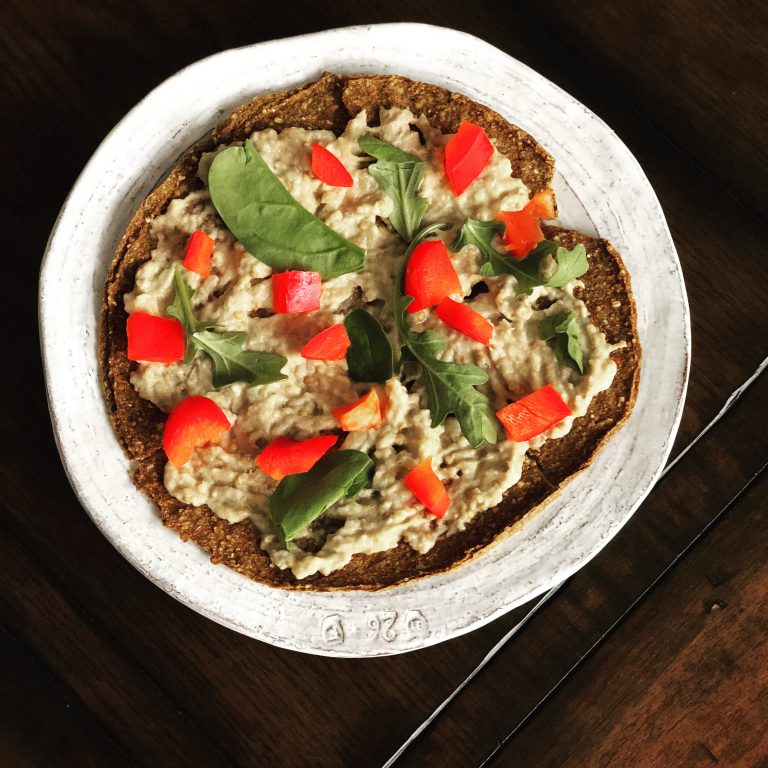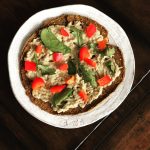 Easy Baba Ganoush Recipe
Mediterranean in nature, this baba ganoush recipe is gluten free and dairy free and is a tasty appetizer that can be served with veggies, on a salad, or even eaten alone with some nuts on the top.
Ingredients
1

medium - large eggplant

1/4

tahini

1

small lemon

juiced

1/2

teaspoon

or more to taste salt

1/2

garlic clove

ground in a mortar & pestle

olive oil before serving
Instructions
Preheat oven to 350 degrees. When heated, place eggplant on a baking sheet or in a pan and roast 60-70 minutes. When you touch it with a fork, it will look indented if fully cooked.

Remove eggplant and, when cool to touch, cut down the middle. Scoop out innards with a fork and place roasted eggplant in a medium-sized bowl. Mix vigorously with fork, breaking apart chunks.

Add tahini, lemon juice, salt and garlic and mix well. Taste and adjust salt or garlic as needed.

Before serving, drizzle top with olive oil.
Nutrition Facts
Easy Baba Ganoush Recipe
Amount Per Serving
Calories 37
Calories from Fat 9
% Daily Value*
Fat 1g2%
Sodium 3mg0%
Potassium 299mg9%
Carbohydrates 9g3%
Protein 1g2%
Vitamin A 25IU1%
Vitamin C 16.8mg20%
Calcium 17mg2%
Iron 0.4mg2%
* Percent Daily Values are based on a 2000 calorie diet.
Are you already a baba ganoush fan? If so, how do you enjoy it?
---
This post may contain affiliate links which won't change your price but will share some commission.