I'm a big fan of cooking with kids. I self-taught myself to cook in my teenage years, and it has brought me such joy over the years that I wanted my children to learn the life skill at an early age. With that said, I'd love  to help you cook with your kids by providing tips and recipes to make it achievable. This post is the first of an ongoing series for inspiration and ideas: Easy recipes for kids: yogurt parfait.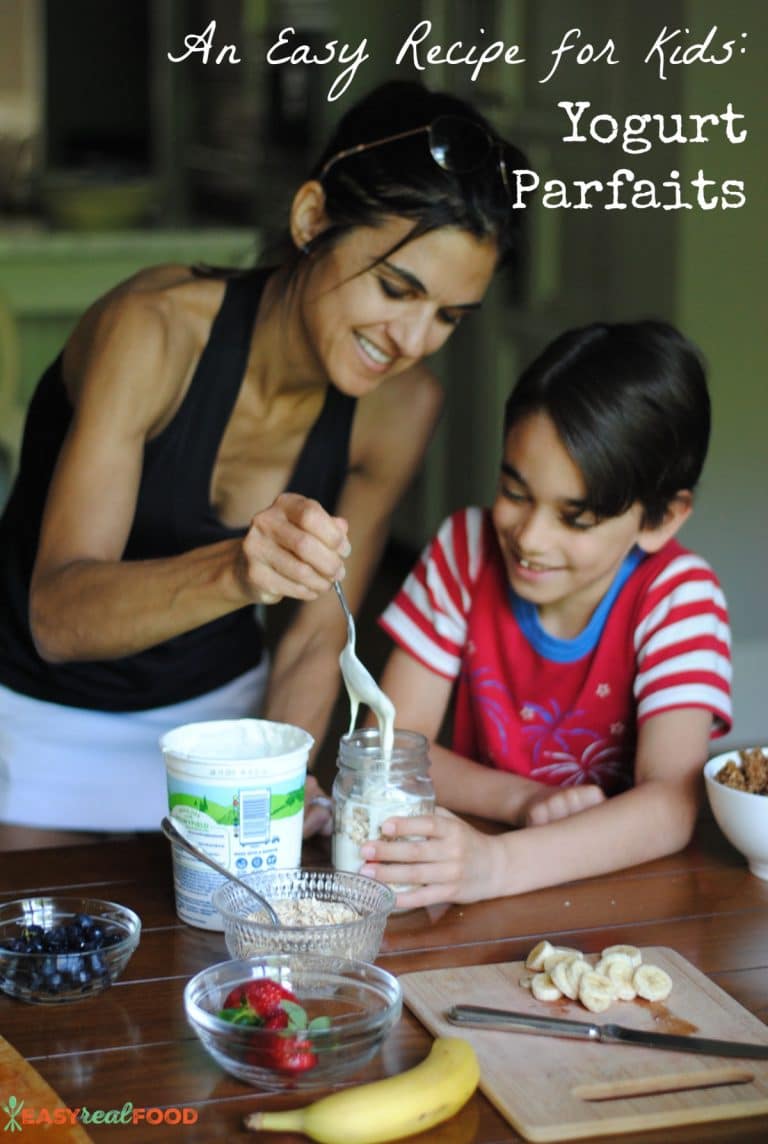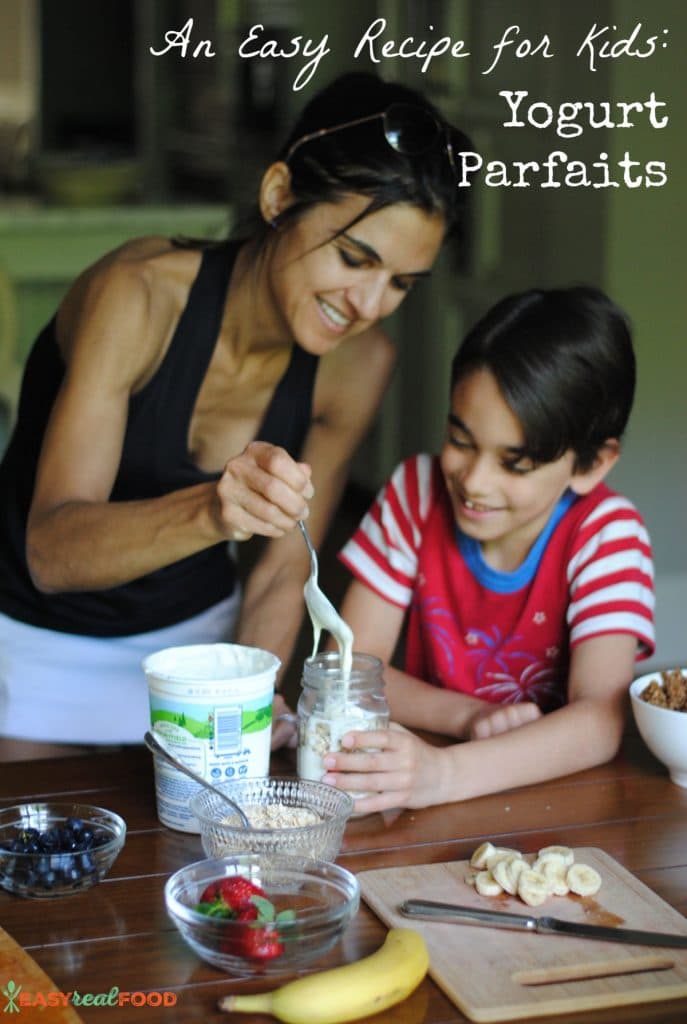 My experience in cooking with kids:
Before we get to the yogurt berry parfait, let me tell you about my experience in cooking with my kids. Since my definition of "healthy foods" changed about 7 years ago, my personal experience with cooking with my kids also differed. My older two often helped bake boxed cakes (albeit with the use of applesauce in lieu of oil, or with low fat milk instead of what I'd now prefer, either whole or dairy-free milk). My younger two had the opportunity to start cutting fruits and veggies with that butter knife, to assist in measuring with cups and spoons – and they loved it. Though their experiences were different, I saw that sparkle in all of my kids' eyes as they dumped, mixed and then watched their makings rise in the oven, or as they shook that homemade dressing in a jar to watch the oil and vinegar initially mix and then separate.
What we sometimes forget is that kids are so curious. They want to experience, this helps them learn. And by getting them involved in the kitchen, we only fuel this fruitful fire.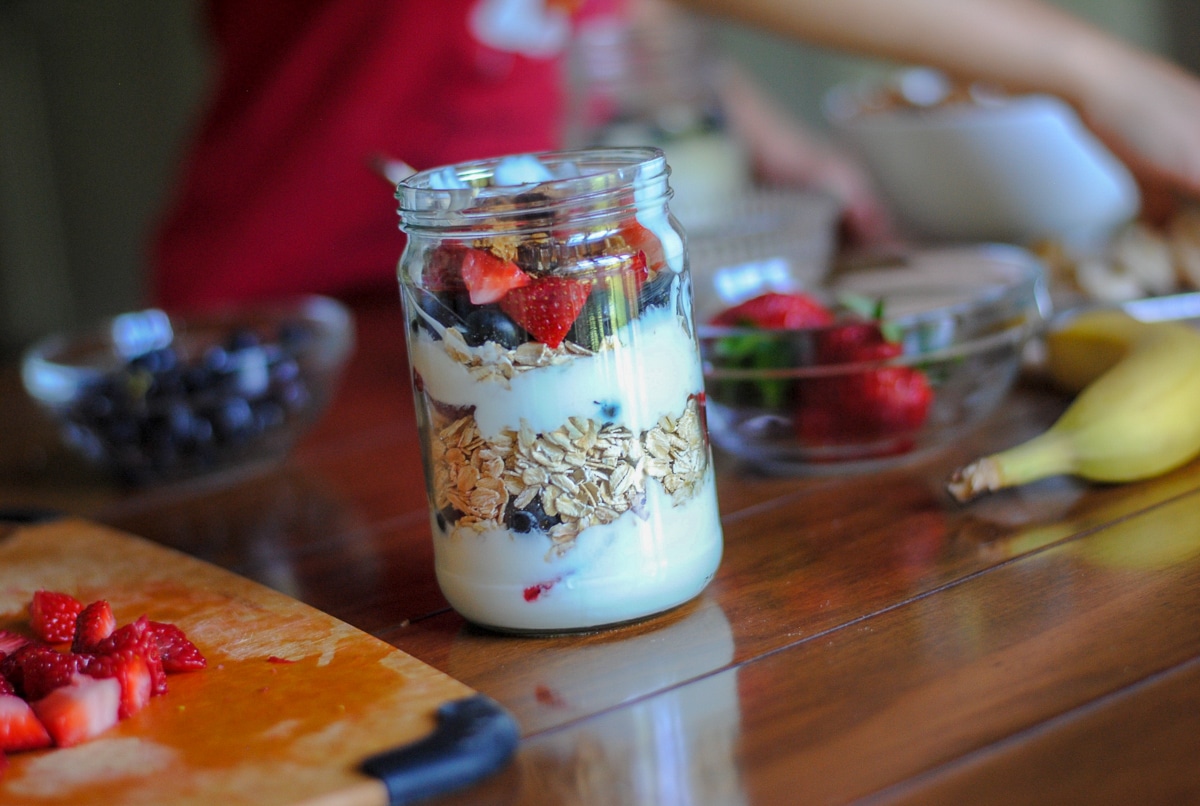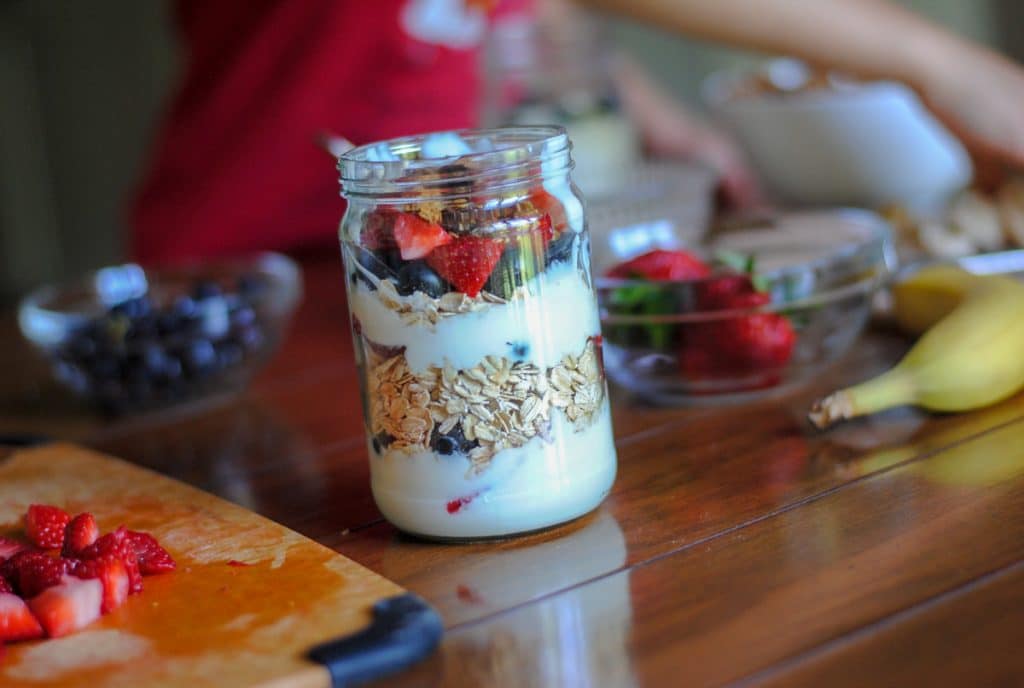 An appropriate recipe for cooking with preschoolers
This is an easy recipe for kids of all ages to make by themselves, with guidance. Here are tips on age-appropriate tasks for preschoolers to do in making this recipe:
Have kids cut bananas with a butter knife
Preschoolers can wash berries and also cut these with a dull knife
Little hands can spoon the yogurt into bowls and jars
If you are using jars, have them secure the lid following preparation
Kids of all ages will enjoy selecting the perfect inclusions for their yogurt parfait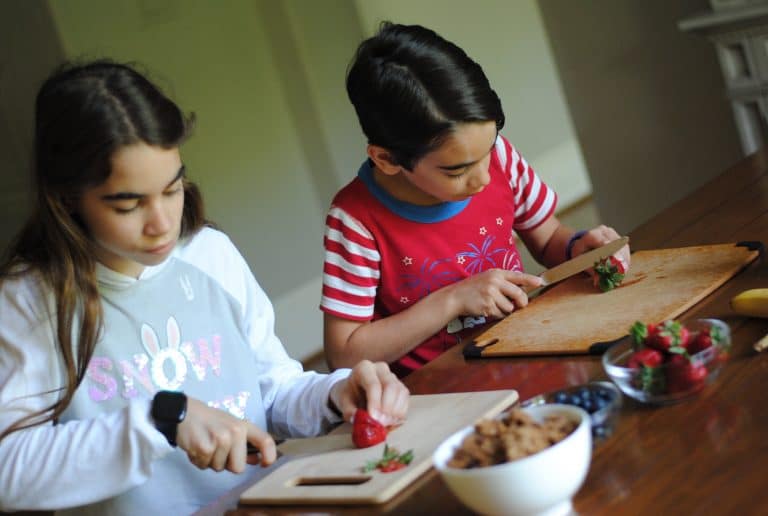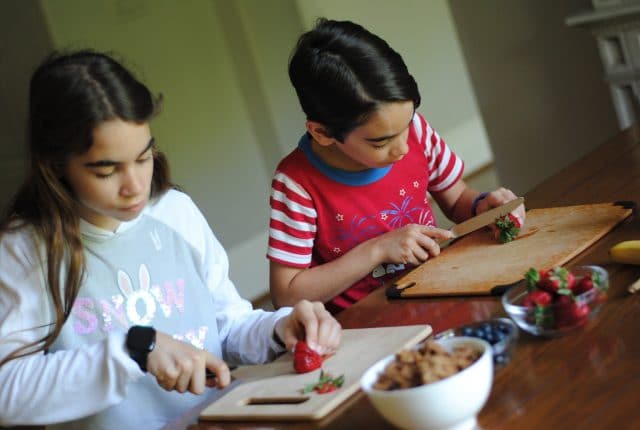 Foods and items to include in making yogurt parfaits
Fresh fruit, including ripe berries, bananas and mango
Granola, either store bought or homemade
We like to add gluten free oats in addition to the granola; it makes a stabilizer so that the fruit doesn't sink
Unsweetened, dried coconut or coconut chips
Chocolate chips or cacao nibs for an added treat
Yogurt, either the whole milk version or dairy-free
Jars, to prepare parfaits to have a healthy breakfast on hand
Questions about yogurt parfaits:
Are yogurt parfaits gluten free? Yes, if you use gluten free granola and mix-ins.
Can yogurt parfaits be made dairy free? If you use dairy free yogurt, yes. Some of my favorite dairy free yogurts are Love Lavva and So Delicious.
What about making yogurt parfaits the night before? You can; just know that your oats and granola may not be as crispy. You can add them to the side (maybe in a baggy) and bring them along if you'd prefer that they be "fresh".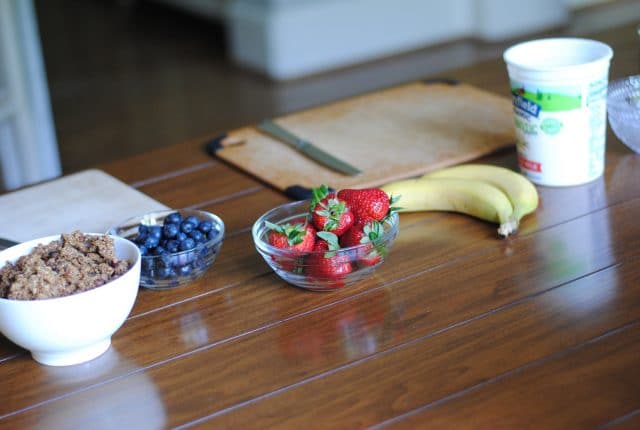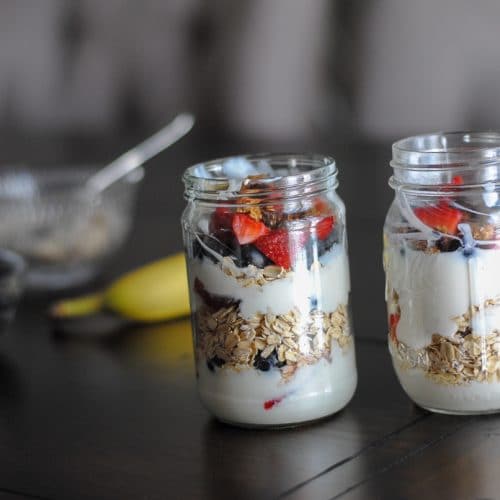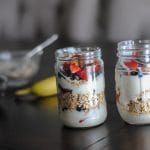 Yogurt Parfaits
The first in a series of easy recipes for kids: yogurt parfaits offers an easy way to get cooking with preschoolers and beyond.
Course:
Breakfast, Lunch, Snack
Keyword:
breakfast, healthy snack
Ingredients
1

32 oz

Container yogurt

If not dairyfree, I recommend whole milk yogurt

1

cup

blueberries

1

cup

strawberries

, diced

1-2

bananas

3/4

cup

gluten free oats

3/4

cup

granola
Instructions
In a jar or bowl, add a layer of yogurt. Top with oats and fruit. Add another layer of yogurt, more oats and fruit, and finally one more layer of yogurt. Top this with fruit and granola and any other mix-ins you prefer.
Let me know if I missed any other mix-ins to add to these!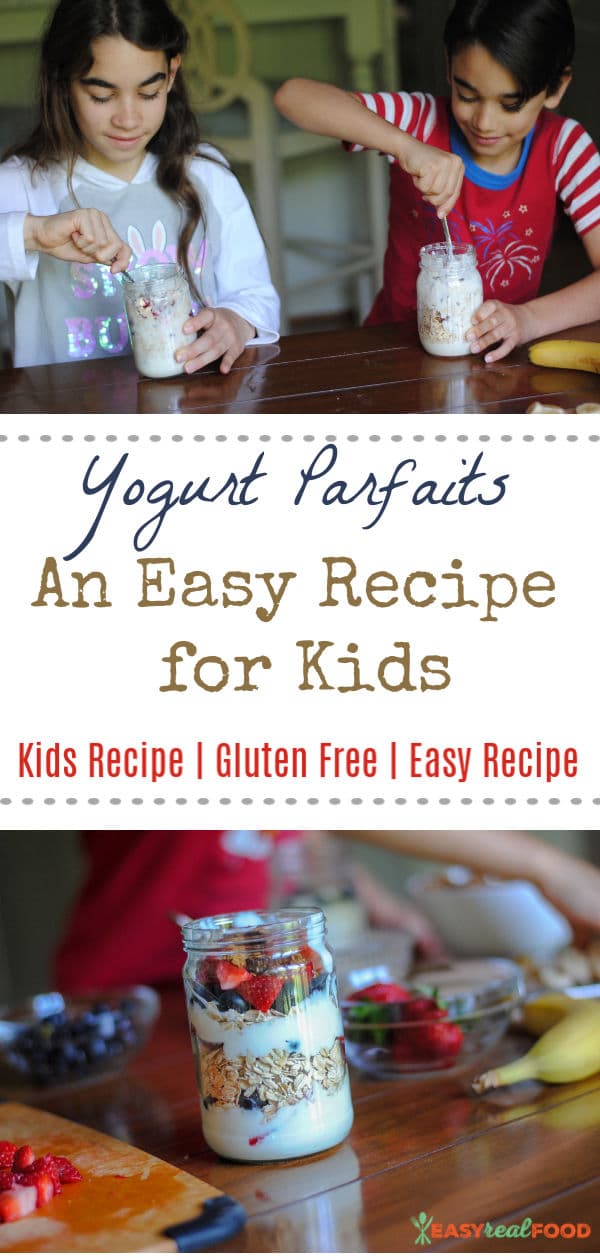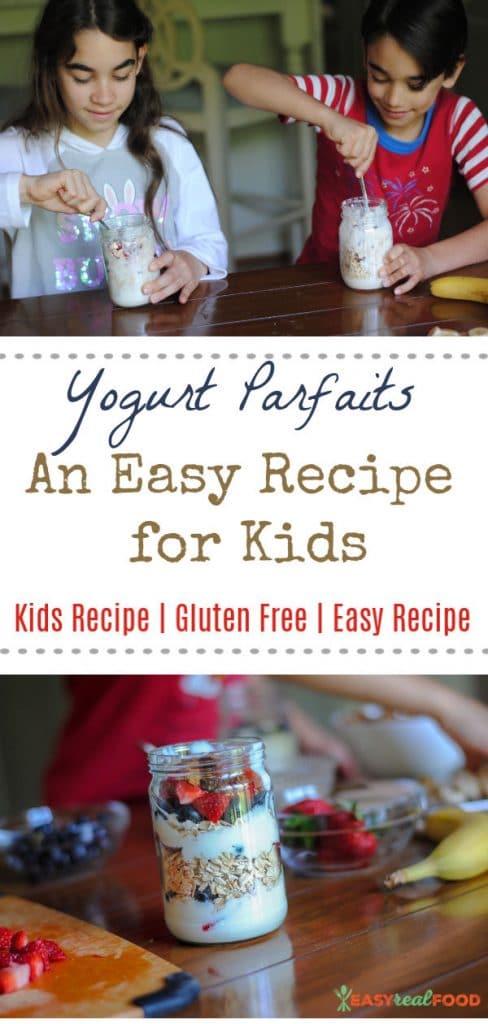 If you're looking for more cooking ideas for kids, don't forget to check out Camp Kitchen! Camp Kitchen is a 5 day digital guide to help your kids cook at home. It's a 44 page pdf complete with 5 themed days, each with 3 recipes, along with cooking suggestions, ideas, tips and more. It's a great structured activity and bonding opportunity for you and your kids!