If I'm being totally honest, this post has a selfish twist to it. You see, every year I have good intentions … but then it's December 3 and I have nothing prepared and my kids are asking me each day if I "did the calendar". We've had our large advent calendar for about 12 years, and I love it. And I hate it at the same time. I never know what to put in it, so I end up doing nothing or I resort to the obvious – candy/snacks/anything I don't really want to give them. Fear no more, I've put together a list of healthy advent calendar ideas for the both of us. We can do this!! Get started today and you'll be set for December 1st when it gets here. Oh, and if you need suggestions for an advent calendar, I've included them in the post towards the bottom. Let's get started!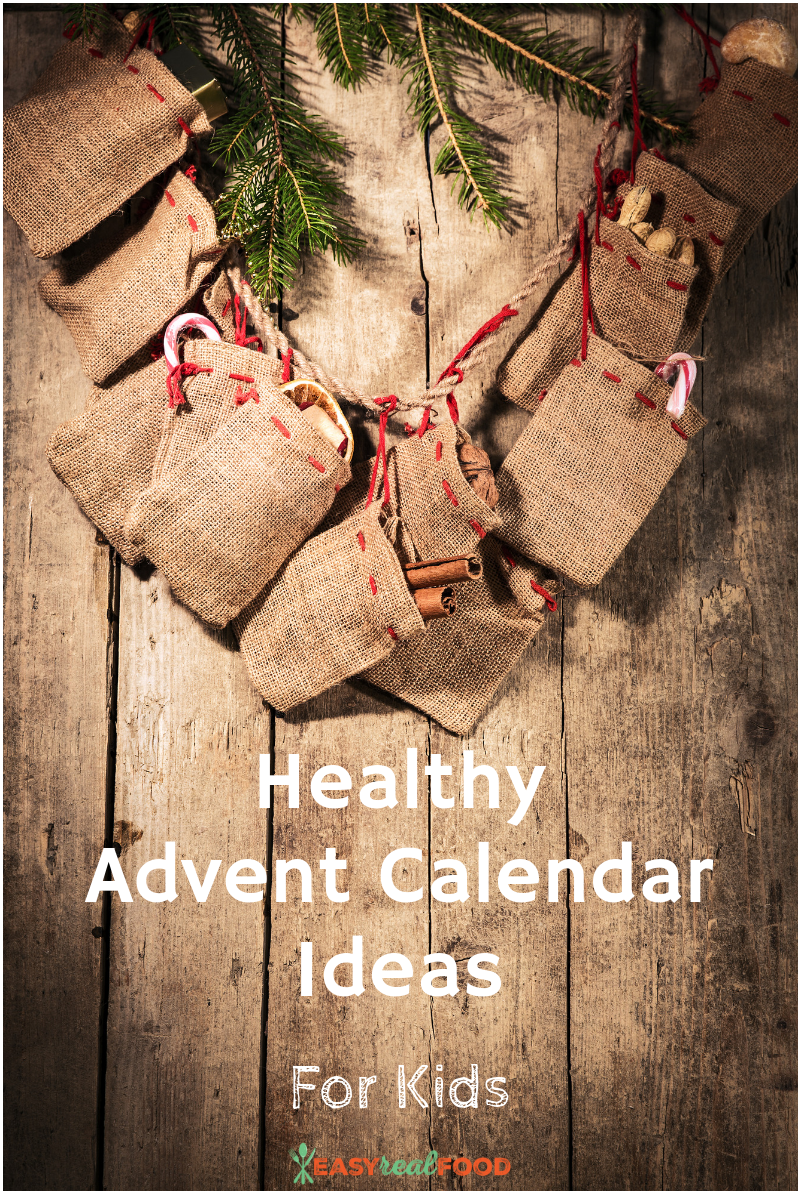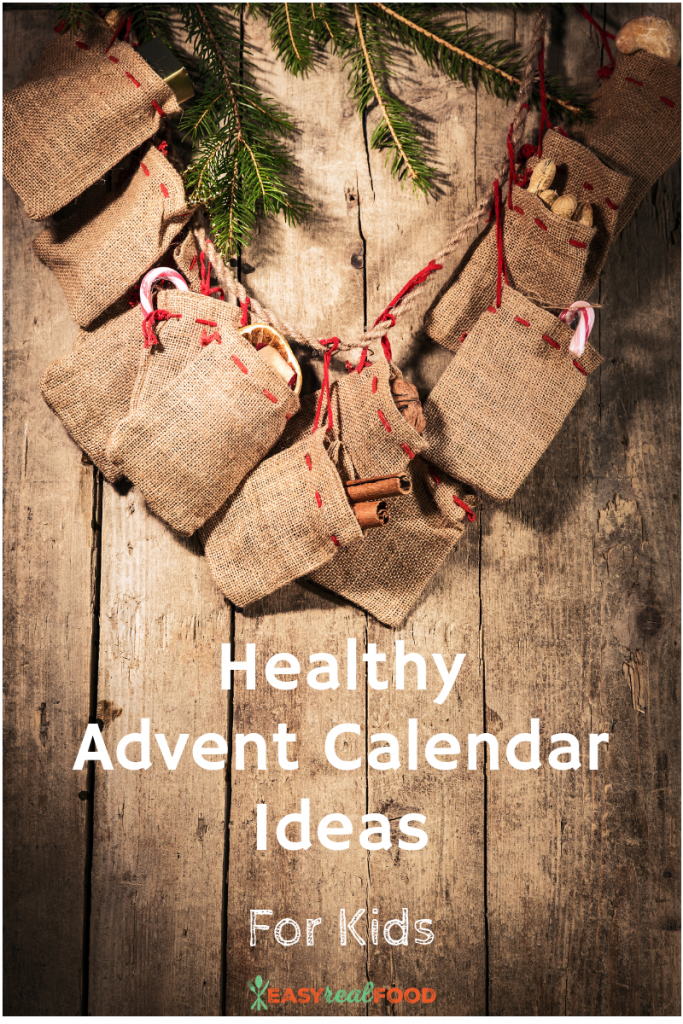 Healthy snacks/foods advent calendar ideas
Because let's face it – most of us like to give (and receive!) foods around the holidays! But this will help you resort from going to the candy/junky snacks. Here are a few of my faves: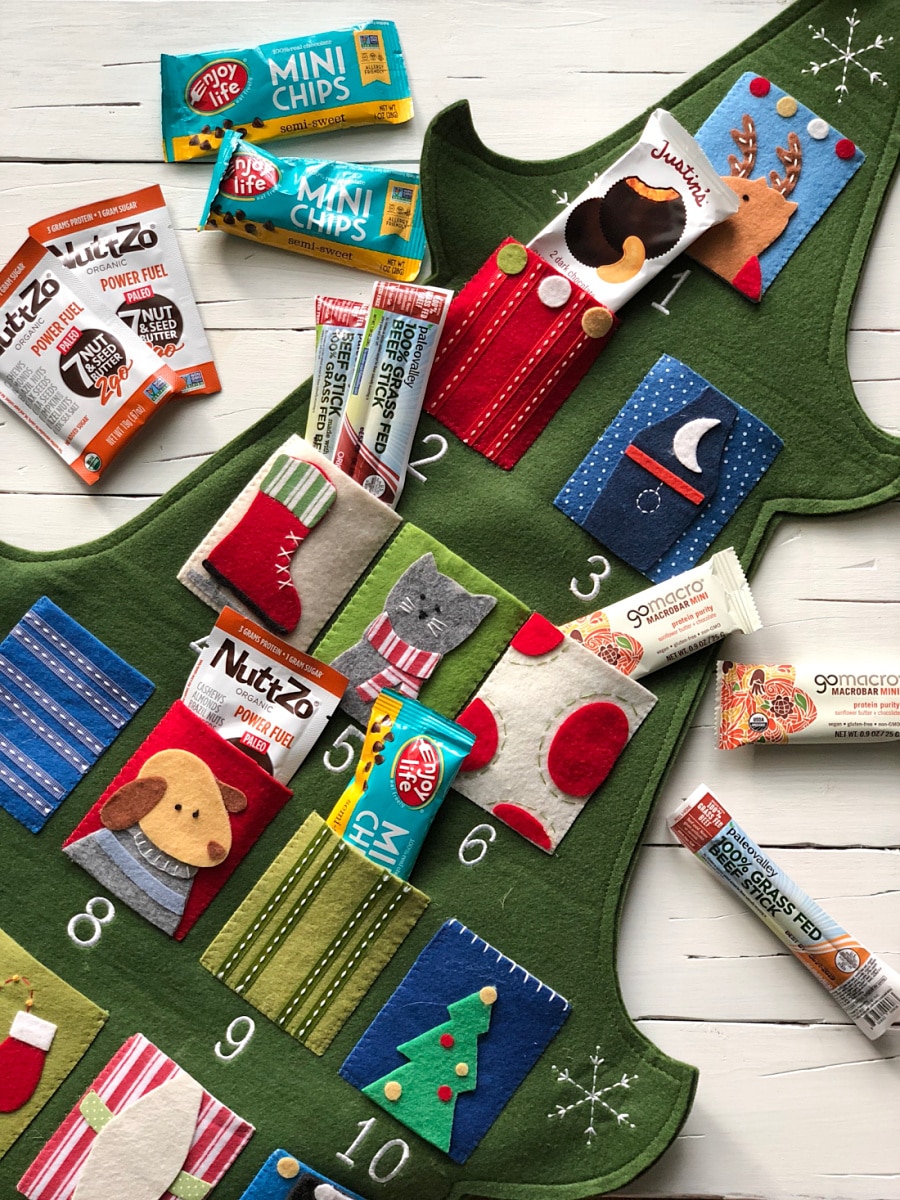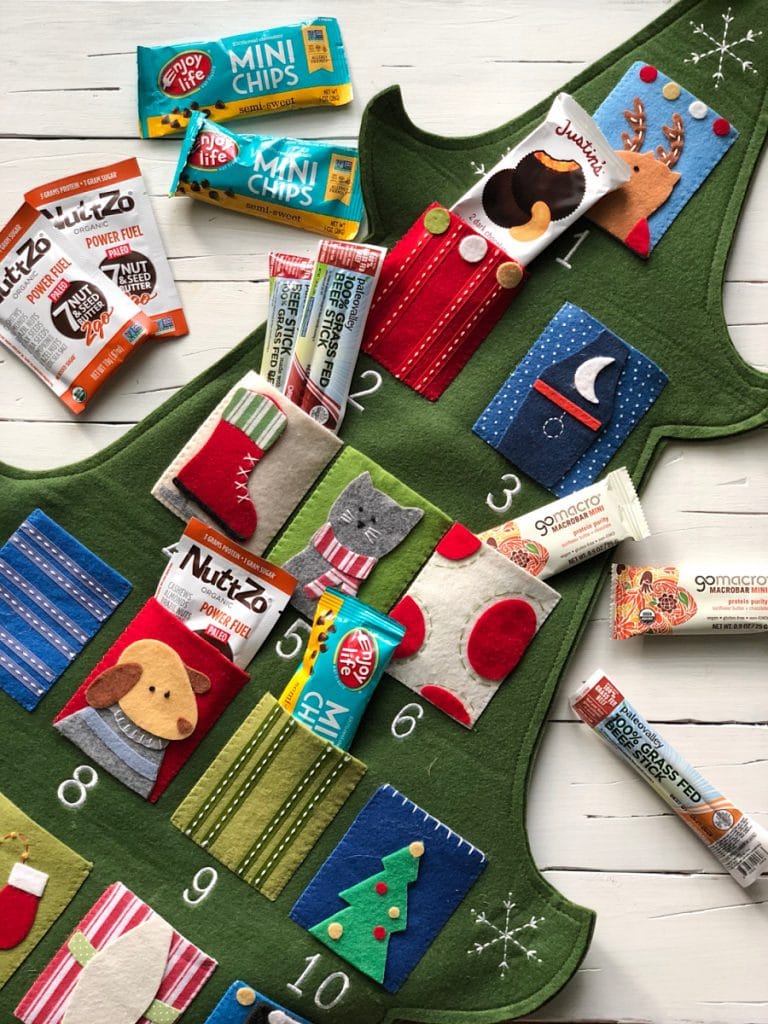 Fun activity advent calendar ideas
I love when we can incorporate some fun, active ideas to the list. Sure, food is nice – but making memories are the best in my opinion.
Take a stroll around the neighborhood to see the lights. Get some fresh air and exercise together! PS – flashlights make this one even more fun:).
Make muffins with mom (or dad). My kids are always up for some baking time together! Need some inspiration? Here are two ideas: Gluten Free Carrot Coconut Muffin or Pecan Pie Muffins.
Check out Freeform's Kickoff to Christmas and pick a night to watch the movie together at home. Love inexpensive activities!
Pick out your Christmas tree. Okay, so this is really sorta an excuse for filling a day – but it is an exciting activity!
Research some of the best lights within a certain distance and drive to see some of them. Don't forget to play the tunes in the background!
Tickets to an event. The Nutcracker is one of our favorite performances; I generally get tickets anyhow, so of course they go into the calendar. Another day down!
Pajama Day. Simple, but oh-so-good.
Go see Santa. If you haven't already, this one is definitely calendar-worthy. We're old-school and still go to the mall to see Old St. Nick. How about you?
Make cookies for Santa. This one should be within a few days of Christmas, naturally, but always a fun experience in our household.
Decorate gingerbread houses. 
Make snowflakes, string popcorn (or any fun Christmas craft that we did as children) and decorate the house.
Read a Christmas book together.
Clean out your toys and donate them to those in need. Teens and adults; clean out your closet and do the same!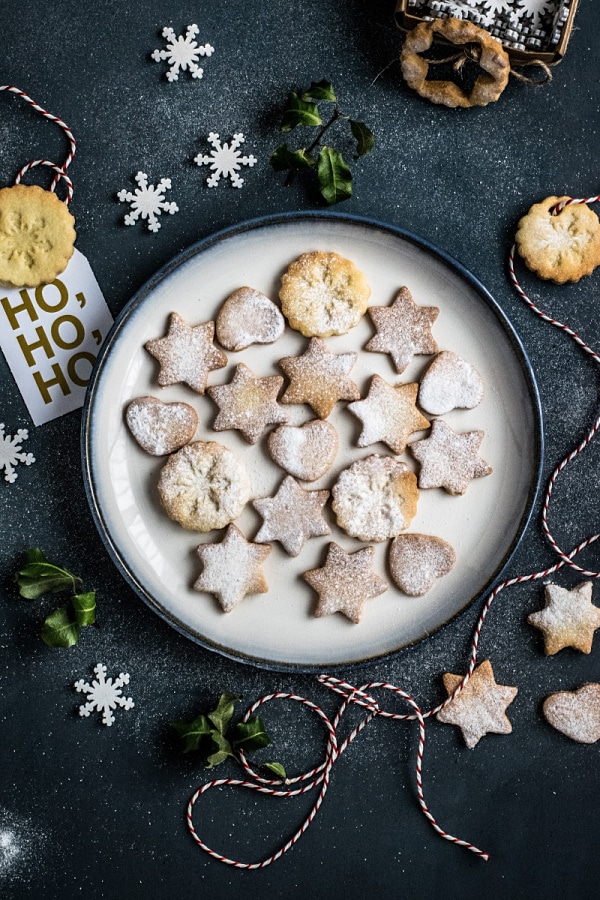 Random acts of kindness advent calendar ideas
These are the best, too – not to mention, they are easy to coordinate! Get out some markers/fun pens and cardstock and simply write these out, and fill up a day. Simple!
Take supplies to an animal shelter.
Gift your teacher with a cup of coffee (or a VIA Instant, or even a gift card to Starbucks).
Say something nice about someone (to them!)
Pick up the phone and call a friend (no texts allowed!)
Do a chore for someone in your family.
Leave change in the vending machine.
Write an anonymous nice note to someone.
Sit together as a family, and give every person a compliment.
Pick up trash in your neighborhood, at your school, or at a local park/greenway.
Other additional advent calendar ideas
Lip balms are one that's always welcomed by my kids (even my son!)
These little Lunchbox Love Notecards already have the work done for you, and are the perfect size for advent calendars.
Holiday cookie cutters (perfect to do before your baking day!)
Balloons – I swear my 7 year-old can entertain himself for days with these.
Some change. I mean, who doesn't like this?! 🙂
Now it's your turn. Please share some of your healthy advent calendar ideas in the comments below! XOXO
This post may contain affiliate links which won't change your price but will share some commission.