An easy recipe for homemade Clif Bars. No refined sugars or unnecessary ingredients – just 8 real food ingredients that combine for natural energy. The perfect healthy on-the-go snack, after school snack or busy morning breakfast.
Homemade Clif Bars Recipe
So I'm going totally out of my comfort zone: in two days, I'm headed on a backpacking trip with my eldest daughter and 6 of her classmates. We'll be backpacking for 3 days and 2 nights, sleeping in tents, and will have no access to bathrooms, showers, or any of those "fun" amenities. So while getting prepared this week, I realized a big thing – I'm going to need food!! And probably lots of it. I tinkered around with a few different variations and came up with a super yummy energy bar that tastes like a homemade Clif Bar. I'm in love!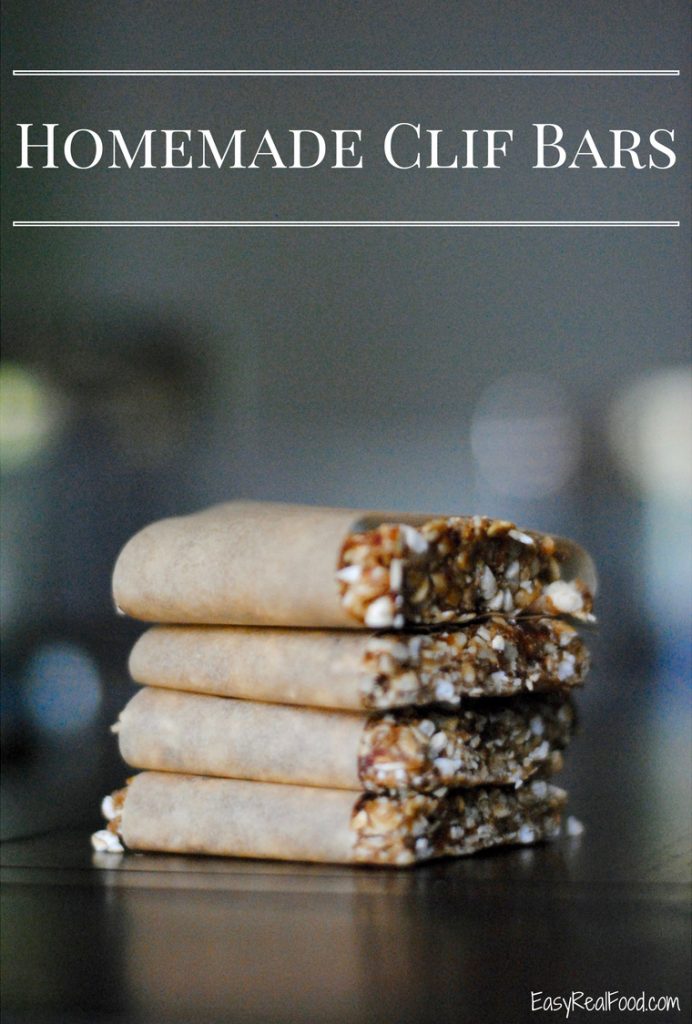 Two years ago, I did a post on snack bars where I deduced that most of them are glorified candy bars. Clif Bars made the list, as I noted that "they are often the choice of sustained nutrition for outdoor enthusiasts, but a closer look at their ingredient list may leave you less enthusiastic." Beginning with organic brown rice syrup (aka refined sugar!), the ingredient list unfortunately goes downhill. My goal for this trip was to make an energy bar that provided ample nutrition, some filling fiber (although no bathrooms – yikes!!), a pop of protein, and top it off with taste. And I promise you that this homemade clif bar recipe check all the boxes, without adding in that potential sugar crash.
Why I wanted to make a homemade Clif Bar:
Here is a list of the ingredients that are in the Oatmeal Raisin Walnut Clif Bar (as taken from Amazon.com):
Ingredients:

Organic Brown Rice Syrup, Organic Rolled Oats, ClifPro® (Soy Rice Crisps [Soy Protein Isolate, Rice Flour, Rice Starch, Barley Malt Extract], Organic Soy Flour, Organic Roasted Soybeans), Organic Raisins, Organic Cane Syrup, Walnuts, ClifCrunch® (Organic Oat Fiber, Inulin [Chicory Extract'!, Organic Milled Flaxseed, Organic Oat Bran, Organic Psyllium), Organic Soy Butter (Organic Roasted Soybeans, Organic Soybean Oil, Salt), Natural Flavors, Molasses Powder, Cinnamon, Sea Salt, Natural Vitamin E (Antioxidant).
And here is what you need to know (if you don't already): organic doesn't always equal good. Yes, most of their ingredients are organic, but the first (and therefore the most prominent) ingredient is organic brown rice syrup. Which is a form of sugar!! So of course you'll get energy from these. But you may get a crash afterwards, thanks to the ingredient line up. Not the case with my Homemade Clif Bars recipe. These are sweetened (and bound together) with dates and honey, both natural sweetening sources. And yes, at the end of the day, sugar is sugar is sugar. But I'm pretty sure that while hiking 22 miles over 3 days with a heavy backpack on me, I'm going to need some energy to go on.
Some notes on the Homemade Clif Bars recipe:
If your dates are a little past their prime and starting to dry, simply put them in a bowl and cover them with boiling water for 10-15 minutes. Strain the fruit and discard the water.
I love Arrowhead Mills Puffed Rice Cereal. It has just one ingredient and is 100% whole grain. Doesn't get any cleaner than that!
If you want these to be gluten-free, ensure that your oats are.
I personally love Trader Joe's sun butter. If you don't have a TJ's near you, good ol' Amazon has a shipper who can send it to you (NOTE: it's cheaper in the store). I don't see it on Amazon, but TJ's has an unsweetened version that has a bit of salt that is pretty yummy, too. This is another good option but is definitely pricier.
Lastly, my favorite parchment paper is this. It's 100% unbleached greaseproof paper, silicone coated and comes in pre-cut sheets. It's not only easier for kids, but I love it, too. Because, it's the little things:).
And now for the recipe …
Homemade Clif Bars
A tasty energy bar that provides ample nutrition, some filling fiber, a pop of protein, lots of taste, but not too much sugar!

Ingredients
1

cup

dates

pitted (I used 10)

1 1/4

cup

puffed rice cereal

see note

1

cup

rolled oats

1/4

cup

sunflower seeds

1

tsp

cinnamon

1/3

cup

honey

1/2

cup

sunbutter

1

tsp

vanilla
Instructions
Line an 8 x 8 pan with parchment paper.

Place dates in a food processor and pulse until finely chopped.

Add puffed rice cereal, oats, sunflower seeds and cinnamon and turn on high for approx. 30 seconds or until ingredients are mixed. Place in a medium-sized bowl.

In a small saucepan, heat honey and sunbutter over medium heat until melted and blended. Remove saucepan from heat and add vanilla. Pour mixture over dry mix and stir to combine. Pour into parchment-lined pan and press firmly to cover the pan. Place in the refrigerator and let cool for 60 minutes. Remove and cut; store in the refrigerator. These can also be frozen.
Nutrition Facts
Homemade Clif Bars
Amount Per Serving (0 g)
Calories 133
Calories from Fat 45
% Daily Value*
Fat 5g8%
Sodium 1mg0%
Potassium 102mg3%
Carbohydrates 20g7%
Protein 3g6%
Vitamin A 4IU0%
Vitamin C 1mg1%
Calcium 19mg2%
Iron 1mg6%
* Percent Daily Values are based on a 2000 calorie diet.
I'll be back next week with an update for you on my trip. I have to admit that I'm SUPER excited (and nervous) all at the same time. I'm all about trying new adventures and going out of my comfort zone; it helps us grow, in my opinion. Tell me – what is something that you have done that has been out of your comfort zone? Do you feel that you grew from it?
---
This post may contain affiliate links which won't change your price but will share some commission.