I'm still in a Disney daze from our vacation 2 weeks ago. This was our fourth trip, and I'd venture to say it was one of the best ones. I know it's cliche, but it's really tough to beat the joy that your children experience at, as they say, one of the most magical places on earth. But while you're engulfed in the magic, what happens to your diet? Do you need to forego your principals for eating well since giant sodas, ice cream cones, cotton candy and turkey legs are surrounding you? Or are decent choices available? I'm here to tell you that yes, it is possible to not fall off the wagon – here is how to eat healthy at Disney: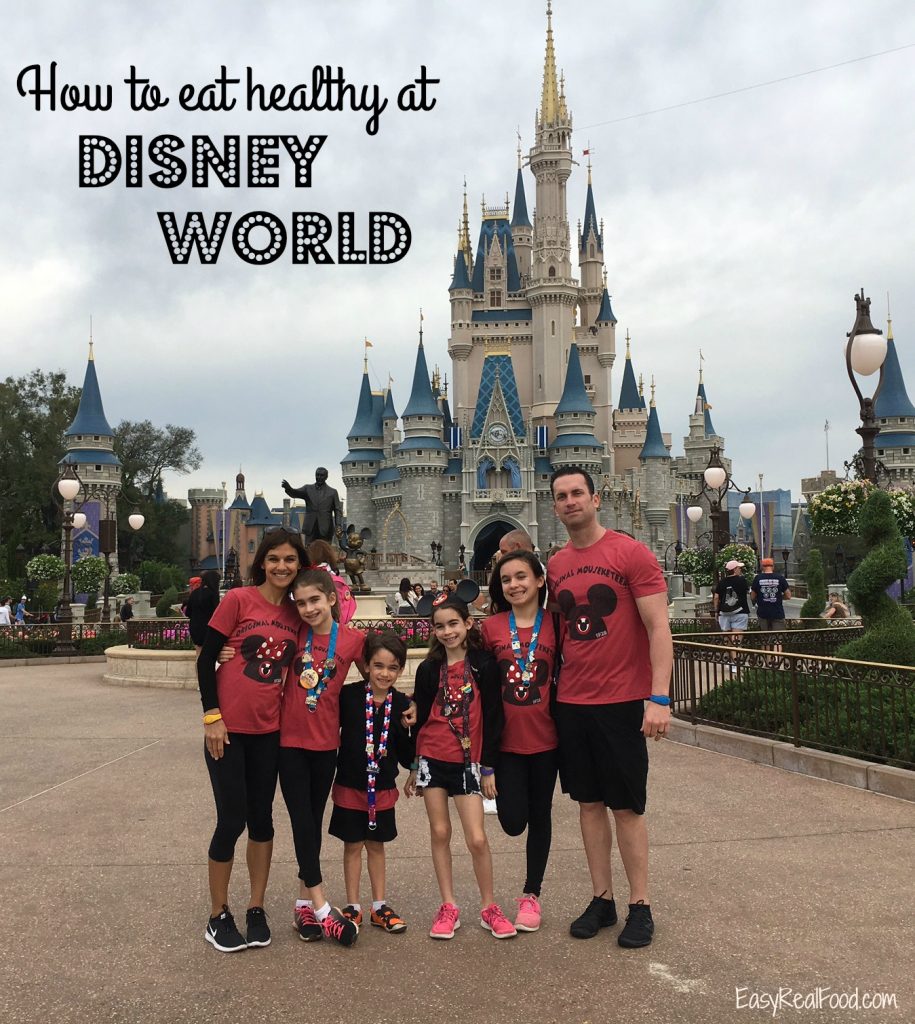 Plan ahead
As always, planning ahead is absolutely key. Prior to leaving, my husband confessed that he hates nothing more than driving 7.5 hours and then upon arrival having to seek out a grocery store. So instead, the day before we left I shopped my local Trader Joe's and Whole Foods Market so that we were stocked up on food. I packed a large cooler for our resort and a small one for our trip down. I had enough food for a dinner in our room the night we arrived (we had a kitchen – more on this below), breakfasts, lunches and snacks at the parks. Our plan was to eat dinners at the parks, which ended up working out fine.
I know that some people like to go for a full week, but for us, we like to do 2 days of parks, skip a day (to rejuvenate) and then do our 3rd day of parks on our 4th day there. It's a recipe that works for us. But I will say that we don't mess around – we arrive at the parks at 8:30 a.m. and are ready for the doors to open; we also try to get our Magic Hours in to give us extra time. I wear a Fitbit which told me that we walked 10.2 miles on the first day (Epcot) and 7.6 miles at the Magic Kingdom the next day. We needed that third day to chill! But alas, amongst lounging at the pool, we were able to find a Whole Foods Market where we headed to again stock up on foodstuff for the remaining day and drive home. This Whole Foods Market is just a few miles away from the park, but if you don't feel like shopping, Amazon Prime Pantry has some great alternatives.
Where to stay at Disney
Since we have 6 people in our family, we don't really have a choice but to get a villa. By law, you are not allowed to have more than 5 people in a room (pretty sure it's a fire hazard). So consequently we get a place that has a kitchen within – score! This is HUGE for us that allows us to eat healthy at Disney. Having the ability to eat breakfast in the room saves time and money AND it allows that little control freak inside me to be satisfied as I know exactly what I'm feeding my family. What can I say – I'm a bit nutty in some ways;). There are a number of villas available on property, which also allows you to get the Magic (extra) Hours I mentioned above. Oh, and the super cool Mickey Bands which my kids love. Here is a list of suites in case you are curious.
While we have not stayed in them, I did learn that many of their standard hotel rooms, however, do have a refrigerator and microwave in the room. And of course there are a slew of homes that you can rent nearby that are pretty economical; back in the day I wrote an article for a local magazine that I owned on traveling to Disney and learned that Champion's Gate is a decent option.
What I packed
Prior to leaving I had my 10- and 12-year-old make a triple batch of corn tortillas. They took an awesome cooking camp last summer which gave them the know-how to do this, and I happily let them take one task off of my list! I made two whole chickens with this recipe so that my meat-loving husband would have plenty to nosh on. I also made a batch of homemade granola and some beans in my Instant Pot (recipe coming soon). Lucky for me, my family is fine with leftovers AND I knew that they'd be so caught up with the environment that they would not be worried about having simple meals. Here are some other items that I brought along:
Snacks
Raw pistachios, almonds and cashews; Raw Crunch Bars; LARABARs; meat sticks, no-sugar added dried mango, yogurts, Trader Joe's fruit strips, organic cheese sticks, pretzels and tortilla chips. And of course I brought a good amount of fruits & veggies including organic blueberries, apples, carrots, celery, red pepper, cucumber, broccoli and avocados. I also brought bananas and my current new obsession – Sumo oranges. I love that fruit comes in it's own little package – portable natural real food. What a concept!
For meals
I brought bacon and made it in the room; I also had the chicken, beans, granola and I had some frozen butternut soup that I threw in, too. We purchased a few wild caught tuna pouches (great for on-the-go, and something I don't typically eat, so this was a treat), a loaf of whole wheat bread, gluten free bread for my two GF girls, a box of cereal (low sugar), cheese slices, almond butter, peanut butter, two bags of organic baby spinach and hummus. Whew!
Meal ideas
The first night that we arrived, I cut up some of the veggies, scooped 3 avocados into a bowl and mashed them and ripped open the bag of tortilla chips. It was our first night at Disney! We all chose from adding in chicken or beans on the side. Yes it was basic, but it worked just fine.
For breakfasts, we had choices of the following:
Toast with almond or peanut butter with fruit
Granola and/or cereal with milk with fruit
Yogurt with granola or cereal and berries mixed in
For lunches, we pulled things together; some ideas were:
Sandwich with chicken, cheese, hummus and spinach
Salad with veggies, beans and avocado
Homemade tortilla with cheese, beans and avocado; veggies on the side
Homemade tortilla with avocado (I brought this to the park and cut it there) and veggies, nuts on the side
Nut butter + banana sandwich, veggies on the side
Tuna packet + fruit + veggies + nuts
You get the picture. These meals were not glorious by any means, but they sure fit the bill and truly no one complained! I packed enough snacks that everyone had enough food to enjoy, and I also had packed 3 large bottles of water – we definitely needed to rehydrate and I was not too excited about spending $5 on a bottle of water, or whatever it would have cost. On our second day, we let our kids pick out any treat that they wanted. Oh, the choices! On the first day, my eldest chose to buy a small bag of candy with her own money as well.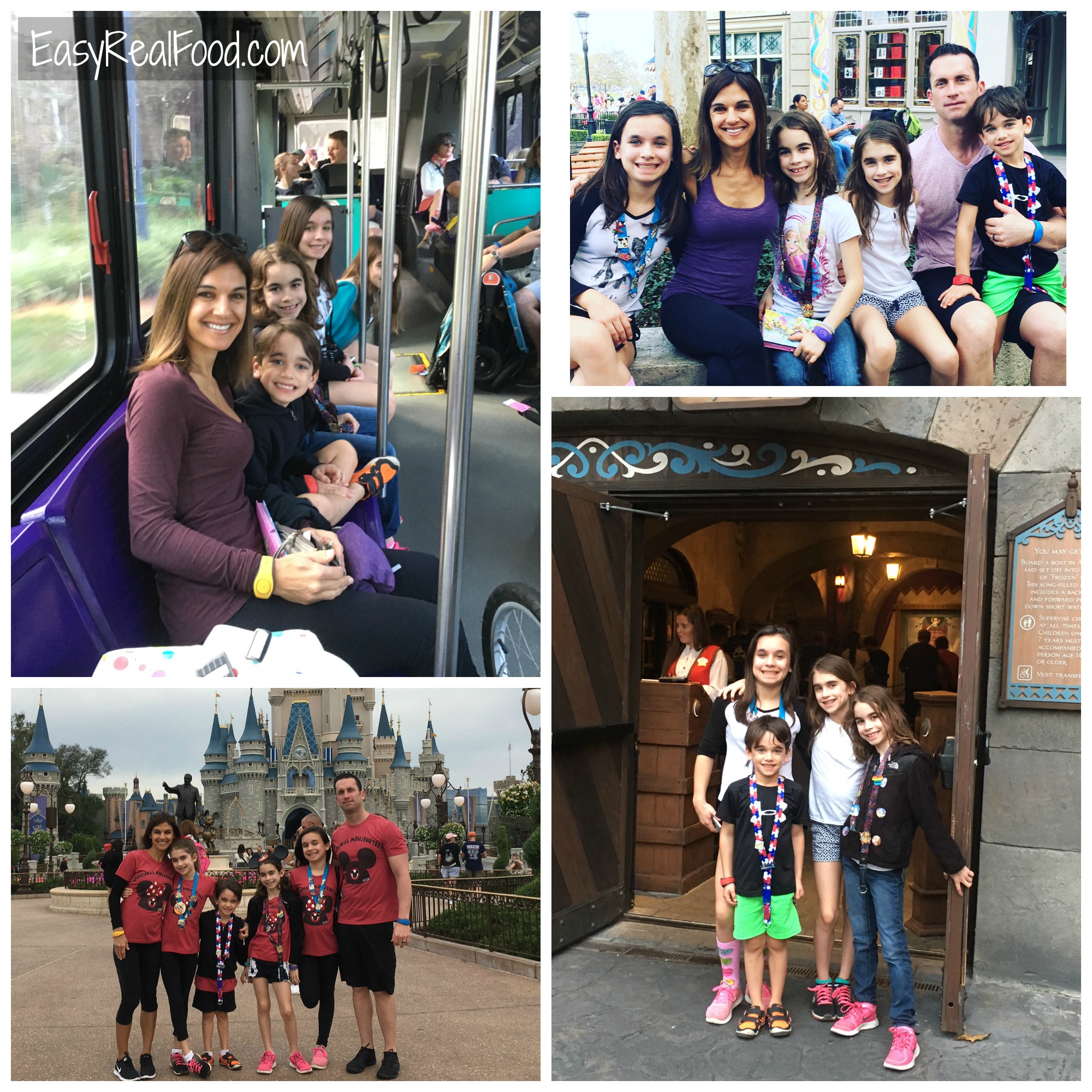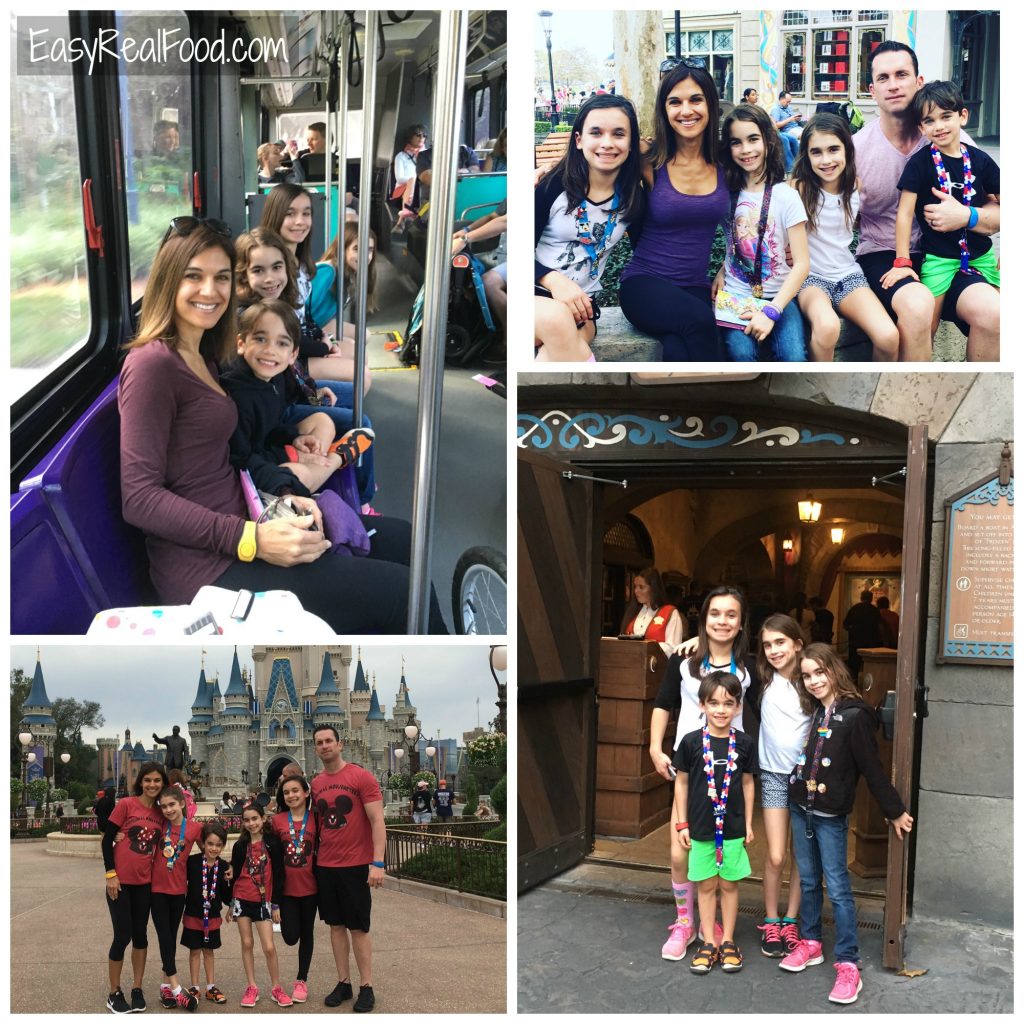 Some restaurants with decent choices
I'm not gonna like – you have to scope out menus ahead of time to eat healthy at Disney, so first let me mention this: I made a note to not worry about organic or local. I'd go crazy if I did. I also realized that we were on vacation and I was not going to be a complete freak about the foods. Notice the word "complete" – a little nuttiness was still there;). All kidding aside – sometimes it's okay to loosen up a little, and vacation is one of those times. But on to the parks and their restaurants.
Epcot definitely had some better choices, IMO.
Columbia Harbor House (Magic Kingdom) – has a vegetarian chili and my husband got a salad with broccoli that he really liked.
Jungle Navigation Co. Ltd. Skipper Canteen (Magic Kingdom) – again, haven't eaten here but the menu has some really interesting salads and such on it. If we go back, I'll def. check this one out.
La Cava de Tequila (Epcot) – Corn tortillas topped with chicken or steak, black beans, guacamole
The Garden Grill (Epcot) – While we have not eaten there, many of their veggies are grown in their Living with the Land greenhouses – cool! This is a character dining spot.
Katsura Grill (Epcot) – sushi rolls, edamame, chicken teriyaki; basic but sometimes basic is okay.
Tangierine Cafe – Mediterranean spot with shawarma, hummus, tabouleh,  lentil salad and falafel.
A note on buffets/character dining
When you have young kids, character dining almost goes hand-in-hand with visiting WDW. While it's certainly not cheap, the kids love it and if you are selective with your choices, it's still possible to choose decent options. Though we didn't do a character dining this time, each of our last 3 trips included one (hence not going this time) so I have a pretty good idea of what to expect. Most of them will include a salad bar, which was always my first stop, sans the dressing. You can generally find some type of grilled chicken/hard boiled eggs/fish to go along with this along with other cooked vegetables and fruit. It's definitely not a fine dining experience, but hey – the enjoyment of the kids far makes up for it.
So there you have it … with a little planning and preparation, it is possible to eat healthy at Disney! And I'm sure that I missed some great tips, so I'd love to hear yours in the comments below. Oh, and in case you are also an overall Disney fan, you won't want to miss my post on How to Eat Gluten Free on a Disney Cruise.  Happy travels!
This post may contain affiliate links which won't change your price but will share some commission.