Did you guys know that Rice Krispie treats are not gluten free? I was shocked when I found out, and like to make sure that anyone who follows a gluten free diet knows this, too. The malt flavoring in the Rice Krispie cereal has gluten in it, making it not safe for those who are celiac or have gluten sensitivities. That said – I have a similar gluten free dessert to share with you today. Instead of using cereal, you use popcorn – and the end result is a nostalgic reminder of a favored treat from my childhood. Let's take a look at how to make marshmallow popcorn balls.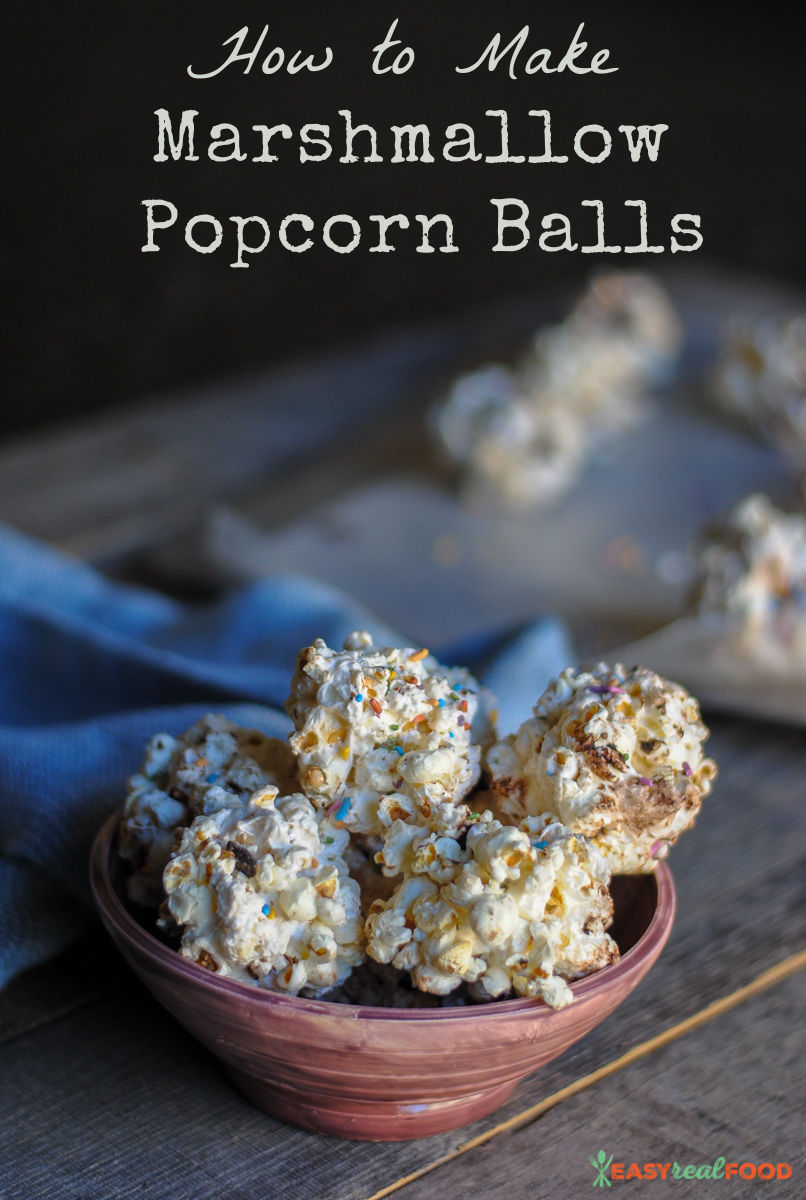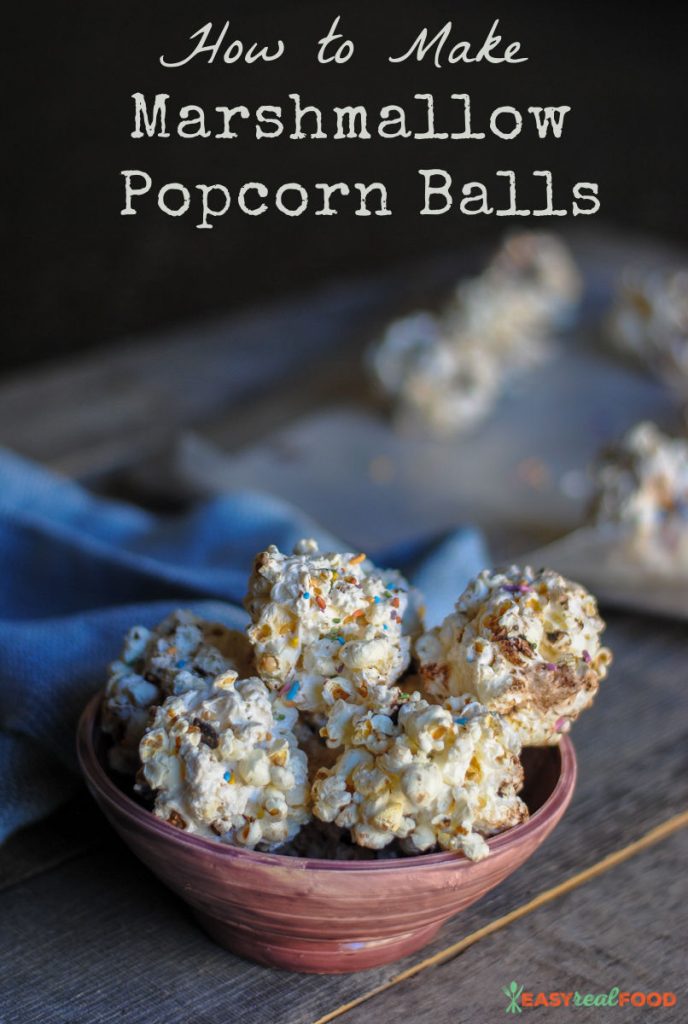 How to Make Marshmallow Popcorn Balls
Popcorn balls were always a fun treat for me growing up. I remember having them more around Halloween, and those packaged ones were made with ingredients to include corn syrup. In an effort to avoid this ingredient and also make a gluten free riff of the popular Rice Krispie treat, I combined methods.  The end result is a tasty popcorn ball recipe with marshmallows. These popcorn treats are perfect for parties or even for holidays. Wrap them in cellophane and give them at the next cookie exchange!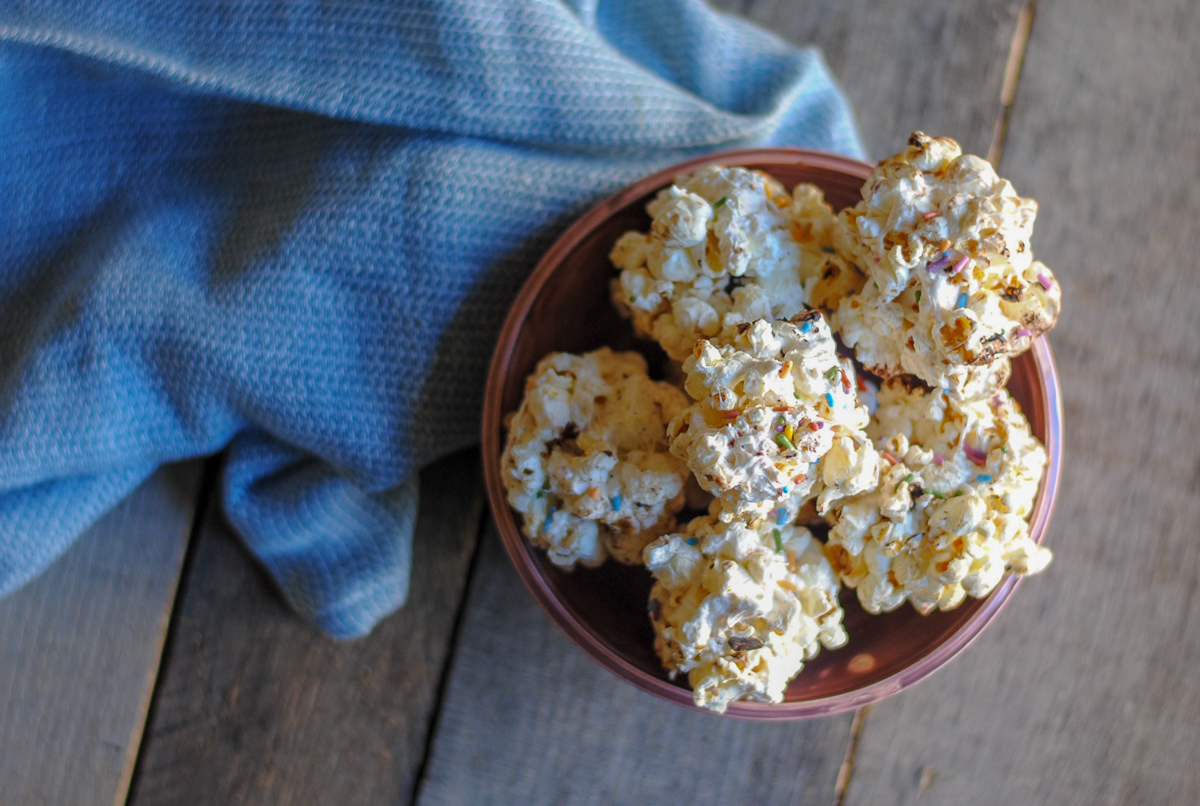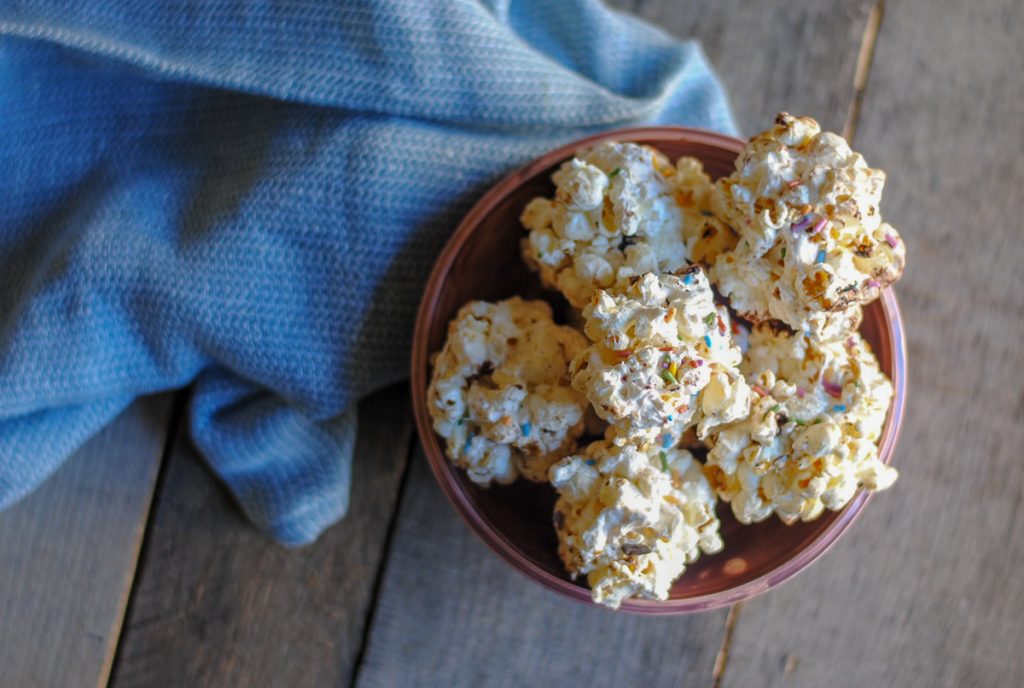 But wait – is popcorn gluten free?
Because corn is a gluten free grain, plain popcorn is gluten free. Air-popped popcorn is a healthy whole grain that has a good amount of fiber, making it a smart snacking choice. Popcorn also includes vitamins B 1, B3, and B6, along with Magnesium, Manganese or Phosphorus. Plain popped popcorn, or if made with simple additions such as ghee, coconut oil and light salt, can make it a delicious, nutritious snack.
Why should I buy organic popcorn?
Honestly, the choice to buy organic or non-organic popcorn is yours. I was surprised when I was doing some research that, even though much of the corn in the US is genetically modified, popcorn is a different seed and is not.¹ That being said, though popcorn may not have GMO's , it's a crop that's heavily covered in pesticides and insecticides.² For these reasons, I choose to buy organic popcorn.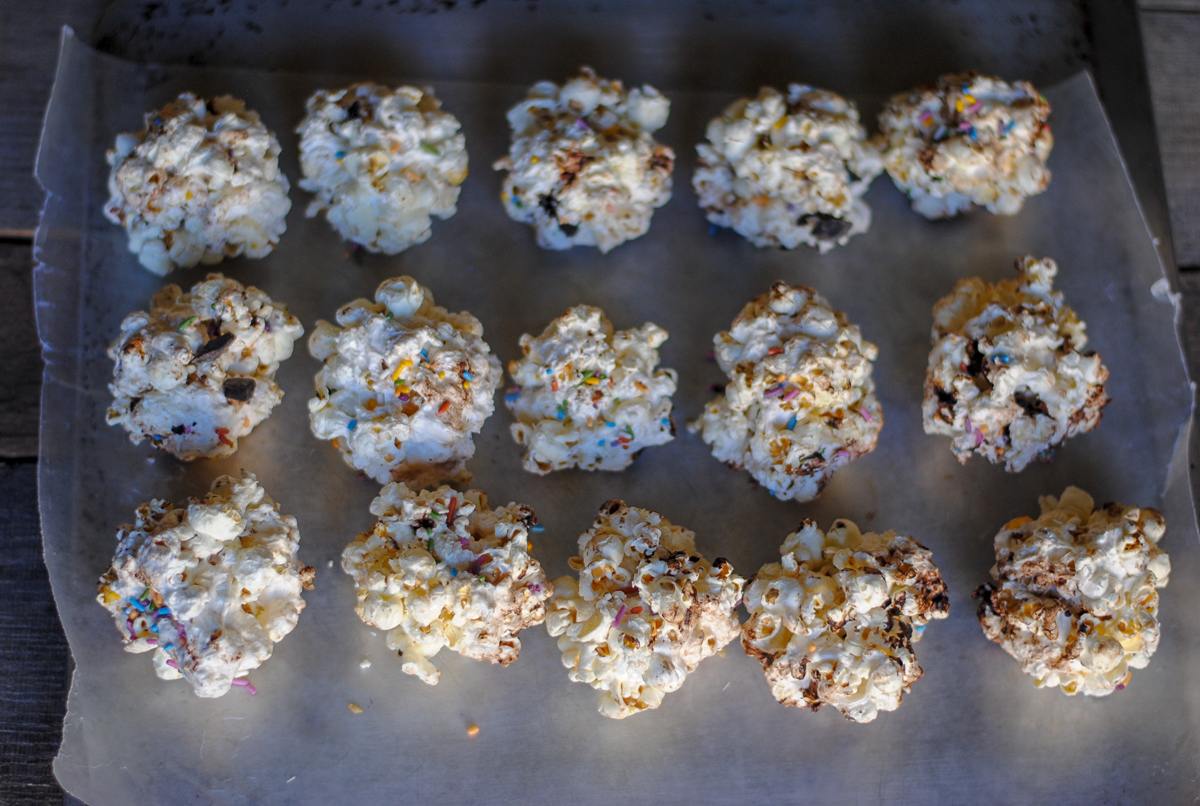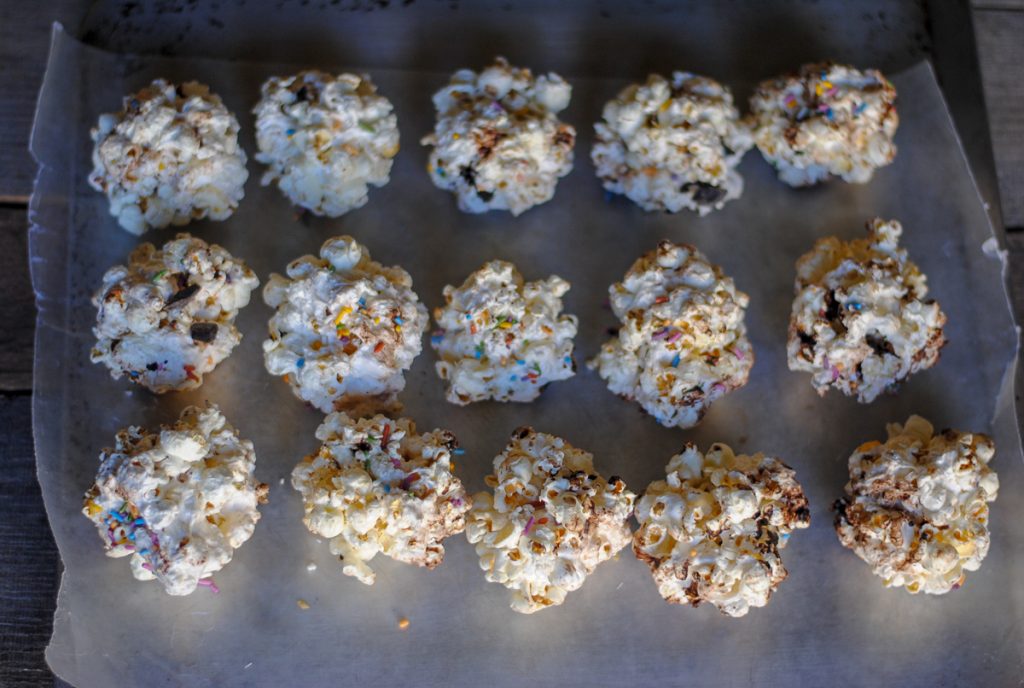 Healthy popcorn brands
How about marshmallows? Are they gluten free?
Most brands are marshmallows are gluten free, though not all of them are. Kraft Foods, Inc. and Doumak Inc. are two of the leading US manufacturers of marshmallows; both of their marshmallow products are gluten free. If you are celiac or need to avoid gluten 100%, it's important to always read food labels. Making homemade marshmallows is also an option that you can choose, too.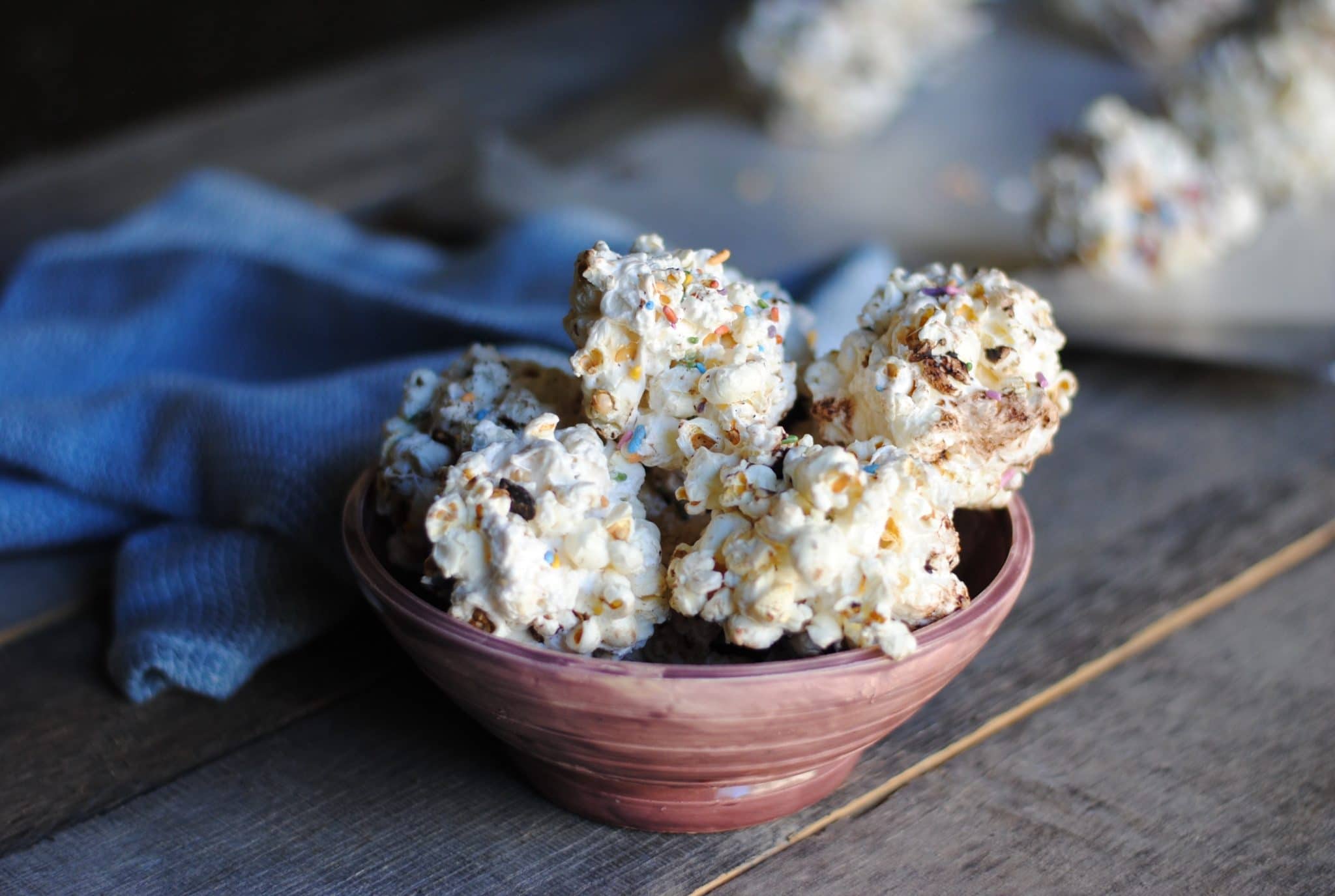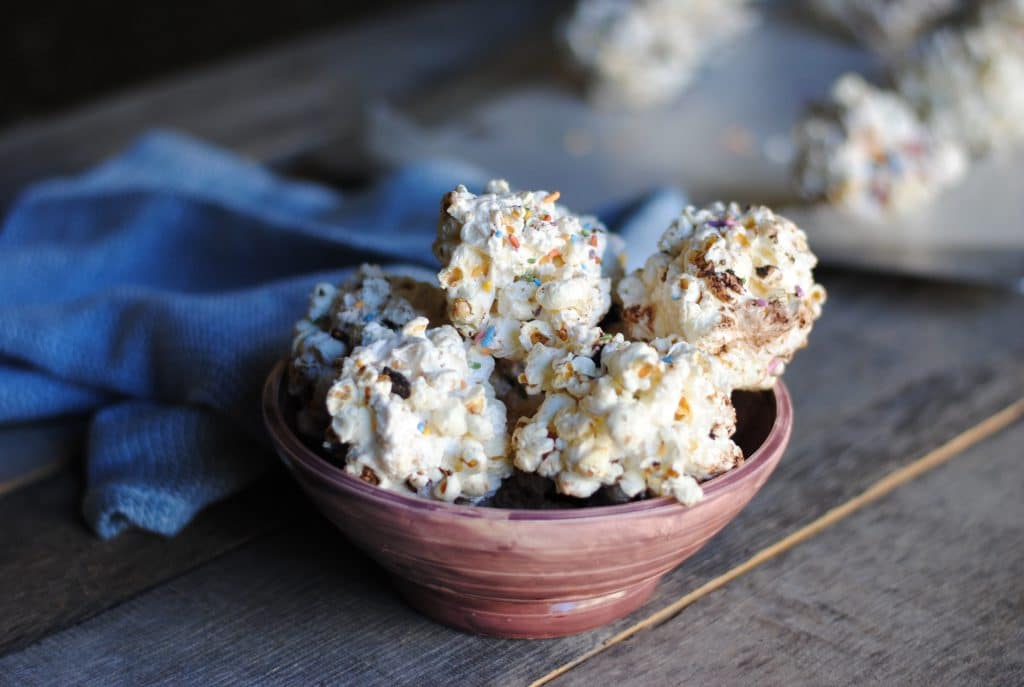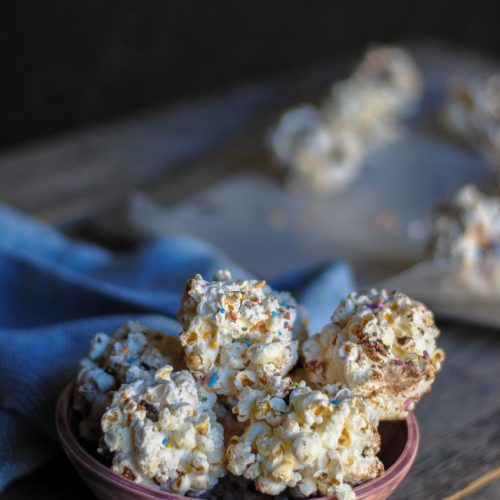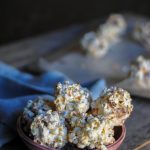 Marshmallow Popcorn Balls
An easy recipe for popcorn balls made with marshmallows that are a fun gluten free party food or holiday treat.
Ingredients
10-12

cups

popped popcorn

1/4

cup

butter

5

cups

mini marshmallows

1/2

tsp

vanilla extract
Instructions
Add 10 cups of popcorn to a large bowl.

In a medium saucepan, add butter and marshmallows and heat over low-medium heat. Stir continuously until the butter and marshmallows have melted (this can take about 5 minutes). When melted, remove from heat and add vanilla extract.

Pour marshmallow sauce over popcorn and mix to combine. If it's too marshmallow-y, add in another cup of popcorn. Mix in sprinkles.

Form into 3" balls and push chocolate chips in where desired if using. Set on waxed paper for 30 minutes before enjoying.
Nutrition Facts
Marshmallow Popcorn Balls
Amount Per Serving
Calories 102
Calories from Fat 27
% Daily Value*
Fat 3g5%
Cholesterol 8mg3%
Sodium 38mg2%
Potassium 23mg1%
Carbohydrates 18g6%
Protein 1g2%
Vitamin A 102IU2%
Calcium 1mg0%
Iron 1mg6%
* Percent Daily Values are based on a 2000 calorie diet.
A few notes about marshmallow popcorn balls:
If you add in the chocolate while the marshmallow mixture is hot, they will melt (as seen above). While still tasty, it's likely not the look that you are going for! Wait until the balls are formed before pushing in some chocolate chips.
To avoid the balls sticking to your hands, spread a bit of coconut oil on your hands prior to forming them.
Other gluten free party foods:
Gluten Free Pineapple Upside Down Cake
The Best Paleo Vanilla Cupcake Recipe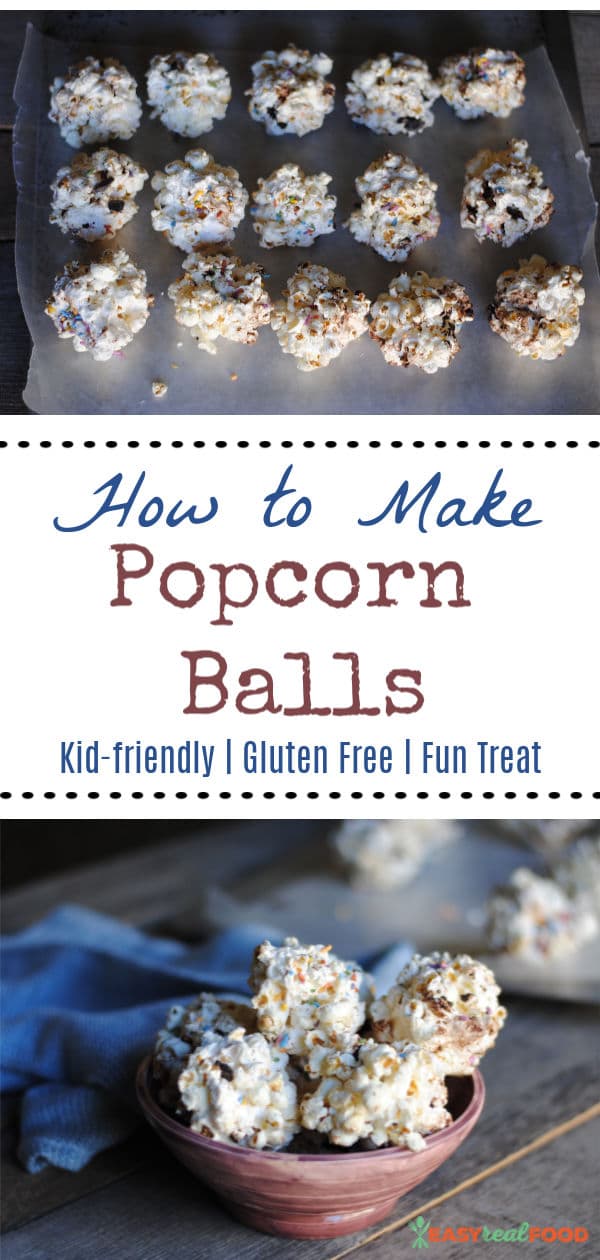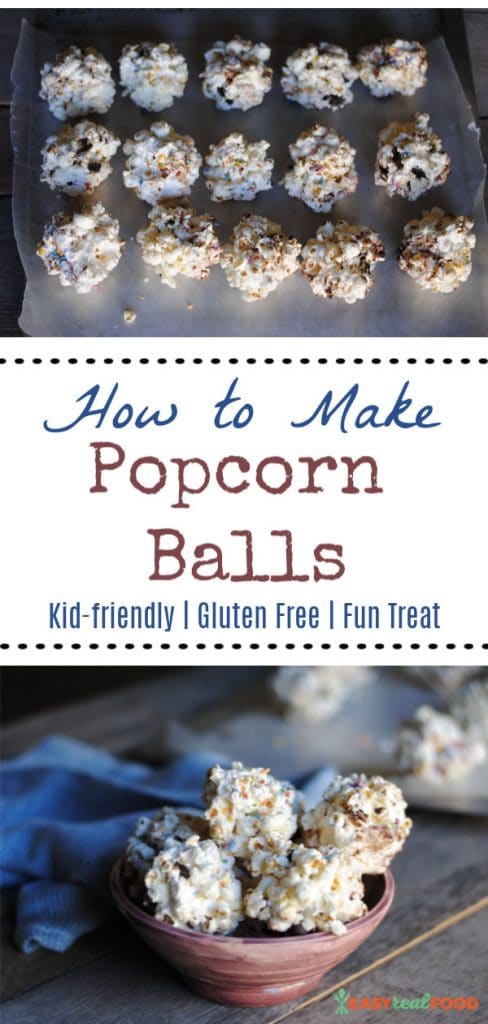 ¹ – https://elizabethyarnell.com/2012/06/popcorn-is-never-a-gmo/
² – https://www.growingupherbal.com/qa-is-popcorn-gmo/