Decadent quinoa chocolate cake is a flourless, gluten-free grain-free dessert that's fancy enough for celebrations, yet tasty enough for an everyday treat.
Quinoa Chocolate Cake with Buttercream Frosting
Confession time: chocolate cake is a vice of mine. Like a really big weak spot. Truth be told, there was a time about 14 years ago when I'd go to the local grocery store and buy myself a small cake to enjoy throughout the week. Because I do believe that moderation is key. But then I had to become gluten free, and then I had to go grain free   and I thought my cake days were over. Spoiler alert: they are not! And if you love a good cake just as much as I do, yet you can't do gluten or grains, you've come to the right spot. Because I'm sharing a recipe for a unique dessert with a secret ingredient, which you'll never be able to taste: Quinoa Chocolate Cake with Buttercream Frosting.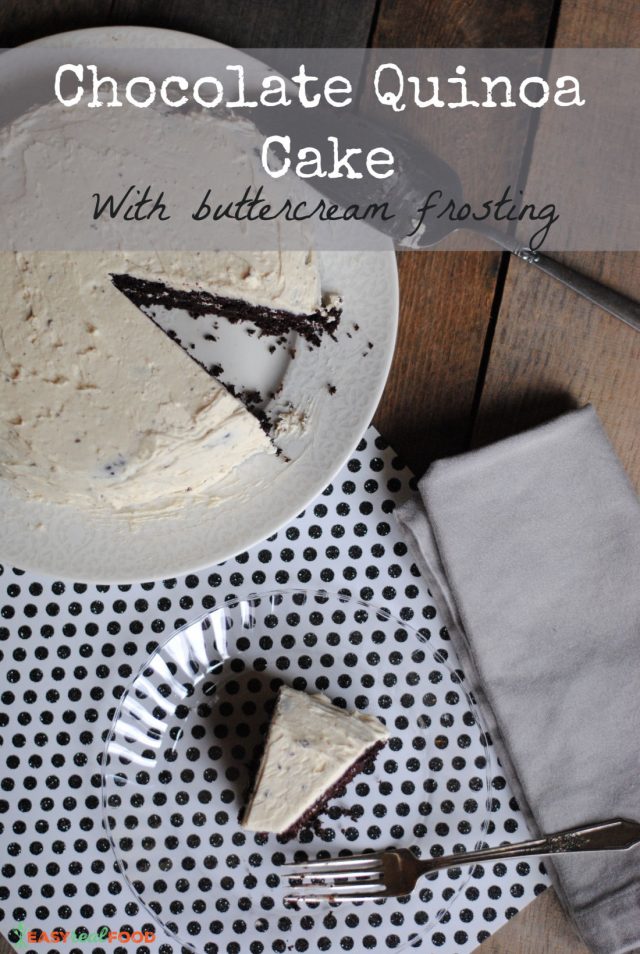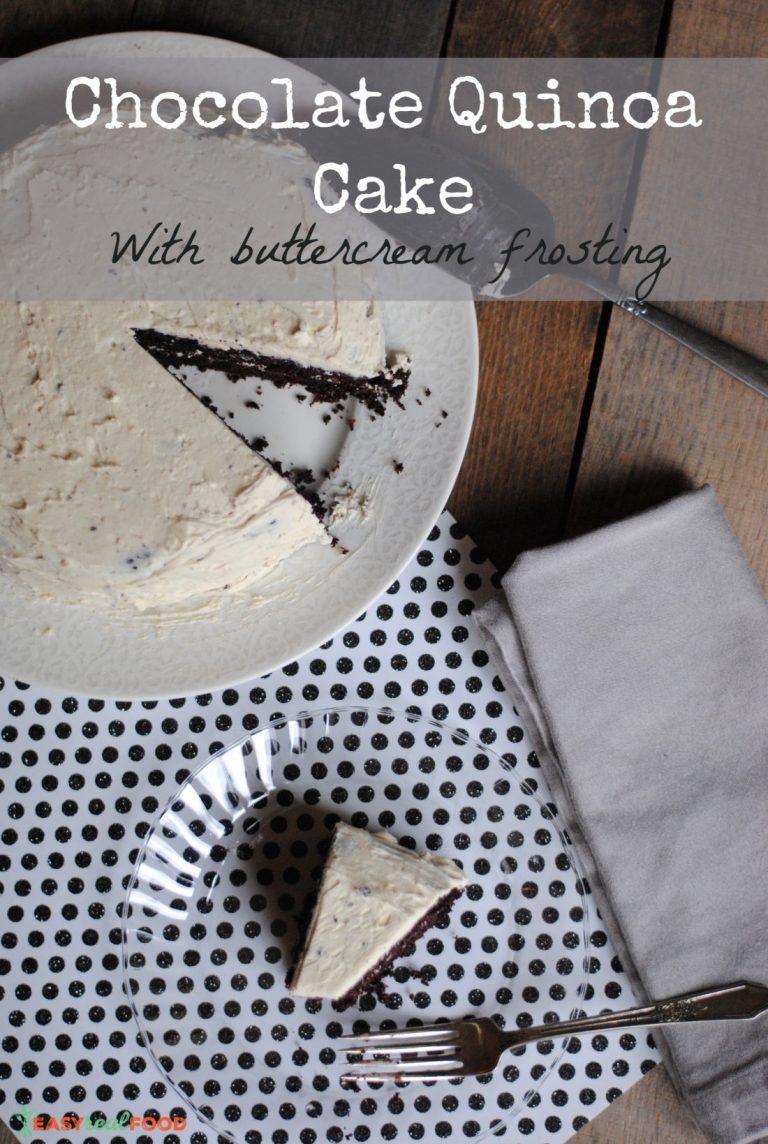 What is quinoa?
Is it a grain? Is it a seed? According to the Whole Grain Council, "quinoa is in fact not technically a cereal grain at all, but is instead what we call a 'pseudo-cereal' – our name for foods that are cooked and eaten like grains and have a similar nutrient profile. Botanically, quinoa is related to beets, chard and spinach, and in fact the leaves can be eaten as well as the grains."
Quinoa contains all of the nine essential amino acids, making it an ideal protein for vegetarians and non-vegetarians alike. There are many different kinds of quinoa, but the most common are red, black, tri-color. Quinoa flakes and flour are also popular and readily available. Feel free to use any of the types of quinoa just mentioned in this cake; you'll just need to make sure it's cooked.
How do you cook quinoa?
Cooking quinoa is simple. You'll need a 2:1 ratio of water/liquid to quinoa. Rinse in a fine mesh sieve for a few minutes; then bring the water/quinoa and a pinch of salt to a boil. Cover and reduce heat to simmer. Cook for 15 minutes, uncover and fluff with a fork.
Ingredients and equipment you'll need to make Quinoa Chocolate Cake with Buttercream Frosting
Cake pans. I used two 8 inch round cake pans so that we could frost the middle. You could make one cake in a 9 x 11, but you'll need to adjust the bake time to 40-45 minutes.
A blender. I use a Vitamix high speed blender and have had it for 7+ years now. It's well worth the investment, as you can use it for soups, smoothies, batter, nut butters and so much more.
A quality oil spray. Chosen Foods makes my favorite oil spray, because it's non-GMO, propellant-free and has a high smoke point – oh yeah, it's perfect for baking, too.
Instant espresso powder. Not necessary, but I love how it pulls out the chocolate flavor nicely.
Coconut sugar. You can use regular cane sugar if you prefer, but coconut sugar has a lower glycemic index, a measure of how quickly a food raises your blood sugar levels, making this a healthier dessert if you use coconut sugar.
Quinoa. Hello! it is the star of the show here. I always buy organic quinoa.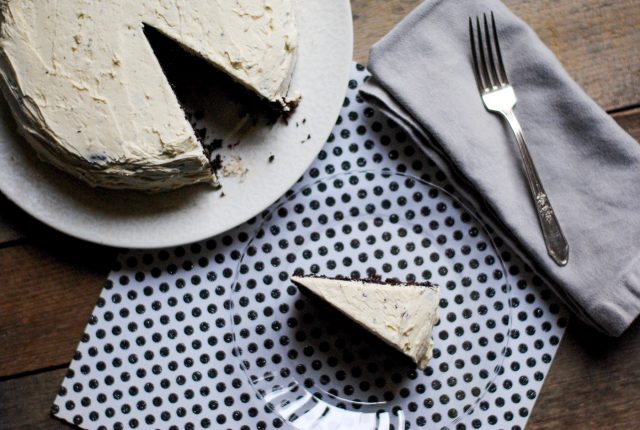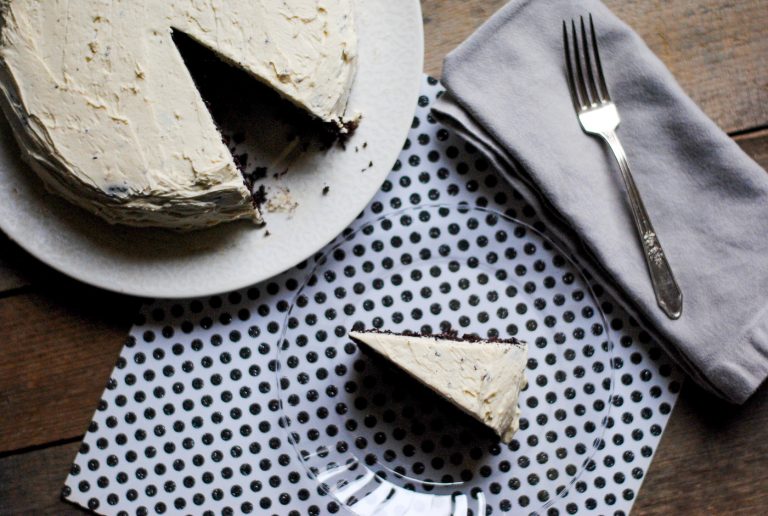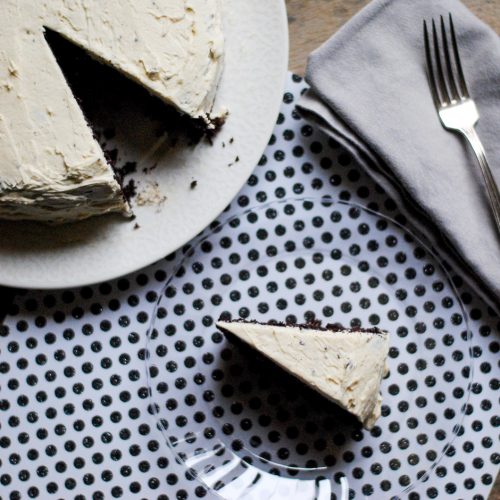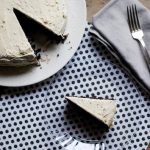 Chocolate Quinoa Cake with Buttercream Frosting
Decadent quinoa chocolate cake is a flourless, gluten-free grain-free dessert that's fancy enough for celebrations, yet tasty enough for an everyday treat.
Keyword:
cake, chocolate, dessert, gluten-free, grain-free
Ingredients
For the cake
2

cups

cooked quinoa

1/2

cup

melted butter

4

eggs

1/3

cup

milk (I used hemp)

2

tsp

vanilla

1

cup

coconut sugar

1

cup

cocoa powder

1

tsp

cinnamon

1

tsp

instant espresso powder

1 1/2

tsp

baking powder

1

tsp

baking soda

1/2

cup

chocolate chips
Buttercream frosting
1/2

cup

butter, softened

1 1/2

tsp

vanilla extract

2 1/4

cups

confectioners/powdered sugar

2

tbsp

milk
Instructions
Quinoa chocolate cake
Preheat oven to 350 degrees F (175 degrees C). Grease two round 8 inch cake pans

Blend quinoa, butter, eggs, milk, and vanilla extract together in a blender until smooth.

Combine sugar, cocoa powder, cinnamon, espresso powder, baking powder and baking soda together in a large bowl. Stir quinoa mixture into sugar mixture until batter is well combined. Fold chocolate chips into batter; pour into the prepared pan.

Bake in the preheated oven 22 minutes and/or until a toothpick inserted in the center of the cake comes out clean. Cool before removing. Cake must be completely cooled before frosting.
Buttercream frosting
Cream room temperature butter with a hand mixer, the paddle attachment of a stand mixer, or a wooden spoon until smooth and fluffy. Gradually add and beat in confectioners sugar until fully incorporated. Beat in vanilla extract.

Add milk and beat for an additional 3-4 minutes, scraping bowl as needed.
Nutrition Facts
Chocolate Quinoa Cake with Buttercream Frosting
Amount Per Serving
Calories 380
Calories from Fat 126
% Daily Value*
Fat 14g22%
Cholesterol 91mg30%
Sodium 276mg12%
Potassium 302mg9%
Carbohydrates 60g20%
Protein 6g12%
Vitamin A 400IU8%
Calcium 79mg8%
Iron 2.3mg13%
* Percent Daily Values are based on a 2000 calorie diet.
Questions about Quinoa Chocolate Cake with Buttercream Frosting:
Is it dairy-free? No, it is not dairy free. I personally don't have an issue with butter so the frosting and butter within didn't bother me. You can sub the butter in the cake with coconut oil and use a dairy-free milk to make the cake itself dairy free.
Can you taste the quinoa? NO! Believe it or not, it gets pulsed really well in the blender and you won't taste it.
Should I store it in or out of the fridge? I personally love cold chocolate cake, so that one's a no-brainer;).
Do I need the frosting? Well of course you don't "need" it, lol. It's definitely tasty with it and it does ad some sweetness, but instead you can serve the cake with whipped cream and berries or simply top it with some powdered sugar.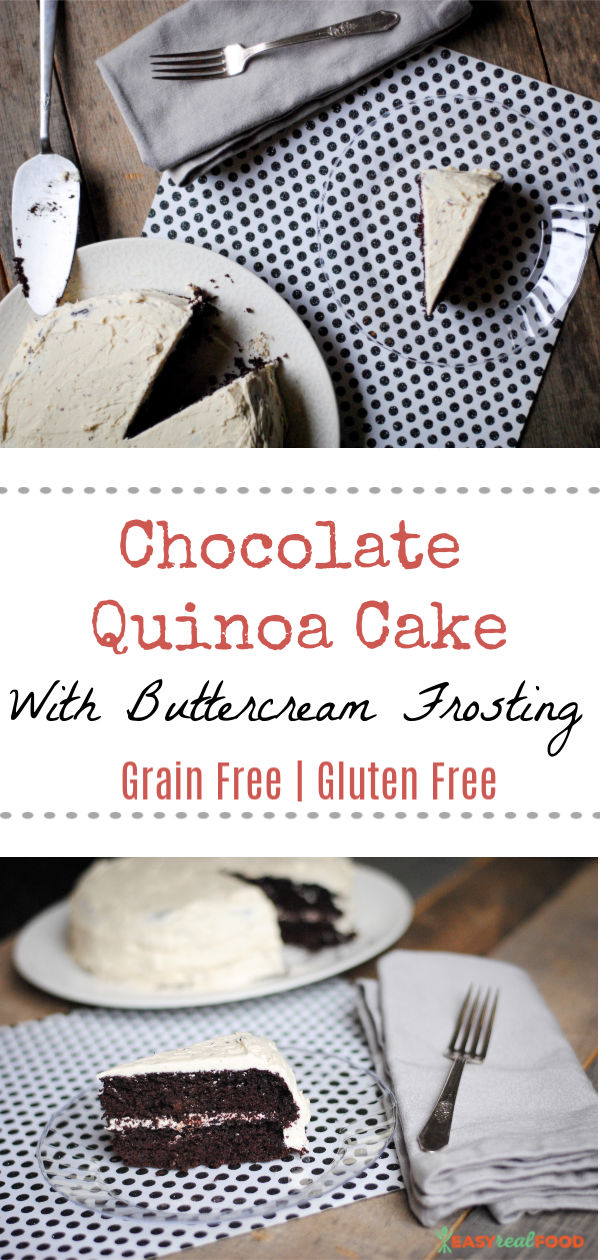 I have found that this cake only gets better with time. It was yummy the first day, but even better the next. I hope you love this grain free cake as much as we do! And for two other grain-free options, be sure to try my banana cake with banana flour or another favorite: gluten free cake pops. Enjoy!
---
This post may contain affiliate links which won't change your price but will share some commission.