A paleo chocolate pie with just 6 ingredients total, including both the crust and the chocolate truffle filling. The grain-free crust is made from almond meal, coconut oil and a touch of espresso powder, and the filling is only chocolate and coconut milk. It's a simple, rich, delectable EASY paleo pie you're going to love!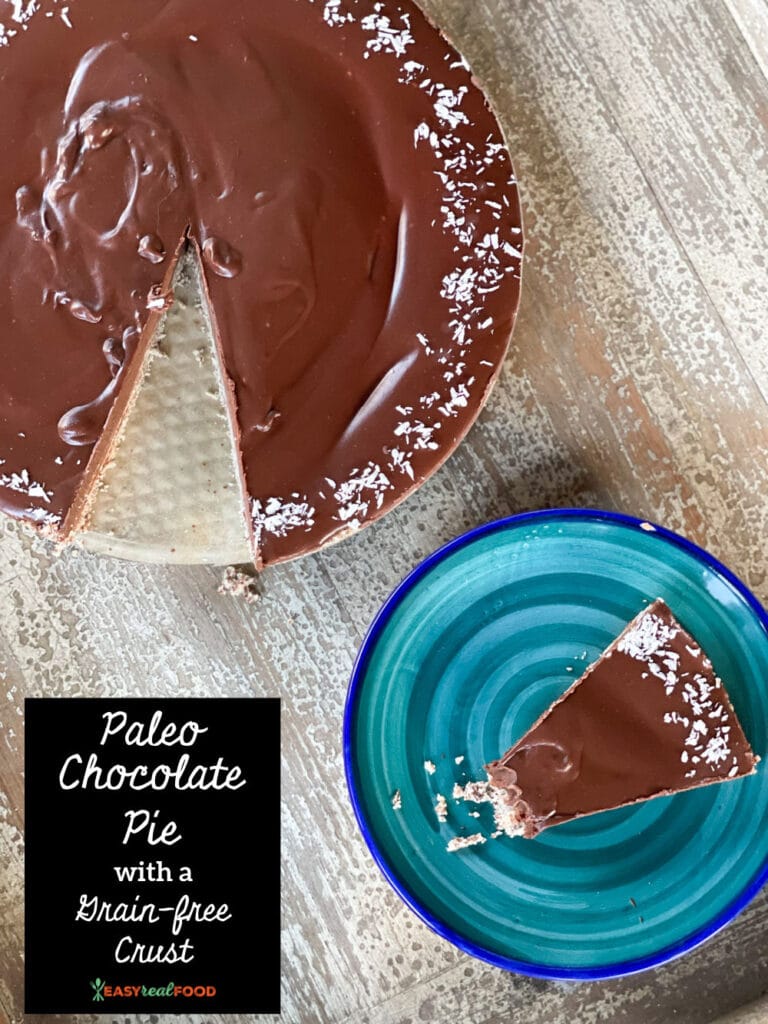 Paleo Chocolate Pie with a Grain-free Crust
I'm a self-proclaimed chocoholic. Have to have it every day. And I'm good with that! But, there's one caveat: I'm lactose intolerant. So any of those yummy chocolate silk pies were never an option for me. Enter this deliciously rich and decadent paleo chocolate pie. The filling has just two ingredients: chocolate and coconut milk. If you use dairy-free chocolate chips, it's dairy-free, vegan and paleo—but sooo delicious!
How to make the grain-free crust
This is a very simple paleo pie crust. Which means that it's a gluten-free pie crust, too! Before making, get out your springform pan and spray with avocado or coconut oil. Top with parchment paper (cut to fit).
To make, simply melt coconut oil in the microwave (or on the stove if you don't have one) in a bowl that you are planning to make the crust in. Add almond meal, 1 tbsp of sugar and 1 tsp espresso powder and mix to combine. Press into prepared pan and place in the freezer for 30 minutes. While this is getting prepared, make the chocolate truffle filling.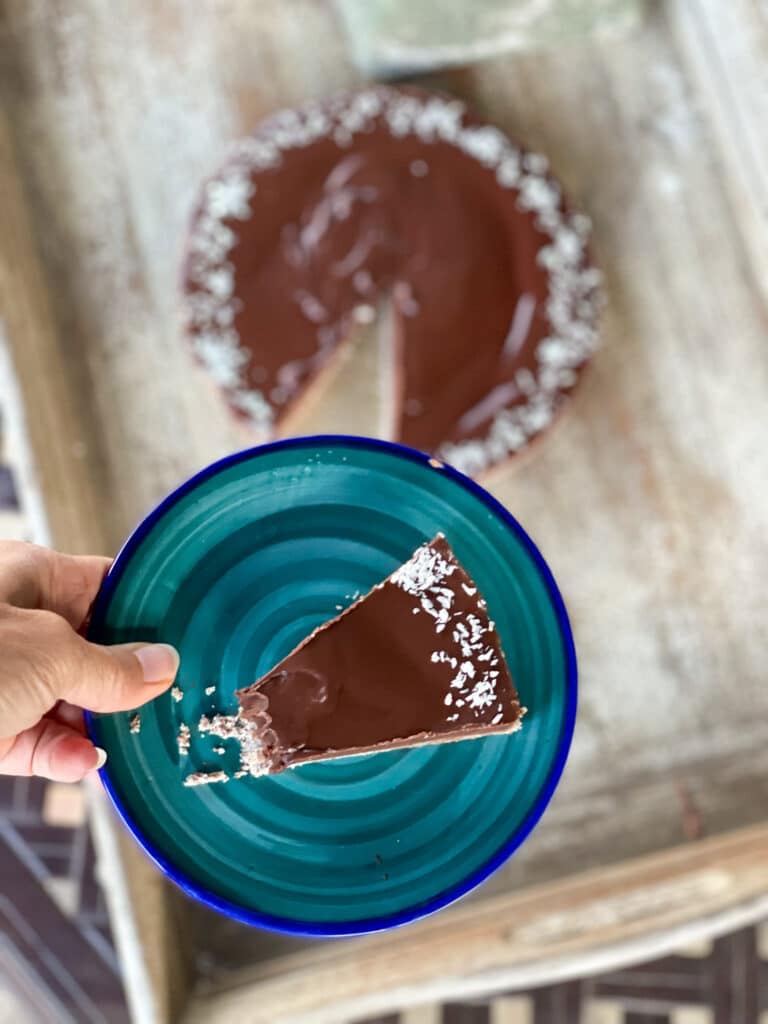 What type of chocolate chips to use to make it dairy-free or vegan?
This paleo pie really has two wonderful parts (as most pies do): the crust and the filling. But ohhhhh the filling! It's almost chocolate truffle-like, or even like ganache. But the quality of the filling is going to depend on the type of chocolate chips that you use. I have a few recommendations to make:
For a dairy-free chocolate pie, I suggest using Enjoy Life Chocolate Chips or Hu Gems.
If you are okay with dairy, I love these Guittard Chocolate Chips. They are great to snack on, too!
For those who follow a keto diet, you may like Lily's Chocolate Chips.
Questions on this paleo chocolate pie recipe
Can you explain more about the coconut milk? Yes! Make sure to use canned coconut milk, and you want to use the thick part. Open the can and scoop out the top thick part—not the water. Either save this for later or discard. I got enough of the thick part from 1 can. Do not use light coconut milk or boxed coconut milk.
What if I don't have a springform pan? You can alternatively make this in a pie crust pan and eat it as a pie. Another idea would be to make this as bars by making it in an 8 x 8 baking dish with parchment paper lining it.
How to store this paleo pie? If not planning on eating it right away, you can either store the chocolate pie in an airtight container or cover it with plastic wrap and place it in the refrigerator for up to 7 days. To freeze, place it in a freezer-safe airtight container and freeze for up to 3 months, and then thaw it in the refrigerator overnight before eating.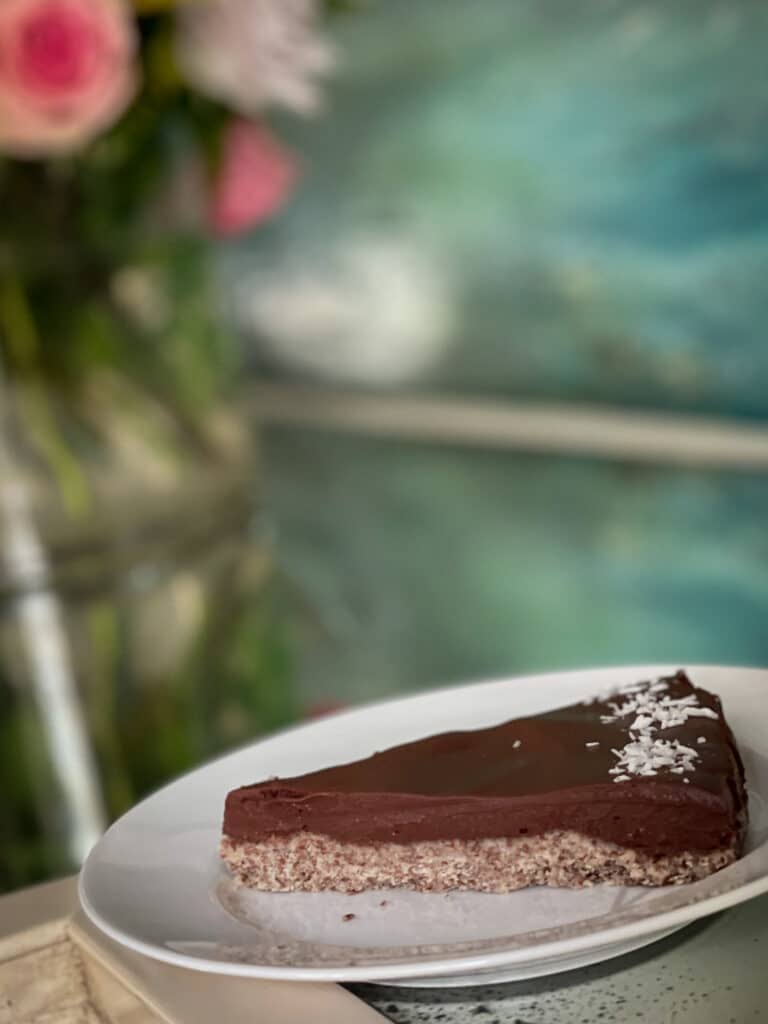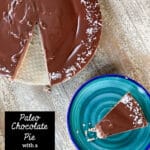 Paleo Chocolate Pie with a Grain-free Crust
A paleo chocolate pie with just 6 ingredients. The grain-free crust is topped with a 2-ingredient chocolate truffle filling. And it's vegan!
Ingredients
Chocolate truffle filling
Instructions
Spray a springform pan and line it with parchment paper.

Heat coconut oil until melted and add almond meal, sugar and espresso powder.

Press into prepared pan. Place in freezer for 20 minutes to set.

Melt chocolate chips over a double boiler or in the microwave for 30 second intervals. When melted, add the thick part of the canned coconut milk and mix to combine.

Pour chocolate mixture over prepared crust and set pie in freezer for 2 hours to set.

Store in the refrigerator.
Recipe Notes
You will notice that nutrition is calculated for 10 pieces. This is a very rich pie ... a little goes a long way. Feel free to cut larger/fewer pieces if you prefer!
Nutrition Facts
Paleo Chocolate Pie with a Grain-free Crust
Amount Per Serving
Calories 486
Calories from Fat 378
% Daily Value*
Fat 42g65%
Cholesterol 1mg0%
Sodium 34mg1%
Potassium 269mg8%
Carbohydrates 24g8%
Protein 9g18%
Vitamin A 3IU0%
Vitamin C 1mg1%
Calcium 147mg15%
Iron 2mg11%
* Percent Daily Values are based on a 2000 calorie diet.
This chocolate pie is perfect for the holidays, for Valentine's Day and honestly for anytime you have a hankering for chocolate!! I hope you enjoy it … if you get to try it, please tag me at @easyrealfood so that I can share! And before I leave you—some other healthy recipes you may enjoy:
Paleo Dessert Recipes
Grain-free Chocolate Chip Cookie Bars (Paleo)
Easy Paleo Peach Cobbler (Vegan + Nut Free)
Paleo SunButter Cup Recipe with Chocolate Chips
3 Ingredient Cookies (Paleo + Egg Free)