The other day one of my kids and I were talking about fruits and vegetables, and she proclaimed that she is a "green" girl. To further explain, this means she enjoys spinach, kiwi, green grapes, etc. After a moment of thinking, I announced that I am an "orange" girl. My favorites include carrots, sweet potatoes, oranges (and grapefruits, though I'm not sure it pertains here). And who can forget one that falls at the top of my list?! If you aren't enjoying this seasonal favorite, I'm going to share a super simple way to roast a butternut squash, and also offer ways to enjoy it. Let's take a look!
How to roast a butternut squash
I've heard so many almost-horror stories that involve a knife and a squash. We don't need any more near-misses! My suggestion is to microwave your fall fruit (yes, it has seeds, which technically makes it a fruit) for 3 or 4 minutes prior to trying to cut it with a knife. It will warm it up just enough to make it muuuch easier. While this is happening, preheat your oven to 375°F.
After removing from the microwave, cut off the top and then slice it in half long-ways. Scoop out the guts and seeds with a spoon or an ice cream scoop, which I find to work really well.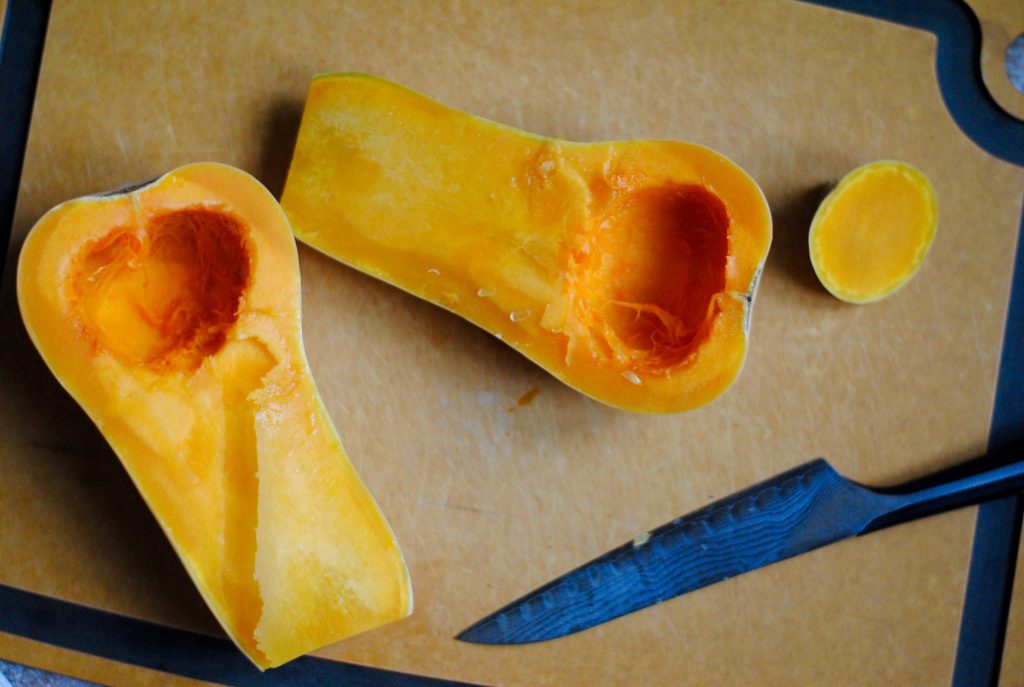 Do you roast butternut squash face up for face down?
Place your squash halves on a sheet pan (this one is my favorite) and drizzle with olive oil, salt and pepper. Then flip them over so that the cut side is down, and add 1/4 – 1/3 cup of water in the pan.
Roast for 40-50 minutes, being sure to check in on it after about 30. If the pan looks too dry, add a bit more water. The key here is that as the water evaporates, it creates this carmel-y delicious squash that is seriously like candy, my friends! And that's why it's key to roast a butternut squash face down,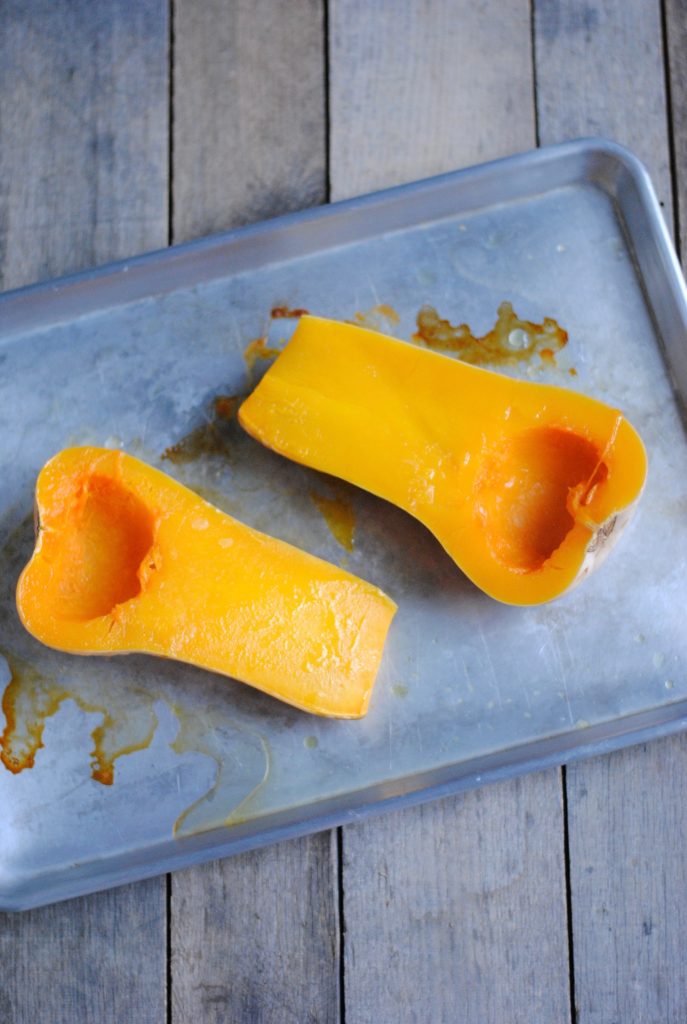 Once it's complete, remove the pan from the oven and allow it to cool for a few minutes until you can safely turn it over. Using that same ice cream scoop or spoon, scoop out that orange goodness and mash with either a fork or a potato masher.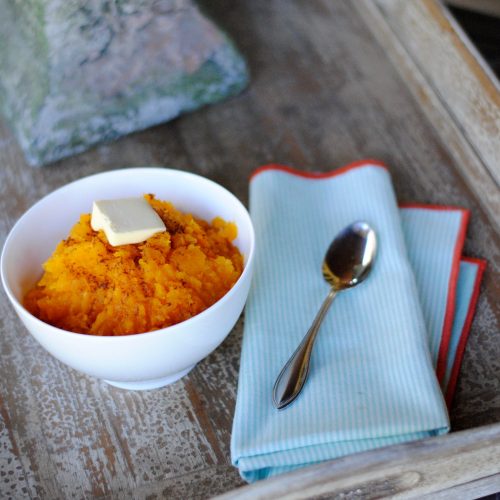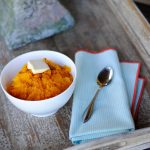 How to Roast a Butternut Squash
Roast & mashed butternut squash is a delicious, nutritious and simple side dish.
Ingredients
1

medium to large butternut squash

1/4 - 1/3

cup

water

3-4

TBSP

olive oil

salt & pepper to taste
Instructions
Preheat oven to 375°F.

Microwave butternut squash on high for 3-4 minutes to soften it enough to make cutting easier.

Cut squash in half, remove seeds and guts and discard. Place squash halves on a sheet pan and drizzle generously with olive oil and add salt & pepper to your liking. Flip squash over (so the flat side is down) and add the water to the sheet pan.

Roast in oven for 40-50 minutes, checking after 30 minutes to ensure squash isn't burning. When you can easily pierce the squash with a knife and most of the water has evaporated, remove and let cool. When you can safely handle it, scoop flesh out with a spoon or ice cream scoop. Mash with a fork or a potato masher and enjoy.
Nutrition Facts
How to Roast a Butternut Squash
Amount Per Serving (0 g)
Calories 177
Calories from Fat 99
% Daily Value*
Fat 11g17%
Sodium 10mg0%
Potassium 660mg19%
Carbohydrates 22g7%
Protein 2g4%
Vitamin A 19931IU399%
Vitamin C 39mg47%
Calcium 90mg9%
Iron 1mg6%
* Percent Daily Values are based on a 2000 calorie diet.
How to enjoy your roasted butternut squash
I'm sure you've heard the latest: canned pumpkin is actually not all canned pumpkin, but actually contains some butternut squash. Eeeek! Well on second thought, I'm personally okay with this, though I do like to know what I'm buying. I'd love to hear some of your favorite ways to use butternut squash in the comments below.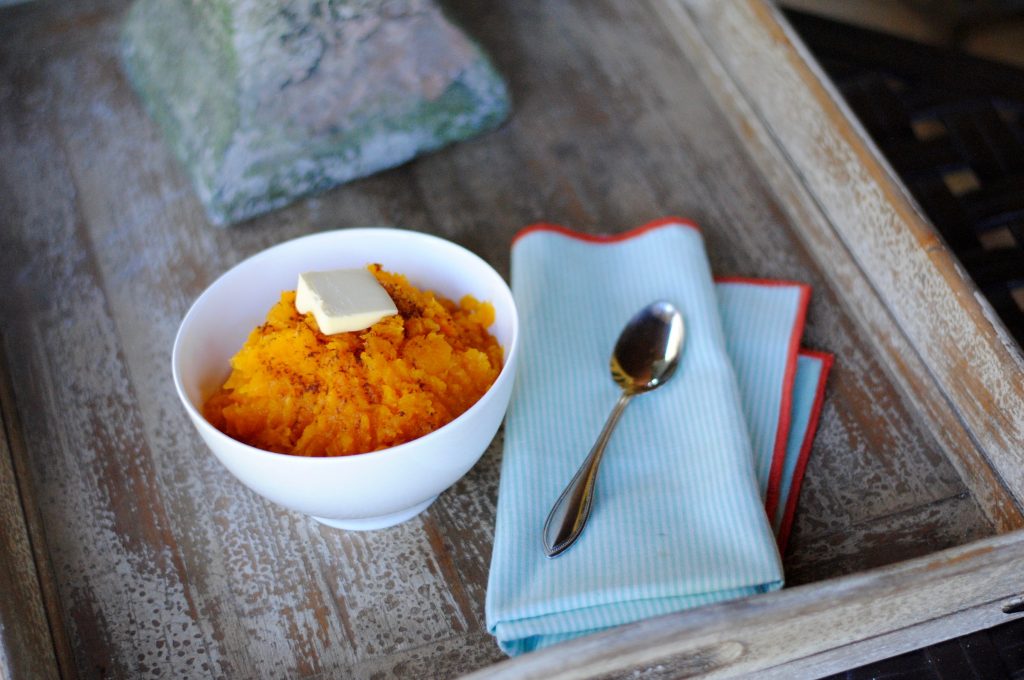 ---
This post may contain affiliate links which won't change your price but will share some commission.