If you've been following along for a while, you know that I'm a huge advocate of getting kids in the kitchen. And what better time than the Thanksgiving holiday to do so?! I host a large family thanksgiving every year. Here are some of my tips to get the kids involved. There are so many mutual benefits of getting the kids involved in planning the meal, shopping and prepping. Not to mention, this can be a wonderful bonding experience. Here are some tips to get you started: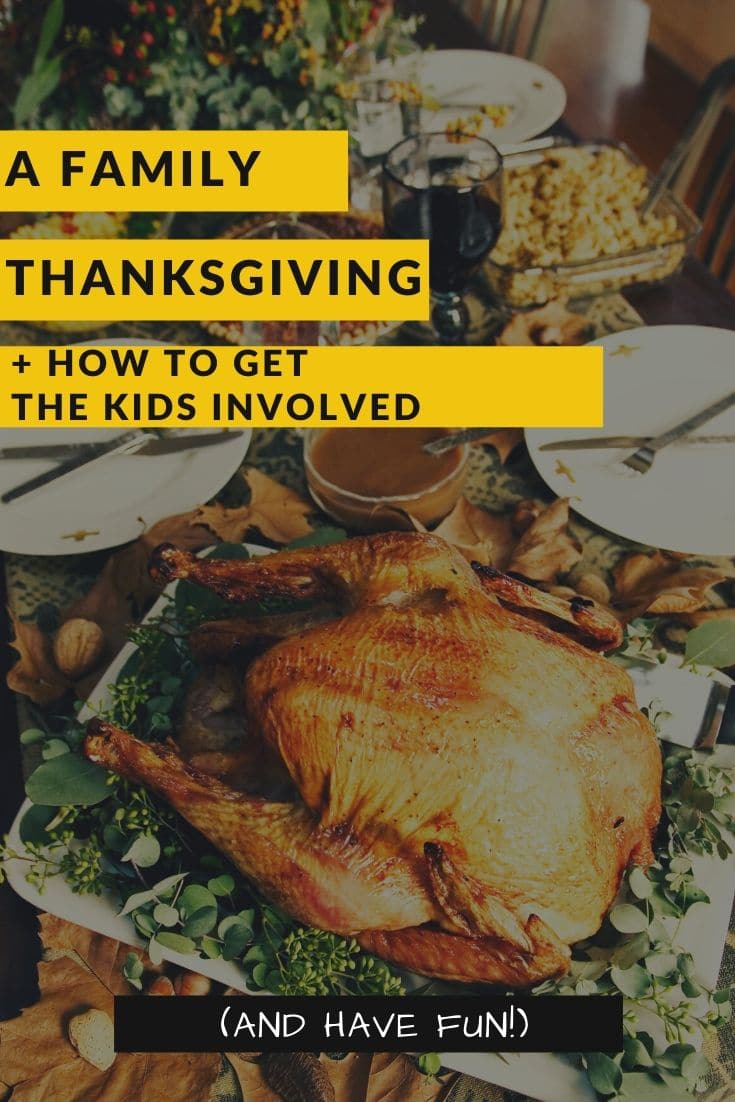 Create a menu – No family Thanksgiving is complete without a well thought out menu. And yes, while many of us have recipes that we repeat year to year, there's always some room for suggestions or updates. A few weeks before the big day, sit down with your kids (mostly suitable for ages 4+) and decide what the menu will look like. Sift through family recipes, cookbooks, blogs and Pinterest (I have a Thanksgiving board if you need inspiration!). Collectively decide what the final plan will be.
Shop together – I'm a huge fan of taking your kids grocery shopping with you. And in keeping with the Family Thanksgiving theme, I think it's only appropriate to bring them along! This outing can show what goes into the meal preparation. It allows them to help make choices in the selection, learn how to price compare, and build their self esteem as they get educated on what goes into the big meal.
Make placemats or centerpieces – Such a fun activity for the kids (and even adults!) for the holiday. We still have my 8 year-old's placemat that he made for Thanksgiving when he was 3, and I cherish it. I love how this placemat gets the kids outdoors to select leaves for making it. Simple themed coloring sheets are also a fun way to keep the kids busy while creating some fun festivities for the table. As for centerpieces, the options are endless. Shopping online is always an option, as is creating some of your own decorations. One of my favorite memories is when my (then) 12 year-old and I went to a state park and found lots of greenery, twigs and berries to decorate the table with. Pinecones are also a must!
Get kids to help with food prep – Most kids enjoy getting involved with the food prep, and I'm a firm believer in helping teach kids how to cook, while also helping them learn what goes into the big meal. I've shared age-appropriate activities in getting the family dinner prepared.
Read – We generally start this tradition a few days leading up to the November holiday, but reading the day of or even before the meal is also a wonderful option! Some of our favorite Thanksgiving books for kids include: Thanks For Thanksgiving; The Pilgrim's First Thanksgiving; Little Critter: Just a Special Thanksgiving and Squanto and the Miracle of Thanksgiving.
Assist with cleanup – Yes, it's probably true that it's nobody's favorite part of the day, but it's a task that must be done. Kids can help load the dishwasher, put napkins, towels and placemats into the dirty laundry, and also dry clean dishes. Older kids can help package up leftovers as well.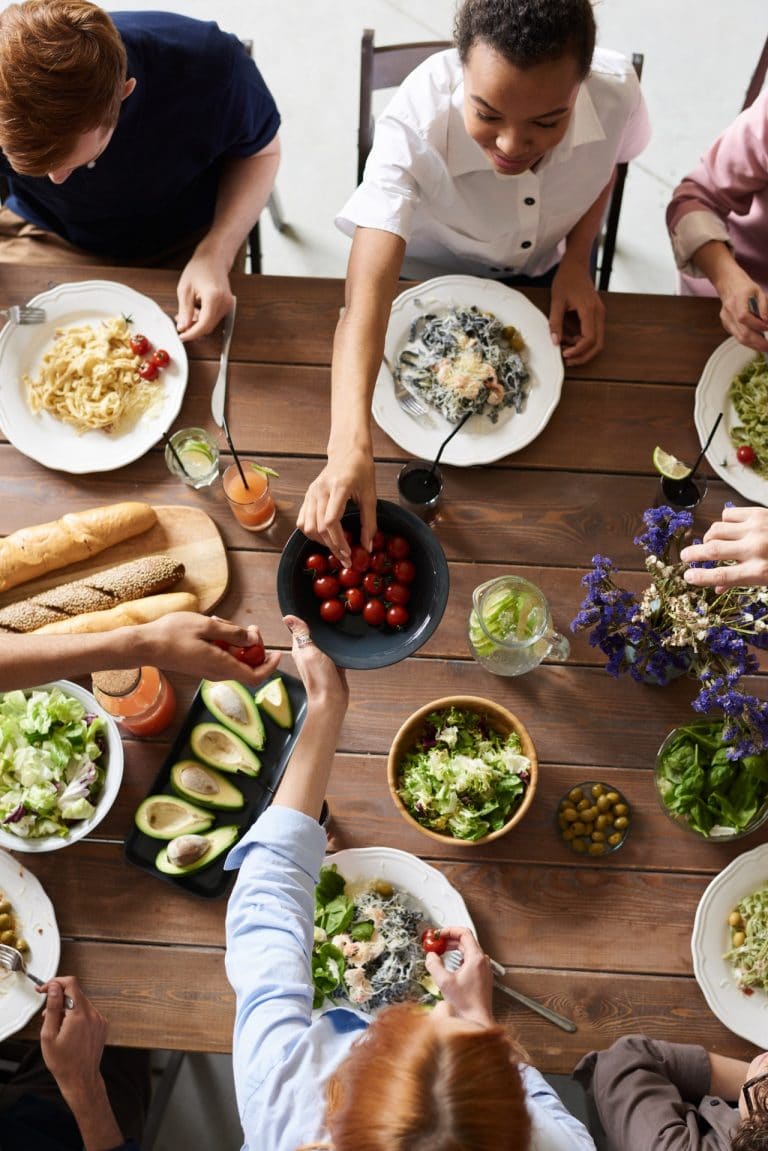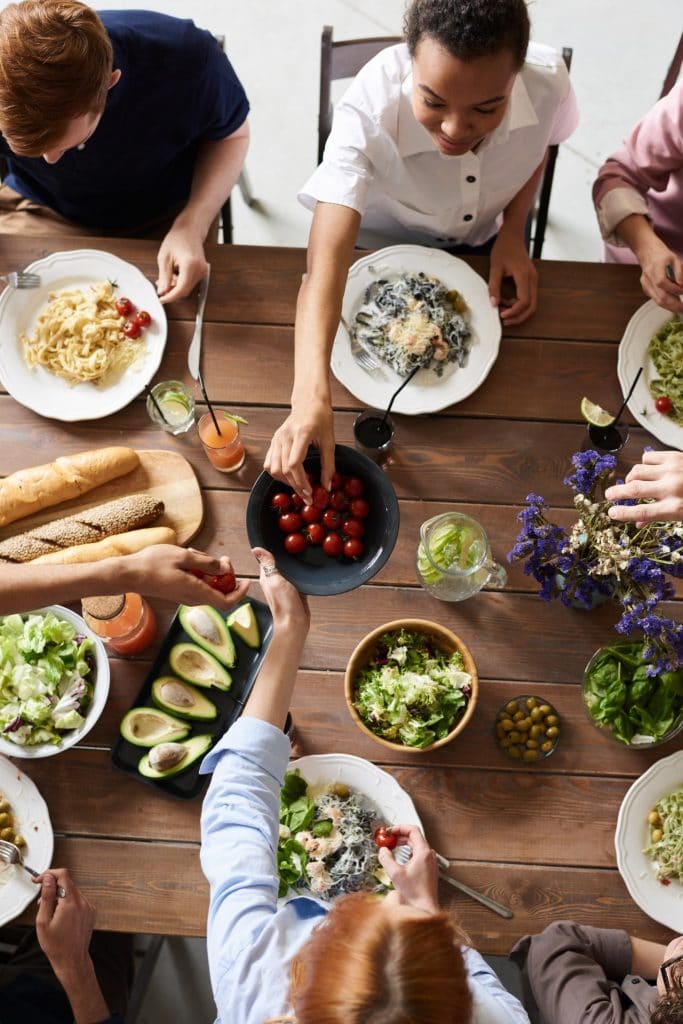 Age-related food preparation tips for kids on Thanksgiving
Please always use parental supervision in the kitchen when cooking with your kids. You know your child's ability best, so please adjust accordingly to his or her abilities.
Ages 5 and Under
-Wash and snap green beans
-Use the salad spinner to assist in cleaning lettuce
-Cut bread with a butter knife for stuffing
-Roll pie dough
-Crack eggs
-Help set the table
Ages 6 – 10
-Scrub potatoes, both white and sweet potatoes
-Mash not-too-hot cooked potatoes for mashed potatoes
-Add toppings to salad. This kale salad has chopped pears which can generally be cut with a butter knife, another age-appropriate activity for kids in the 6-10 age range.
-Send this group outside to search for pinecones, pretty twigs, berries, and more for decor
Ages 10 – 12
-Make biscuits
-Bake cookies and help decorate them
-Layer ingredients in casseroles
-Make homemade cranberry sauce. In fact, my 13 year old created this recipe!
-Assist in putting out decorations on the table
Teens +
Assuming this group has experience in cooking, they are most apt to be able to help in many ways in preparing the dinner. Some examples:
-Cutting potatoes, celery and onions for stuffing, mashed potatoes, etc.
-Making homemade cream of mushroom soup – so much better than the canned!
-Helping make the mac and cheese
-Baking biscuits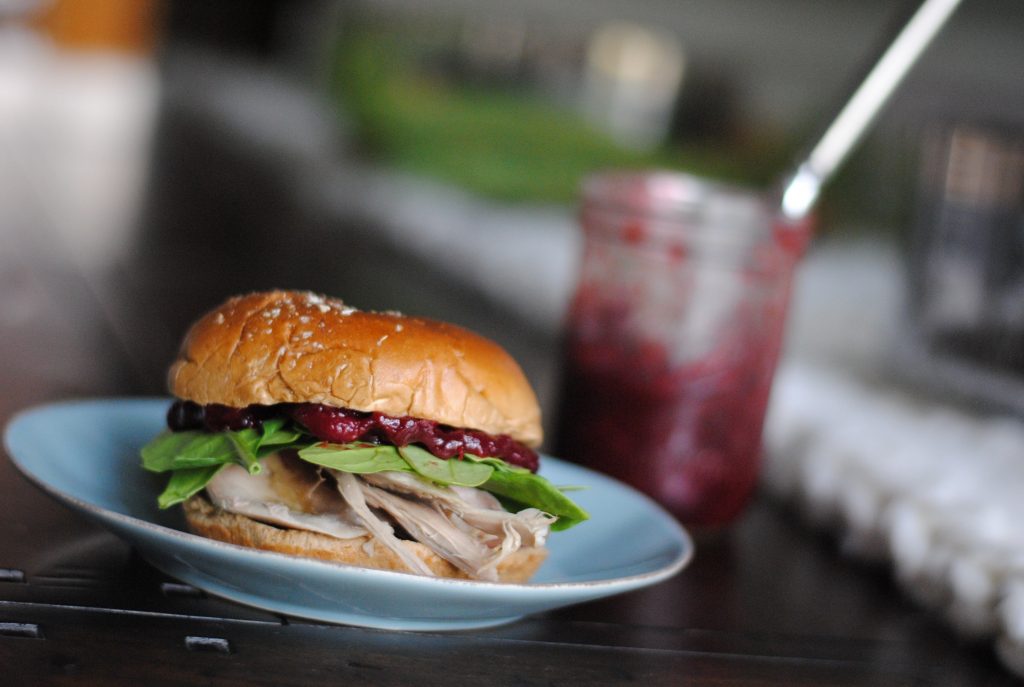 Thanksgiving activities for the kids
Having kids on Thanksgiving opens up so many opportunities for the family. Being one of my favorite holidays, I have lots of suggestions for what to do on this day. Our family of 6 often has additional company who gets involved. But whether you have 2 or 12, these are some great ideas to get you started:
Run a Turkey Trot. Being a runner, this is my number one choice and such a tradition I look forward to. There are many options from 1 mile runs, to 5k and 10k's. It's a great way to get some exercise prior to the big meal, along with some good ol' outside time.
Visit a Thanksgiving parade. Personally speaking, we have lots of options nearby for us to choose from. Check your local listing to see what's available to you.
Volunteer. A sometimes forgotten attribute of this holiday is giving thanks. And what better way to give thanks than to give back? Volunteer Match is a website that can help you locate local opportunities. The Salvation Army often has volunteer opportunities to check out as well.
Make and deliver cookies to another individual or family. Sure, there's going to be a lot of cooking going on already – but in the spirit of giving, this is an ideal opportunity for your family to take part in. Need some inspiration for something to make? How about these gluten free chocolate chip cookies or peppermint cookies.
Hold a family football or kickball game. Football and Thanksgiving go hand in hand, but who says you need to watch it? Take part in a friendly game with your neighbors! If football isn't your thing, try out a kickball instead which can also be enjoyable to many.
Set up the Christmas tree. What better way to keep the holiday spirit going than to set up the holiday centerpiece?
Hit up some of the sales. Honesty, this one is tricky for me. I'm not a personal fan, but I do know that so many are fond of this activity and there certainly is an abundance of sales to choose from. Alternatively, you can always get up early the next morning to hang with the other avid shoppers.
Thanksgiving activities to keep kids busy during dinner
Having four kids, I've definitely had my share of toddlers in the house. Most of the time they were well behaved, but there were definitely the occasions where I needed some activities to keep them busy. Some of my favorite ways to do so:
Placemat preparation. Either get out some construction paper and glue and let them go to town, or have them find some printable sheets to color.
Create a fall scavenger hunt. Send the kiddos outdoors (with a parent or other supervision) with a list of items to find. First one back wins!
Thanksgiving Mad Libs. I've been a fan of this activity since I was a kid, and now as a parent, I see the absolute value in it. Sure my kids have been known to use some potty words within here and there, but I'm all about balance.
Make thank you cards. These may be for someone who's in attendance at your place, or someone who's not. But in the spirit of the day, sending a note of gratitude for their relationship can be a very valuable thing.
Bingo. This is a great activity for kids on Thanksgiving. Here's a fun one that's ready to go!
Pin the hat on the turkey. Because what party is complete without a pin the something on something game?!
Play some classic games. Some of our favorites include charades, Spot It, Bananagrams, Rummikub, Chutes and Ladders, Clue and even Life, depending on the ages of the kids.

And of course – gluten free recipes for your family Thanksgiving!
Cranberry sauce sweetened with honey
A pretty fall themed board with foods from Trader Joe's
Sweet potato gnocchi with sage brown butter sauce
Instant Pot Mac & Cheese or Vegan Mac & Cheese
Gluten free pineapple upside down cake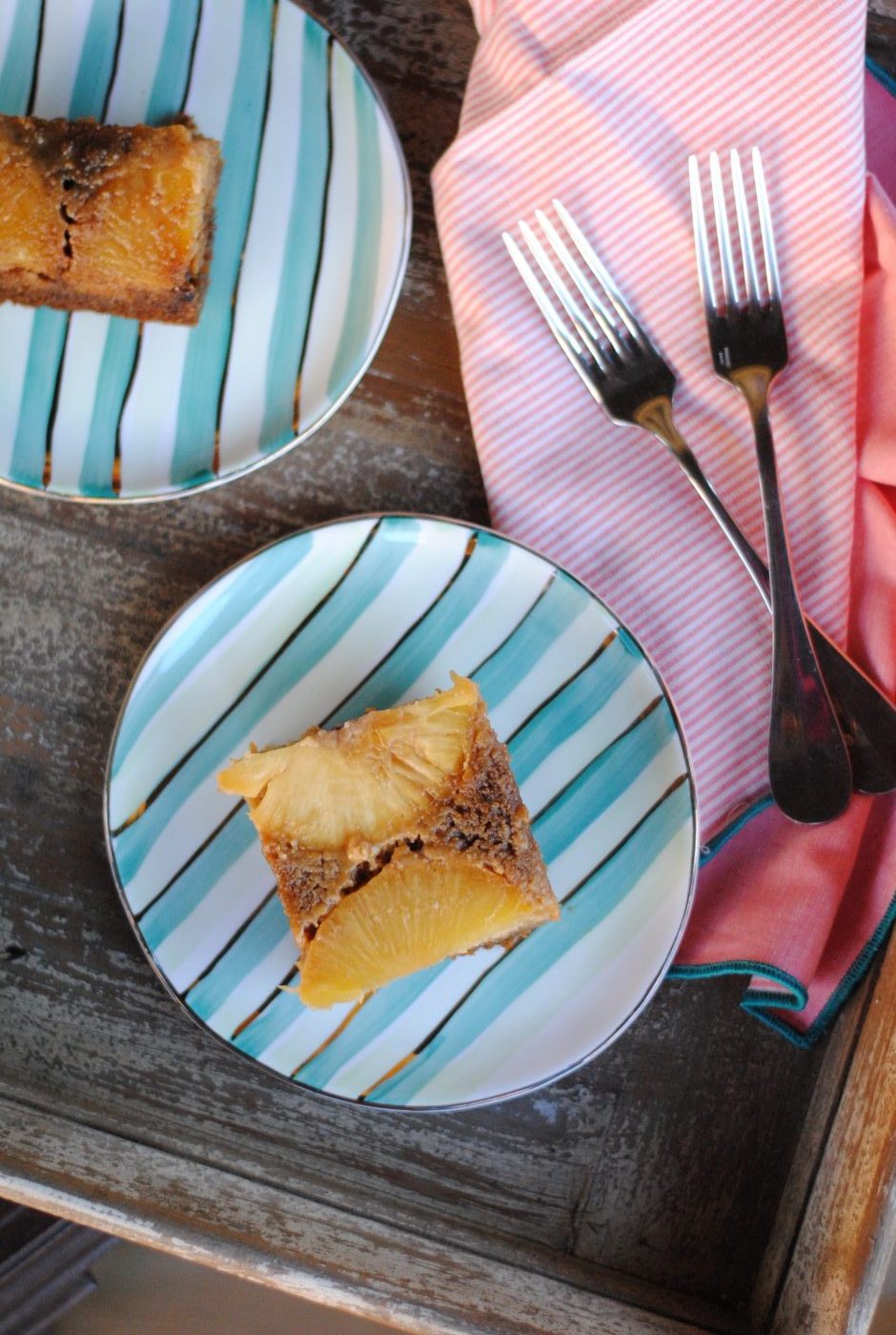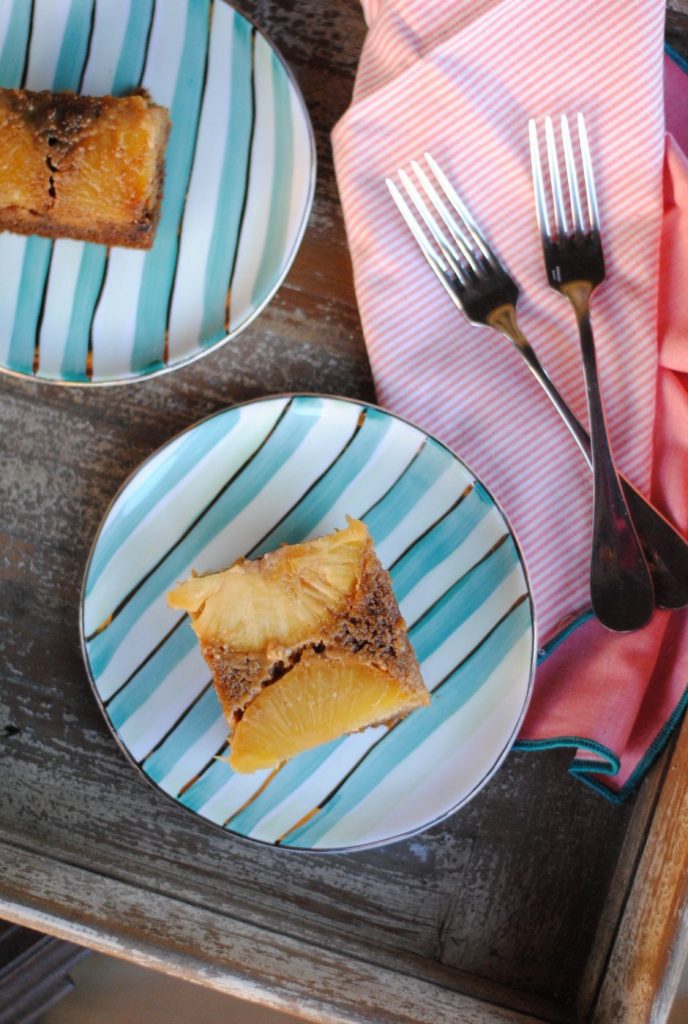 So there you have it. Some of our favorite Thanksgiving traditions, and suggestions for how to get the kids involved. What are some of your favorite things to do on this holiday?