How to Build a Fall Board with Trader Joe's Products
If you guys follow me on Instagram, you know that I'm a huge fan of boards, platters, whatever you want to call it. I'm also a huge fan of Trader Joe's products. The store has such a fun atmosphere. Plus, it's usually equipped with super helpful employees who actually seem to enjoy their work. What's not to like?! I find that discovering what's good at Trader Joe's along with what's new is easiest found by talking to others. So I'm hopeful that this quick tutorial on How to Build a Fall Board can help you put together a rockin' fall board with ease. Let's take a look:

Best things to buy at Trader Joe's: Fall edition
Honestly, the options were so plentiful when perusing the store for the best fall foods to include on this board. My goal was to include all gluten free Trader Joe's products that would be suitable for kids and adults. Since half of my family is actually okay eating gluten, I do have one product included that is not gluten free – I'll note that below. Here are items that I included, and which I'd suggest choosing from, too: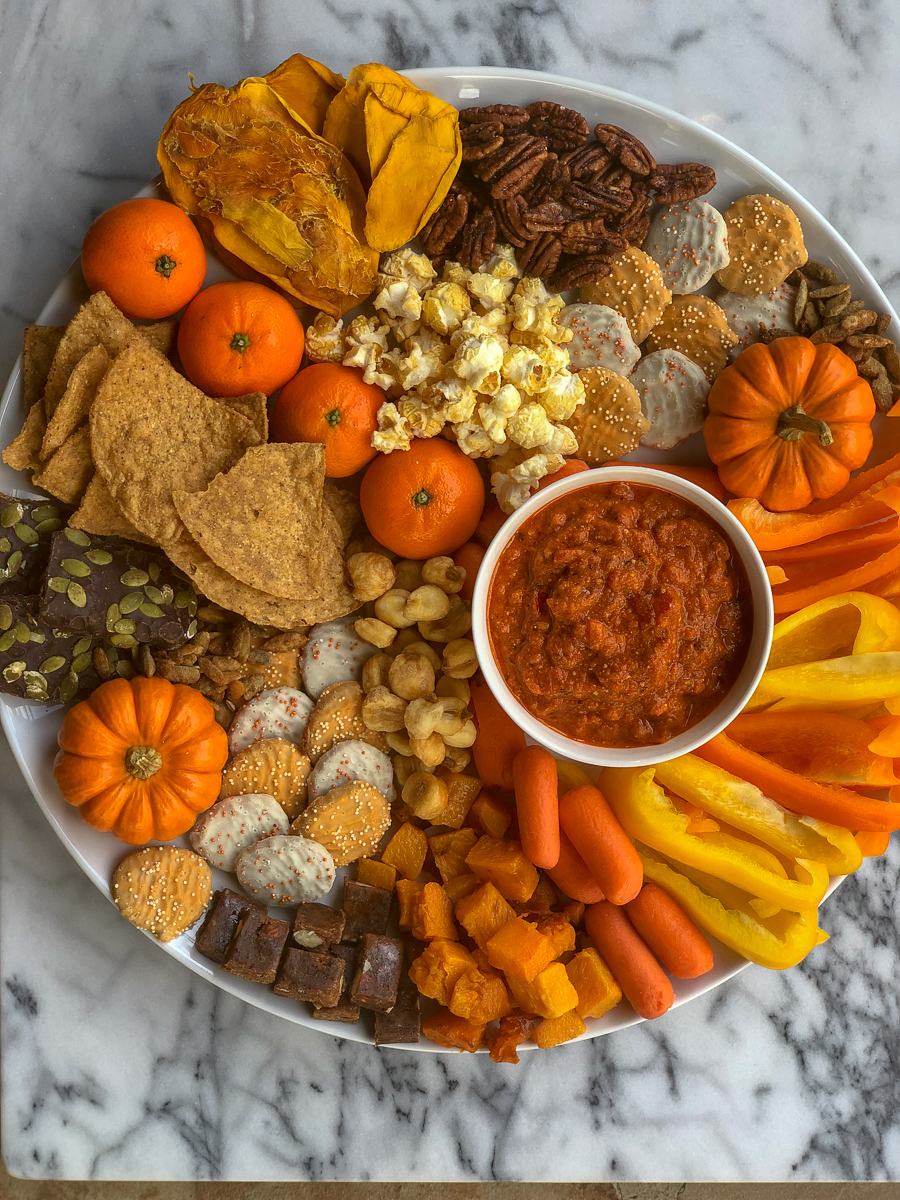 Trader Joe's Packaged Products
Trader Joe's Pepita Salsa – I'm a big fan of Trader Joe's Salsa. While I typically buy the organic version (tomatoes are almost always on the dirty dozen), Trader Joe's Pepita Salsa was a knockout. Tremendous flavor and just the right kick, it was superb combined with raw veggies and the Trader Joe's Pumpkin Tortilla Chips.
Pumpkin Spiced Pumpkin Seeds – Both savory and sweet, these pumpkin seeds (also known as pepitas) have a crunch factor accented with traditional fall seasonings. A butter-like toffee glaze mades these fun to pop alone, or to top a nice big bowl of oatmeal. Makes a fun addition to this fall board!
Organic Pumpkin Spice Granola Bark – Gluten free and full of flavor, I could hardly believe that one serving has only 6 grams of sugar! Pieces of pumpkin granola are topped with dark chocolate and then with maple-sea-salt pumpkin seeds. This is one Trader Joe's seasonal product that I'll be sure to stock up on!
Pumpkin Flavor RX Bar – I'm a big fan of RXBARs as it is, so this seasonal flavor was an easy one to include. Cut one up into bite-sized pieces and feel good about the fact that guests will be enjoying minimal, unprocessed ingredients.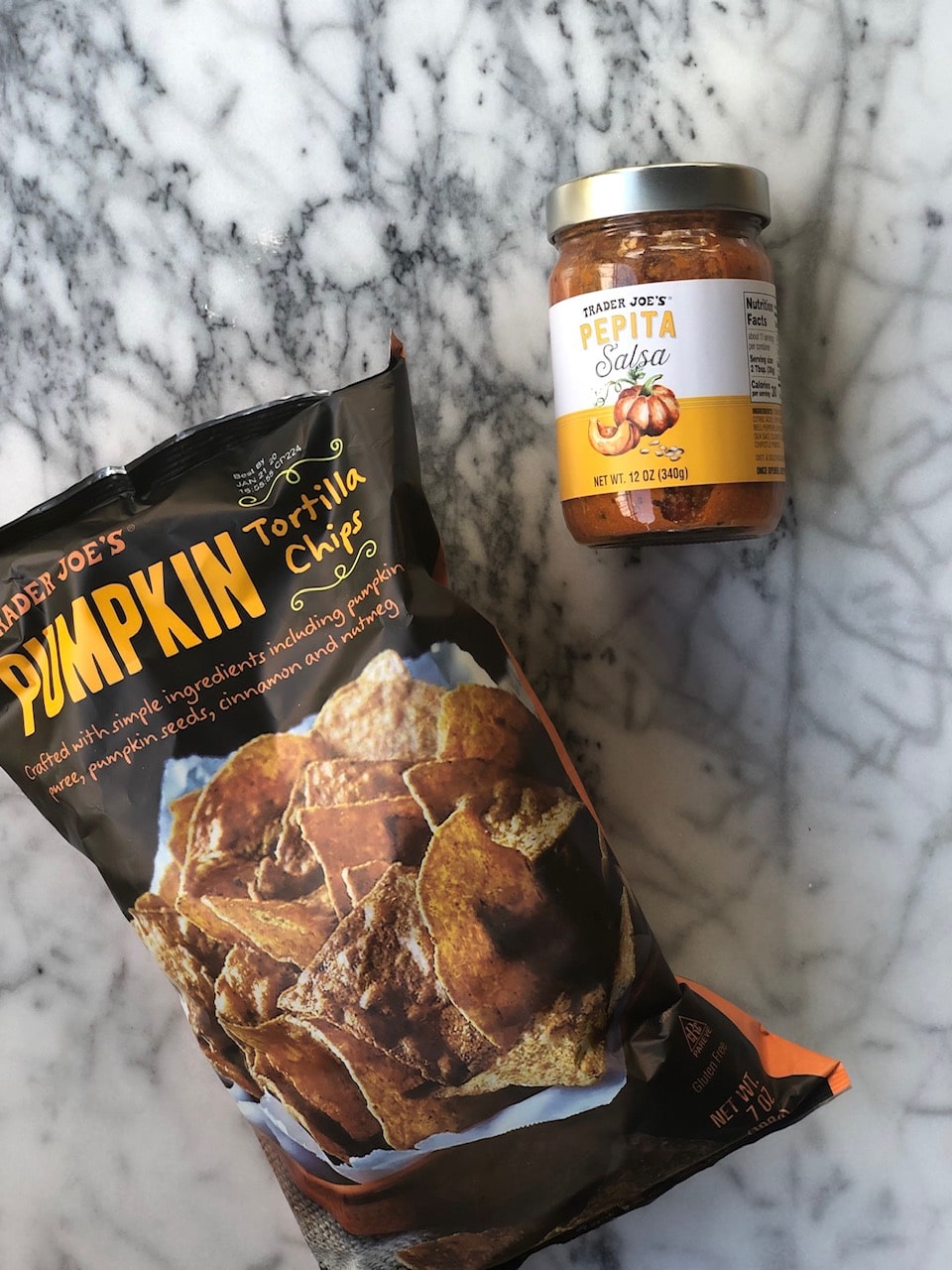 Trader Joe's Pumpkin Tortilla Chips – Though I don't *love* the use of refined oils in these, they do have a yummy subtle pumpkin taste that's accented with nutmeg and cinnamon. With the inclusion of pumpkin puree and pumpkin seeds, I say this is a fun fall find.
Three Seed Sweet Potato Crackers – 6 ingredients, low sodium, gluten free crackers that pack a punch – I'm in! While these also come in a beet flavor, the sweet potato colored were perfect for including.
Maple & Sea Salt Kettle Corn – Trader Joe's Popcorn is on repeat in our house; generally we get the Organic bag. But this Maple & Sea Salt Kettle Corn is a fun, sweetly addicting addition that my kids were happy that I included.
Just Mango Slices – Also a regular on our Trader Joe's shopping list, this was a natural one (pardon the pun) to include. Love that this has no added sugars or ingredients.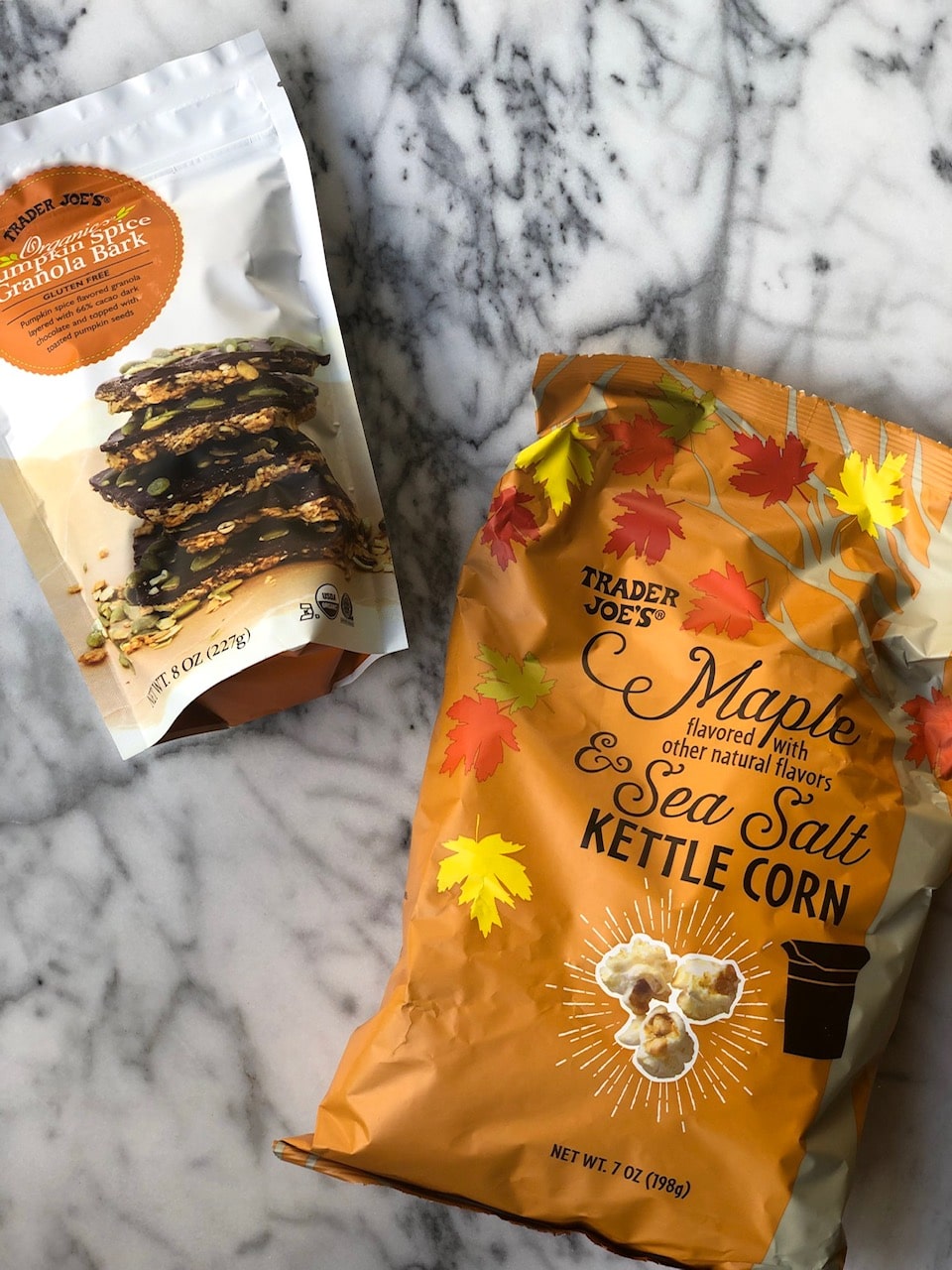 Candied Pecans – Can it really be a fall board without candied pecans?! While I sometimes like to make my own, I do enjoy this packaged version as well.
Giant Peruvian Inca Corn – Another year-round product that is suitable for a fall board, this salty snack can definitely be addicting. With minimal ingredients including a whole grain, just be sure to watch the sodium on this one.
Plantain Chips – These have been one of my favorite grain free snacks since I started following a grain free diet. Sliced plantains are roasted and dusted with salt. They're crunchy like a potato chip but not fried and contain less fat.
Gluten Free Pumpkin Bread & Muffin Mix – Are you a baker? Then try your hand at making some mini muffins or slice off some bread to include on your board. If you prefer the homemade version, this paleo pumpkin loaf is not to be missed.
Pumpkin Pancake and Waffle Mix – How cute would mini pumpkin pancakes or waffles be on this fall themed board?! My family loves this mix. We also make homemade pumpkin waffles, which are also grain free.
Petite Pumpkin Spice Cookies – The one item here that is not gluten free, these cookies were too cute to not include.
Other nuts and dried fruit – While not seasonal, these always make great additions to any platter or board, and Trader Joe's has plenty of options to choose from.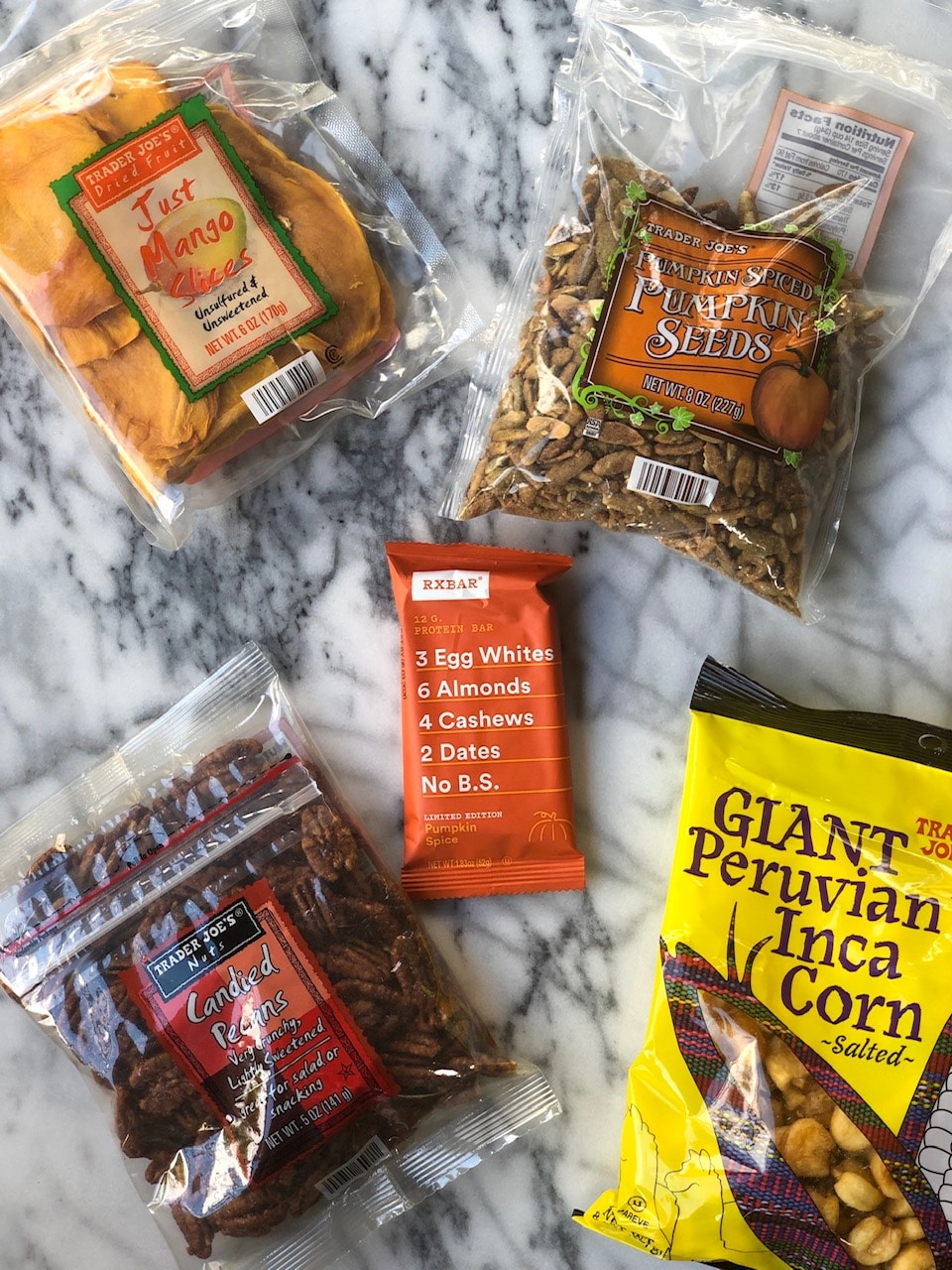 Trader Joe's Produce to include on a fall board
Butternut Squash Cubes – Truth be told, this was a selfish move for me. I love roasted veggies and the fact that these come in cubes ready to roast made it even easier.
Mandarin Oranges – Stick a little piece of celery into a peeled mandarin orange to resemble a pumpkin, or simply leave them as-is. This is a definite kid (and adult!) favorite.
Orange (and yellow) Peppers – Simply sliced, these are wonderful as-is or dipped in the salsa mentioned above.
Mini Peppers – Cut these in half, fill them with cream cheese and use olive pieces to make eyes to resemble ghosts. Or simply put them out in their natural form!
Baby Carrots – Rip open the bag and place on the platter. It doesn't get much easier than this!
Mini Pumpkins and Goards – these are so seasonal and add such character. Plus they're each under a buck!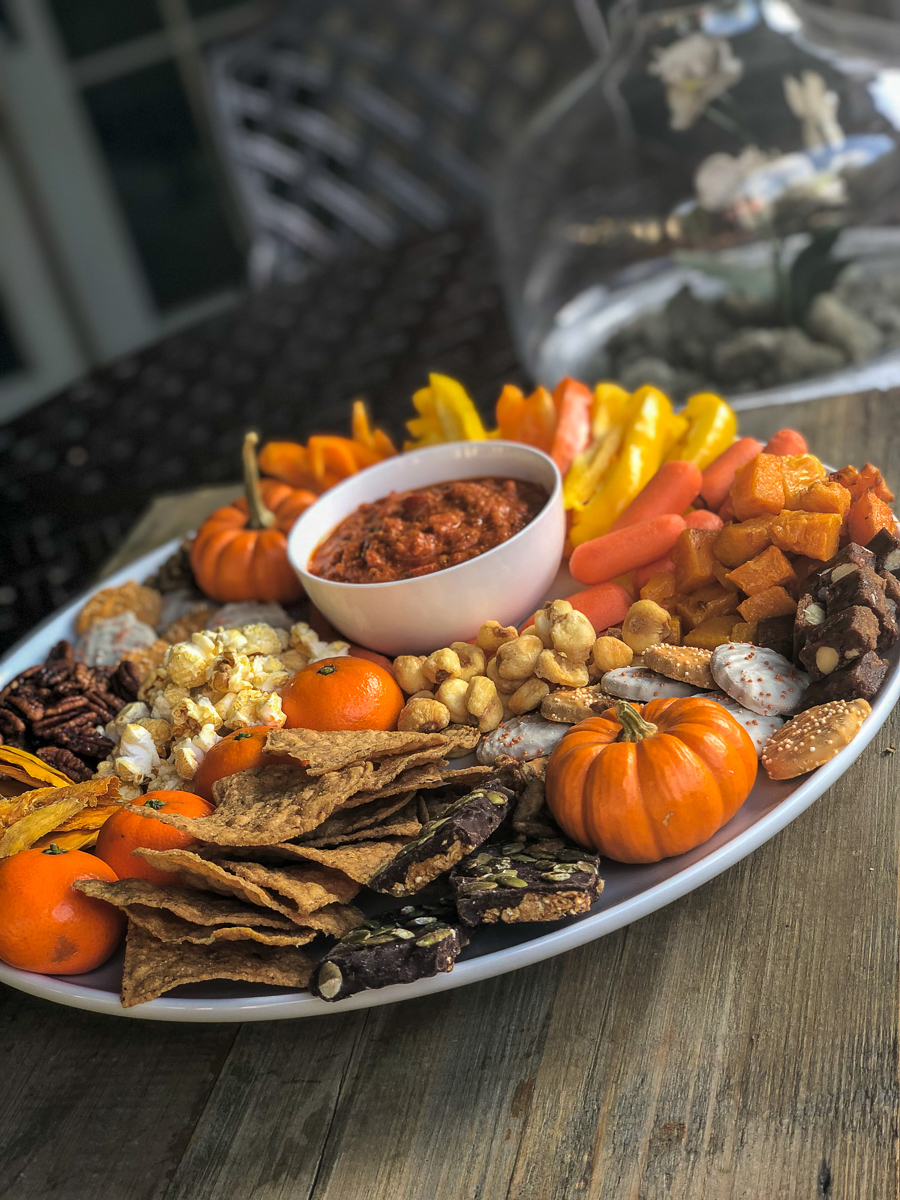 So now that you have your Trader Joe's products, it's time to assemble your board!
Entertaining is made easy with so many products – you'll just need a good serving platter. While I used a round white serving platter in the photos here, any shape will work fine. I often like using baking sheets, too; the more usage that it's had, the more character it has!
Use smaller bowls for foods like the salsa or even nuts.
There is no right or wrong way to build a charcuterie board, platter, or snack board. While you can certainly use my images for inspiration, you really can't go wrong. That said, I do have a few tips:

I like to aim for a little bit of symmetry. For example – I used 2 mini pumpkins, and what I put around them was in a similar pattern. This is not required – I just like a little bit of balance that I build around.
Aim to keep like-colors separated. Yes, there is a lot of orange here – that was one of my goals when I decided to build a fall board. But you'll notice I tried to vary the colors next to each other. Herbs can be a great colorful separator.
If you are using produce that is wet, be wary of what you put next to it.
Height can help. Use smaller bowls, even tiny ones, to add shape and height.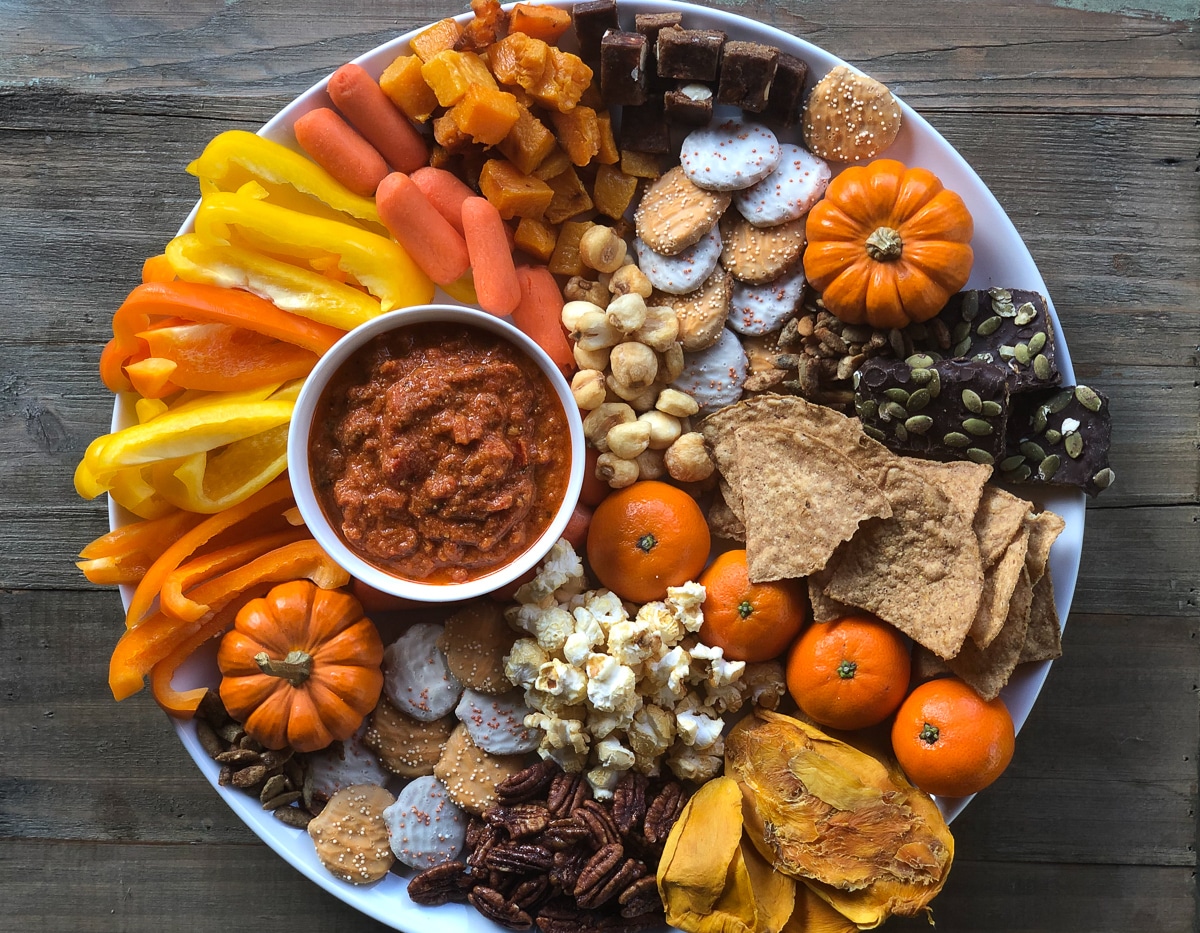 So there you have it. My version of how to build a fall board – perfect for company, an easy dinner, or even Thanksgiving entertaining.
If you're also a Trader Joe's fan, be sure to check out my favorite gluten free finds from Trader Joe's and also 5 simple healthy Trader Joe's Meals. Let me know if I missed some of your favorite Trader Joe's products in the comments below!