Estimated reading time: 5 minutes
Delicious and easy almond flour chocolate chip cookies – made with all healthy, real food ingredients, these grain-free cookies have just 9 ingredients and come together quickly and easily. The perfect healthy treat with natural protein and healthy fats. 
Almond Flour Chocolate Chip Cookies (Grain-free)
I have to say this: these almond flour chocolate chip cookies absolutely blew me away. I mean, sure these have been done before. But what's different is the texture. They are chewy, almost cake-like, and they are the perfect healthy treat that I love having around.
Let's be honest—having kids means that they are on the lookout for sweets, so this recipe is one that I feel good about having on hand. But I'm not exempt, here! I've personally been enjoying one of these healthy cookies for breakfast with a cup of tea (since I gave up coffee) and it's filling, not too sweet, and full of protein and healthy fats—two ways I love to start my day!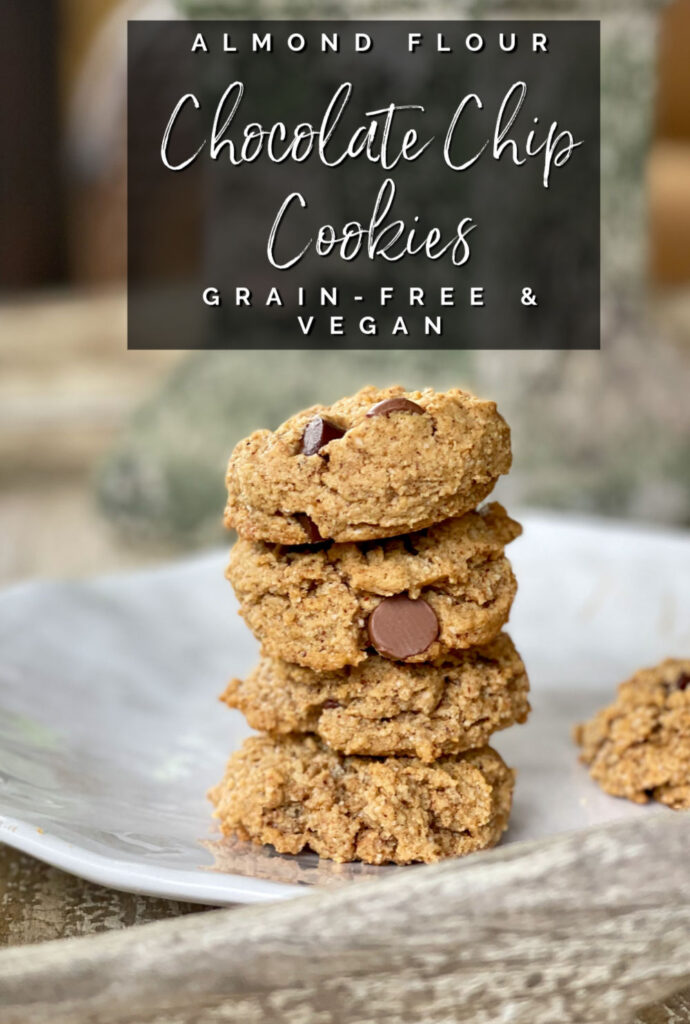 How to make almond flour chocolate chip cookies
These grain-free cookies are simple to make, and no extra appliances are needed. To start, simply add dry ingredients together (almond flour, coconut sugar, baking powder, salt). Mix to combined.
Next you will add in your wet ingredients (almond butter, eggs, coconut oil, vanilla) and form your dough.
Fold in the chocolate chips. Make sure they are well incorporated! I mean, no one wants a cookie with no chocolate chips, right?! I highly recommend using a cookie scoop to make consistent portions. Place on a parchment-covered baking sheet, ensuring there is space for when they bake. Feel free to top with a few additional chocolate chips if desired.
Bake for 12-13 minutes. The cookies will be soft, but they will firm up a tad when they cool. The overall texture is very chewy, though!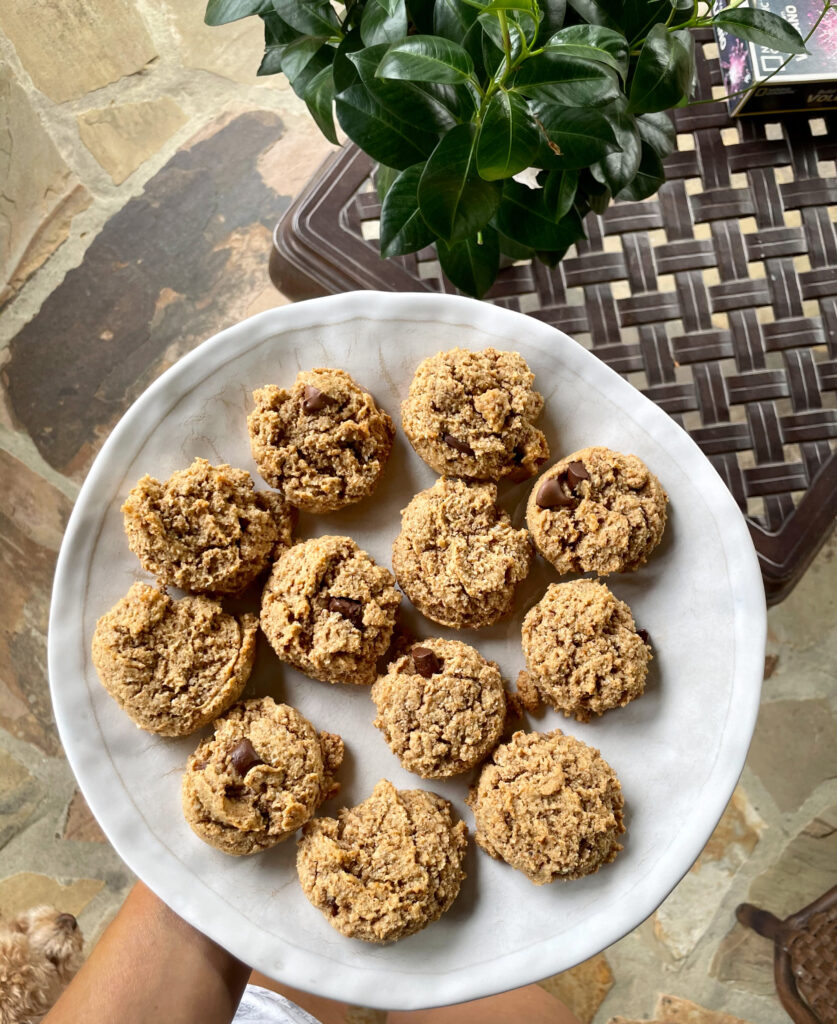 Freezing grain-free chocolate chip cookies
The ultimate way to have convenience food is to make ahead and freeze. To freeze this dough, form it into mounds and place them on a cookie sheet. Place the cookie sheet into the freezer. Once the dough is frozen, you can transfer the mounds into a large plastic bag. Be sure to date it so you know when they were prepared.
When you want a cookie, simply bake the frozen dough by adding 2-4 minutes onto the cook time.
The beauty of this is you can make a full batch or just one for yourself! Perfect for those nights or mornings when you have a little craving.
The difference between almond flour and almond meal
Almond meal and almond flour are both made from ground almonds. Almond meal is made from raw (unpeeled) almonds, and almond flour is made from peeled almonds. Furthermore, almond flour is a finer grind, making it more flour-like (hence the name) and the one that I generally choose for baking. All of this said – if you only have almond meal on hand, feel free to use this in these cookies, though the end result may be slightly different.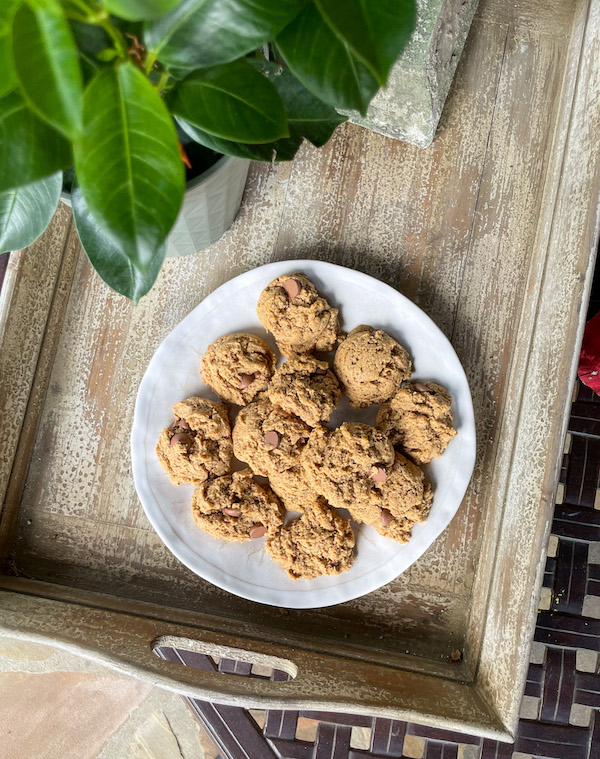 Questions on substitutions for these paleo chocolate chip cookies
Is there a substitute for almond flour? In terms of other gluten free flours, I do not suggest substituting with gluten-free 1:1 flour as they'd no longer be paleo or grain-free cookies, and definitely not with coconut flour. Here is a good break down of grain-free flours which can help you determine which may or may not be a fit.
Can I substitute brown sugar for coconut sugar? If you don't have coconut sugar on hand, feel free to substitute with brown sugar.
What about another nut butter? Yes. You can most certainly substitute with another nut butter, such as cashew butter or even peanut butter, though I'd recommend getting an organic peanut butter since most are heavily sprayed with pesticides if they are non-organic.
Can I sub the eggs/make this vegan? While I have not tried it, I would suggested making flax seed eggs—combine 1 TBSP ground flax seed with 3 TBSP water and let sit 5 minutes. This mixture will gel and is the substitute of one egg in a recipe.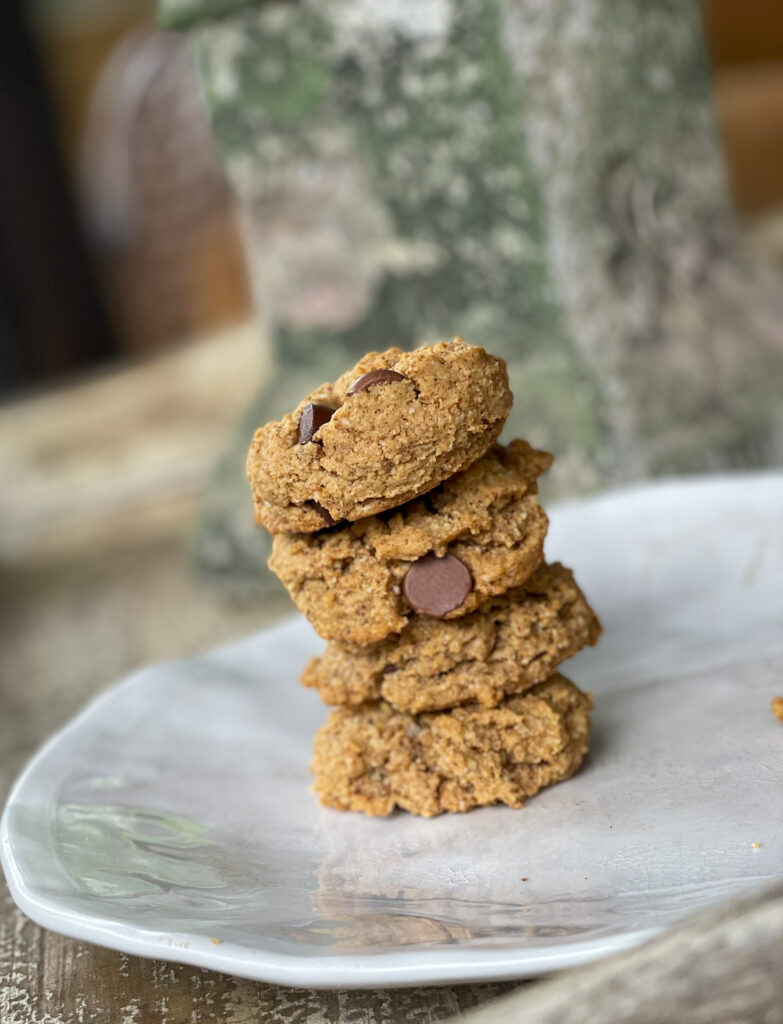 A note on the sweetness of these almond flour cookies:
These cookies are not sweet. I personally like that about them, but my kids thought they were a little light on the sugar. If you prefer, you can add 3/4 cups of coconut sugar vs. the recommended 1/2 cup of coconut sugar if you'd like them to be a bit sweeter. The almond butter that I use is NOT sweetened. If you are using a sweetened almond butter, this will contribute to the overall sweetness and thus the 1/2 cup coconut sugar should suffice.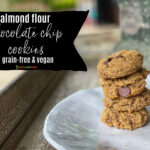 Almond Flour Chocolate Chip Cookies (Grain-free & Vegan)
An almond flour chocolate chip cookie recipe that has no grains and is vegan friendly, this is a healthier chocolate chip cookie made with real foods and healthy fats. No grains or refined sugars in this healthy dessert!
Course:
Breakfast, Dessert
Ingredients
2

cups

almond flour

1/2

cup

coconut sugar

1/2

tsp

baking soda

1

tsp

salt

2

eggs

1/3

cup

melted coconut oil

2/3

cup

almond butter

2

tsp

vanilla

1/2

cup

chocolate chips
Instructions
Preheat oven to 325 degrees. Line a baking sheet with parchment paper.

In a large mixing bowl, combine dry ingredients (almond flour, coconut sugar, baking soda, salt).

Make a well (hole) and add wet ingredients (eggs, coconut oil, almond butter and vanilla) and mix to combine.

Use a cookie scoop to scoop onto prepared pan, placing with space in-between so that cookies don't bake into each other (I do 12 on a pan).

Bake 13 minutes. Let cool and bake remaining cookies.
Nutrition Facts
Almond Flour Chocolate Chip Cookies (Grain-free & Vegan)
Amount Per Serving
Calories 212
Calories from Fat 153
% Daily Value*
Fat 17g26%
Cholesterol 18mg6%
Sodium 181mg8%
Potassium 108mg3%
Carbohydrates 11g4%
Protein 6g12%
Vitamin A 27IU1%
Vitamin C 1mg1%
Calcium 76mg8%
Iron 1mg6%
* Percent Daily Values are based on a 2000 calorie diet.
Other grain-free cookie recipes
3 Ingredient Cookies (Paleo + Egg Free)
Grain-free Chocolate Chip Cookie Bars (Paleo)
Salted Chocolate Chip Tahini Cookies
Grain-free Chocolate Chip Cookie Bars