Jump to Recipe
Estimated reading time: 5 minutes
Homemade Dog Treats are easy to make and provide healthy foods for dogs, too. This 4-ingredient recipe includes rolled oats and peanut butter and is a simple dog treat recipe that can be perfect for anyone who enjoys giving their pet real food.
I grew up with dogs, and absolutely love them. Our last dog was a boxer-lab mixed named Marley. He passed away when my second child was just weeks old, and we weren't ready to take the plunge again until last summer. Since those years, I've become a real food advocate and absolutely believe that dogs should not be excluded! Today's recipe is for Ruff, Rover, whatever you call your fur baby: easy homemade dog treats with rolled oats and peanut butter.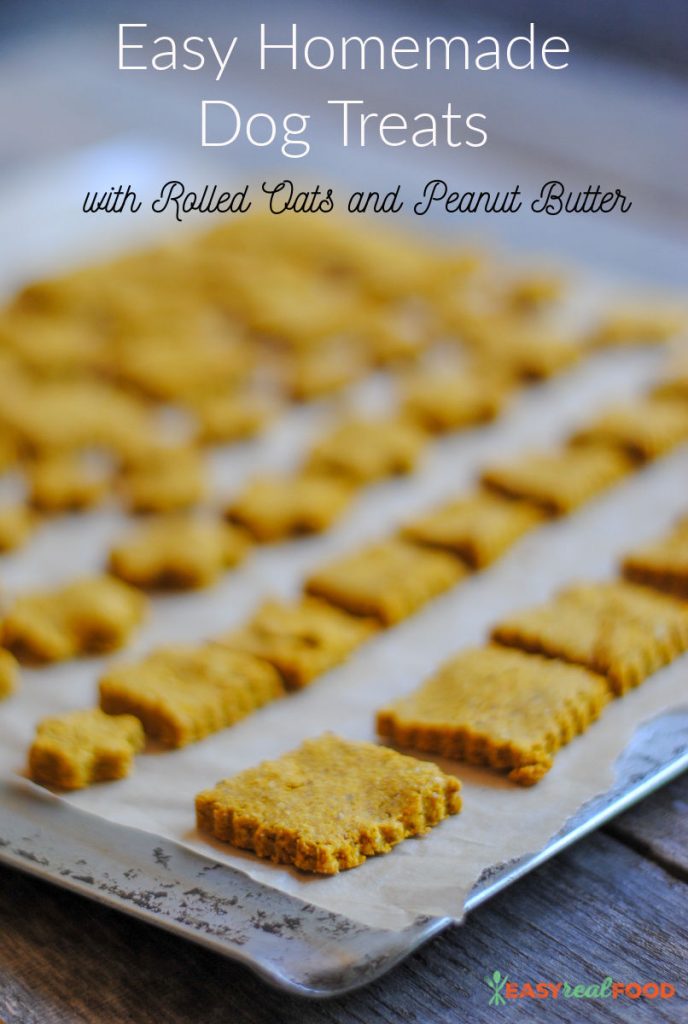 Easy Homemade Dog Treats with Rolled Oats and Peanut Butter
Before diving into the recipe, I first need to clarify that I am no dog expert. While I've had dogs most of my life, I have no professional education relating to animals, this recipe is a homemade recipe that I made up based on research. And it was a hit! Feel free to ask your vet about the ingredients in these homemade dog treats with rolled oats before giving them to your dog.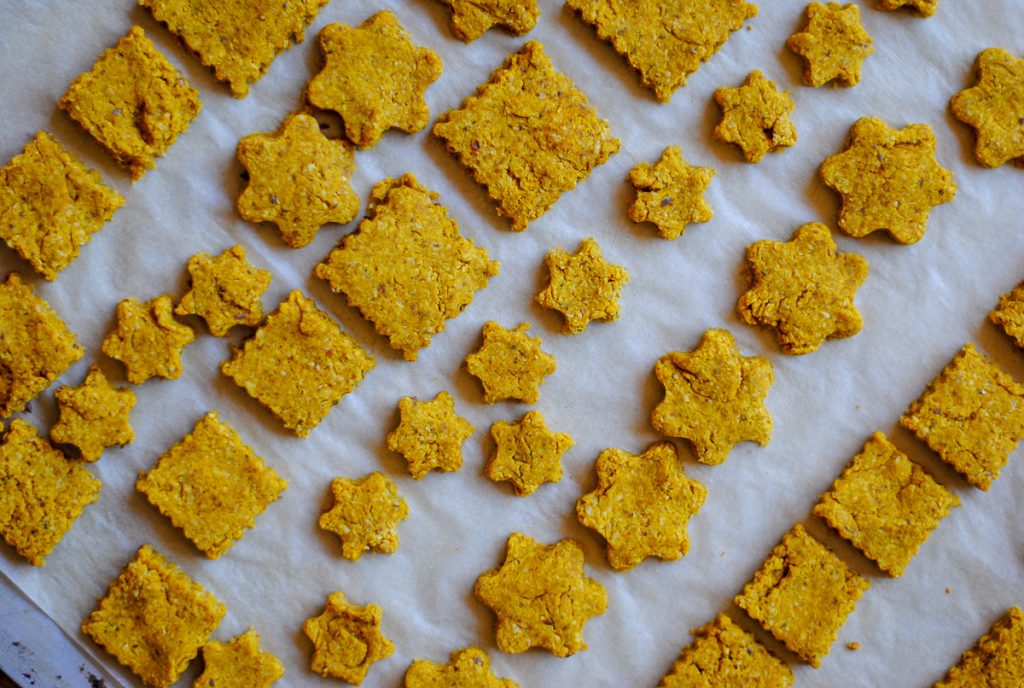 Is pumpkin good for dogs?
PetMD Mobile actually suggests that pumpkin is good for dogs regularity and a great source of fiber. Pumpkin contains Vitamins A & C, potassium, is low in fat and calories, too. I'm a big fan of pumpkin recipes myself, so I was excited to be able to get some veggies into this homemade dog treat recipe. Dogs can use good nutrition, too!
Can dogs eat eggs?
Cooked eggs are said to be a very reliable source of digestible (and complete) protein for dogs. They also have essential fatty and amino acids, making it a solid choice to give your pet. Eggs should always be cooked prior to feeding them to your fur baby. In this recipe for easy homemade dog treats, you have the option to use either 2 eggs or 2 flax eggs. Both are beneficial and tolerated well by most pets.
Peanut butter good for dogs – fact or fiction?
It's no secret that dogs love it, so the good news is that peanut butter is said to be safe for dogs in moderation. Natural peanut butter is a great source of protein, B and E vitamins, and healthy monounsaturated fats, says the American Kennel Club (AKC). Things to be wary of in peanut butter that you feed (or include in a recipe) for dogs are xylitol (an artificial sweetener) which can be fatal to dogs, or added sugars/flavors. You can make your own peanut butter or buy a natural peanut butter easily. Note that, while rare, some dogs can have a peanut allergy.
Can oatmeal hurt dogs?
Oatmeal is high in fiber and a number of nutrients. It's a favorite of ours, personally, since it's filling, keeps us regular and also provides B vitamins. Oatmeal is also beneficial for dogs for these reasons, but more specifically because it keeps them maintain a healthy coat along with strong, supple skin. Giving dogs a minimal amount of oatmeal has the same fiber benefits for them that it does for humans. For dogs struggling with weight issues, it can help fill them up to perhaps not want to keep eating and can also keep them regular. The AKC advises against giving dogs instant or flavored oatmeal. I'm a big fan of sprouted oats because of their easier digestion, which is what I used in this recipe.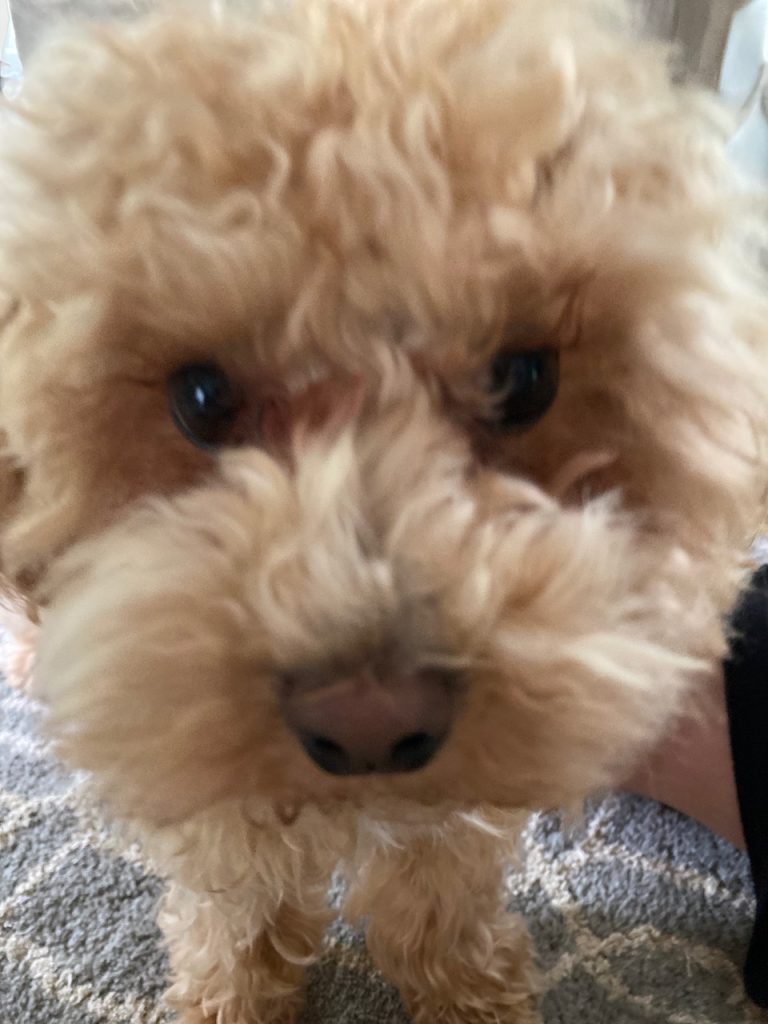 Cute dog biscuit cookie cutters for making dog treats
Love these dog bone cookie cutters: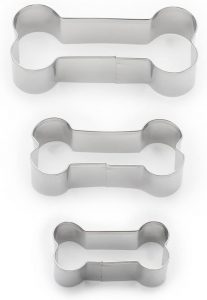 For people like me who have a small dog, or just want to make small treats, these small dog biscuit cookie cutters are fun!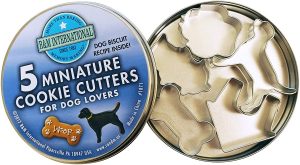 This set of dog bones + paws cookie cutters are pretty cute, too!
Below is a video of my daughter and I making these easy homemade dog treats with rolled oats. They're super simple and our dog Cookie loves them!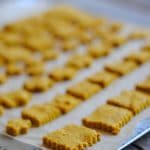 Homemade Dog Treats with Rolled Oats and Peanut Butter
A 4-ingredient recipe for easy homemade dog treats with rolled oats and peanut butter. Because dogs deserve real food, too!
Course:
Breakfast, Dinner, Lunch, Snack
Instructions
Preheat oven to 375 degrees. Line a cookie sheet with parchment paper.

Combine wet ingredients. Add dry ingredients and mix to combine. Place "dough" on a 2nd sheet of parchment paper and cut with cookie cutter or skip this step and roll into balls and flatten. Bake for 20 minutes. Let cool and store in a closed container.
Recipe Notes
To make a flax egg:
Combine 1 TBSP ground flax seed with 3 TBSP water. Mix and let sit for 5 minutes before using.
Nutrition Facts
Homemade Dog Treats with Rolled Oats and Peanut Butter
Amount Per Serving
Calories 30
Calories from Fat 9
% Daily Value*
Fat 1g2%
Cholesterol 8mg3%
Sodium 11mg0%
Potassium 41mg1%
Carbohydrates 4g1%
Protein 1g2%
Vitamin A 965IU19%
Vitamin C 1mg1%
Calcium 6mg1%
Iron 1mg6%
* Percent Daily Values are based on a 2000 calorie diet.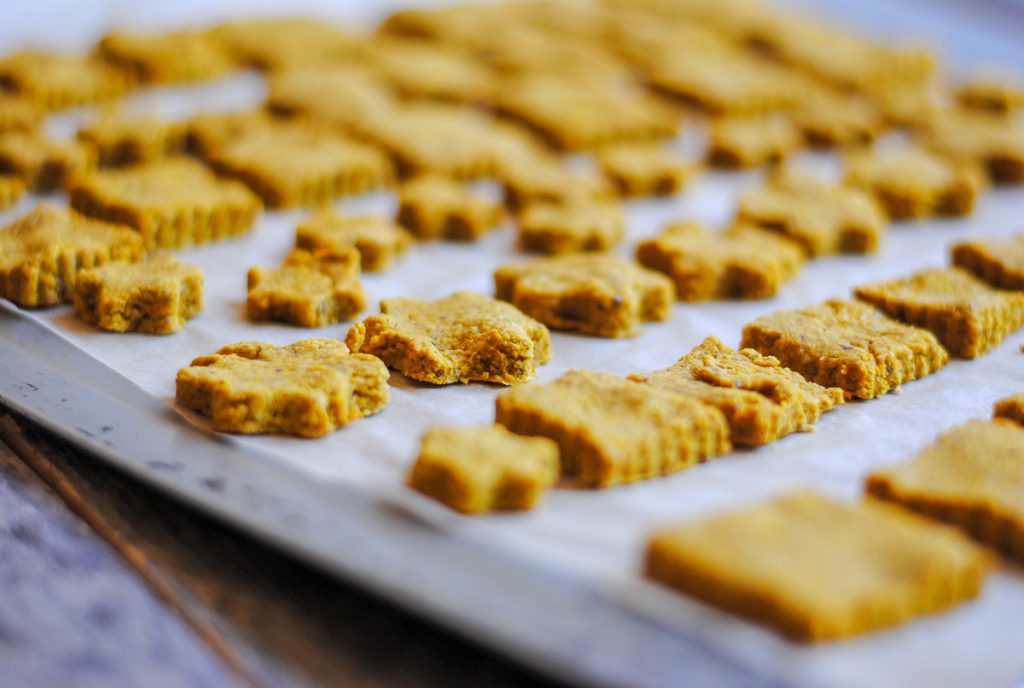 I like to make a batch of these and save extras in the freezer. I hope your pet enjoys them as much as ours does!