A unique recipe for Grain-Free Carrot Cake Banana Bread with Banana Flour. Get pre-biotic foods with banana flour and a tasty, refined sugar-free recipe that is paleo-friendly and has no grains. Top it off with dairy-free cream cheese frosting for a healthy, gluten-free, dairy-free and grain-free snack.
So the last we spoke, I mentioned my diet change … and I'm happy to say that I'm doing just fine with it! I even have a new recipe for you today that is for all those grain-loving folks like me who wondered if they'd ever be able to enjoy a fun snack again. Great news, you guys – YOU CAN! Enter Grain-Free Carrot Cake Banana Bread. It's a twist on carrot cake in banana bread form, and it's full of real ingredients and easy to make, too.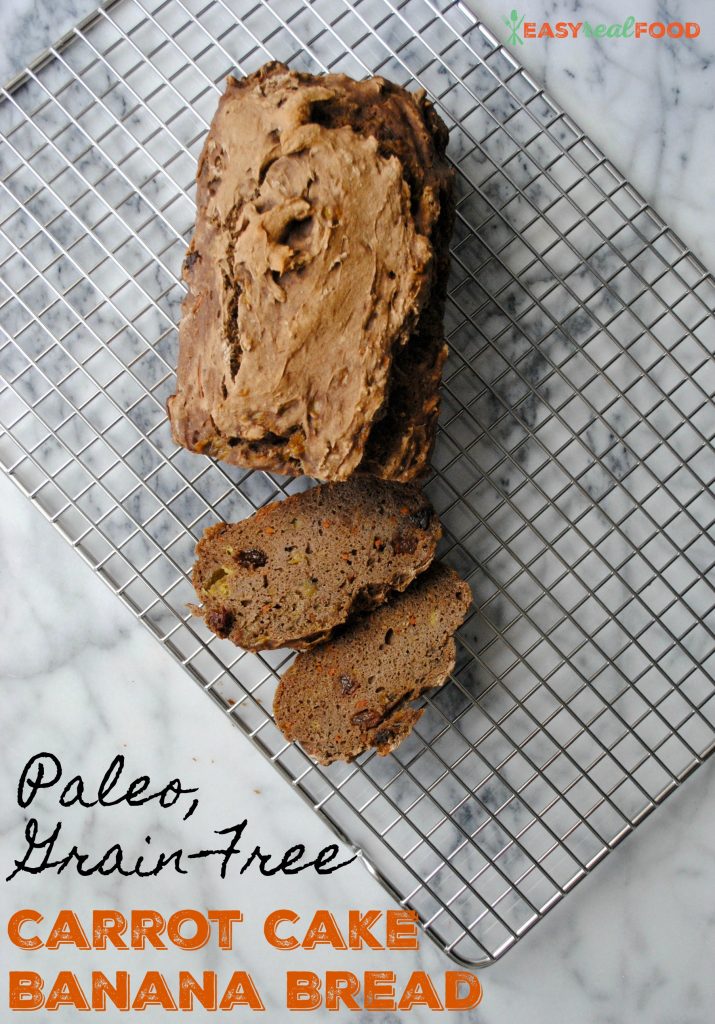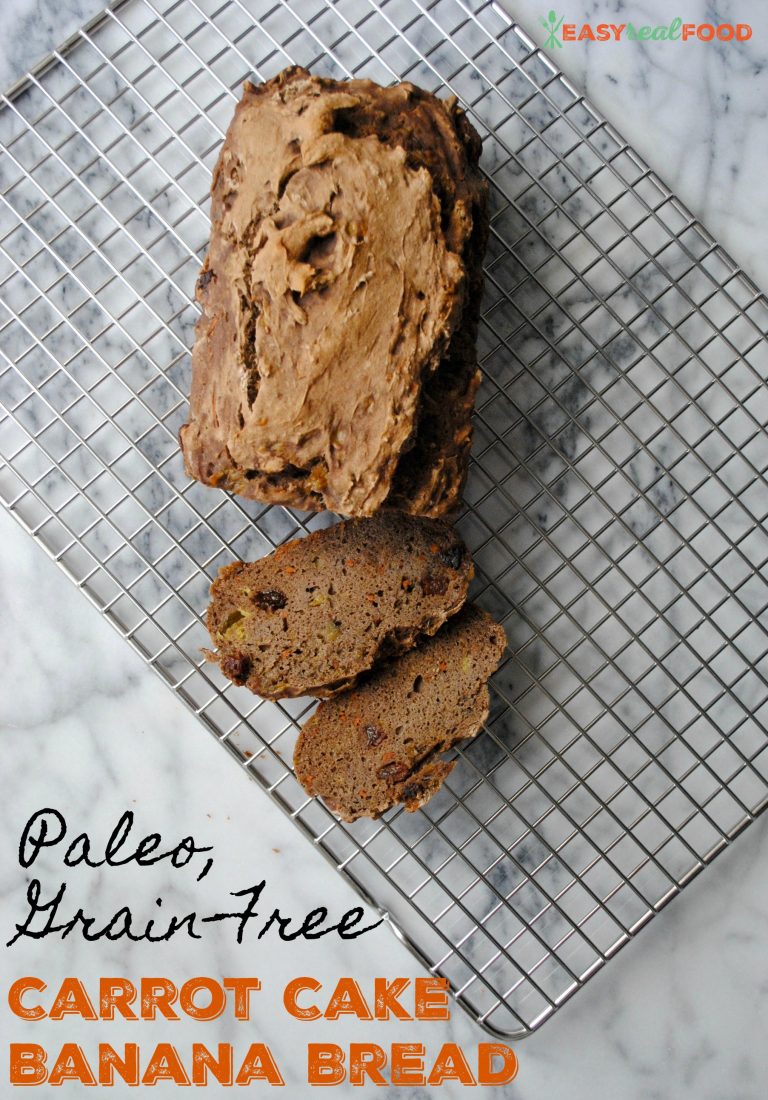 Grain-Free Carrot Cake Banana Bread with Banana Flour
I know what you're thinking – how in the world can you make bread without grains? The secret, my friends, is banana flour – something that I recently discovered and which I'm loving.
What is banana flour?
Banana flour is flour made from milled green bananas. My relatives in India use it often, and it's been around for centuries in other parts of the world, such as South America, Africa and other parts of Southeast Asia. Banana flour can be used any time you'd use whole wheat flour – think baked goods, thickening soups, etc. It is said to be a 1:1 replacer for whole-wheat or white whole-wheat, with some recipes calling for more of a 2/3 cup banana flour : 1 cup of whole wheat flour.
The benefits of banana flour
Banana flour is rich in potassium, magnesium, fiber and vitamin E.
It's gluten-free AND grain-free.
It contains resistant starch, a starch that the human stomach cannot easily digest, which is more slowly processed, and therefore supposed to be good for blood sugar control. Resistant starches are also a fuel that feeds healthy gut bacteria, which is important for digestion.
Eco-friendly! Instead of throwing out "ugly" bananas, give them a chance! All (green) bananas can be ground into flour.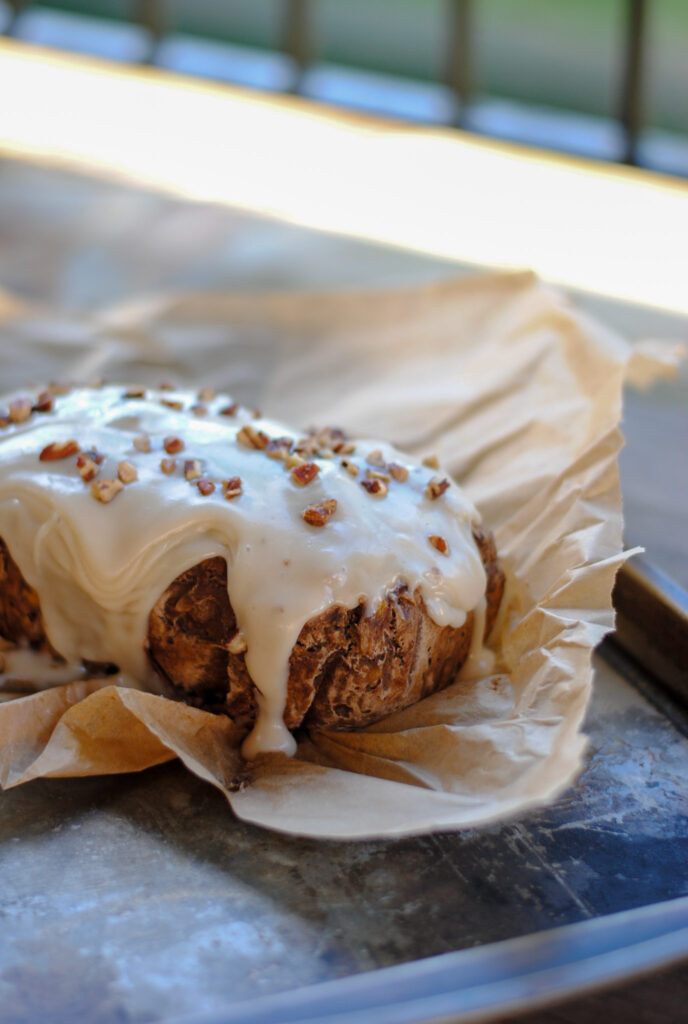 How to make Grain-Free Carrot Cake Banana Bread with Banana Flour
Grain-free carrot cake banana bread. It's like banana bread and carrot cake got married together in a quick bread that's simple to make and lovely to enjoy. I like it with a cup of coffee for breakfast, I've made french toast with it (YUM) and also a sunbutter sandwich with it. While I haven't tried frosting it, I think that it'd be super tasty this way and could possibly even fool me into thinking I'm having a grain-ful cake, wink-wink.
Check out this banana flour and also feel free to vary your mix-ins: raisins, walnuts, shredded coconut – you get the picture. Vary it up and let us know in the comments how you like it! Oh, one more thing – this is my absolute favorite loaf pan. I made the switch to this 2 years ago and LOVE how clean breads come out and how easy the clean-up is. Just love sharing tips like these with you!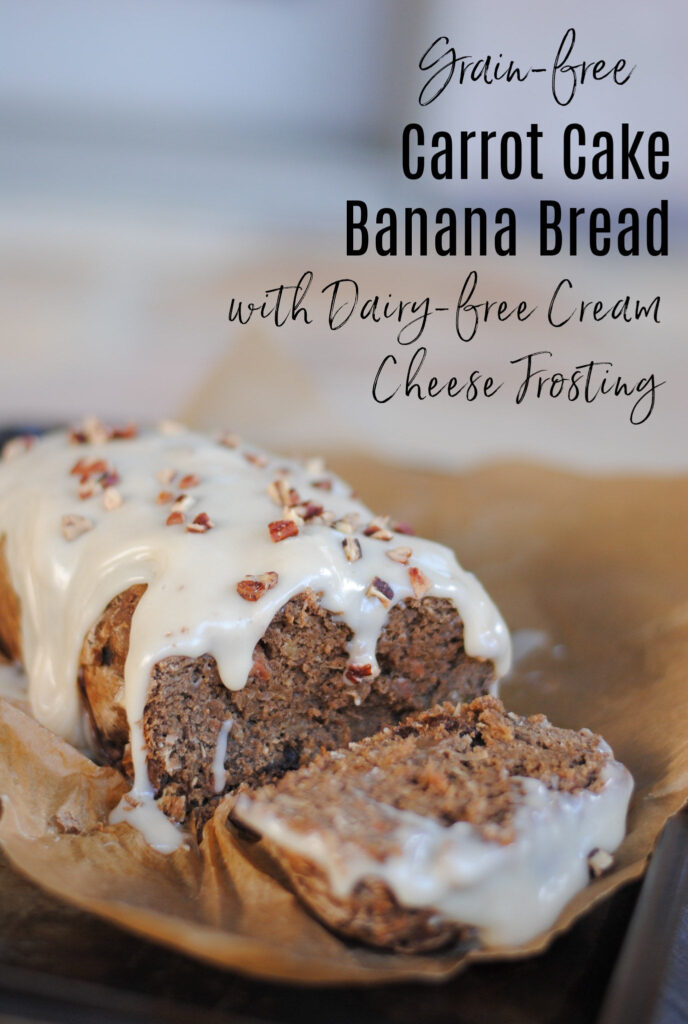 Dairy-free Cream Cheese Frosting
So here's the thing – you don't *need* the frosting on this – but let me tell you how much it will take it up notches. Sooooo good … and honestly, it's simple to make the frosting! I love Kite Hill cream cheese (made with almonds). I used about 2/3 of the container and mixed in about 1.25 – 1.5 cups of powdered sugar. The dairy-free cream cheese is runny, so put the frosting in the fridge for about 10 minutes before attempting to put it on the loaf (I made the mistake which is why it's so runny in my pics!) Add it to the carrot cake banana bread and top with walnuts, pecans, raisins, or leave as is. And you have a winner!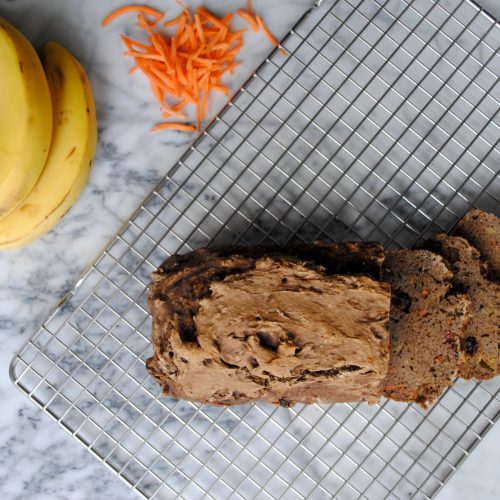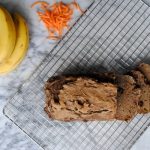 Grain-Free Carrot Cake Banana Bread
Carrot cake inspired banana bread that's grain-free and full of flavor.
Ingredients
3

mashed

overripe bananas

1/2

cup

finely shredded carrots

1/2

cup

honey or maple syrup

1/2

cup

milk of choice

(I used unsweetened hemp milk)

2

teaspoons

pure vanilla extract

2

cups

banana flour

2

teaspoons

cinnamon

1

teaspoon

baking soda

1

teaspoon

baking powder

1/2

cup

raisins

walnuts, shredded coconut or a mix of these
Instructions
Preheat oven to 350 degrees F. Line a 9 x 5 pan with parchment paper (or grease, if you prefer).

Combine bananas, carrots, sweetener, milk and vanilla in a medium-sized bowl; mix to combine.

In a separate bowl, mix banana flour, baking soda, baking powder and cinnamon. Combine wet and dry ingredients and fold in add-ins (raisins, walnuts and/or shredded coconut). Smooth into prepared pan, and bake for 32-35 minutes, until top is slightly golden brown and a toothpick inserted into the middle comes out mostly clean.

Let cool before enjoying.
Nutrition Facts
Grain-Free Carrot Cake Banana Bread
Amount Per Serving (1 piece)
Calories 150
% Daily Value*
Fat 0g0%
Cholesterol 0mg0%
Sodium 99mg4%
Potassium 95mg3%
Carbohydrates 40g13%
Protein 0g0%
Vitamin A 20IU0%
Vitamin C 0.6mg1%
Calcium 33mg3%
Iron 0.6mg3%
* Percent Daily Values are based on a 2000 calorie diet.
Let me know if you get to make this recipe. Oh, and as long as you have banana flour – you need to check out these other recipes: Banana flour banana cake and Paleo Mug Cake with Banana Flour (Grain Free) .
---
This post may contain affiliate links which won't change your price but will share some commission.