Whether you are grain free or paleo, or just looking to limit your grains, banana flour is a wonderful option to consider. I was first turned onto it two years ago when I removed grains from my diet, and it was then that I created my super-popular banana cake as well as this grain free carrot banana bread, both made with this unique flour. Since there is a learning curve to using banana flour, my goal is to provide as many recipes with it as I can for those who were once in the same boat as me – wondering what in the world to eat without being able to eat gluten or grains! So today, I'm sharing a super quick recipe: Paleo Mug Cake with Banana Flour.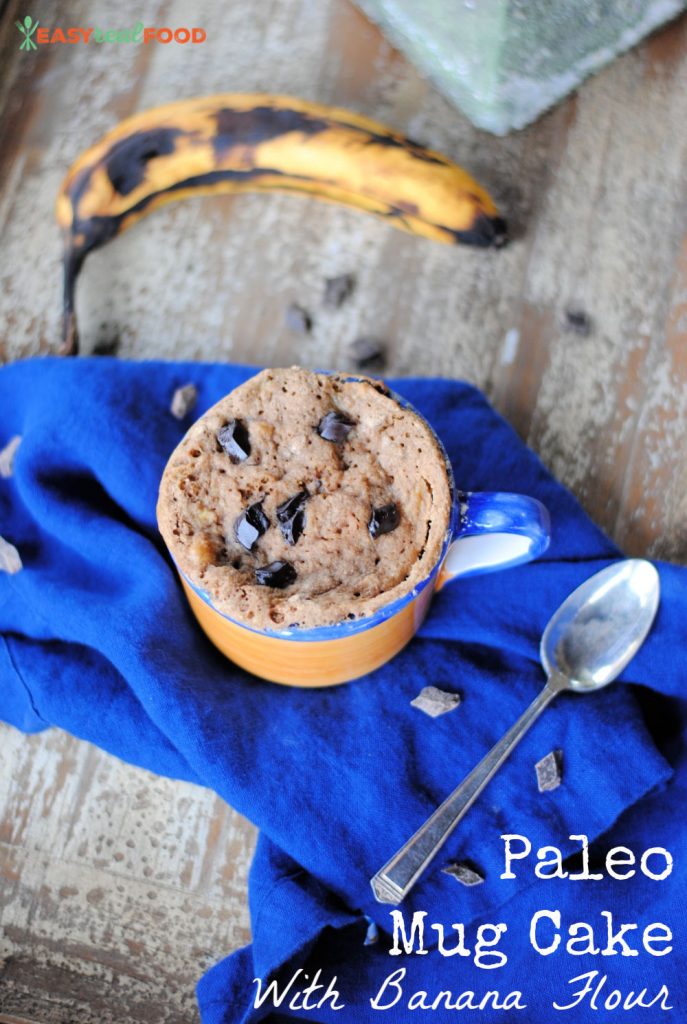 This Paleo Mug Cake Recipe Is:
Egg-free
Gluten-free
Grain-free
Refined sugar-free
Easy enough for kids to make
A quick breakfast or snack option
A mug cake with no egg …
Truth be told, it was my kids who turned me on to mug muffins. They first started toying around with a pizza mug muffin which I thought was super fun. It got them into the kitchen, and it also alleviated all of the generally lengthly steps of making a pizza! But alas, many of the mug muffins and mug cakes that they made contained egg. Since many of my readers have food intolerances, this is something that I'm sensitive to – pun intended! This paleo mug cake has no egg, so those who have egg allergies and sensitivities can proceed!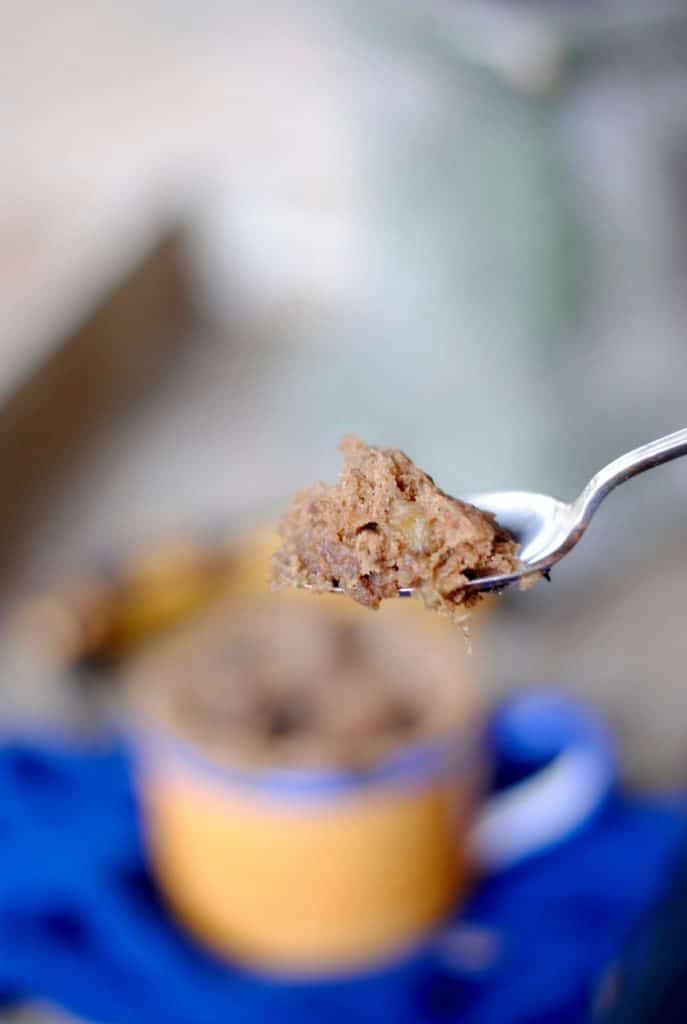 Flourless mug cake recipe = gluten free mug cake
Banana flour is made from milled bananas. It has been around for centuries in other parts of the world, such as South America, Africa, India and other parts of Southeast Asia. Banana flour can be used any time you'd use whole wheat flour – think baked goods, thickening soups, etc. It is said to be a 1:1 replacer for whole-wheat or white whole-wheat, but I find it to be a tad more absorbent and typically use a little less banana flour than I do for the replacer flour. Not only is banana flour grain free, but of course it's gluten free, too!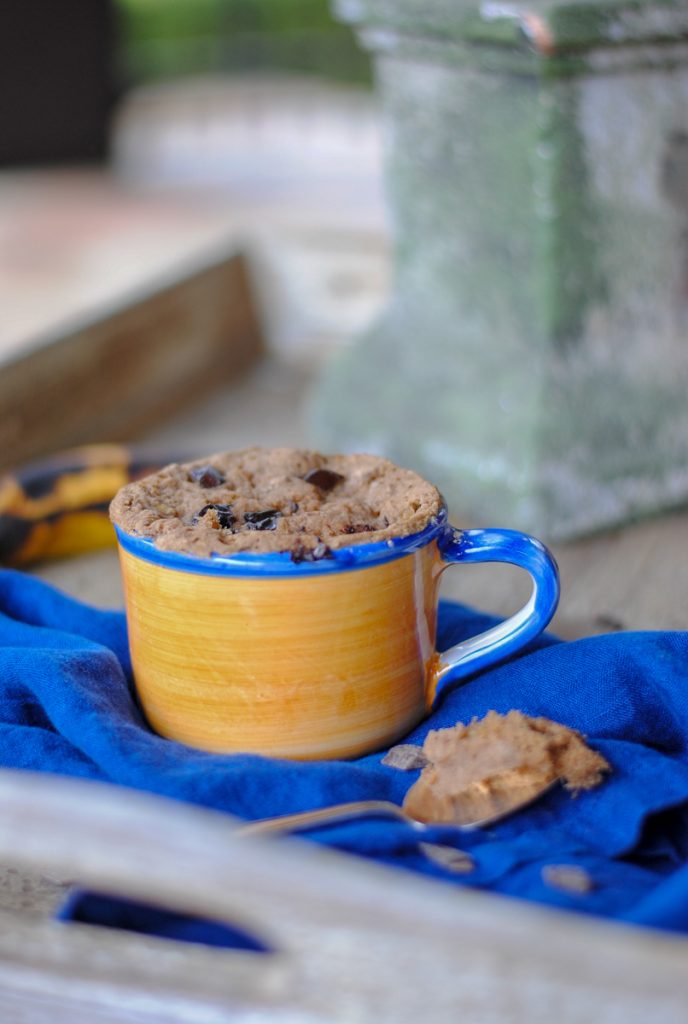 Optional toppings for this grain free paleo mug cake
Feel free to add in some toppings, though this really is good on it's own. I added chocolate chips (be sure to use dairy-free/paleo chocolate chips if needed). If using chocolate, first heat the mug muffin for 1 minute, then add chips and heat for remaining time; otherwise the chips will completely melt! This would be tasty with some raisins, hazelnut spread, nut butter, SunButter or some chocolate ghee, but again – it really doesn't need it!
Tips on what type of mug to use:
The mug I used in pictures was just  the right size. Any smaller and it would've gone over the edges. Be sure you have ample room in your mug before cooking.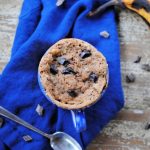 Paleo Mug Cake with Banana Flour
A paleo mug cake recipe without eggs. This grain free mug cake uses banana flour, a grain-free flour that's made from green bananas. Refined sugar-free.
Ingredients
2

tsp

coconut oil

, melted

1

ripe banana

, mashed

1

tbsp

honey

2

tbsp

dairy free milk

(or dairy milk if preferred)

1/4

tsp

baking powder

1/2

tsp

cinnamon

1/4

cup

banana flour
Instructions
Melt coconut oil in a mug. Add ripe banana and mash. Add honey and milk and stir to combine.

Add dry ingredients to mug and mix until combined. Heat in microwave for 1 minute 30 seconds. Check for doneness and add 15-20 seconds if needed. Top may not be totally dry, but this indicates the inside will be nice and moist.
Recipe Notes
WHAT IF YOU DON'T HAVE A MICROWAVE: No problem! Preheat the oven to 350°F and place the heat-resistant mug in for 20 minutes. 
Nutrition Facts
Paleo Mug Cake with Banana Flour
Amount Per Serving
Calories 364
Calories from Fat 90
% Daily Value*
Fat 10g15%
Sodium 26mg1%
Potassium 566mg16%
Carbohydrates 64g21%
Protein 6g12%
Vitamin A 193IU4%
Vitamin C 12mg15%
Calcium 97mg10%
Iron 2mg11%
* Percent Daily Values are based on a 2000 calorie diet.
Other banana flour recipes you may enjoy:
Banana Flour Banana Cake (Gluten-Free, Dairy-Free)
Grain-free Carrot Cake Banana Bread
And if you have ripe bananas sitting around – here are 8 ways to use them!