How to freeze ripe bananas, what to do with this ready-to-eat fruit, recipes for ripe bananas, and more. Stop throwing away fruits – there are so many things to do with ripe bananas! Here are 8 uses for ripe bananas.
How often do you find yourself staring at your fruit bowl thinking: Oh no! What to do with ripe bananas? Somehow the popular fruit always makes it in my shopping cart, but I just can't ever determine how many to get. I end up with ripening fruit and am floundering with what to do. I know that I'm not alone! Good news – don't toss them! I'm a big fan of not wasting food, so today I'm sharing 8 uses for ripe bananas. There's something for everyone!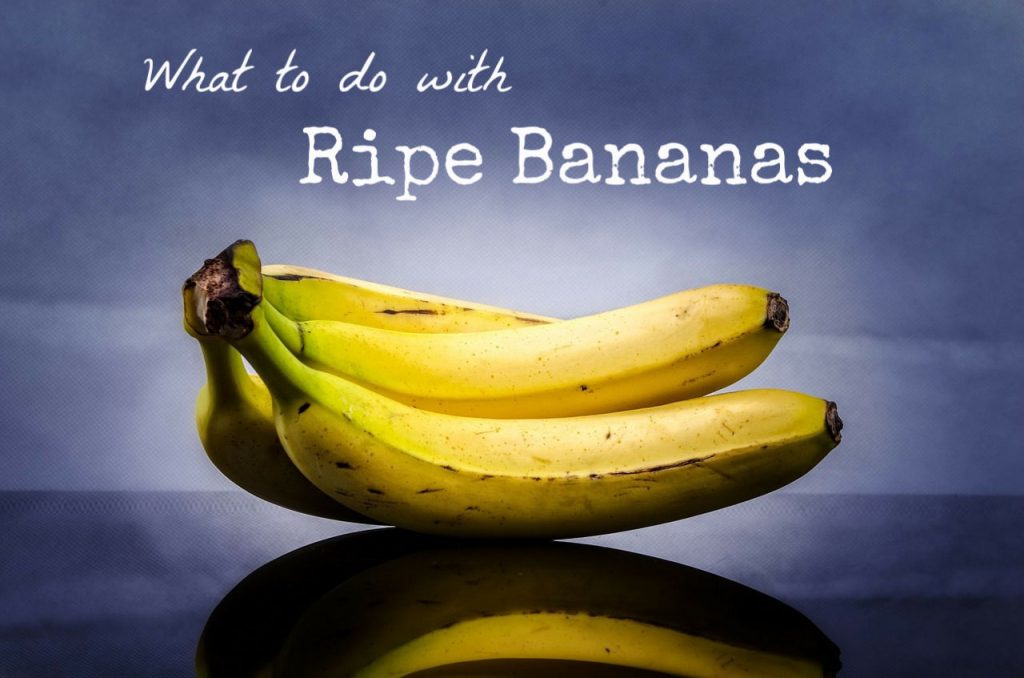 8 Uses for Ripe Bananas
Freeze them. Bananas can be frozen when ripe, or even when they are green. It's most suggested that they are frozen somewhere in-between so that they are ripe enough, but not squishy or fallling apart. Frozen bananas can be used in baking, making smoothies, making banana ice cream, and more.
Make "Nice" cream. Have you tried blending frozen bananas? When combined with a minimal amount of milk or dairy free milk and blended in a high-speed blender, it makes a delicious, creamy "nice" cream that's healthy and nutritious! To make, use frozen ripe bananas. Place them in a high speed blender or food processor, and mix. Add milk 1 tablespoon at a time to get desired consistency. While there is no need for sweetener (it's sweet enough from the bananas), you can add a minimal amount of honey if you'd like.
Bake some banana bread. Perhaps the most common thing to do with ripe bananas is to make banana bread! I've got a number of recipes to get you started, including this Vegan Chocolate Banana Bread With Black Beans, Banana Flour Banana Cake (Gluten-Free, Dairy-Free), Grain-Free Carrot Cake Banana Bread with Banana Flour, and White Bean Banana Bread Recipe.
Make simple 3 ingredient banana cookies. Ripe bananas are a great addition to many cookie batters as you often can't taste them, and they provide a nice, thick moistening agent. I've used them in lieu of parts of fats (think butter or oil) in cookies in the past, but my favorite are these three ingredient banana cookies. Made without any refined sugars, they're the perfect paleo snack, breakfast cookie, lunchbox throw-in or after school snack. Plus they're so versatile; add in some seeds, nuts or chocolate chips to change them up easily.
Whip up some chocolate pudding. Did you know that you can make homemade dairy free chocolate pudding with just five ingredients? Bananas and avocados are combined to yield a nutrient-dense, healthy fat dessert that moms can feel good about feeding their kids.
Two words: Overnight Oats. Ripe bananas are a wonderful way to add creaminess and sweetness to overnight oats. Simply mix in a 1/2 of a ripe banana (mashed) with oats, and add other ingredients to get you started in a simple make-ahead breakfast or snack. Try my kids favorite overnight oats or a pumpkin version, as well.
Add them into pancake batter. I have a simple 3-ingredient recipe for pancakes in Camp Kitchen that utilizes ripe bananas, but truly you can add them to most recipes in lieu of some of the oil/butter. Alternatively, cut bananas into circles, add them to an oiled pan, and pour batter on top of them to let them bake right into the pancake. I love getting fruit into recipes – a definite mom win!
Make some crepes! Homemade (or even store-bought) crepes are a welcomed treat in our house. Stuff them with bananas and whipped cream, and add some chocolate to up the interest level even higher. Yum!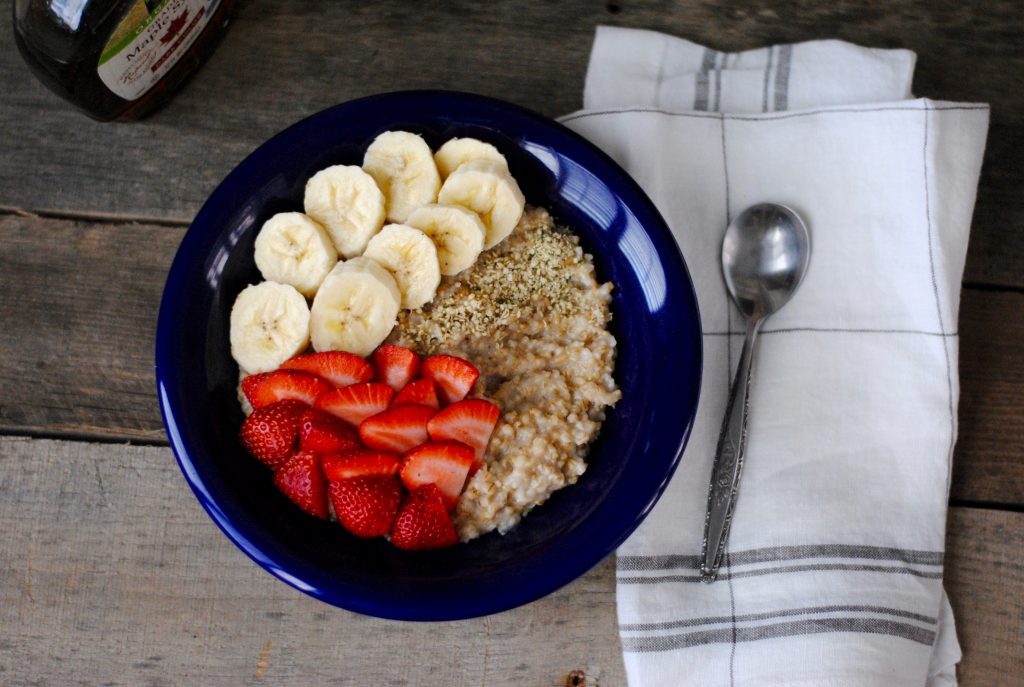 Ripe bananas vs. green bananas – which are healthier?
Green bananas are high in resistant starch. In fact, I'm a huge fan of banana flour, which is made from green bananas, for this reason. They contain less sugar than ripe bananas along with probiotic bacteria which is good for your digestive system. The next progression of a banana is from green to yellow. Yellow bananas are sweeter and softer as the resistant starch turns to simple sugar. As yellow bananas ripen, the number of antioxidants within increases as does the glycemic index, making them quicker to digest.
How long can you freeze bananas?
The best way to freeze bananas is to peel them and cut them into 1/2 – 3/4″ slices. Line a baking sheet with waxed paper and lay banana slices on it. Flash freeze for about 2 hours, or until bananas are frozen. Then transfer frozen bananas to a freezer-safe container; I like to use glass container or these endlessly reusable and easy-to-clean bags. Note: do NOT freeze unpeeled bananas; they will be very hard to peel once you remove them from the freezer!
Can bananas actually go bad?
Yes they can. Be wary of mold and strange odors, and mildew-like scents. Fruit-flies, rot and decay are also telltale signs that it's time to toss that bad banana.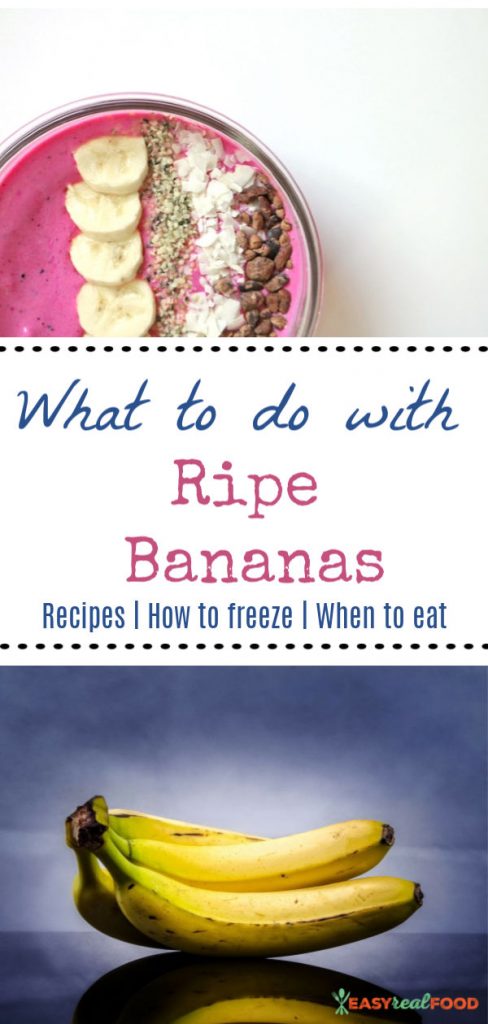 I know that I missed some ideas. What do you do with ripe bananas? I'd love to hear in the comments below!