I'm not gonna lie – my kids (ages almost-13, 10, 8 and 5) don't always welcome my homemade foods with welcome arms. I guess I should be used to it by now, and I guess with four kids this is pretty normal. So let me explain what happened with this white bean banana bread – be sure to read on, because after the fact, (spoiler alert!) they loved it.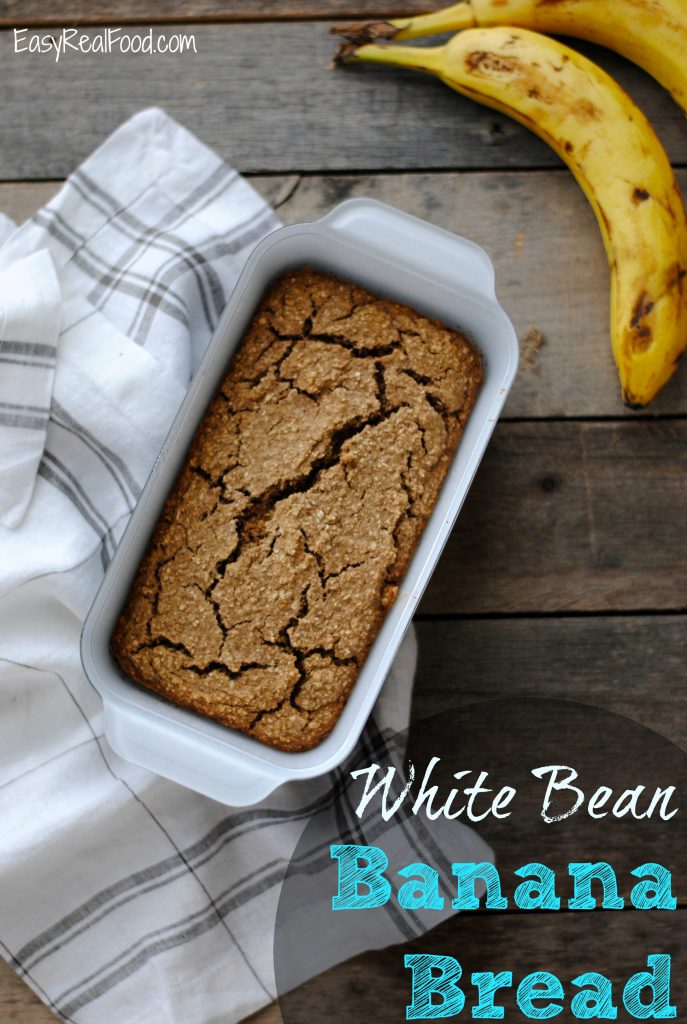 Have you tried bean bread?!
In full transparency, I had a weak moment. It could be that I get super excited about making a new healthy food because I believe so strongly in giving them proper nourishment. It could be that I had *snuck* in (though I did have the can on the counter – oops) white beans. Or it could be that I had PMS. Nah, probably not the last choice.
Upon their question of "what's for snack" on the way home, I told them that I made them bread with a secret ingredient. Lemme tell ya right there – probably not the best tactic. It's banana bread, okay? Punched up with a dash of protein. Sure you can tell them that it's actually white bean  banana bread if they ask, but hey – the name is not necessarily the hottest sell. The taste, on the other hand, sure is. Oh, and let's not forget the ease. I digress.
I told them that we'd each try a taste of the bread first. My 10 year-old proceeded to ask, what if we don't like it? I (very maturely) responded that that was snack, to which her body began to melt, shoulders shrugging forward and all. Deep breath, deep breath. But that's not what I did. I was hurt. Most parents can relate that preparing home-cooked, real food for their family is a labor of love. And these types of reactions, while sometimes frequent, can get to the best of us. I didn't yell or scream; I just told her that it was very hurtful. Oh, and that I didn't care what she ate;).
She ended up cutting a piece of the flourless banana bread and then apologized – she actually liked it, she admitted. Ha! So did the rest of my kids. The texture is this different type of moist; a squeezable loveliness. But let's talk about the recipe:
White Bean Banana Bread Recipe: an Oat Flour Banana Bread with Beans
I love baking with beans because one, it adds this creamy texture, but it also adds a healthy dose of fiber and packs in some protein, too. You can prepare this bread in literally 10 minutes – easy real food, right?! I use my blender to make the oat flour (put oats in blender, blend and voila) and also to mix the wet ingredients. Super simple – you can do it!
And one last note … I recently updated my baking pans and now use this loaf pan which I absolutely love. No more scraping the sides to get the bread out, it cleans simply, and goodbye questionable metal toxins. I highly recommend it!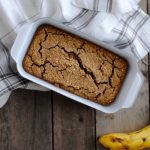 White Bean Banana Bread Recipe
Gluten free banana bread made with oat flour and white beans, amongst other ingredients. Perfectly sweet and filling thanks to the added protein!
Ingredients
2

cups

oat flour

(use GF oats/oat flour to make this GF)

1

TBSP

cinnamon

1

tsp

baking soda

3/4

tsp

baking powder (gluten free)

1 1/2

large bananas mashed

see directions - do this in the blender

1

cup

cannellini

(white beans), rinsed and drained

1/3

cup

maple syrup

1/3

cup

milk

(you can sub almond milk)

1 1/2

tsp

pure vanilla extract
Instructions
Preheat an oven to 350 degrees F. Grease a loaf pan.

In a medium-sized bowl, mix dry ingredients.

Place bananas, beans, maple syrup, milk and vanilla in a blender. Blend to combine.

Make a well (hole) in the dry ingredients; pour wet ingredients in and mix to combine. Pour batter into prepared loaf pan and place in the middle of the preheated oven. Bake for 30 minutes. When the timer goes off, turn the oven off but LEAVE the loaf in the oven for 5 minutes. Total cooking time is 35 minutes.

Let cool before enjoying.
Nutrition Facts
White Bean Banana Bread Recipe
Amount Per Serving (0 g)
Calories 136
Calories from Fat 18
% Daily Value*
Fat 2g3%
Cholesterol 0mg0%
Sodium 144mg6%
Potassium 156mg4%
Carbohydrates 25g8%
Protein 4g8%
Vitamin A 20IU0%
Vitamin C 1.3mg2%
Calcium 44mg4%
Iron 1.2mg7%
* Percent Daily Values are based on a 2000 calorie diet.
How are your kids about your cooking? Do they always love whatever you make? And if so – I'd love your secrets.
---
Posts may contain affiliate links. If you purchase a product through an affiliate link, your costs will be the same but Easy Real Food will receive a small commission. This helps cover some of the costs for this site. We appreciate your support!