One of the biggest misconceptions about eating gluten free is that you can no longer enjoy bread. I removed gluten from my diet 6 years ago and two of my four kids can't tolerate it, either. I was bound and determined that my eldest daughter, who is a true carb lover, would be able to enjoy gluten free bread and not feel like she was missing out. Over the years, I've tried testing and creating numerous recipes – from gluten free sandwich bread, to delicious gluten free carrot banana bread, and everything in between. Below are my best gluten free bread recipes. But before we get to those – let's cover some of the basics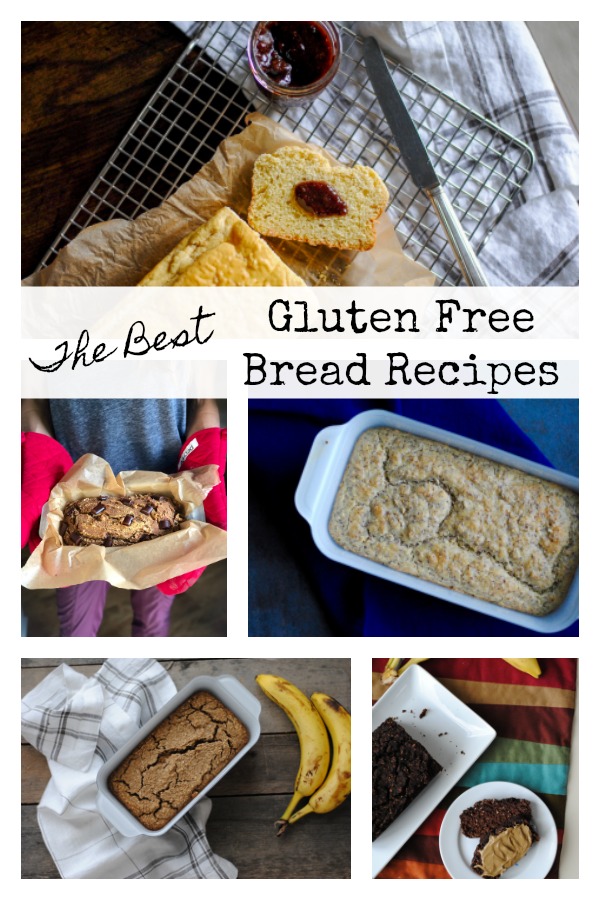 How to make gluten free bread
It's important to note that gluten free bread differs very much from traditional bread, which is made with whole wheat or wheat flour. While many people have heard the term gluten free, some don't know what gluten actually is. Gluten is two proteins, gliadin and glutenin, stuck together. They act like glue and give baked good their elasticity and chewy, soft texture. Without gluten, the end product is a slightly different texture. It's more dense and lacks the open light that we often see in traditional bread. If not baked correctly, gluten free bread often doesn't hold it's shape as well. The good news: by using gluten free flours and adding some gums, you can overcome this and create a wonderful end product that gluten free individuals will enjoy. One note of caution – some people have sensitivities to the gums, so you'll want to be wary of this and potentially avoid them if they cause you issues.
My favorite gluten free flours to bake with
For recipes that contain gluten, I was always a big fan of white whole wheat flour. But I've found a host of wonderful gluten free flours that provide not only a basis for baking with, but solid nutritional value as well.
Almond flour
Buckwheat flour
Amaranth flour
Teff flour
Arrowroot flour
Brown rice flour
Oat flour
Corn flour
Chickpea flour (sometimes called besan)
Coconut flour
Banana flour
Tapioca flour
Cassava flour
The best grain free flour options
Did you know that there are also a number of wonderful grain free flours to bake with as well?  Here are some of my favorites:
Almond flour
Arrowroot flour
Banana flour
Cassava flour
Chestnut flour
Coconut flour
Sweet potato flour
Tapioca flour
Tigernut flour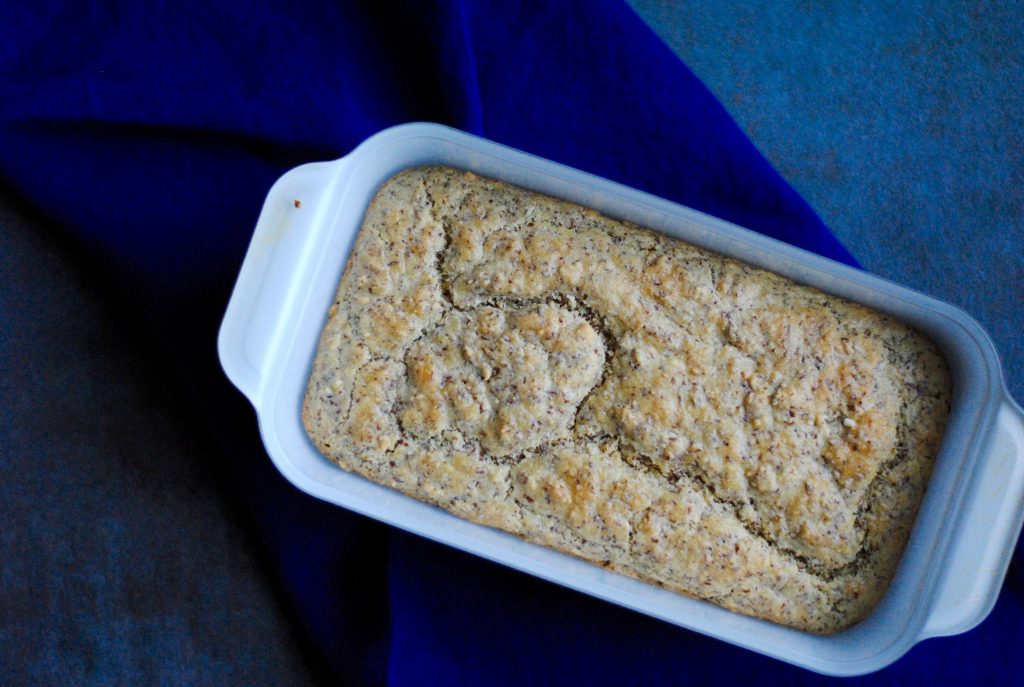 The Best Gluten Free Bread Recipes
Now for the good stuff! Some of my favorite recipes are included below. One note, this is my favorite loaf pan for baking in, and I almost always use this parchment paper, too. I'd love to hear which of these sounds best to you!
Gluten Free Almond Flour Bread – Don't have a lot of time, but in search of a healthy gluten free bread recipe? Then this recipe for gluten free almond flour bread is the one for you! It combines almond flour with oat flour, ground flax seed, and a handful of other unprocessed ingredients to yield a healthy, fast gluten free bread recipe.
The best grain free bread recipe (nut free) – I've been grain free for 2 years now for health reasons, including being autoimmune.  Adapting to this diet was initially a challenge for me, but I knew that I could make it doable by creating a few key recipes. One of these key recipes was a grain free bread. Made with seeds, eggs, psyllium husk and a few other ingredients, this is a protein-rice, nut free and grain free bread that I make weekly. It's dense and doesn't rise, but it is tasty when made into an open-faced sandwich even with traditional sandwich fillings.
Gluten Free Paleo Cassava Bread – this is by far my favorite gluten free sandwich bread. The recipe utilizes yeast, which is combined with egg, coconut and cassava flour, and a few other ingredients. The result is a thick loaf of grain free bread that's wonderful for toasting, making sandwiches, french toast, and more. My gluten free kids couldn't believe that this was something that they could eat and enjoy – it's that good! For those who follow a paleo diet, this is a bread recipe you will want to hold onto.
Vegan Chocolate Banana Bread with Black Beans – A different twist, this bread is made primarily with oat flour, bananas, and the addition of black beans, which provides a pop of protein. It's a vegan, gluten free chocolate bread that's delicious with nut butter spread on top.
The best gluten free banana bread recipe – with beans – After adding beans to the chocolate banana bread, I wanted to try it with an oat flour banana bread. The end result is a similar recipe, but includes cannellini beans instead of black beans. Beans create a creamy texture; I mentioned that gluten free bread textures differ because they don't have the binder (gluten), so I've found that this alleviates that issue and provides a dose of protein and fiber as well.
Banana Flour Carrot Banana Bread – Banana flour has quickly become one of my favorite gluten free (and grain free) flours to bake with. It has prebiotics, which feed the good bacteria in your gut. It's also rich in potassium, magnesium and fiber. This gluten free carrot banana bread incorporates banana flour with mashed bananas, carrots and more for a treat-like bread that's tasty for breakfast or that afternoon cup of coffee or tea.
Paleo Pumpkin Bread – Not just for the fall season, Paleo Pumpkin Bread with Coconut Flour is a gluten free, grain free pumpkin bread that's made without any refined sugars. In just 15 minutes, you'll be ready to place a loaf of gluten free pumpkin bread in the over, your house smelling amazing during the baking process. Enjoy a thick, perfectly pumpkin loaf that makes a healthy breakfast, afternoon snack, or on-the-run treat.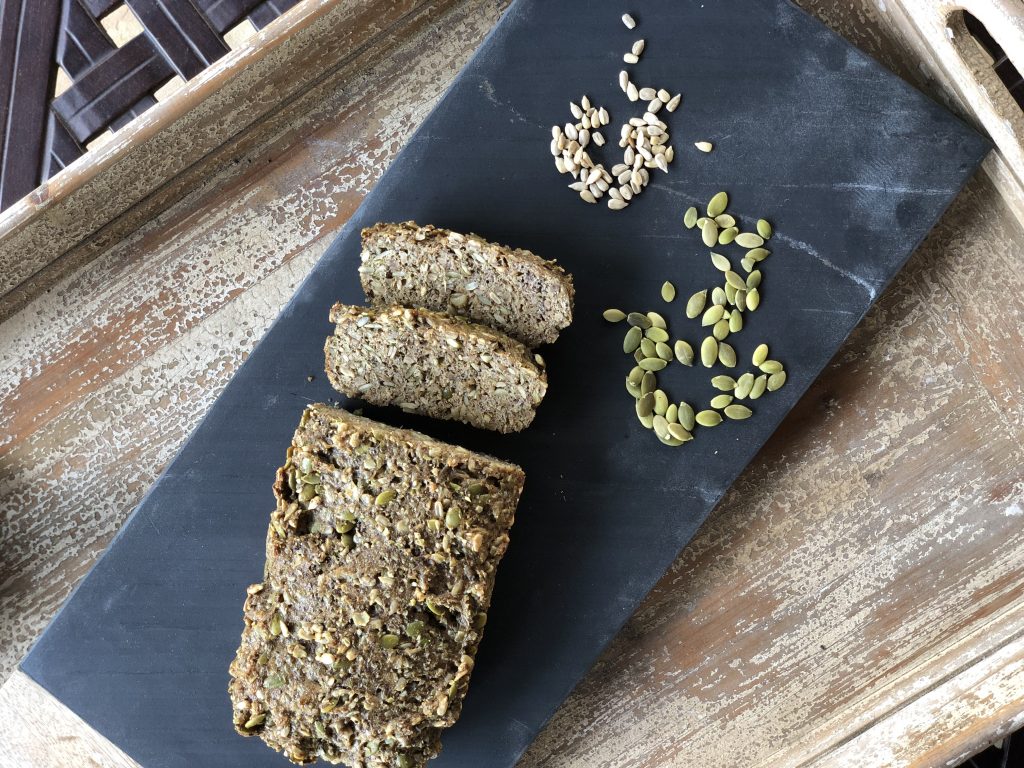 Is homemade gluten free bread better than store bought?
In most cases, making most any food at home is going to be healthier than buying it at the store. By cooking at home, you can be aware of the ingredients and also avoid many fillers and preservatives. We briefly discussed having a sensitivity to gums such as xanthan or guar gum – if this is the case for you, you'll definitely want to bake at home so that you can avoid these.
What are some good gluten free bread mixes?
If you don't want to bake from scratch, know that there are a handful of good mixes available. Some of my favorites include:
Pamela's Bread Mix Gluten Free
King Arthur Flour Gluten Free Mix
So there you have it. Baking gluten free bread is easy and you can do it! Please share other recipes or tips that you've had success with in the comments below.