A delicious cassava bread recipe that's easy and toasts up well. Looking for a grain-free bread? How about a Paleo bread recipe? This cassava flour bread recipe will be your new go-to!
Paleo Cassava Bread Recipe
True story: I used to be a total carboholic, and bread was my number one choice of food. But after having to go grain free, I thought those days were over. Was gluten free bread an oxymoron? Was it possible to make a grain free bread, and at that, a good one? Well today I'm introducing a paleo cassava bread recipe, an easy to make paleo bread that's free of nuts and grains! Let's take a look!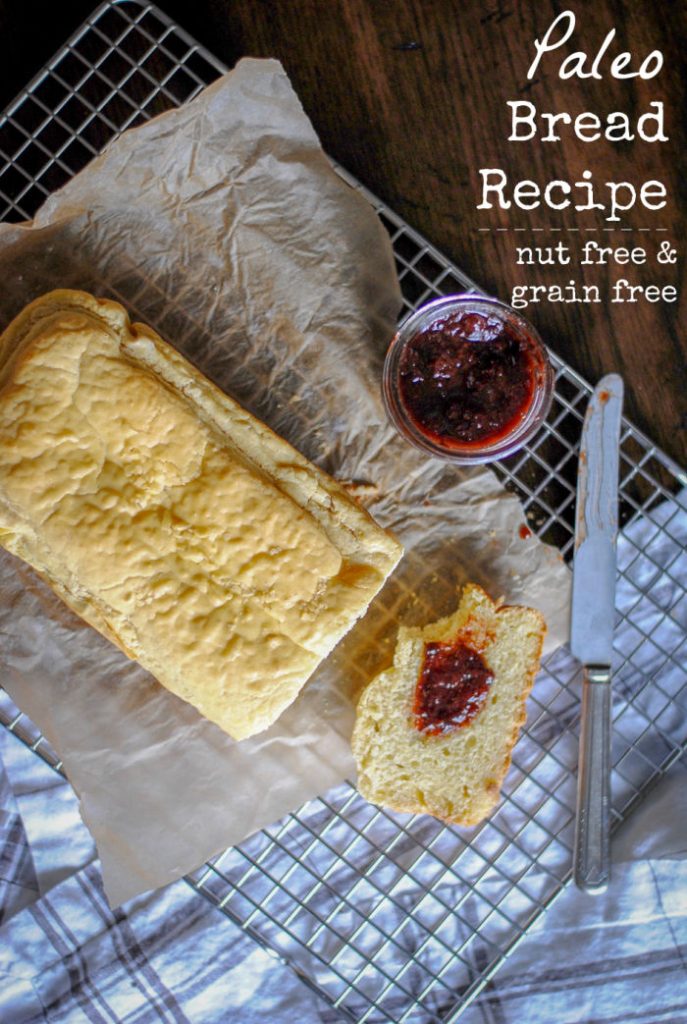 Easy to make paleo bread
Let me first clarify that my grain free nut free bread is on permanent rotation in our household, but truth be told, my kids are just not huge fans of it. It's full of seeds, which I like – but my kids are just not as crazy about them:). This paleo cassava bread recipe produces the perfect loaf of bread that slices easily, making it wonderful for toasting, making sandwiches, and simply feeling like just because you are gluten and/or grain free that you can actually enjoy a piece of bread, which is a huge win!
Items to help make this paleo cassava bread recipe: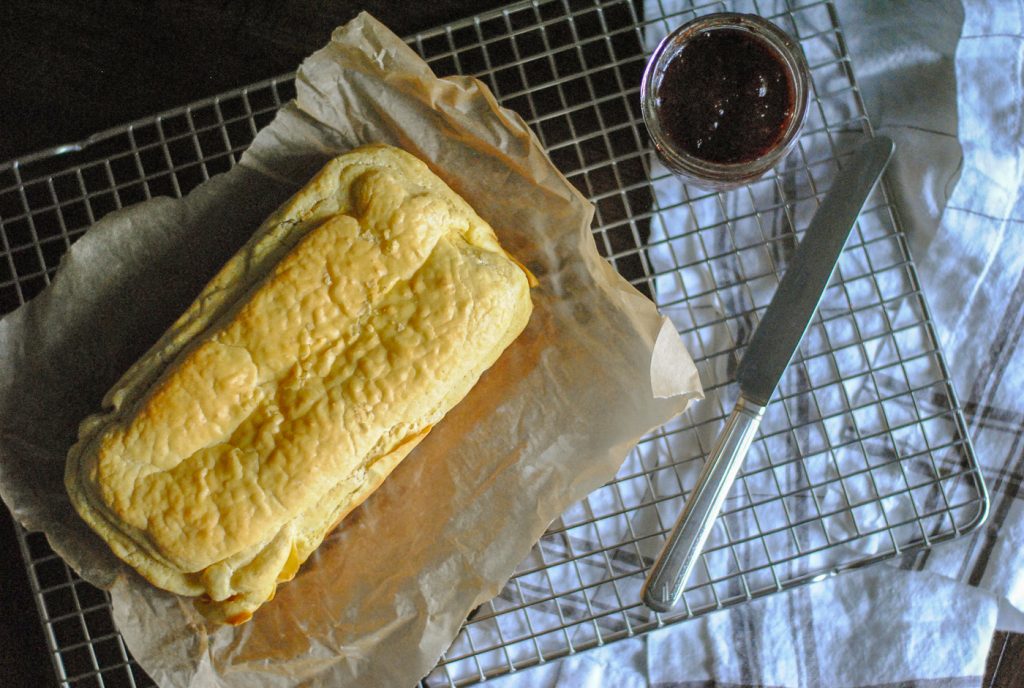 Questions about cassava flour:
Is Cassava flour healthy? Cassava contains thiamin, phosphorus and small amounts of iron, vitamin C. It's a starchy root vegetable, so you can feel good about eating that – but honestly, the nutritional breakdown of a cassava isn't that impressive. On the positive side, Cassava is high in resistant starch, a type of starch that bypasses digestion and has properties similar to soluble fiber. For this reason, cassava can help reduce inflammation and promote digestive health.
Personally speaking, for those who are gluten-free, grain-free or have food allergies, it's a solid flour alternative that works well in baking. So the question isn't so much if it's healthy in my opinion – it's got an okay makeup and I can eat it. That's a win in my book.
Is cassava flour anti inflammatory? Because cassava flour is a resistant starch, (which feeds the beneficial bacteria in your gut), it may help reduce inflammation.
Paleo Cassava Bread Recipe
A simple recipe for a paleo, nut-free and grain-free bread that's wonderful for toasting, making sandwiches and more.
Course:
Breakfast, Lunch, Snack
Ingredients
1/2

cup

warm water

(around 100 - 110 degrees F)

1

tbsp

maple syrup

1

package

active dry yeast

4

eggs

beaten

1 1/3

cups

cassava flour

1 1/3

cups

arrowroot flour

1

tsp

baking powder

4

tbsp

butter

3

tbsp

coconut flour
Instructions
Combine the warm water and maple syrup together in a bowl and then sprinkle yeast on top. Set aside to get frothy - this should take 10-15 minutes. When it has doubled it is ready. If it does not froth, the water temp was off or the yeast is old and I advise starting over.

Sift or stir together cassava flour, arrowroot flour and baking powder. Using a box grater, grate butter into the flour mixture and incorporate. Use a fork and mashed it around until crumbs form.

Add beaten eggs and yeast mixture to flour mixture. Mix just until it all comes together well. You can use a stand mixture, or mix by hand; this will require some elbow grease, but this is how I make it. Add in coconut flour and mix to combine.

Let rest about 5 minutes. While this rests, preheat oven to 350 degrees F.

Line a loaf pan with parchment paper and transfer batter into lined pan. Set in a warm place and let bread rise 30-45 minutes.

Bake 30-35 minutes, remove from oven when done, and immediately take out of pan and allow to cool on a rack.
Nutrition Facts
Paleo Cassava Bread Recipe
Amount Per Serving
Calories 166
Calories from Fat 45
% Daily Value*
Fat 5g8%
Cholesterol 64mg21%
Sodium 59mg3%
Potassium 29mg1%
Carbohydrates 25g8%
Protein 2g4%
Vitamin A 200IU4%
Vitamin C 0.7mg1%
Calcium 37mg4%
Iron 1.1mg6%
* Percent Daily Values are based on a 2000 calorie diet.

How to enjoy this paleo cassava bread recipe
Toasted with butter
Warmed with some honey ghee added on top
Slathered with smashed avocado for avocado toast
Two slices, with your ingredients of choice sandwiched in-between
Cut into cubes to make your own grain-free croutons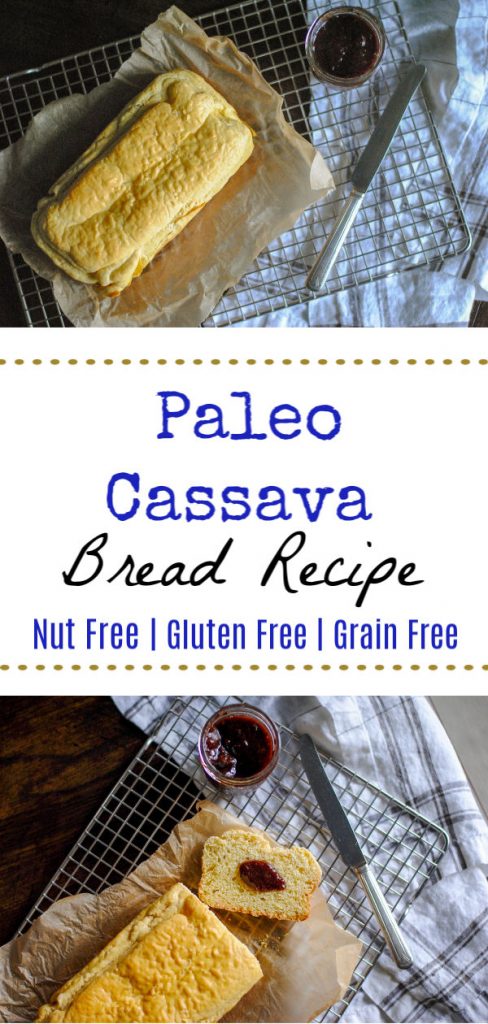 Other gluten free bread recipes you may enjoy:
Grain free carrot cake banana bread
Additional easy Paleo recipes:
Air fryer Paleo zucchini fries
3 Ingredient cookies (Paleo and egg-free)
Healthy Paleo zucchini chocolate chip muffins
2 Ingredient Paleo Tortilla Recipe (Vegan + Grain Free)