Estimated reading time: 5 minutes
How to make an epic charcuterie board full of protein. Not just an easy appetizer, this is food for poker nights, Father's Day or guy get-togethers. Perfect man food or paleo grubs. Here's how!
My husband is a total carnivore. He literally starts his day eating chicken with breakfast, and not one meal from there on out doesn't include some type of protein. Sometimes it's a protein shake or bar, but mostly it's grilled chicken. Rotisserie chicken. A burger or scrambled eggs. And me, I like to make fun food platters, like this one, or this one. Most recently I did a pancake board and I realized – I love having a theme and a challenge. So I decided to create an epic protein charcuterie board for my husband. Here's how it went:
I had my husband invite over a couple of friends. I mean, I personally eat mostly plant based and I haven't eaten red meat in 27 years … so there wouldn't be much help from me. Plus I knew the guys would honestly love it. And in the end, they did!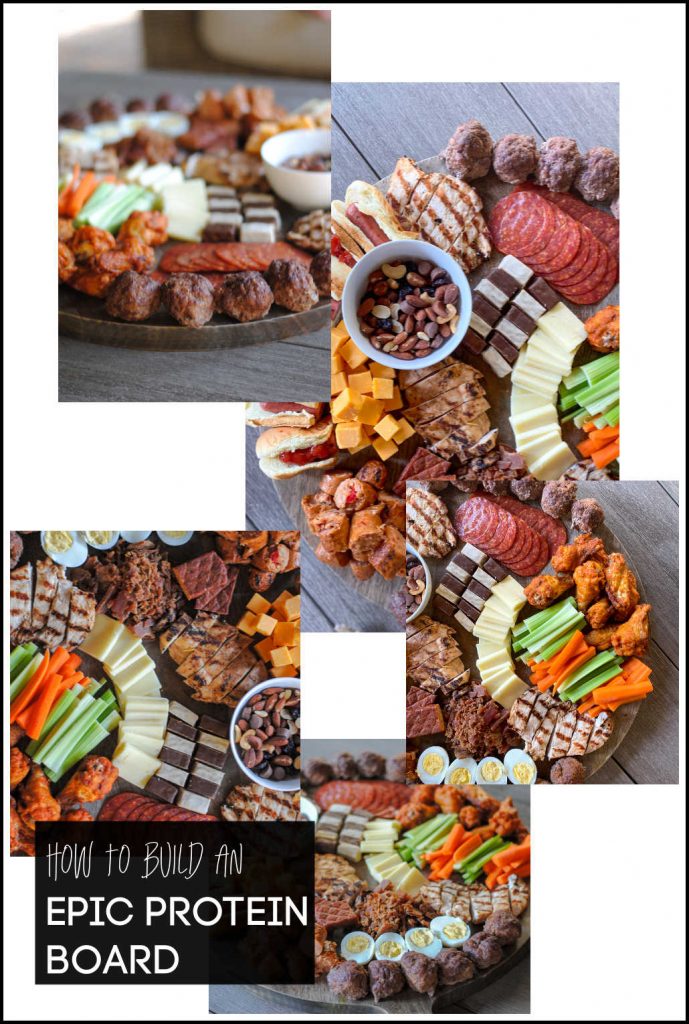 How to Build an Epic Protein Charcuterie Board
1: Choose your meats – the options are endless when it comes to meat. I made this a good portion of my inclusions, as you'll see, and supplemented with some other finger foods to go along with it.
2: Add a few cheeses – usually a hard cheese alongside a soft cheese is sufficient, but I sometimes will add a third. I do like to use contrasting colors for visual appeal.
3: Add in a few fresh vegetables – celery and carrots were added here because they pair well with chicken wings. While I didn't include ranch dressing, you totally could if you wanted to!
4: Flavor boosters – Pickles, olives, trail mix or mixed nuts are all bonus flavor profiles for your board. Keep in mind that if you're really concerned about protein, make sure to consider ingredients as you add them.
5: Vary color and texture and be mindful of positioning – I have an entire post about putting together charcuterie boards and finger food platters. This has a number of suggestions in placement/setup.
6: Enjoy!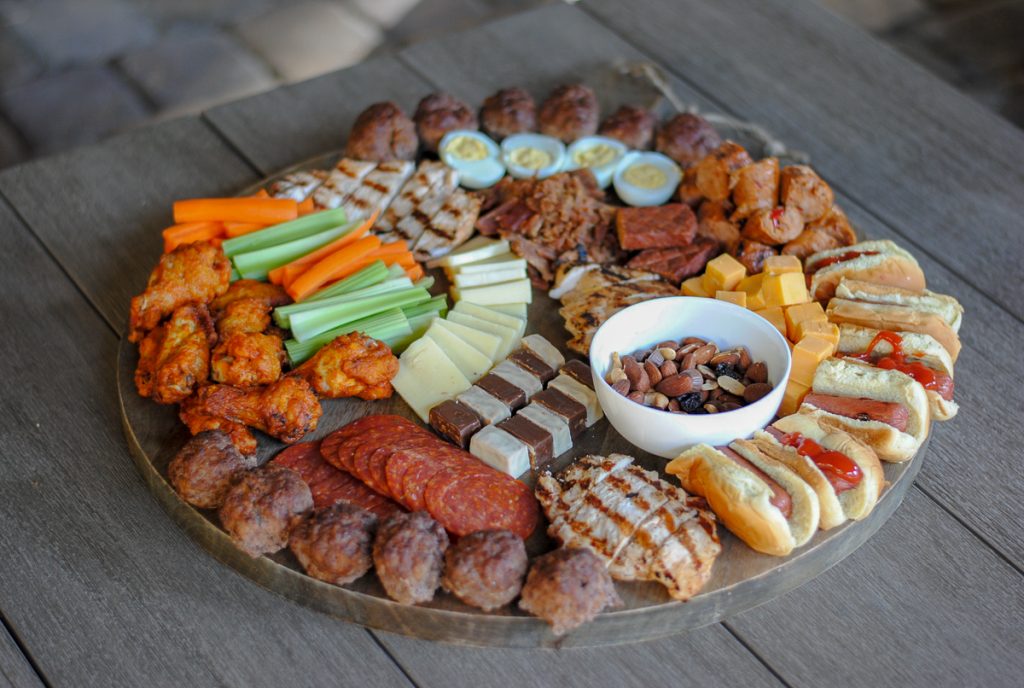 I mean, how excited would the meat- or protein-lover in you life be about this?!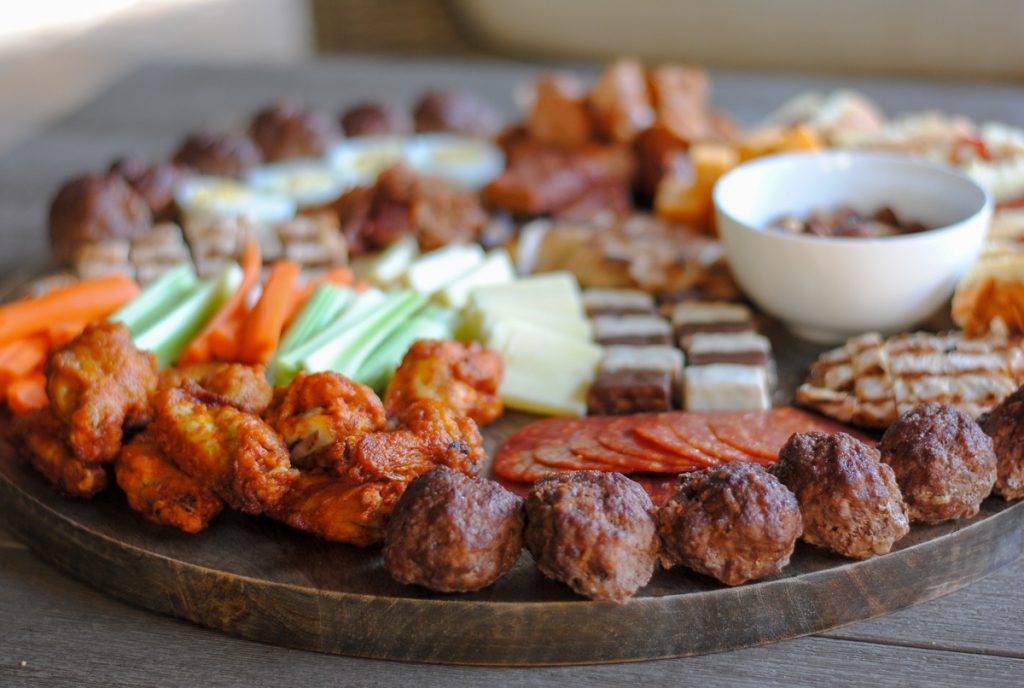 Ingredients on a protein charcuterie board
There are SO many options that you can include on a protein charcuterie board. I included 16 or the suggestions below. Which will you include?!
Grilled chicken breasts
Hot dogs (with or without buns – I thought the buns were so fun!)
Hard boiled eggs
Cheddar cheese
Other white contrasting cheese (for color)
Chicken sausage
Protein bars (My husband loves and has these bars; these are my favorite protein bars)
Chicken wings
Celery (to go with wings)
Carrots (to go with wings)
Pepperoni
Prosciutto-wrapped cheese stick
Cheese stick
Cottage cheese (may be random, but who knows)
Nuts
Trail mix
Burger (with or without bun)
Bacon
Ham slices
Canadian bacon
Sausage links (breakfast)
Chicken nuggets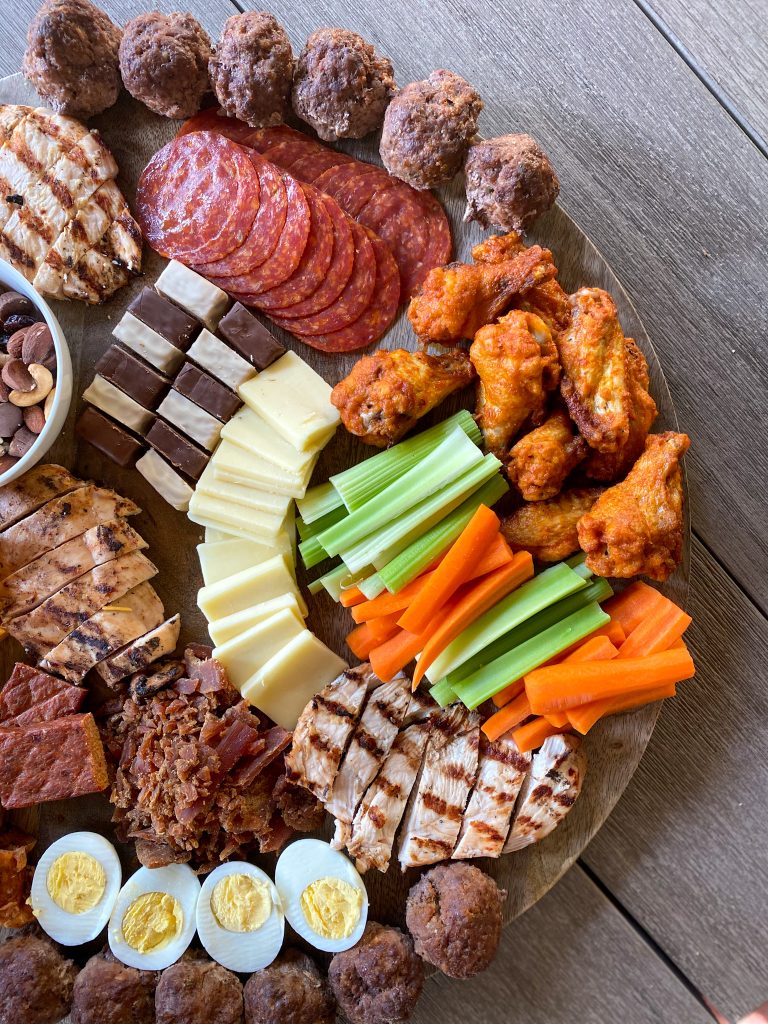 How to make this charcuterie board keto
Since a ketogenic diet focuses on eating low-carb but high fat, most of the above items would fit this niche. You would definitely want to avoid any of the buns/bread, as well and meats that are breaded (think chicken nuggets). In addition, choose a keto protein bar if you want to include something like this and opt for pain Greek yogurt if you choose to include this.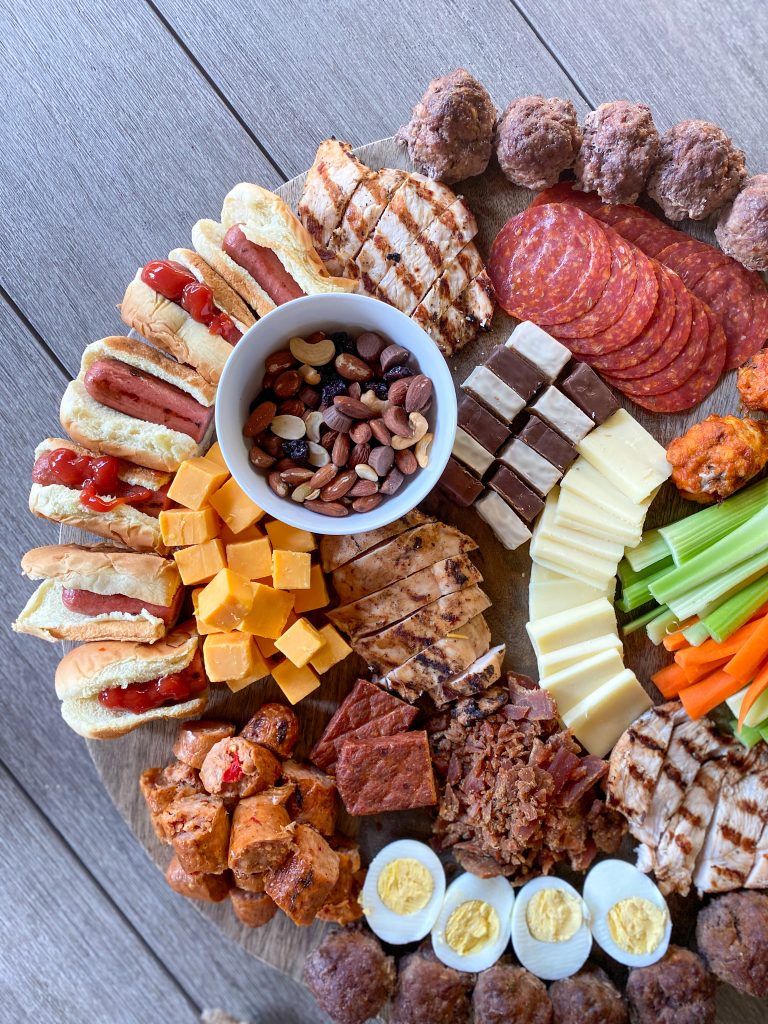 Why aren't there more vegetables or fruit on this board?
Sure, you can add in more fruits and vegetables. I chose not to since I really wanted to go all out with the protein theme. And what I really cracked up with in the end – almost everything was consumed by 3 grown men … except the carrots and celery! Oh well, I had good intentions and also wanted that pop of color so I was okay with it.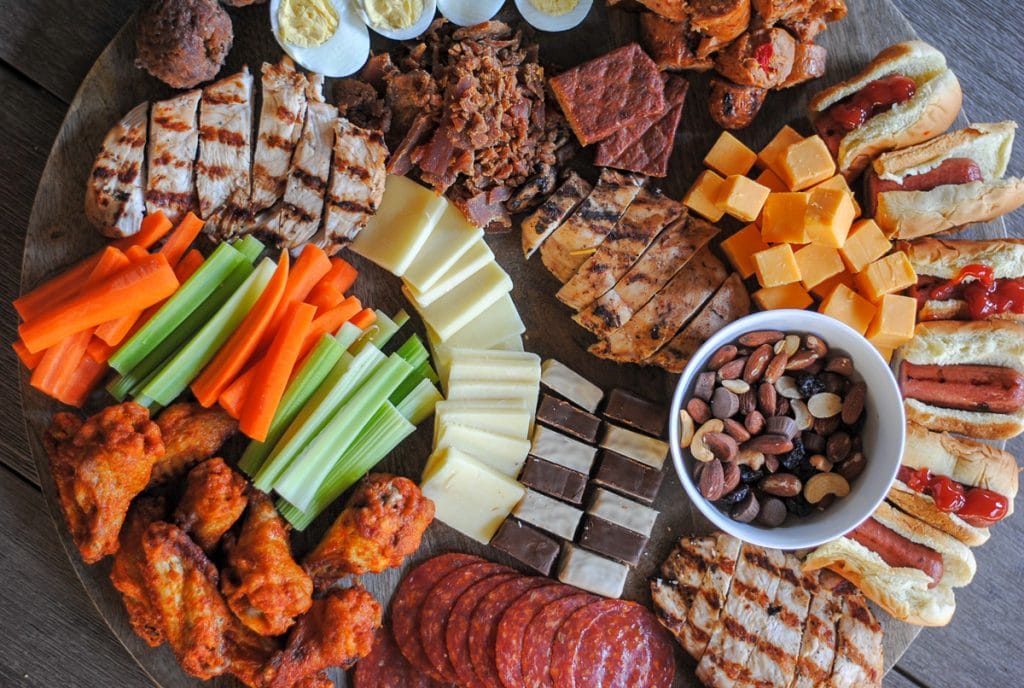 This protein charcuterie would be perfect for:
Father's Day
Poker nights
Get-togethers with workout buddies, or anyone who loves a big pop of protein
Guy's nights
A meat-lovers themed party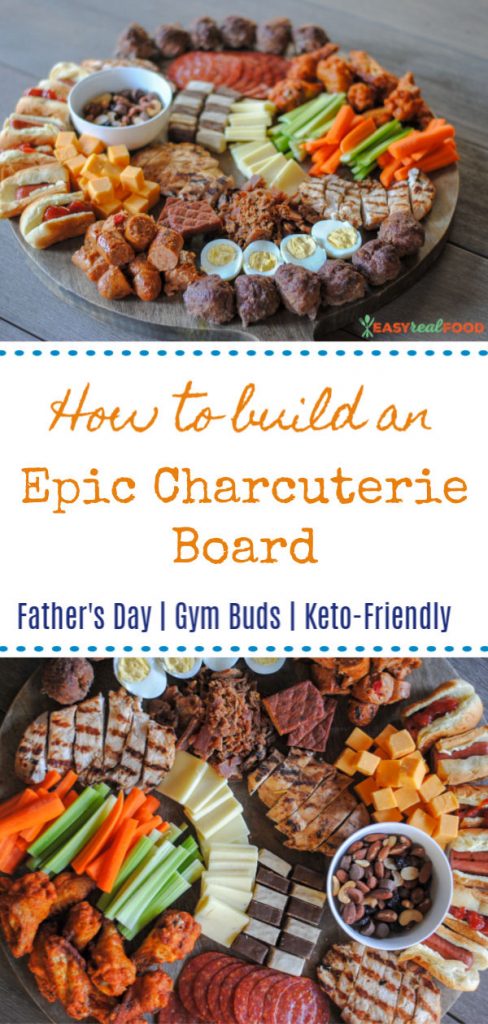 Let me know if you make one of these boards. Tag @easyrealfood on Instagram and I'll share it in my stories! Enjoy!