Yesterday I had a conversation with a friend where I confessed that I'm over here trying to help you get easy gluten free meals on the table, and yet I'm struggling to do so myself. I'm not gonna lie; life is busy, and it's tough to get it all done. So really quick and nutritious homemade meals are what I need, just as much as I know you do! With that being said, I'm excited to offer up a SUPER easy and tasty one that you can get on the table in no time: Creamy One Pot Italian Gluten Free Pasta.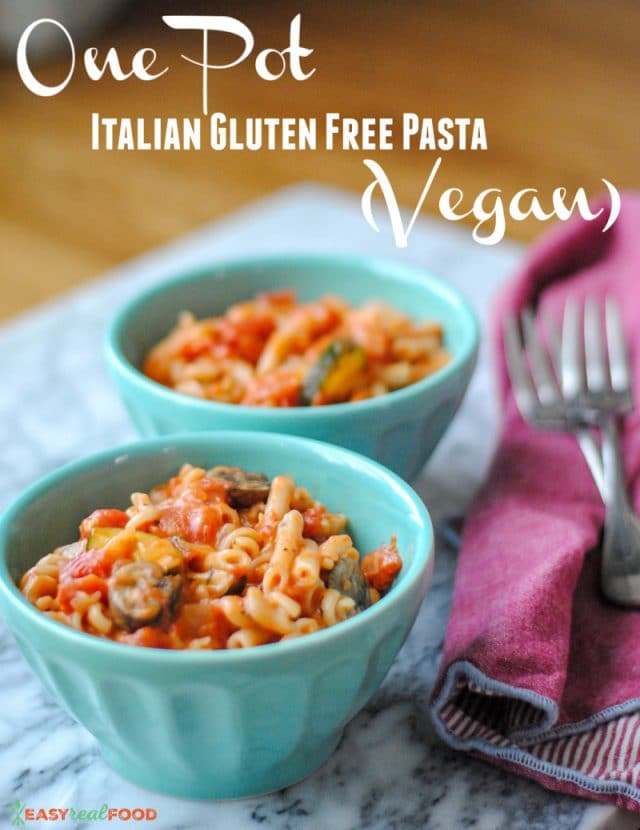 How to make a one pot pasta dish
Did you know that you can actually make a one pot pasta dish? If you have the right amount of liquid, the pasta actually cooks right in there. This means no pre-boiling the pasta or making a separate sauce. Which also means no additional cleanup – yay! I first tried this one pot gluten free taco pasta recipe with success, which gave me inspiration for today's recipe.
About One Pot Italian Gluten Free Pasta
As mentioned above, the pasta cooks directly in the liquid within the recipe. This said, you need to make sure to stir it every couple of minutes while it's cooking to help avoid it catching on the bottom of the pot.
Gluten free pasta works wonderfully in this. I used Tresomega Gluten Free Pasta, which is made from organic rice, quinoa and amaranth. I like that it's not made solely from rice, and also that it's corn-free. And it doesn't get mushy!
This truly is a one-pot meal as it contains vegetables within so you don't feel the need to add a side. Of course a salad would pair well with it!
Don't use low-fat coconut milk, but instead go for the full fat (which are all healthy fats) to get that true creaminess.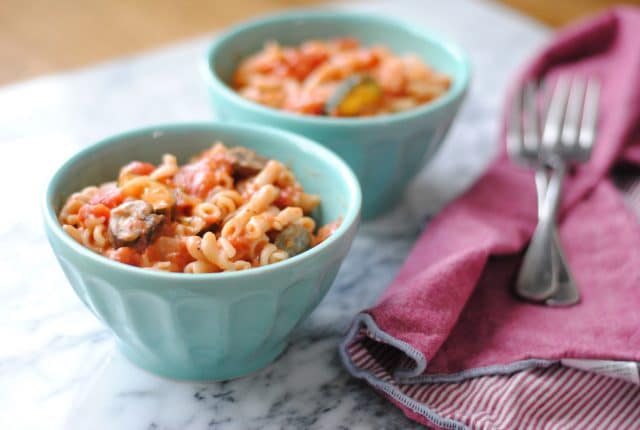 Bonus: One Pot Italian Gluten Free Past is a Vegan Recipe!
In case you are wondering – I'm not vegan. Never have been, never will be. I was a vegetarian for 5 years, but my body didn't do well with it. More specifically, I was so low on iron that I had to get a few iron infusions. After that, I realized that my body does not do well with beans and legumes, so I had to remove some foods. With such limited choices, I was *forced* to add back in fish, eggs and very occasional chicken. With this being said, I absolutely believe in the benefits of plant-based meals for health reasons, and also for minimizing meat consumption. Overall, I am a believer in moderation with foods, but that doesn't mean that I don't enjoy (and cook) vegan meals here and there!
Creamy 1 Pot Italian Pasta (Vegan!)
A recipe for Italian Gluten Free Pasta that comes together in one pot. Includes real ingredients that are plant-based, vegan and create an easy, tasty meal!

Course:
Dinner, Main Course
Keyword:
Dinner, Quick dinner
Instructions
Heat oil in a large pot (I use a soup pot). Add onion and saute for 2-3 minutes. Add garlic, zucchini and spices and saute 1 more minute.

Add all other ingredients aside from the tomatoes and mushrooms. Bring to a boil, and then immediately bring down to a simmer. Cook for 15-18 minutes until pasta is cooked through, stirring every 2-3 minutes.

When pasta is cooked, remove from heat and fold in mushrooms and tomatoes. Stir for a minute or two before serving.

Top with fresh basil if desired (optional).
Nutrition Facts
Creamy 1 Pot Italian Pasta (Vegan!)
Amount Per Serving (0 g)
Calories 214
Calories from Fat 36
% Daily Value*
Fat 4g6%
Sodium 709mg31%
Potassium 561mg16%
Carbohydrates 42g14%
Protein 6g12%
Vitamin A 381IU8%
Vitamin C 30mg36%
Calcium 88mg9%
Iron 3mg17%
* Percent Daily Values are based on a 2000 calorie diet.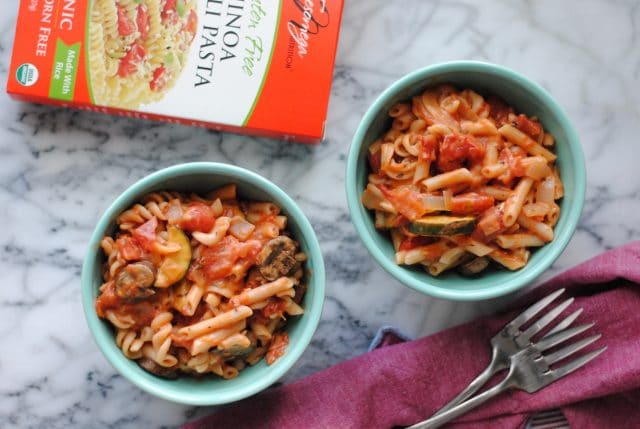 About TresOmega Nutrition
This recipe is part of a recipe contest for TresOmega Nutrition. I was sent product to try for creating and photographing this dish, and I discovered that I'm a new fan! I love the texture of their gluten free pasta. If you want to try it out, you can find it at Sam's Club.