This past Valentine's Day, I wanted to do something different. We are so blessed with having more than we need – and I get tired of having too much stuff around the house. So instead, I wanted to make something for each of my family members. My husband loves peanut butter, he's into lifting weights, and therefore has protein powder daily. So I created these peanut butter protein balls – buckeyes made with whey protein for his gift. Spoiler alert: he loved them.
An easy buckeye recipe
Truth be told, I've never attempted making traditional buckeyes. Back in the day I was slightly intimidated by them. But as I got more into eating real food, and feeding it to my family, I also didn't wish to make buckeyes with powdered sugar – a main ingredient in most recipes. This recipe is essentially peanut butter balls without powdered sugar which are made instead with protein powder. So let's talk about the protein powder ….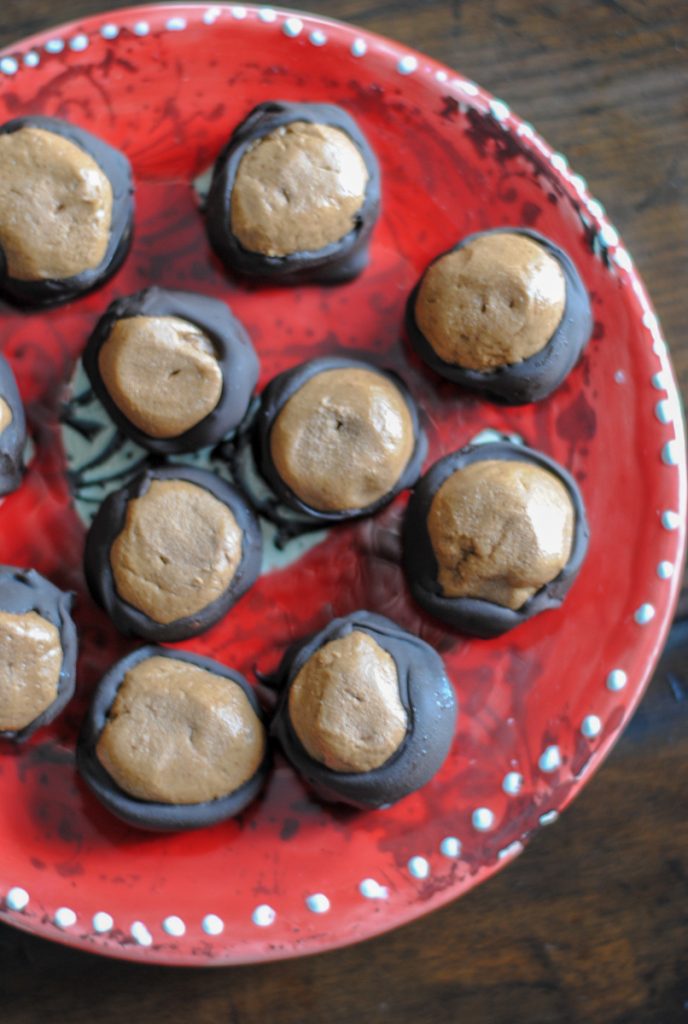 A whey protein powder recipe
What is whey protein?
Whey protein is the protein contained in whey, the watery portion of milk that separates from the curds when making cheese. Milk is curdled and strained, and the remaining liquid is whey. This is a fantastic article on what whey is, and what the benefits are, including not only the protein benefits, but also the amino acids and other nutrients that it offers. The article states that whey protein alone is not very good tasting, so it's often flavored with includes some form of sweetener. Since whey is from milk, it can cause issues for people who are lactose intolerant; some people are also allergic to it.
What can you do with whey protein?
The simplest way to use whey protein, and what my husband does daily, is to make a shake out of it. He personally just uses a protein shake blend and mixes water with it, but you can blend up protein powder with fruit and another liquid (even milk) if you want something more satiating and calorie-rich. You can also add protein powders to pancakes and other baked goods or even stir some into your coffee to up your protein intake.
It's important to note here that I am not a personal fan of his protein of choice, but I don't tell him what to do:). This is my personal favorite protein powder – it's plant-based and super clean!

Alternatives to whey protein:
If you are looking for other options to whey protein, here are some to consider:
Hemp Protein – My personal favorite hemp brand is Manitoba Harvest, a Canada-based company who has been in the hemp business since 1998. Their hemp protein is actually a blend of hemp and pea protein and contains coconut sugar and cocoa. Nutiva also makes a good quality organic hemp protein, but I prefer the taste of Manitoba Harvest's product.
Pea Protein – Pea protein comes from yellow peas. It is vegan, hypoallergenic and a good source of iron. Though it is derived from peas, it is said to be digested easier than whole peas.
Plant-based Protein – Hands down my two favorite plant-based proteins are Nutiva's Plant Based Protein and Truvani's Plant Based Protein Powder. Nutiva's product is high-protein, vegan, nutrient dense, non-GMO, gluten-free and grain-free, with no added sugar or stevia. Truvani's is made from pea protein, pumpkin seed protein and chia seeds and sweetened by Luo Han Guo.
Rice Protein – Rice protein is considered a complete protein source, meaning that it has all of the  essential amino acids. That said, it's not as rich in protein as some of the other plant-based proteins. I have not tried/found a rice protein that I love.
While I have not tried using these proteins in this recipe, I do have a recipe for 3 ingredient protein balls that actually doesn't use protein powder. You can use this to make vegan buckeyes as well without protein powder.
Questions about Peanut Butter Protein Balls
What if I can't eat peanuts or peanut butter? No problem; use the nut butter of your choice. I used peanut butter since my husband is a fan of chocolate and peanut butter.
Do I need a sweetener? No; most protein powders (and often nut butters) contain sweeteners already. You don't need to add anything else.
What type of chocolate do you recommend? I personally love Enjoy Life Chocolate Chips because they are free of the common allergens and also paleo, but you can use whichever ones you'd like.
Should I use chocolate or vanilla protein powder? You can actually use whichever you'd like. I have tried it with both with success!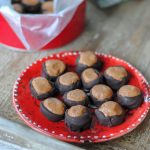 Peanut Butter Protein Balls: An Easy Buckeye Recipe
Freezing time before dipping in chocolate
A protein powder recipe that combines whey protein and peanut butter which is dipped in chocolate. A 3 ingredient easy buckeye recipe.
Keyword:
chocolate, energy ball, treats
Ingredients
Peanut butter balls
1

16 oz

jar peanut butter

(I recommend organic)

3 - 4

scoops

whey protein powder

(scoops are 32 - 34 oz each)
Chocolate coating
1 1/2

cups

chocolate chips

1

tsp

coconut oil
Instructions
In a medium bowl, mix peanut butter and protein powder. You want it to be the consistency of cookie dough and not sticky at all. If it's sticky, add a bit more protein powder. Mix until combined and place in freezer for 30 minutes.

Remove bowl from freezer and line a cookie sheet with parchment paper. Roll into balls (mine made 24, but you pick how big you'd like them) and place on parchment covered cookie sheet. Stick a toothpick in the tops of each of the balls and place back in the freezer for another 30 minutes.

Add chocolate chips and coconut oil to a microwave-safe bowl. Melt in microwave in increments of 30 seconds; stir after the first 30 seconds and place back in for a second time. Remove and stir; it should be melted at this point. Be careful not to over heat.

Hold the toothpick of each ball and dip each of the frozen balls into the chocolate and cover 3/4 of the balls as show in images. Place back on parchment covered cookie sheet to dry. Once all of the balls are covered, place sheet back in the freezer for 15 minutes to harden.

Store in a closed container in the fridge or freezer.
Nutrition Facts
Peanut Butter Protein Balls: An Easy Buckeye Recipe
Amount Per Serving
Calories 78
Calories from Fat 27
% Daily Value*
Fat 3g5%
Cholesterol 2mg1%
Sodium 8mg0%
Carbohydrates 8g3%
Protein 5g10%
Vitamin A 25IU1%
Vitamin C 1mg1%
Calcium 13mg1%
Iron 1mg6%
* Percent Daily Values are based on a 2000 calorie diet.
If you are expecting or are a new mom, you need to check out these cake batter protein balls for new moms. The protein powder within is for childbearing women, but honestly I love to have them – and I'm definitely out of that stage! How do you like to use protein powder?