I used to eat cookie dough out of the container. You know, like the big one that you get from Costco – eggs and all. I literally got a phone call one day when it was in my fridge and the redcording on the other end said "raw cookie dough contains eggs and can cause illnesses. Please do not eat raw cookie dough." I thought, WOW – the message can't be any clearer. I need to take it as a sign! And so, that wast the last time I did that. You don't need to tell me twice!
Flash forward to now, and I am gluten free AND grain free and still lactose intolerant. I've never been vegan but hey – I appreciate real food recipes like this one: a vegan cookie dough recipe with two options. One makes it grain-free and paleo, and the other has oats in lieu of some of the nut flour. It's a delicious real food snack that's void of refined sugars and a tasty treat that's versatile, too.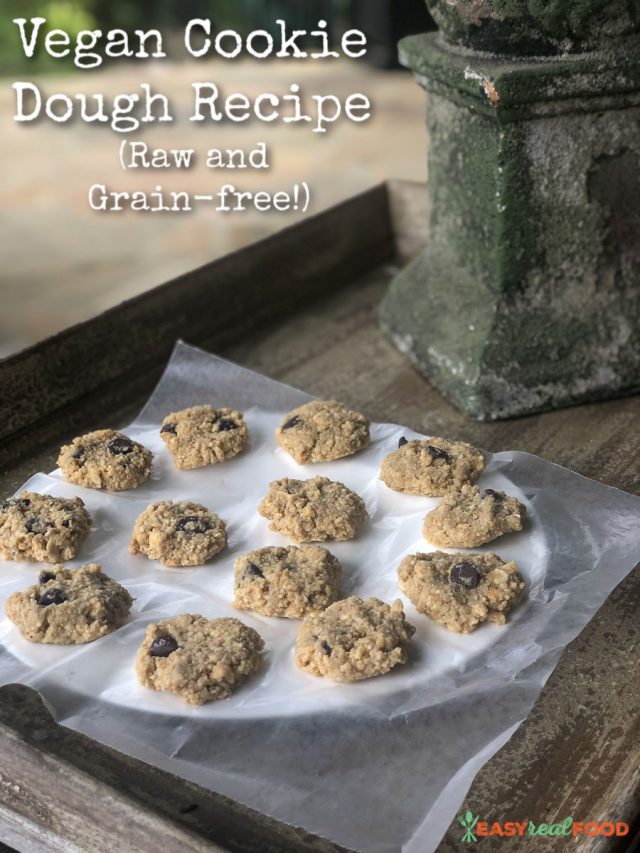 This Vegan Cookie Dough Recipe Is
Raw
Vegan (of course!)
Grain-free and Paleo (one option – see below)
Made with real food ingredients
Quick – make it in 10 minutes!
Refined-sugar free
Easily turned into a tasty, healthy vegan cookie
How do I make this vegan cookie dough recipe paleo?
This recipe is very forgiving and versatile. One method uses 2 cups of cashews ground in a blender. Because this only uses cashews, it's both paleo and grain-free. If you want to use a mix of nuts and seeds, you can also use 1 cup of cashews and 1 cup of sunflower seeds, each ground in the blender.
How to grind nuts in your blender
You'll only pulse the nuts quickly in a high-speed blender. Be careful not to blend more than 15 or so seconds (or until it looks like they are into small pieces) or you'll end up with nut butter – another fun experiment, but maybe not what we are looking for today! 🙂
How to make oat flour:
Pulse oats in a high-speed blender or food processor until they are ground into a powder-like consistency. This process should take 60 seconds or less. Stop and stir to ensure that all the oats have been finely ground. One cup of rolled oats will yield approximately 1 cup of oat flour, and you'll want to use gluten free oats if you follow a gluten free diet.
A note about cashews:
I always buy organic cashews since conventional cashews have been linked to endosulfan, a pesticide that is used on non-organic cashews. Organic cashews are grown without the use of any pesticides or poisonous chemicals including endosulfan.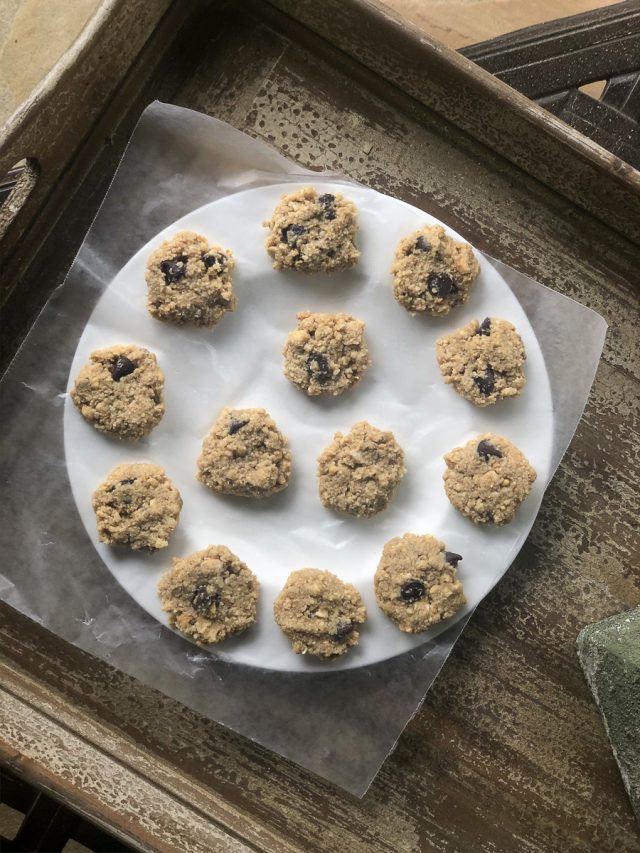 What I like to do with this vegan cookie dough:
Why not take things a step further?! Sure you can store it in a bowl (or a few small bowls) and eat it with a spoon. Or, turn this into vegan oatmeal chocolate chip cookies – the perfect grab-and-go treat. Once making the "batter", form into balls and then flatten. Place on a parchment-lined plate and put in the fridge for 1-2 hours. Keep them cold in an airtight container and enjoy a tasty, healthy vegan cookie when desired!
A fun twist to this vegan cookie dough recipe:
Keep these treats in the refrigerator and pull out when you are ready to enjoy. Add a small scoop of ice cream to the top of one and add another vegan oatmeal chocolate chip cookie to the top. Yum!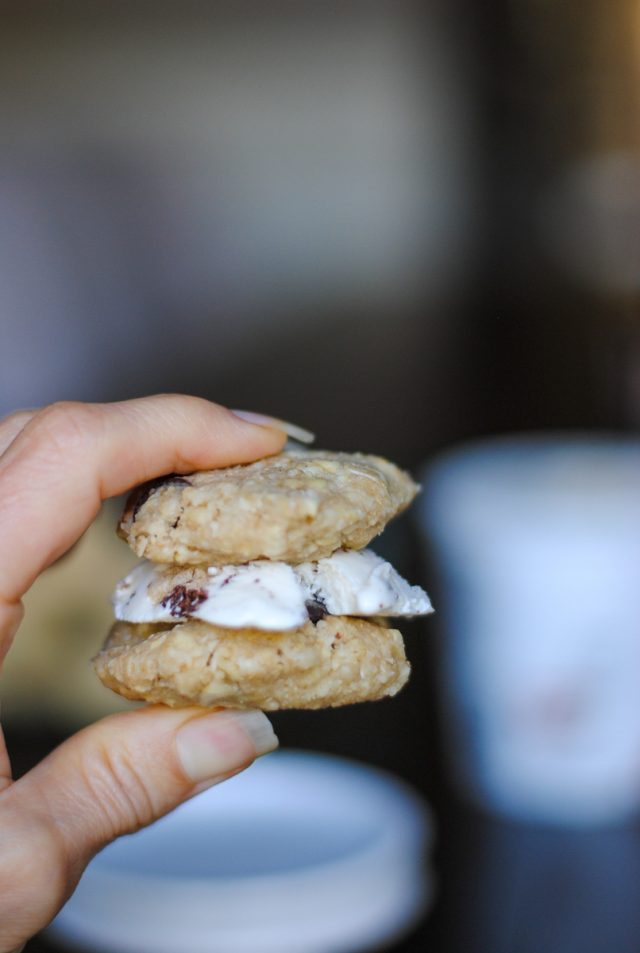 My daughter and I made these in a Facebook Live video – take a peek!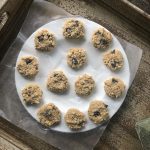 Vegan Cookie Dough Recipe
A super fast Vegan Cookie Dough Recipe that's grain-free and raw. Made with simple real food ingredients and no refined sugars.
Instructions
In a blender, pulse cashews a few times until they are ground. Put this into a bowl and add oat flour. Mix to combine.

Add coconut oil, maple syrup, vanilla and salt. Mix until "dough" starts to form. Add in chocolate chips. Enjoy as is, or form into balls and flatten. Store either way in the fridge and enjoy cold.
Nutrition Facts
Vegan Cookie Dough Recipe
Amount Per Serving
Calories 136
Calories from Fat 81
% Daily Value*
Fat 9g14%
Sodium 3mg0%
Potassium 89mg3%
Carbohydrates 12g4%
Protein 3g6%
Calcium 17mg2%
Iron 1mg6%
* Percent Daily Values are based on a 2000 calorie diet.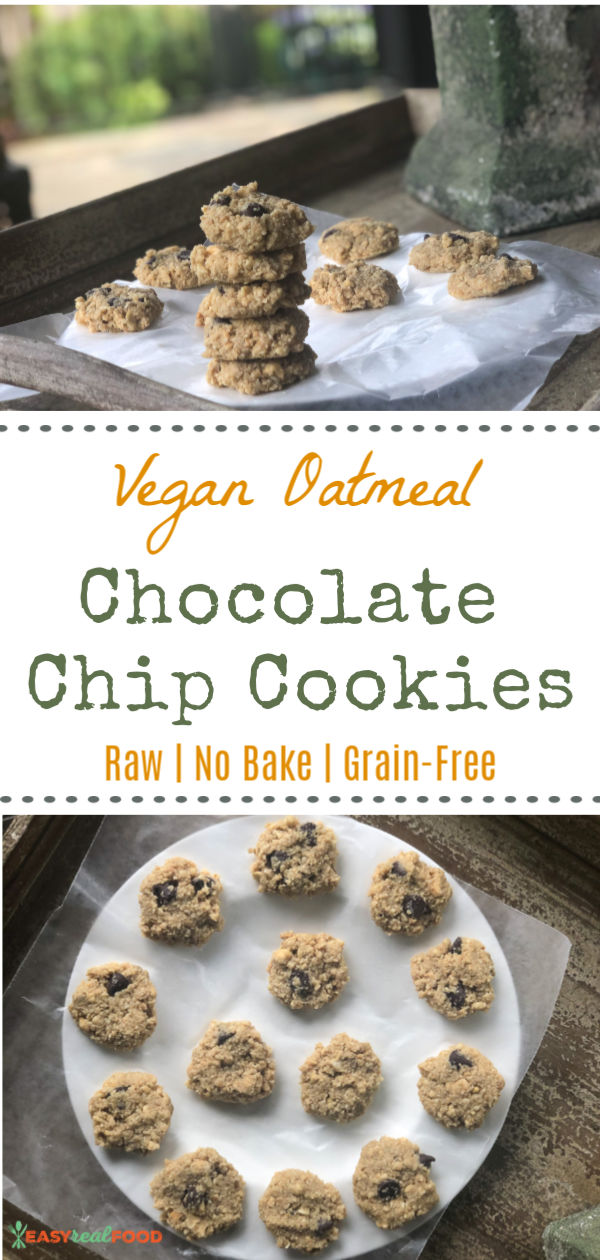 Other healthy gluten free dessert recipes that you may enjoy:
Paleo SunButter Cup Recipe with Chocolate Chips
No Bake Grain Free Brownies (Vegan)
The Best Low FODMAP Chocolate Chip Cookies
3 Ingredient Cookies (Paleo + Egg Free)
Paleo Sweet Potato Brownies with Tahini