Estimated reading time: 8 minutes
12 Healthy sweet potato recipes – super for busy nights when you don't know what to cook. Includes sweet potato nutrition and how to cook sweet potatoes.

Healthy Sweet Potato Recipes
Whether you are paleo, grain-free or just aiming to eat well, sweet potatoes likely make an appearance on your dinner table. Personally speaking, when I went grain free a few years ago, I was ecstatic to know that sweet potatoes could be used for so many things. By combining them with the right foods, I have used them to make everything from tortillas, to biscuits and even gnocchi. I'm a huge fan of this vegetable, so today I'm sharing 12 healthy sweet potato recipes + ideas for using the so that you, too, can enjoy them on a regular basis.
Sweet Potato Nutrition:
Before getting into the recipes, let's talk nutrition: Cholesterol-free, full of fiber and low in sodium, expect a hefty dose of Vitamin A along with Vitamin C from this brightly-colored tuber vegetable. Sweet potatoes come in many different types: red garnet, jewel, Japanese, Sweet Hannah and purple. And lastly, I found this comparison of yams vs. sweet potatoes to be very insightful. The takeaway? Yams may be an even better option to consider. Who knew?!
---
How to cook sweet potatoes
But let's not lose focus – let's tackle how to cook our vegetable at hand, since there are a number of ways to do so:
How long to bake sweet potatoes at 425:
Baking sweet potatoes is always my choice, assuming that I have time. To do so, simply preheat the oven to 425 F. Line a baking sheet with parchment paper or aluminum foil, and place cleaned and washed (I always use a vegetable scrubber on potatoes after they have been soaked in a vinegar-water bath) potatoes on the prepared sheet. Poke holes in your potatoes. Bake for 40-50 minutes or until soft inside when pierced with a fork.
How to cook sweet potatoes in the microwave
It's important to note that the longer that a sweet potato is cooked, the higher the glycemic index of it. That being said, by microwaving it, you actually lessen the GI load. Another super interesting fact! Anyhow – to microwave sweet potatoes, be sure they are cleaned and washed, and again, pierce the with a fork a few times in various places. Place them on a microwave-safe plate and heat on high for 5-10 minutes, rotating halfway through.
Cubed & roasted sweet potatoes
Perhaps the most important step in cooking cubed sweet potatoes is to ensure that they are all cut the same size to ensure even cooking. There's no need to peel them – just wash and scrub them to make sure they are clean. Next, cut them into even-sized pieces. Line a baking sheet with parchment paper (this is my favorite clean parchment paper) and evenly spread potatoes on it, making sure not to overcrowd them. Either spray with avocado oil or use a few teaspoons of avocado oil (to avoid burning – olive oil has a lower burn point) over potatoes. Bake at 400 degrees for 20-25 minutes or until cooked through, turning once halfway.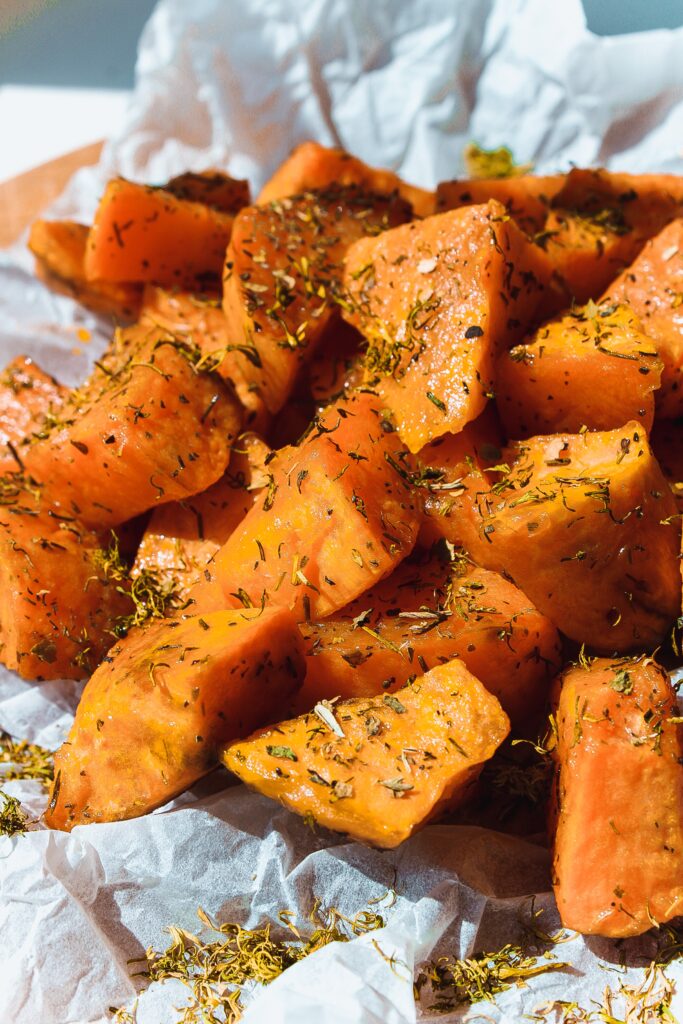 Easy healthy sweet potato recipes: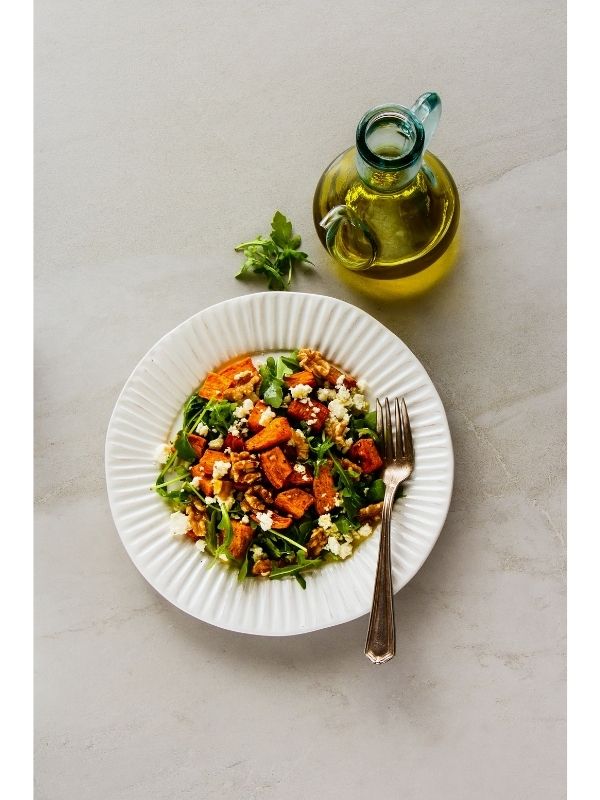 Other uses for sweet potatoes:
Use sliced sweet potatoes in place of buns for a grain-free option.
Mashed sweet potatoes can be included in homemade pancake or waffle batters.
Muffins or donuts can also have sweet potatoes baked in.
Slice them thin and cook them in an air fryer for a cleaner, healthier chip.
Make sweet potato fries by cutting them into fry shapes, and cooking as directed under the cubed info above.
So there you have it! SO many great uses for this tuber vegetable – it's no wonder that sweet potatoes are on my grocery list each week.
What did I miss? How do you like to use them?