Estimated reading time: 8 minutes
10 easy grain bowl recipes: Grain bowls are healthy and nutritious meals that are perfect for easy weeknight meals and meal prep for the week. They're simple to make and loaded with fresh ingredients and versatile. Use leftovers in your fridge from your meal prep to make easy, healthy dinners.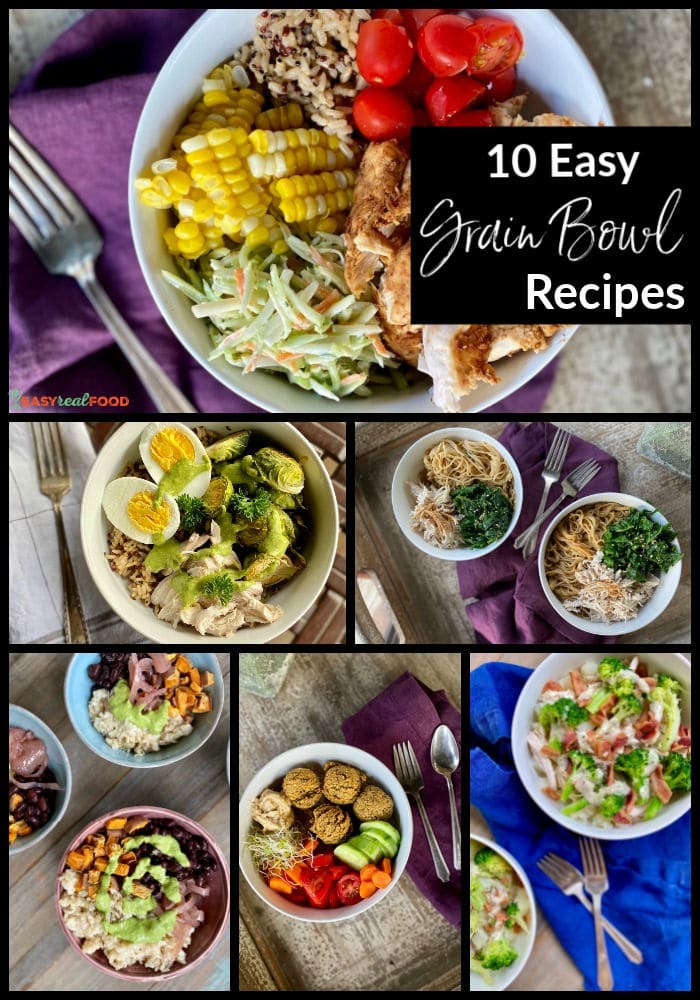 How to make a grain bowl
Start with grains. Quinoa, rice, oats, polenta, wheat berries (not gluten-free), farro (not gluten-free) or even cubed potatoes or sweet potatoes. This is super easy if you like to meal prep. I personally meal prep a number of key items each week and therefore I generally have some different foods on hand ready to use. If you can't do grains, don't worry! You can make a grain-free grain bowl by subbing in greens.
Add a protein: shrimp, falafel, chicken, beef, nut butter, egg, lentils and even tofu. Again – if you've meal prepped these for the week, they will be on hand and ready to use.
Pile on the veggies: These can be raw or cooked. Or a combination! Different vegetable ideas include: roasted broccoli, Brussels sprouts, sweet potatoes, beets, or sautéed mushrooms. I personally love pickled onion, cauliflower (or pickled anything, for that matter), Look inside your fridge and pull out what you have, or make a plan and shop for needed items at the store.
Don't forget the sauce: This is what really brings everything together. Pesto, hummus, Tzaziki sauce, harissa, peanut sauce, Sriracha, and more. One of my favorites is this green tahini sauce that you'll see I've used below.
Top it all off with some toppings. These are totally unnecessary, but fun! Add a sprinkle of sesame seeds, some chopped parsley, jalapeños, seeds or crushed nuts, radish slices or even avocado chunks to pull it all together.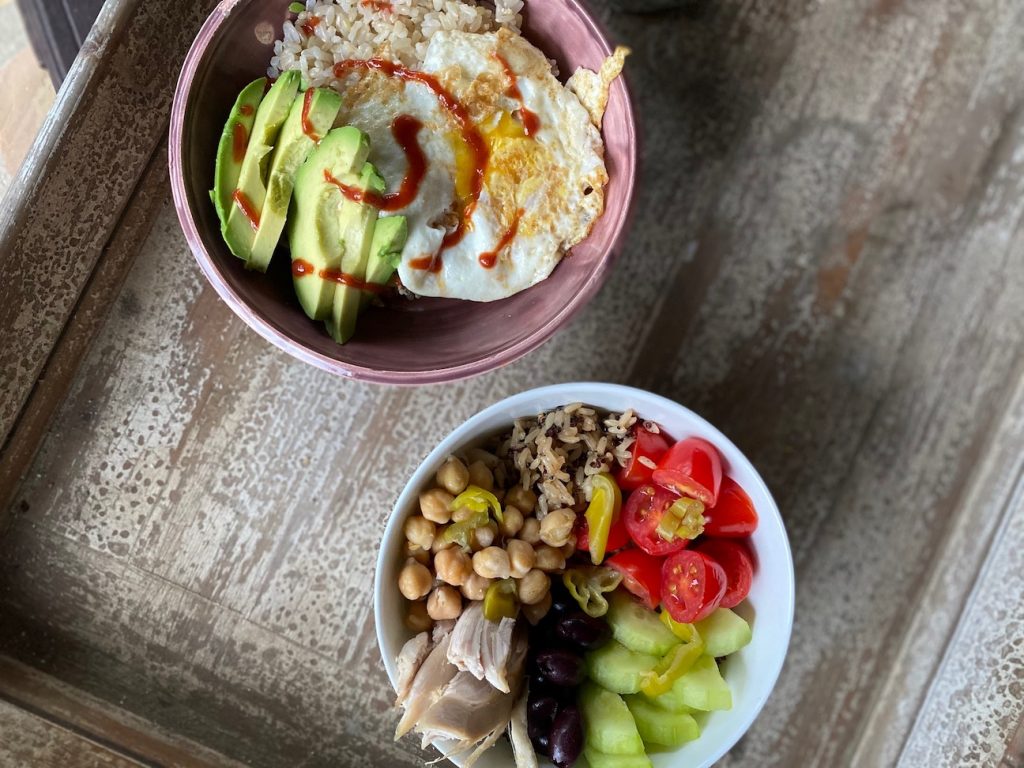 10 Easy Grain Bowl Recipes
And now for the good stuff … 10 easy grain bowl recipes. Each are different. I have used these as a framework for two different weeks of meals by using 5 ideas each week. Makes planning super easy! Let me know which one you like the best!
The Simple Bowl:
It doesn't get much easier than this! This is a very easy dinner or lunch to pull together on busy nights. Feel free to add in sautéed greens (use the same pan you fry the egg in) or any other fruit or veggies you have on hand.
Ingredients:
Rice (make this fancier with fried rice)
Fried egg
Avocado
Hot Sauce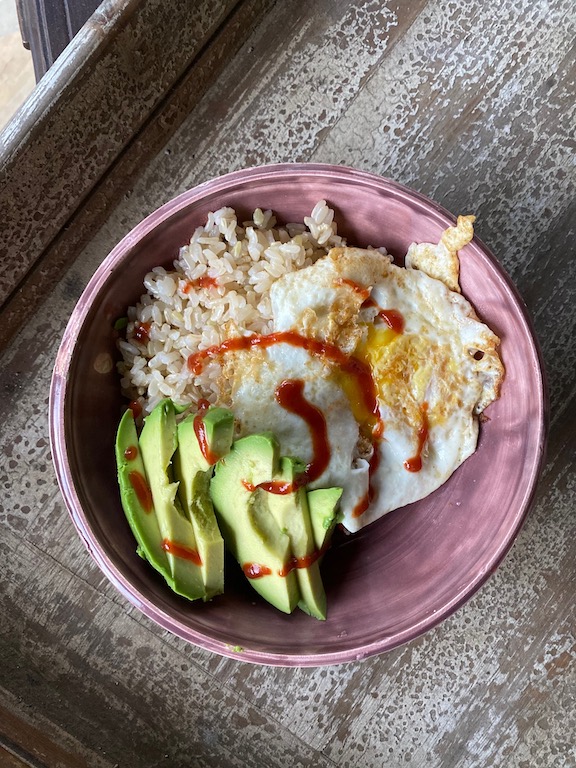 The Vegetarian Bowl
Not vegetarian? Who cares! This fiber-full bowl is made up of roasted sweet potatoes atop of brown rice, protein-rich black beans, pickled onions, and is brought together with a creamy herb-rich green tahini sauce. Yum!
Ingredients:
Brown rice
Roasted sweet potato
These are so good that I created an entire post about how to make your own poke bowls! There are so many options to these, so I suggest putting out ingredients into a poke bar and letting everyone make their own creation.
Ingredients:
Quinoa or rice
Avocado
Ahi tuna (sashimi grade), salmon (sashimi grade) or cooked salmon or shrimp
Edamame
Mango
Cucumber
Sesame seeds as a garnish
Wasabi paste (optional)
Tamari (gluten-free soy sauce)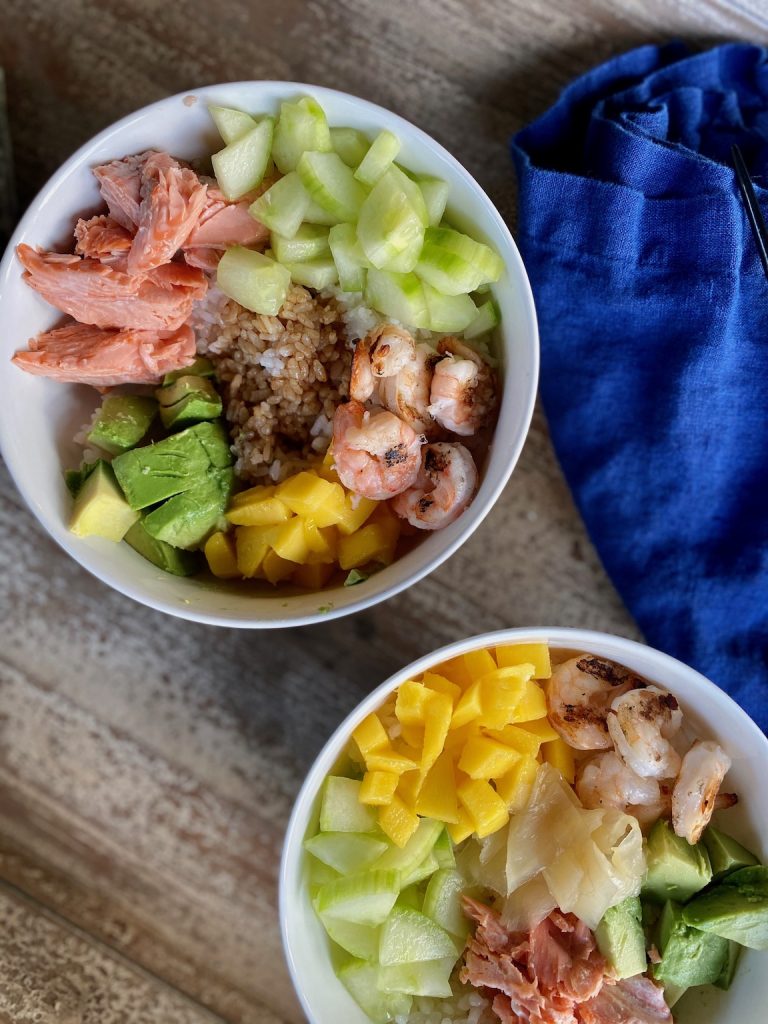 Greens and Grains
I love getting in a lot of good greens! And this bowl is no exception. If you're grain-free, try this with quinoa and even with some crunchy romaine. Whatever your base, enjoy some roasted sweet potatoes and Brussels sprouts (one of my favorite combos), a hard boiled egg, and my delicious herb-filled green tahini sauce. Some fresh parsley adds just the perfect final pop of green!
Ingredients:
Quinoa or rice (I love this blend of quinoa and rice together)
Roasted sweet potatoes
Brussels sprouts
Hard boiled egg (or two!)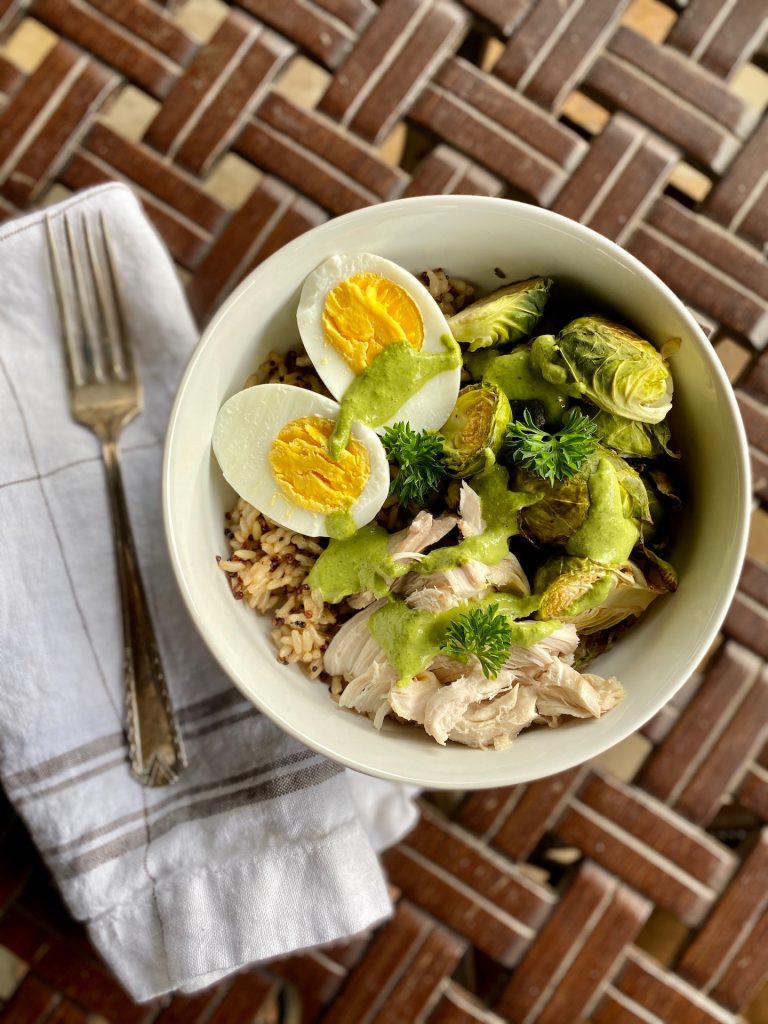 Bacon & Broccoli Grain Bowl:
This is definitely a fun and different one! Use diced potatoes (find them in the freezer aisle if you want to save a step) as the base. Serve roasted broccoli, bacon pieces and ranch dressing on top. Want some protein, too? Chicken goes wonderfully with this grain bowl (that's actually grain-free!)
Ingredients: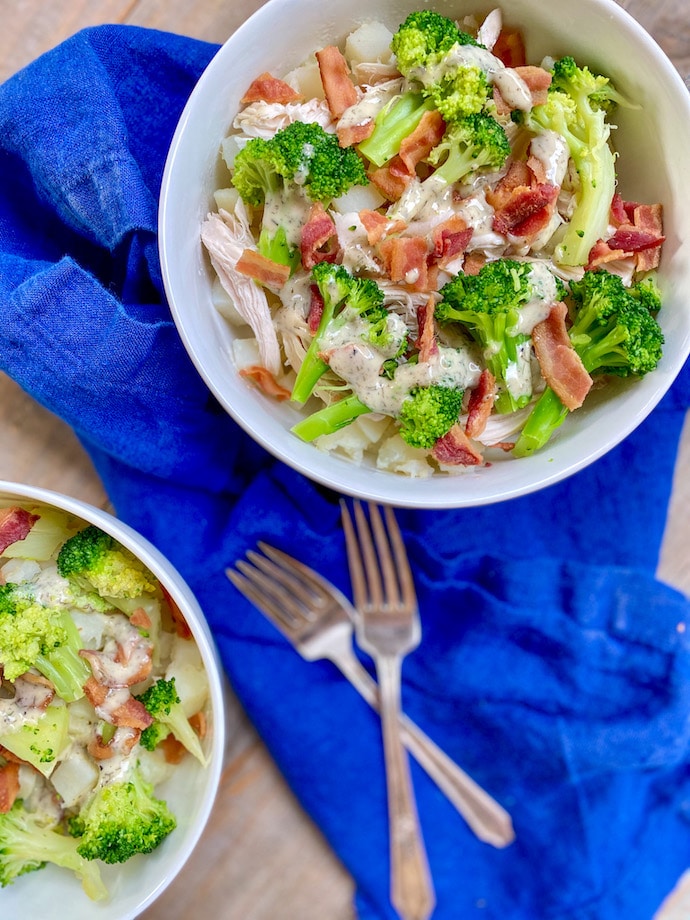 The Summer Bowl
Just like BBQ in a bowl, this is a seasonal bowl that honestly works in any season (in my opinion!) Next time I make this I'm definitely adding some pickled vegetables on top for some added variation. SO good!
Ingredients:
White rice
Grilled corn
Tomatoes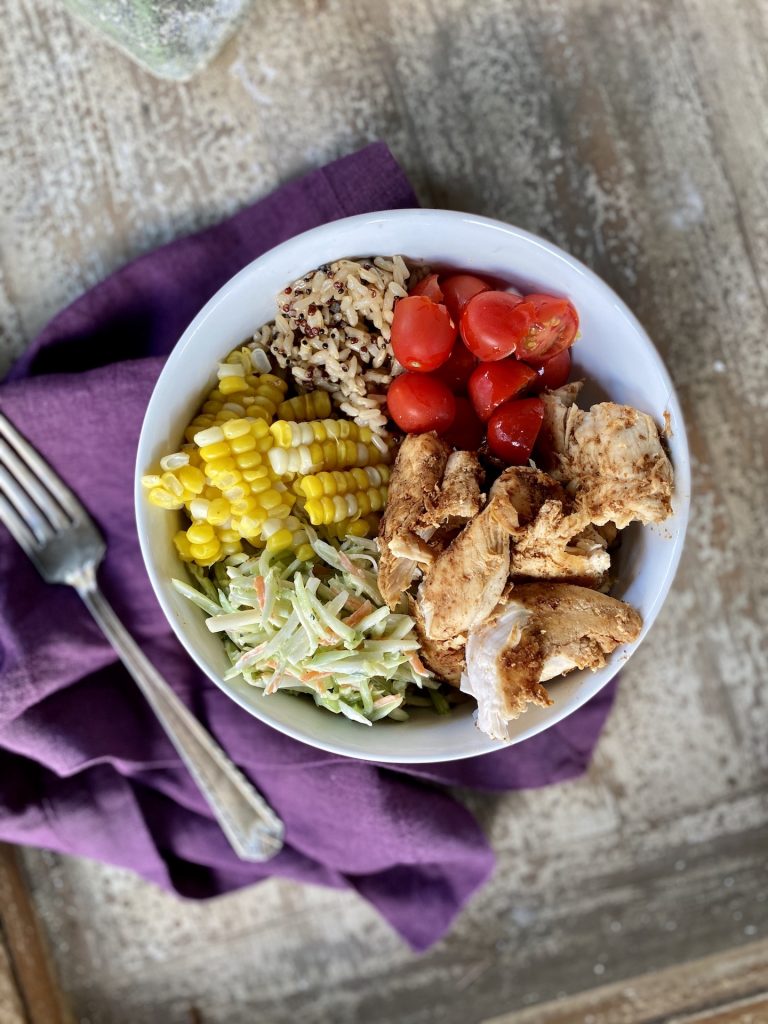 The Mediterranean Bowl:
Panera's Mediterranean Bowl is popular for a reason – it's good! This grain bowl recipe is versatile and adaptable. My kids really enjoyed this one!
Brown rice/quinoa mix (if you're not gluten free, farro would be a nice addition!)
Chickpeas
Chicken (optional)
Tomatoes
Kalamata olives
Cucumber
Red onion
Feta cheese (optional)
Red wine vinaigrette
FOR THE RED WINE VINAIGRETTE – shake all of this up in a glass jar or salad shaker.
1 tablespoon red wine vinegar
1 tablespoon fresh lemon juice (about 1/2 lemon)
3 tablespoons extra-virgin olive oil
1 teaspoon Dijon mustard
1/2 teaspoon dried oregano
Pinch of salt and pepper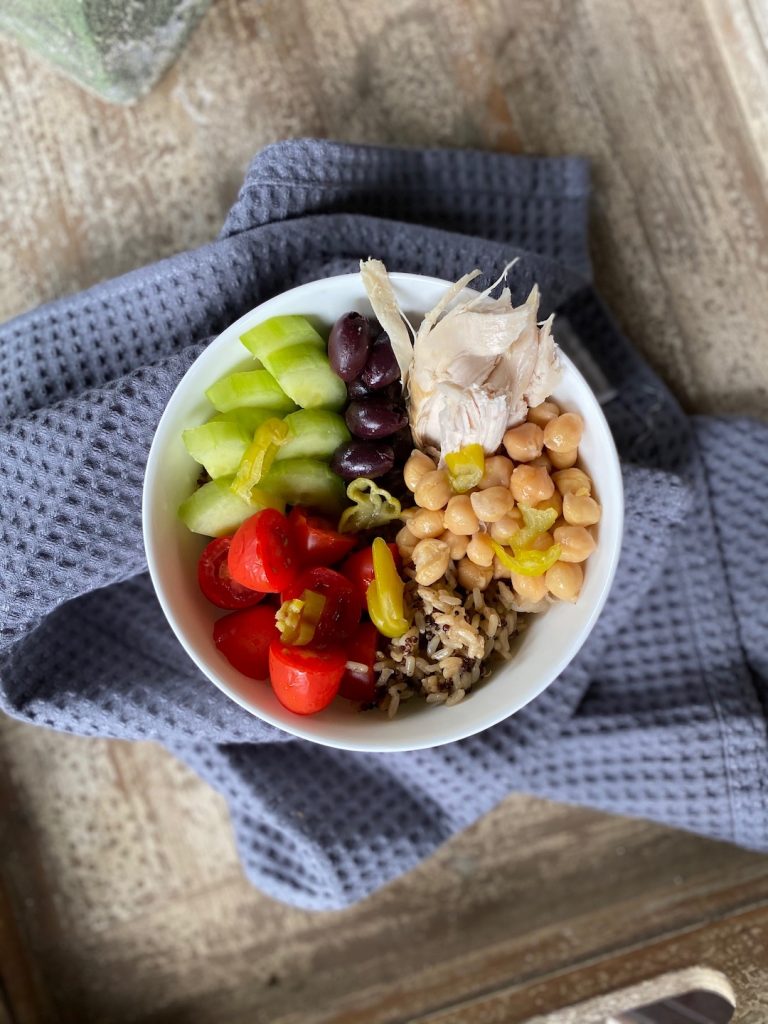 The Asian-inspired Bowl:
I used a little sesame oil and gluten free soy sauce to coat the noodles when they were done cooking, and then added in the chicken and kale afterwards. Some crushed red pepper can bring up the heat intensity if that's your thing.
Ingredients: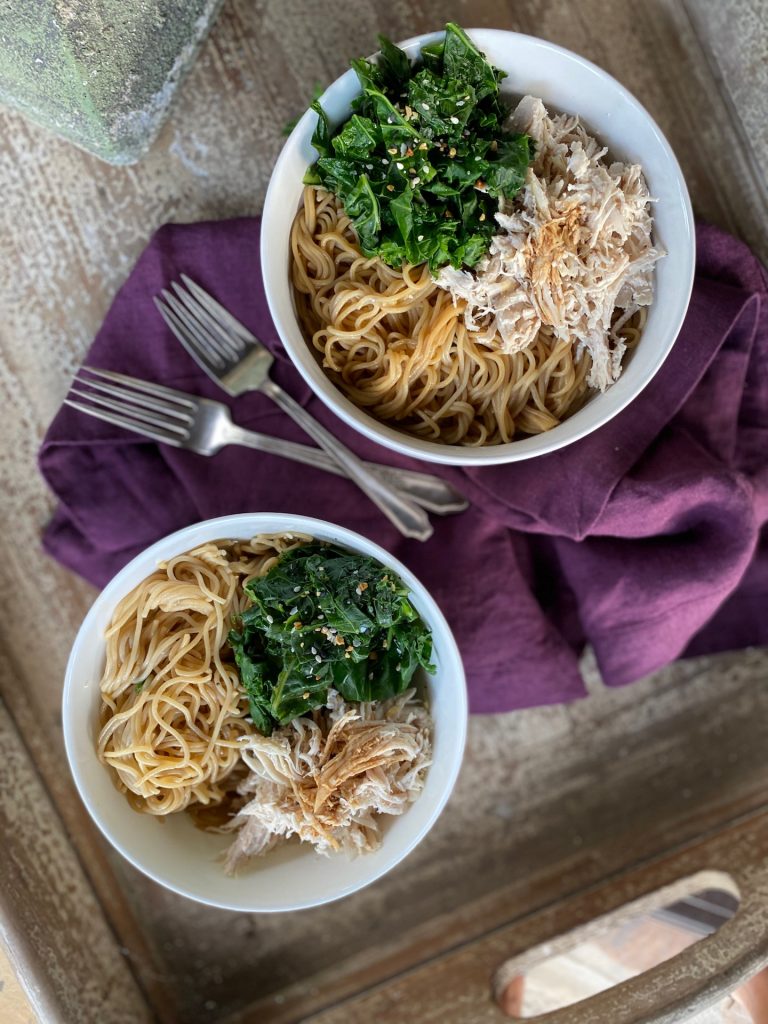 Italian Bowl:
Who ever turns down some pasta and sauce?! Turn this up a notch by adding some meatballs, broccoli, sautéed spinach and marinara for a fun twist on a grain bowl.
Ingredients:
Cooked pasta
Sautéed spinach
Roasted broccoli
Marinara
Parmesan cheese (optional)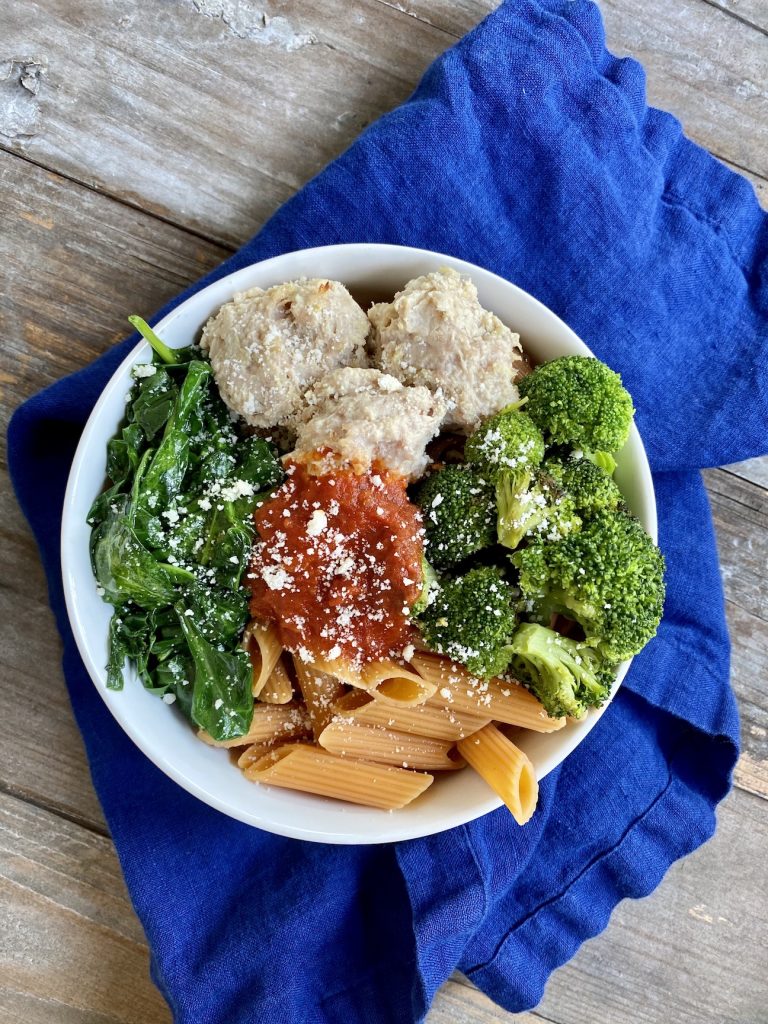 Falafel Bowl:
A delicious Mediterranean-inspired bowl, this is chock full of vegetables and a filling vegetarian bowl with the help of some falafel. Mix this all together with some hot sauce and/or tasty Tzaziki sauce.
Ingredients: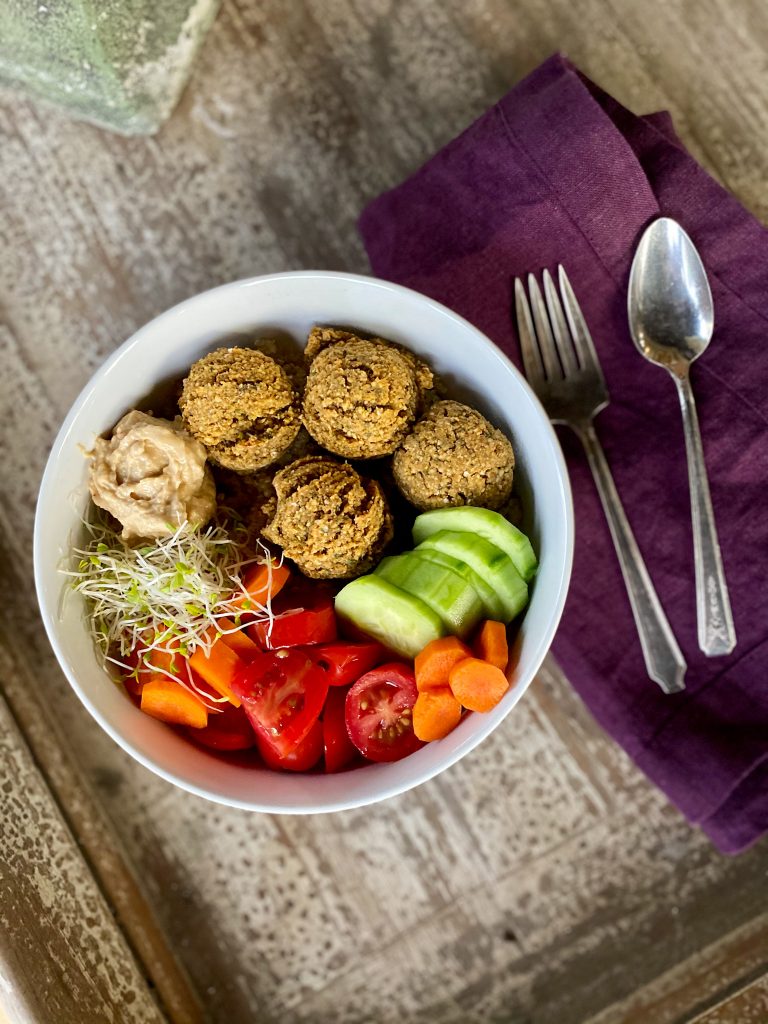 So there you go! 10 easy grain bowl recipes. Which one are you trying first??!